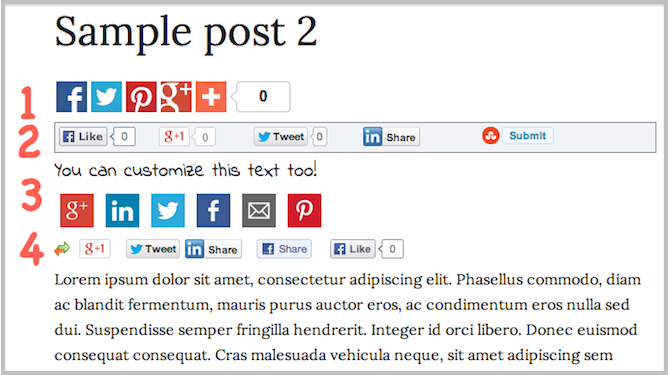 Finding a social sharing plugin for your WordPress site can be hit and miss.
Sometimes you're used to using a certain plugin and then you realize that for styling reasons, it won't work on a new site you're making. Or perhaps you're going along, using your usual social sharing plugin, and then you find out it has a conflict with another plugin, so you need to go find another one.
Testing and figuring out the pros and cons of each plugin can be seriously time consuming. With that in mind, I've gone to the trouble of thoroughly testing four major social sharing plugins. You can check out my findings below!
For those of you who want to know what my current favorite social sharing plugin is right off the bat, I'm going to start with this one, so you don't have to read all the way to the end 🙂
It's also worth mentioning that this plugin has a 4.9 star rating after being reviewed 109 times on WordPress.org. That's quite an accomplishment. And it's going to get awesome-er once I show you how grand it really is.
Simple Share Buttons offers you the option to add the following social network sharing options to your users:
Buffer
Diggit
e-mail
Facebook
Flattr
Google
LinkedIn
Pinterest
Reddit
StumbleUpon
Tumblr
Twitter
The great thing about this plugin is that you can choose with a simple drag and drop interface exactly which social sharing buttons you want on your site. You don't have to go by any defaults that are forced down your throat because there's no better alternative that won't break your site.
See, look at me add Facebook and Google+ sharing options with drag and drop flair: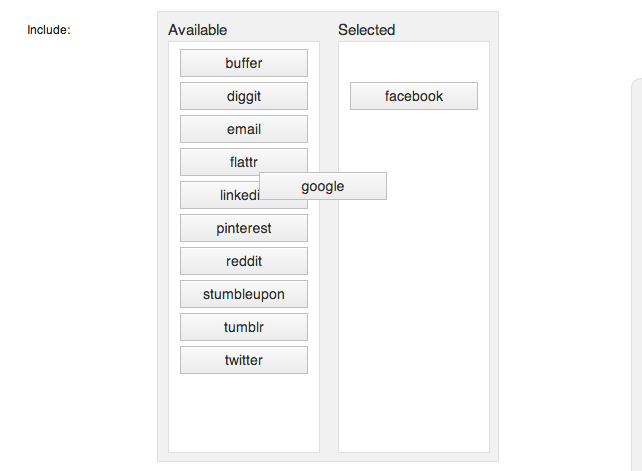 What's even better about this plugin is that you can add your own custom icons, and it totally works! You can tell I'm excited about this, and if you read the AddThis below review, you'll know why.
The plugin author made it so that adding your own icon is as simple as uploading an image to the media library, right from the plugin's settings screen: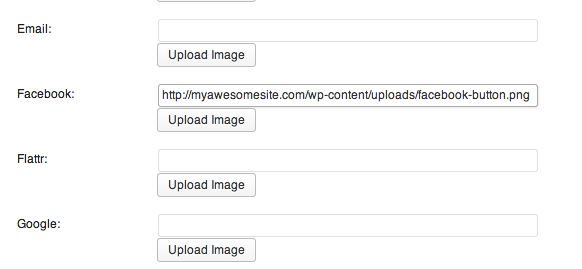 See how easy that is? No messing with CSS or custom coding!
If you don't have your own custom icon set to upload, that's ok, because this plugin author has some amazing-looking icon sets you can use that might make a designer drool, such as these: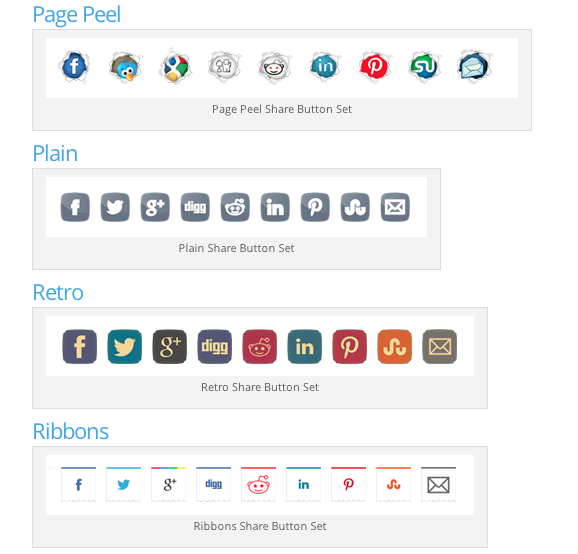 My favorite set is this:

You can decide if you want the social icons to appear in certain places using settings, or you can use shortcodes to show or hide your buttons at a per-post or per-page level. I tried this by simply inserting the shortcode "[ssba_hide]" at the top of my post, and it does hide it, but it leaves a big gap between the title and text, like this:

I'd say the 1-click Retweet/Share/Like Plugin described below makes this process easier with a checkbox for users to show or hide their social icons on the post and page editing screens.
The Simple Share Buttons Adder plugin also has styling settings for controlling button sizes, font appearance, borders, backgrounds and more. You can even enter your own custom CSS.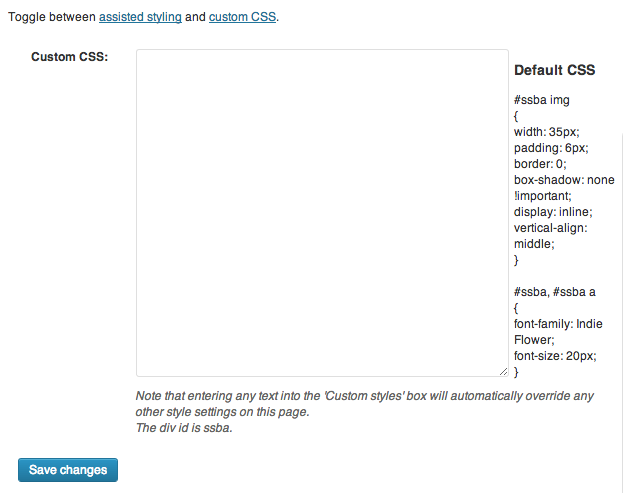 And yes, you can turn off the counters on social shares (this is important if you have a low-traffic site and don't want to look like a loser because no one ever shares your posts). Oh, and surprise, surprise, the buttons don't get cut off on mobile screens!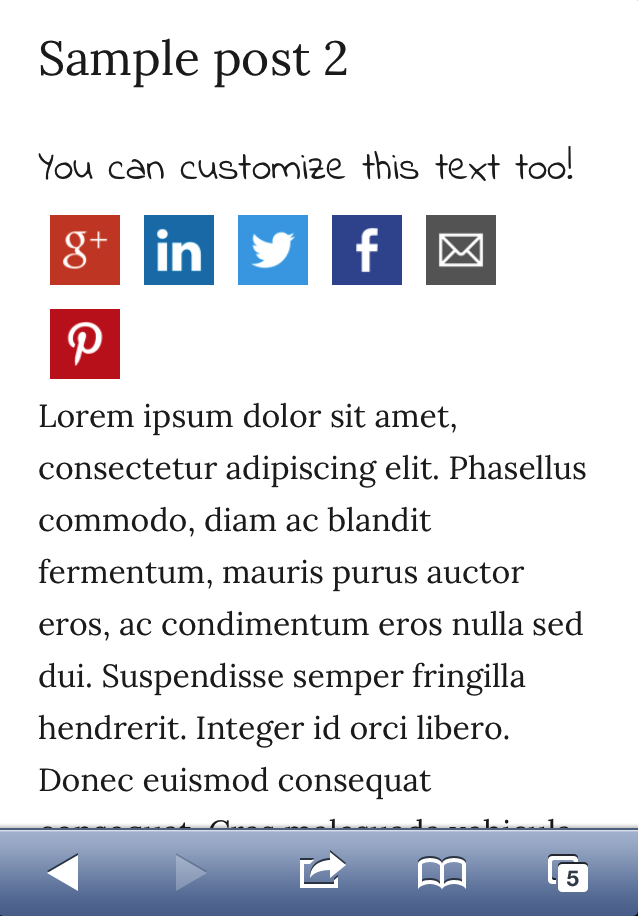 The plugin also comes with a widget so you can add its social sharing buttons in unique places, like on the sidebar or footer, for example, instead of just above and below your posts (it depends on your theme where these widgeted areas exist). Thankfully, it displays the buttons according to the settings you have set up for the plugin on its settings page, unlike another plugin I'm about to mention.
The Cons of Using the Simple Share Buttons Adder
There are hardly any really (unless someone wants to enlighten us in the comments below?). When you stack this plugin up against other ones mentioned in this article, it seems like it has the best of all worlds. But there are a few areas this plugin could get more awesome:
Adding more social networks. I personally don't see the need for hundreds of options here, since most of us don't even know of or use more than a handful of social networks. But this can be helpful for international usage, such as for adding social networks that are relevant to a certain country. This plugin already does a great job, however, by keeping the most popular ones available.
Adding the ability to use icon fonts. It certainly would help to have this for retina displays on mobile phones and tablets nowadays. Or at least the ability to easily set a CSS class or id for a button, instead of having to upload an image, so that the class or id can take the character code for the icon font.
Download Simple Share Buttons Adder from WordPress.org.
If you are looking for a gazillion social network sharing options and you want to track all the clicks and shares,  this plugin is probably going to be your best bet.
AddThis has an analytics tool you can sign up for to track user behaviour when it comes to social shares. It also has something like 333 social networks you've never heard of that can be added to your share buttons for customization. Or, if you don't want to pick through a list of 333 social sharing buttons to add to your website, you can use their "More" button, which lets the user pick from all those social networks they've never heard of to share your post on. The default options are:
Facebook
Twitter
Email
Pinterest
"More" (which will help users of social networks like 100zakladok tell everyone about your post. That will throw your visitor counts through the roof!)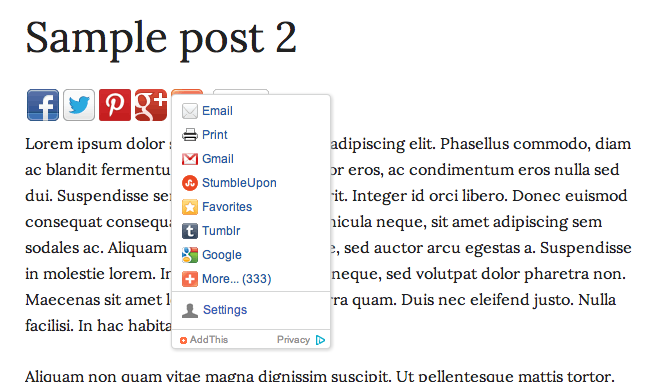 These are what your display options sort of look like, except when you customize your social share networks, it doesn't give you an obvious preview of your buttons unless you scroll to the bottom of the settings page, which sometimes doesn't scroll so well (don't ask, it's weird).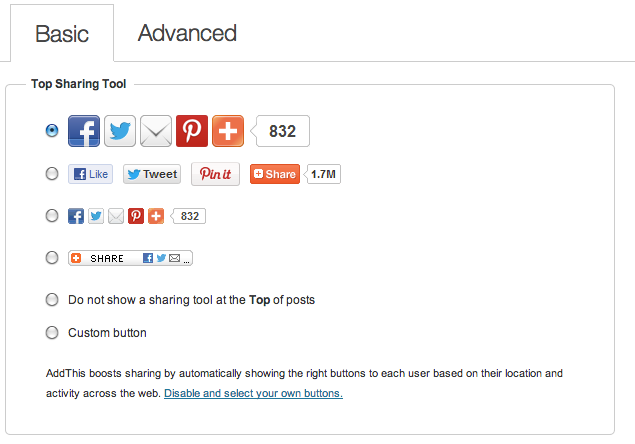 It does have settings that allow you to control where the social sharing buttons appear, and a bunch of confusing settings if you want to get into the nitty gritty of how it displays social buttons (like for example, if you have a lot of free time you can go find out about "service codes" or read about "customization documentation" because that sounds like a lot of fun…or you could forget that idea and go watch an episode of Downton Abbey, I hear season 4 just came out….).
If you really need some extreme customization I guess you could spend time reading all about AddThis documentation. I can't judge. It might be fascinating. I wouldn't know.
The Cons of Using the AddThis Plugin:
That last thought leads me to point out the first caveat with using this plugin, which is that it's not easy at all to customize these buttons, even though it advertises that it's possible, which is one of its top selling features. If you are a non-coder, well, good luck. If you like coding and want to deal with some CSS, you should check out this article by Jeff Sauer that explains in great detail How to Customize the Buttons on the AddThis WordPress Plugin. Though he doesn't show a sample of using custom buttons that are that different from what AddThis provides by default, following his CSS will get you somewhere if you're trying to get your own icons in there. But don't expect it to be an end-all-be-all solution, especially if you're trying to use icon fonts. You'll need to dig around in Firebug or some browser development tool to figure out what styles you need to override.
This plugin also has a widget that you can drag into a widgetized area of your WordPress site. But, and this is a big "but", it won't show your customizations from your settings screen. If you've added Google+ as a sharing button in the AddThis settings, for some reason those 'instructions' don't get sent to the widget feature of this plugin. This is extremely troublesome if you are also trying to set up custom icons, as explained above. It almost renders the widget feature useless, especially since it won't include Google+ by default, which is really necessary for those of us who care about search.
Download Share Buttons by AddThis from WordPress.org.
This is a pretty cool plugin if you are looking to be able to auto-publish your posts and pages to your configured social networks too. As a social sharing tool, it can allow users to:
+1
Share on Facebook
Like on Facebook
Digg
StumbleUpon
and e-mail
You can also set it up to offer a LinkedIn sharing button as well, but it's not a default setting. There is no Pinterest or other social networks. It does have the ability to control where the social share buttons appear with some user-side settings, and also with an option to add some code to your template manually. For some reason, you can't get it to not show on single posts universally unless you enter comma-separated post IDs in a settings field or uncheck a button on a post editing page. No biggy, since it's unlikely you're going to want a social sharing plugin for the purpose of not showing social sharing buttons…
For styling, you can set relative positions in its settings and you can opt to take out the counters on specific social share buttons. You can also set a font from a predefined list and set the color of the counters, but that's about it, no fancy shmancy stuff.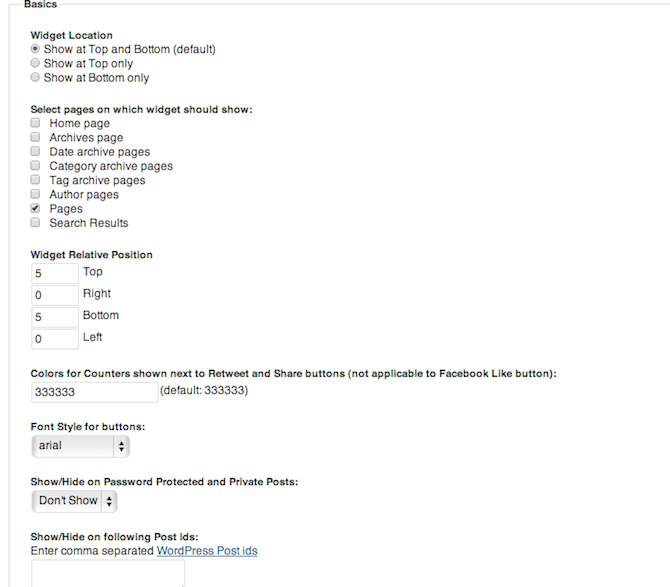 Here is what it looks like on the front end:

I know what you're thinking: where is the Digg, StumbleUpon and e-mail option? Ah ha! Those are hidden behind the two little arrows. A user has to figure out to click on that to get the other social share buttons, which would look like this, and include some really weird buttons that link to pages on LinksAlpha.com that have nothing to do with your site or say anything a user would care about:

That down arrow is not a download button. It just advertises LinksAlpha. And that Privacy button with the misaligned triangle arrow, that takes users to a party-crashing page with bunch of legal gibberish about how they're signing their right to privacy away if they want to share any content on your website because the LinksAlpha big brother is watching. I'd be weirded out by that if I were a user on a site and had no idea who on earth LinksAlpha was in connection to the site I was reading a cool article on. I'm just sayin'…
But, on to more important matters, a very cool feature of this plugin is that it offers you the ability to display the Facebook Like button (but only that one) in different languages. Like for example, "English (Upside Down)." I didn't know that was a real language but now that we all have made this discovery, who wouldn't want the word "Like" written upside down on their website?!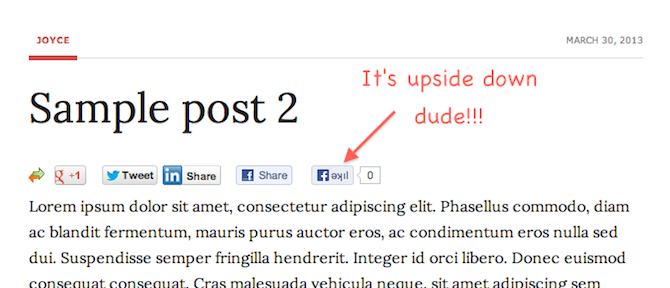 Just as a side note, I also love that it offers to spell the word "Like" in both "English US" and "English UK." Very thoughtful of the plugin authors to think of all English speakers.
As noted above, this plugin can also auto-publish your posts and pages to social networks but you need an API key and a LinksAlpha account to do this. It's fairly self explanatory if you like poking around settings screens but beware: if you do opt to auto-publish your posts, you'll need to uncheck the "Publish this Post to configured Networks" on post and page editing settings for when you are publishing something you don't want the world to see (like a password protected page, or a terms of service page, or things no one on Twitter will ever care about and think you are weird for publishing). Or if you hit the "Publish" button by accident it will be too late, the plugin will send out your unfinished or 'secret' post to all your social networks. I personally don't like or use this feature because accidents happen. All my clients that I've set it up for in the past asked me to turn it off, even if they were the ones that asked for it.
The Cons of Using the 1-Click Retweet/Share/Like Plugin
The social sharing networks available are limited. If you wanted Pinterest for example, you'd have to put that in with another plugin or code it in yourself.
You can't customize the icons.
It advertises itself and its privacy settings too overtly (see above screenshots and explanations).
It is poop when it comes to displaying LinkedIn Share with proper spacing and also poop on mobile phone display. You have to fix it yourself or give up on it for responsive sites because it cuts off on the edge of the screen and in reality, the arrow link to get to the StumbleUpon and Digg Share buttons is too small for fat fingers: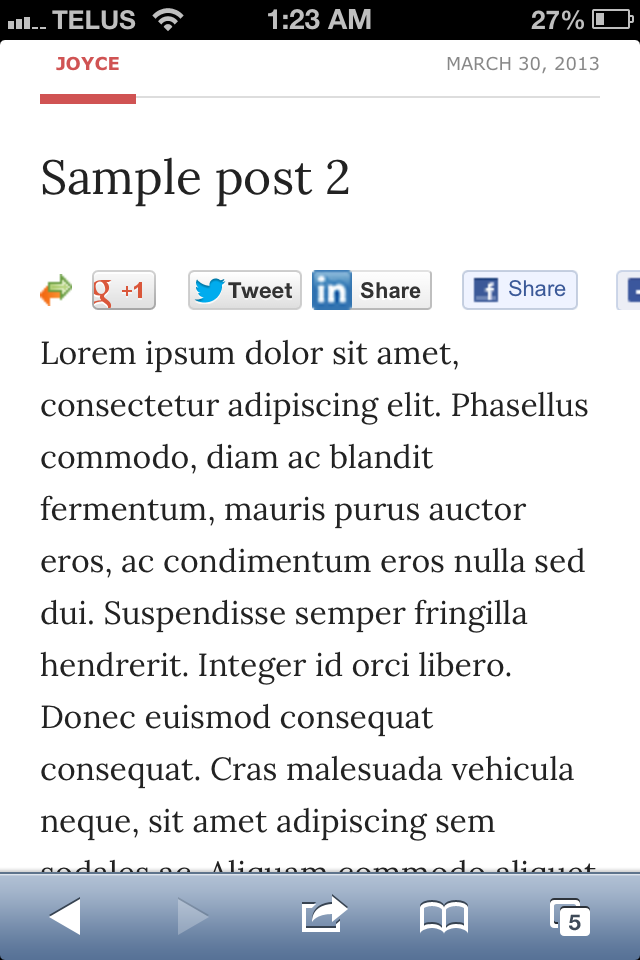 Other than that, it pretty much does what it says it's going to do, so it's a promising option.
Download 1-click Retweet/Share/Like from WordPress.org.
Conclusion
As you can see, this article definitely had a bias towards using the Simple Share Buttons Adder plugin, but that may not turn out to be everyone's favourite and this list is by no means exhaustive at all.
If you are looking for a social sharing tool that can also automatically publish to social networks, then 1-Click Retweet/Share/Like may be the way for you to go. And if you're looking for some advanced analytics as well as a list of 333 social networks for people to share your content on, then AddThis is your gem.
If anything, I hope this article helped you figure out which social sharing plugin is right for the site you're working on today. Who knows, you may use a different plugin for different needs on different sites. Do share your experiences with these and other plugins in the comments below!