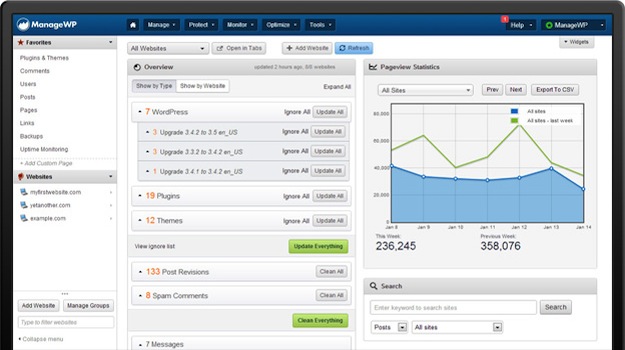 Happy birthday to us!
That's right folks — it's a year to the day since ManageWP officially launched. What started off as a relatively simple idea for managing multiple WordPress sites from a single dashboard has evolved into a fully functional and feature-packed service.
Since it has been twelve months since the official launch and we just launched a major update with an awesome new dashboard, I thought now would be a great opportunity to reflect back on the best features that we have been able to implement in that time. The ManageWP dev team is constantly working on improving our service to make it as useful as possible for you, the user, and I think this post reflects that fact well.
So from one ManageWP user to another, here's my pick of the 10 best new ManageWP features of the last twelve months!
10. Keyword Rank Tracking
Let's start with a feature that's been around for a long time now but certainly shows no sign of ageing.
One of the reasons I am such a big fan of ManageWP's keyword rank tracking tool is because it takes the functionality offered by many standalone premium products and packages it into ManageWP as "just another feature". In our quest to become a one-stop-shop for complete WordPress site management, achieving such outcomes is extremely important to us.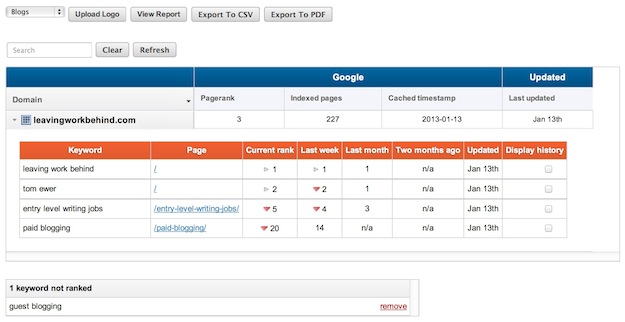 With accommodation for 20 keywords per website, there's scope for tracking a lot of keywords.
This key feature has of course been given a major facelift by the new dashboard update, and as you can see from the above screenshot, there are a multitude of reporting options. You can even brand your reports if you're preparing them for clients.
9. SEO Reports
Speaking of which, let's move smoothly onto SEO reporting. If tracking your keywords wasn't enough, we can also track a huge variety of datapoints such as PageRank, Alexa rank, the number of backlinks, and many more.
We appreciate that a lot of you are working with clients who want to keep track of such metrics, and if you are working with your own sites, perhaps you do too. As such, we have made it possible to export all of the available data into CSV or PDF reports:

Once you have this raw data available, you can of course track and manipulate it as you see fit.
8. Website Performance Scan Tool
I have harped on about the importance of site speed on more occasions than I can count, but with good reason. The speed at which your sites load can make all the difference to user engagement, and ultimately, your bottom line.
As such, it pays to keep an eye on load times to ensure that you're not missing out on an opportunity to boost your bottom line. This is easily done with the integrated website performance scan tool in ManageWP. Just hover over a site in the dashboard, click on the "Website Performance" option, and ManageWP will pull analysis results from the Google Page Speed and Yahoo! YSlow services: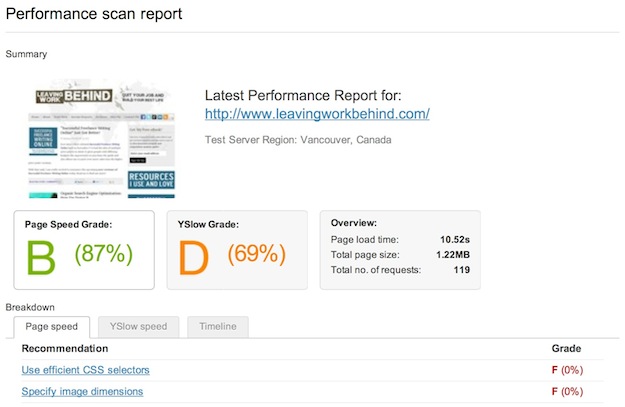 7. Open Sites in New Tabs
This is a seemingly simple feature but since demand was so overwhelming I felt it was only right to include it here.
As part of the new dashboard update we have included the ability to open WordPress dashboards in new windows: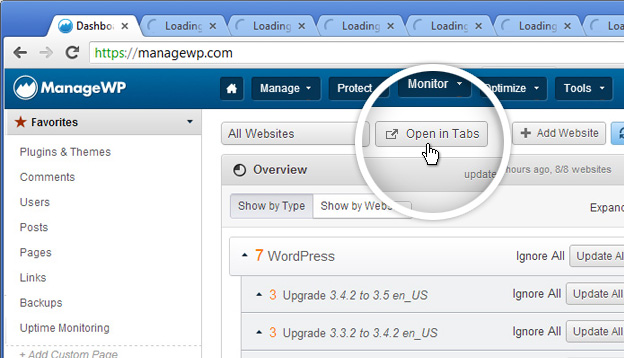 If you want to be automatically logged into each and every one of the WordPress dashboards on your ManageWP account, you can now do so in just one click.
6. Client Reports
We know that a lot of you work with clients who want to know data relating to their sites along with actions taken. Producing this data manually is an unnecessary burden, so with the latest update we have included a brand new client reporting feature: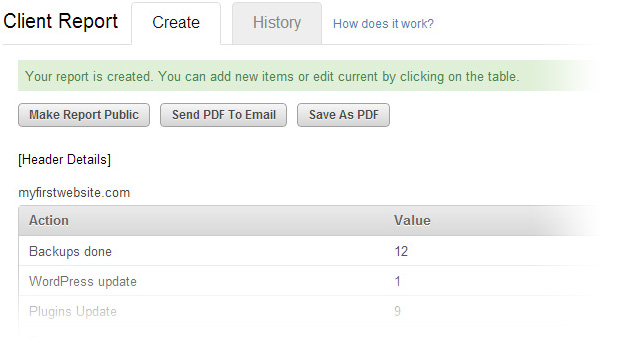 These reports can be filtered by action, so you can for instance prepare a log of theme and plugin updates in the past three months. For those who want to keep a close eye on how their sites are being managed, this feature is a godsend.
5. Uptime Monitoring
There are few things worse than website downtime. Just about anything else you can handle, but a site that is not even there is a worst nightmare for any webmaster.
In my experience this can lead to occasional bouts of obsessive checking — especially if you've had server issues in the recent past. But ManageWP can give you complete peace of mind with its uptime monitoring feature: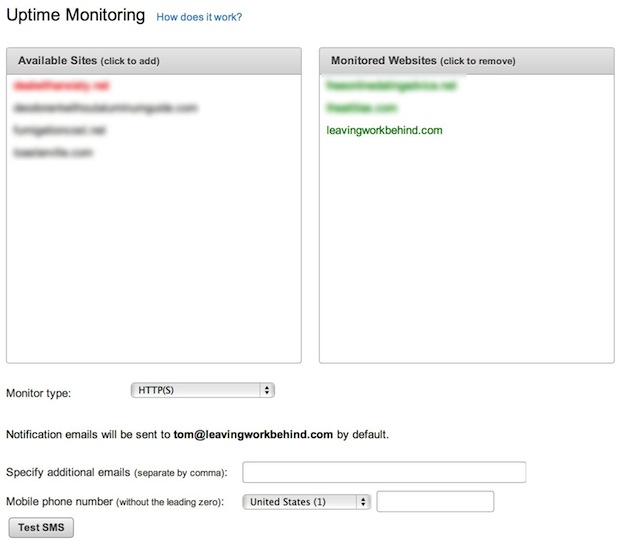 As you can see from the above screenshot, you can even set up SMS notifications so that you can truly free of worry — if a site goes down, you're going to know about it almost immediately.
4. Favorites
With the introduction of the new dashboard, the ManageWP sidebar is now yours to control and customize as you see fit. Since we have moved the site management tools to the top bar, you can now use the sidebar as your 'Favorites' section, which can be a mix of your favorite functions and websites.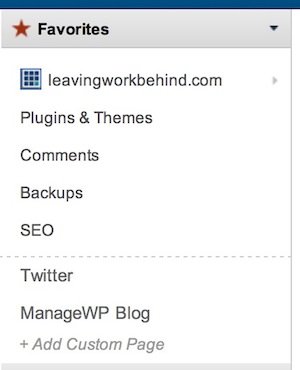 As you can see from the above screenshot, you can even include custom pages such as your Twitter account, or a link to your favorite WordPress blog 😉
3. Backup Improvements
I love a backup system that just works, and whilst ManageWP's offering in this regard has always been great, continuous updates throughout the year have really turned it into a top-quality backup tool — yet another feature that you would pay a great deal for on its own.
With flexibility in both scheduling and backup type (database or all files) along with a multitude of backup file destinations (Amazon S3, Dropbox, Google Drive, FTP, and email) with seamless connectivity to cloud services, it is fair to say that we are really proud of this feature. And with the introduction of the new dashboard the backup feature looks better than ever: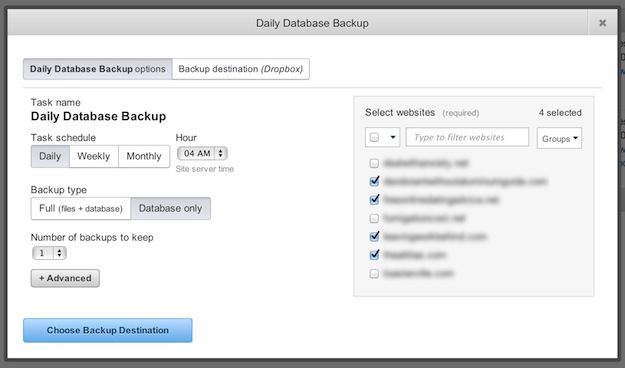 Easy to use — just set it up once and have peace of mind that your website's precious contents are safe from harm.
2. Speed
This is arguably the least tangible feature on offer, but certainly one of the best. The new update hasn't just been a cosmetic and feature-added affair — the team has also worked hard to make massive efficiency improvements on the backend so that your ManageWP experience is faster than ever.
Whilst managing your WordPress sites from our centralized dashboard was no gentle stroll in the park before, the service is now primed to blow you away with near-instant page access to the multitude of available features.
1. iOS App
In November, ManageWP went mobile.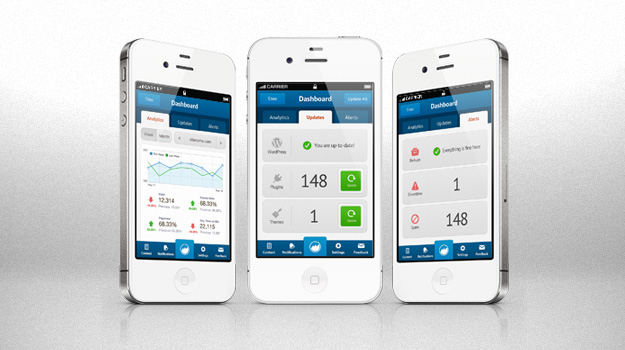 You can now access and manage your WordPress sites not only one from centralized dashboard, but also from one app on your iOS device. The top features are all present, and as we announced just last week, you can even access each of your site's WordPress dashboards with just a couple of digit jabs.
If you have an iOS device and haven't checked the ManageWP app out yet, you owe it to yourself to do so. Mobile WordPress management on the fly is a true joy — you never have to wait for that critical plugin update or analytics analysis again.
What is Your Favorite ManageWP Feature?
So there you have it folks — the pick of the bunch. However, I'd love to know what you think — what's your favorite feature? Or is there something in particular that you'd love to see within the ManageWP service that we haven't introduced yet? Please leave your feedback in the comments section!