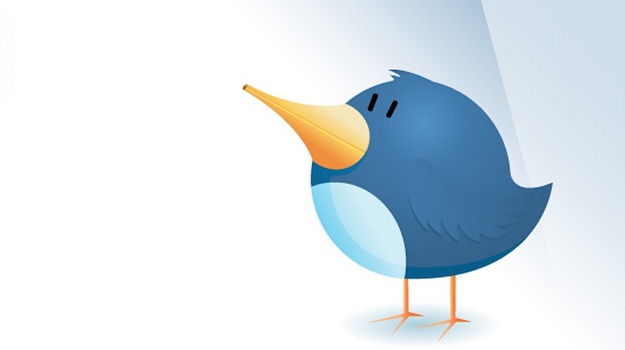 If you're familiar with my musings across the Interwebs then you'll know that I am a huge fan of Twitter. It's without a doubt my favorite social media network when it comes to making connections with other people in the blogosphere and driving traffic to your site.
That may take you by surprise, but whilst I know that Facebook is king when it comes to referral traffic, it is so much easier to drive traffic to your site via Twitter. The process of building your follower base and increasing awareness of your blog can be achieved in just a few minutes per day.
And that is where one of my new favorite plugins, WordTwit, can help you a great deal. I have been using it for a couple of weeks now and have found it a really valuable tool in terms of both blog post promotion and outreach. In this post I'm going to provide an overview of the plugin along with my suggestions for making the most of it.
Introducing WordTwit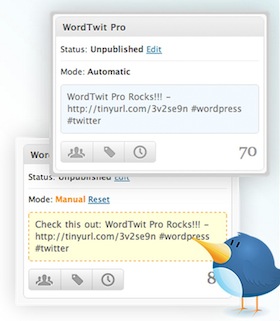 Most bloggers have a post-publishing checklist of sorts — even if it is in their head. You promote the post via social media, send it to your list, and perhaps get in touch with a few people in your network who it might interest. The second two steps are unavoidably manual — you cannot automate the process of emailing people (unless you want to be accused of spamming). You can however take steps to automate your social media activity without it seeming spammy. That's where WordTwit, developed by the same team that brought you WPtouch, comes in.
The plugin's most basic functionality simple enables you to 'auto-tweet' your latest posts to a chosen Twitter account. Rather than publishing the post then tweeting it out manually, you just hit 'Publish' and WordTwit does it for you. This is a great little timesaver, but is particularly valuable to those of us who schedule posts in advance because you don't have to be at your computer at the time of publishing.
But that's not all. Whilst the free version of WordTwit is a good tool, the premium version is where it really comes into its own. There are more additional features than I care to list here, but here are the highlights:
Publish to multiple Twitter accounts

Add Twitter accounts on a per-author basis
Custom hashtag
Tweet scheduling (i.e. promote your post several times)
WordTwit Pro gives you a far more complete solution to Twitter post promotion on autopilot. Now you can schedule out multiple tweets to multiple accounts. If you have a multi-author blog then you can even set up accounts per author so that they can promote posts via their personal profiles. At the time of writing you can pick up a single user licence for $39.
My Tips for Using WordTwit Pro
As I mentioned before, I've been using WordTwit Pro for a few weeks now and I have a few suggestions as to how you can make the most of it.
Once you've installed and activated the plugin, you're going to want to make sure that all of the relevant Twitter accounts are set up within the plugin itself. This will include your blog's account, but perhaps you have a personal account that you might also want to utilize (even if it is only occasional).
Then we need to take a look at the plugin's settings. There's quite a lot to take on board here and you'll probably want to spend a few minutes perusing the options, but the key setting I want to focus on is tweet scheduling under the 'Default Post Information' header:

As you can see, I have the plugin set to tweet out each post three times with a six hour gap between each tweet. My thinking here is pretty straightforward — I want my tweets to hit as many timezones as possible, so I set up three tweets to be published over the course of 18 hours. I think that three tweets of the same post spread out in this manner can be viewed as a reasonable attempt to reach all of your followers — so long as you are active at other times in that period, I can't see how it would be seen as spammy (I've personally never had any complaints).
That's settings taken care of. The other thing I wanted to cover here today was editing the tweet when it actually comes to scheduling or publishing the post. Here's the WordTwit Pro widget for a recent post on my blog: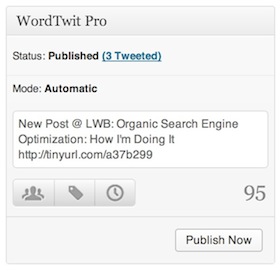 As you can see, it's set up with some default preamble text (which you can include in the settings). The link's in the tweet — it's good to go. However, there are a couple of things we can do before we go ahead and publish the post:
Include hashtags: an easy way of potentially exposing your post to a wider audience.
Mention relevant people: is the post relevant to a particular Twitter user? @mention them in your tweet.
These two simple steps (which will take you all of thirty seconds to complete) can give your post a nice boost, and the presence of WordTwit Pro's widget serves as a friendly reminder that you should take this extra step before hitting 'Publish'.
Twitter Promotion Made Easy
I love both WordTwit and its premium brother because they are well-made and easy to use. In the world of open source where I often encounter less user-friendly plugins, these are a real joy to use. Let's face it — blogging is really competitive these days, so we need every chance we can get to attain that cutting edge. WordTwit can help you to do just that.
Having said the above, please always remember that your success in social media is ultimately determined by your active involvement. Whilst we can safely use tools such as WordTwit to make our lives a little easier (and our efforts more effective), they only work if we continue to be actively involved with our followers and fans.
What are your thoughts on WordTwit, and on social media automation in general? Let us know in the comments section!