Another month passes us by, and with it we bring another selection of great WordPress plugins for your delectation. We've got a good mix for you this month – with everything from analytics, to newsletters, to countdowns on show.

Another month passes us by, and with it we bring another selection of great WordPress plugins for your delectation. We've got a good mix for you this month – with everything from analytics, to newsletters, to countdowns on show.
With such variety, there is bound to be something for everyone!
What Makes This Different
Here's a little fact for you – the ten plugins you will explore below were whittled down from a list of 31. Every single month we are inundated with new plugins to check out, but only the cream of the crop rise to the top.
Each of the plugins below is either brand new or newly updated, and has a solid star rating on the WordPress Plugins Repository. Beyond that, we have taken a good hard look at each one to see what it can offer you, faithful ManageWP blog reader.
But enough chit chat – let's get onto the plugins. Enjoy!
If you're into photography and own a smartphone, you have probably dabbled with Instagram. The photo sharing social network was recently sold to Facebook in a mammoth $1billion deal. Instagram for WordPress is a simple plugin that allows you to share your Instagram photos on your blog via a widget or shortcode: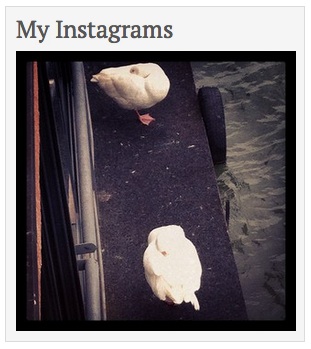 Integrating your Instagram account with the plugin is just a matter of entering your username and password – you can have it up and running in just a minute.
Everyone loves a good countdown. They can be used as an effective tool on your blog to build anticipation and boost conversion rates. For instance, you could use it to promote a product launch, or the expiry of entry to a competition. If you're in need of a good countdown plugin, look no further than Uji Countdown:
As the mysteriously silent video above demonstrates, there are extensive customization options for the timer itself, and setting the countdown is easily done with a few clicks.
The world is not short of Google conspiracy theorists. There are plenty of people out there who do not like the amount of information the world's biggest search engine is gathering. And from a commercial perspective, some webmasters do not like the concept of handing over their sites' sensitive data via Google Analytics.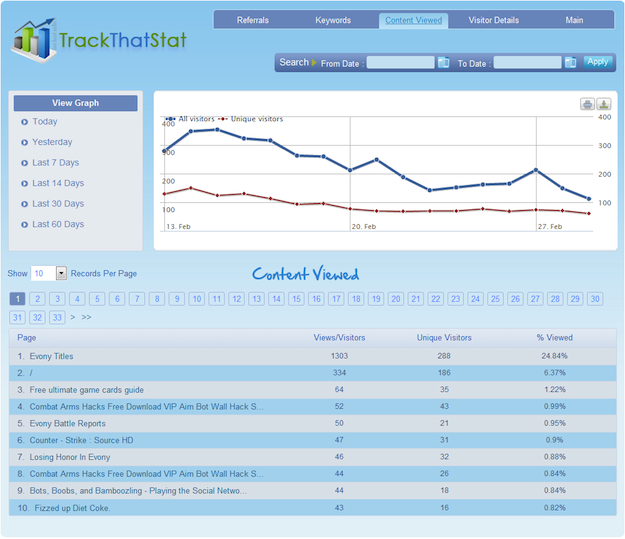 Which is where plugins like Track That Stat come in. As you can see from the above screenshot, the analytics report provided by this plugin is pretty well-featured. You can keep track of the following (and more):
Referring sites
Search engine keywords
Live visitors
Page referral data
This plugin offers you analytics data much like Track That Stat, but in a different flavor (and with some extras). First of all, you have a realtime summary built right into your WordPress admin bar: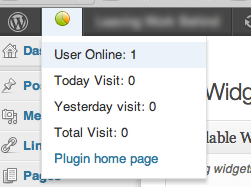 You can also take a huge selection of statistics and publish them on your blog via a widget. This can be a great way of providing social proof, with information such as (but not limited to):
Total posts/pages
Total comments
Users currently online
Users this day/week/month/year
I love it when a plugin allows you to create professional looking features on your site with absolutely no technical skill required. Pricing Table is one such plugin.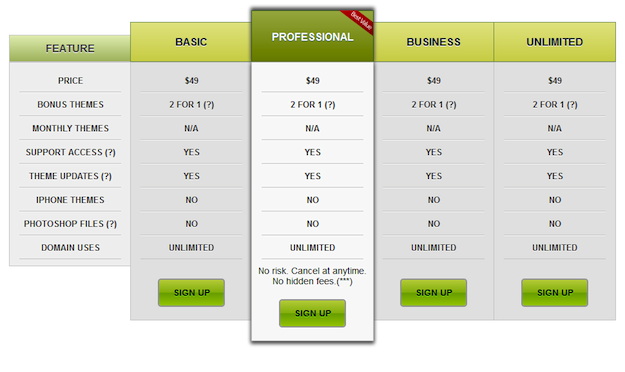 You can create pricing tables just like the example above with a very simple drag and drop interface. You can set a "Best Value" price point and add an unlimited number of features.
Internal linking is one of the best things you can do as a blogger to keep readers engaged with your content. In this day and age, people can be completely blind to navigational elements, and even if they like one of your blog posts, they may never come back.
The key is to link to related content within blog posts, thus placing the temptation to explore further right in front of the reader. SEO Auto Linker can help you with this, by automatically creating links whenever specified keywords are used in your blog's posts or pages.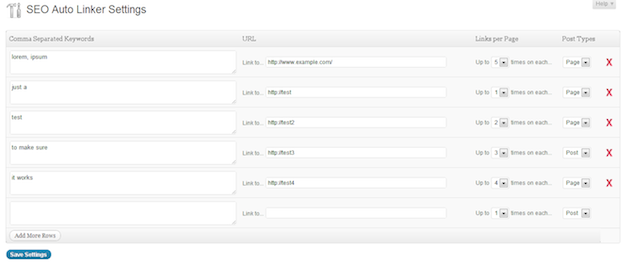 As you can see from the above screenshot, it is just a case of specifying the keyword and the URL. You can also control how many times a link is created for a specific keyword per post/page, and whether they are created on posts or pages.
Every now and then, a simple little plugin will come along that just makes life easier. User Switching is one such plugin – a godsend for WordPress developers. As you can see from the screenshot below, it enables you to switch between different WordPress users at the click of a button: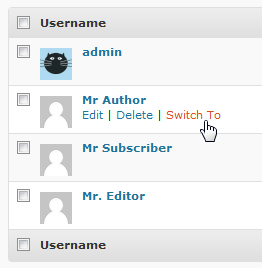 This can be useful in a multitude of applications. For instance, you may set your theme to display differently depending upon the type of user it is being shown to. Testing the different displays can be done at the click of a button with User Switching.
This is the first of two newsletter plugins on this month's list, but they are very different. Easy Automatic Newsletter, as you would expect, is an automated tool that sends out a monthly newsletter to chosen subscribers with a list of your blog's posts and your tweets.
I was pleasantly surprised to discover that the formatting and presentation of the template email is actually rather good – this plugin represents an opportunity for you to "recycle" your posts for the month and bring people back to your blog.
This plugin is more of a fully-fledged newsletter service, custom made for WordPress, that aims to replace the likes of AWeber and MailChimp. It makes creating attractive newsletters simple – just check out this promotional video:
The free version allows up to 2,000 subscribers, so you have plenty of time to see whether or not the plugin works for you before you upgrade. It is well supported and growing in popularity quickly, with a very impressive near-perfect star rating on the WordPress plugins repository.
We all know that it is no longer possible to ignore the mobile web (nor has it been for some time now). Putting the cheeky name to one side, OMFG Mobile Pro allows you to set up mobile landing pages: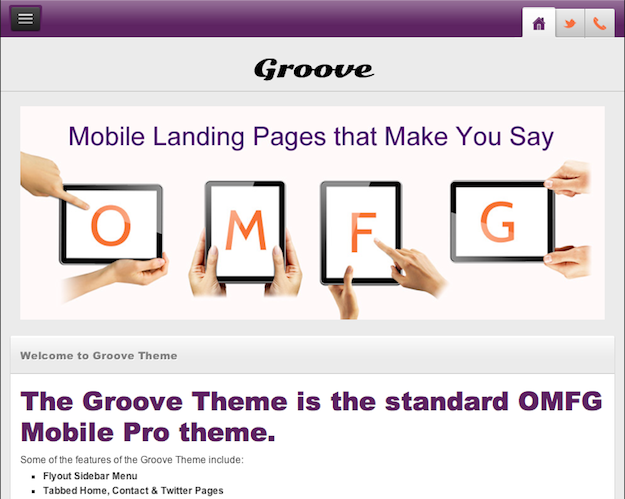 The focus is on fully-compliant HTML5 and CSS3 pages, which is something of a must for mobile devices in this day and age. OMFG Mobile Pro is a very new plugin, having only been released in February, but the developers are clearly very serious about developing it into a major product.