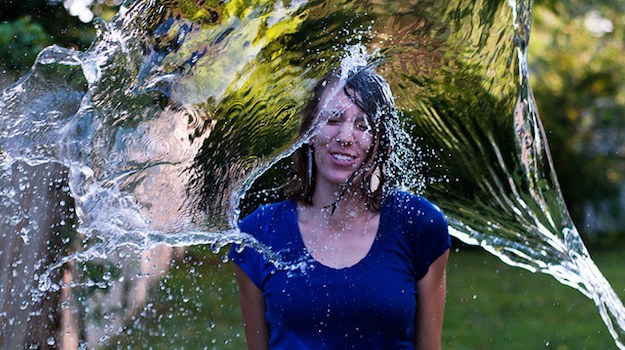 In many walks of life, timing is critical – and blogging is no exception. The days and hours at which you publish and promote your blog posts can make a big difference to the number of visitors that end up hitting your site.
We now live in a blogging world where post promotion is carried out through a number of different mediums:
Facebook
Twitter
Google+
Email
RSS
Social bookmarking
This is of course just a brief list – there are a huge number of ways in which your blog posts can receive exposure. And many of these ways are "time sensitive" – i.e. the time at which the post is promoted can have a dramatic effect on its exposure. Today, we are going to explore the methods you can employ to ensure that your blog posts are promoted on the correct days, and at the correct times.
What Days Should You Publish Your Blog Posts?
If you are writing 7 posts per week, this question isn't necessarily that relevant to you. But for the vast majority of bloggers who publish between 1-5 new posts per week, the days on which you choose to publish can make a considerable difference to your post's exposure.
Here's the problem – there is a lot of conflicting advice out there. In a post published way back in 2008, ReadWriteWeb published a post advocating that Thursday is the best day. Darren Rowse suggests that you might blog on a weekend because hitting the front page of Digg is easier. Pat Flynn claims that Monday is when he publishes his best content, because his Monday posts always receive the most attention.
So let's try and cut through the fluff and see if there are some more definitive answers. A 2007 report published by the London School of Economics Centre for Economic Performance refers to a survey that demonstrates Monday and Friday are the two days on which the least work is done.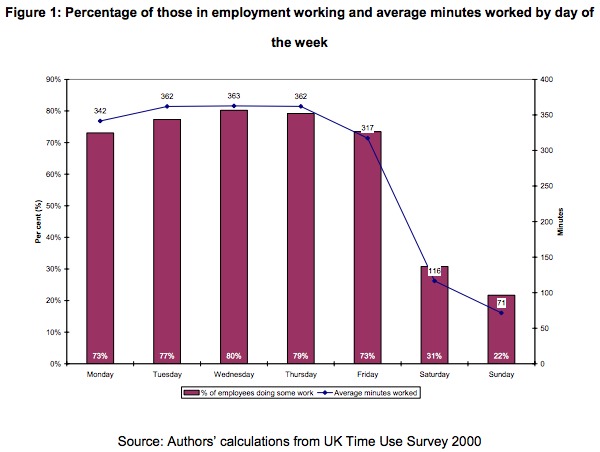 It is not unreasonable to suppose that a lower work output correlates directly with an increase in the reading of blogs and social media – which is where your post comes in.
The authors of the report have the following to say with regards to the reason as to why Monday and Friday are the "laziest" days:
On the one hand, it is feasible that productivity may decline over the course of the week as a result of increasing fatigue. The two-day weekend then provides the opportunity to rest before beginning the working week again the following Monday. On the other hand, productivity may be depressed to some degree on Mondays by the need to reorient oneself after two days away from the work process. It is also feasible that workers may lack motivation on a Monday as a consequence of this day being the point furthest from the next available day of rest or leisure (so-called 'Monday blues'). The proximity of Friday to the weekend may thus result in higher levels of motivation – particularly if there is a requirement or perceived advantage in completing tasks before the weekend. It is unclear as to how these various sequencing effects may balance out, but one possibility is that productivity may be at its peak in the middle of the working week, say on a Tuesday or Wednesday.
Here's the skinny – if the London School of Economics can only speculate, so can we. And when you are presented with conflicting advice or foggy conclusions, there is only one thing you can do – test. Publish posts, note how they perform, and adjust your schedules accordingly. It may sound like a copout, but no one can tell you what timing is best for your blog. There are just too many variables in play.
But before you start testing, try to think logically, rather than statistically. What demographic are you trying to target? When are they most likely to read your posts? In the post already referenced above, Darren Rowse suggested that "weekend specific" blogs should post on a weekend, despite Saturday and Sunday being notoriously slow for web traffic. Don't be afraid to go against the grain if your instinct tells you that your demographic will be sitting in wait for your blog post on a specific day.
What Time Should You Publish Your Blog Posts?
Fortunately, this question is easier to answer. You can be somewhat scientific about determining when the best time to publish is.
First you must consider timezone. It is very easy to discover when the majority of your audience is up and about. First of all, you can make a reasonable assumption that most people will only be reading your blog between the hours of say 8am and 11pm. So you know that you should be publishing your blog posts between those hours in the most common timezones amongst your blog's readers.
The second thing you need to do is to find out what the most common timezones amongst your blog's readers actually is. To do this, just login to your Google Analytics, click Audience, then Demographics, then Location.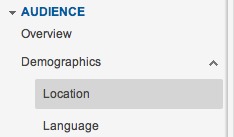 You will then be presented with a color-coded map of the world that looks a little something like this: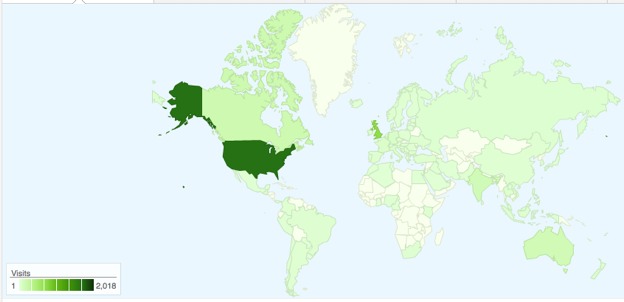 The darker the green, the more visitors there are from the corresponding country. As you can see from the above map, the majority of visitors can be found in North America, but there is also a good concentration of people in Europe – especially the UK.
From there, it is pretty easy to decide when posts should be published – at a time where you can reach the most number of people across the most relevant time zones. A good time under the circumstances of this example would be 11am EST. That would be 8am PST, and 4pm GMT. Although you can vary the timings and assess the results, publishing your posts at 11am EST will give your post a good chance of being seen by the majority of people.
Does It Really Matter?
For many mediums of promotion, the day and time at which a blog post is published does not matter. For instance, RSS readers and email subscribers will have the post waiting for them when they get around to reading it, regardless of when you publish it.
That does not however make the above advice redundant. Social media is one of the most powerful ways of promoting your blog, and when it comes to social media, everything runs in real time. Take Twitter as a clear example. Say that you tweeted your new post out at the exact time where the fewest number of your followers are active. You will receive far less page views than you would have done if you had tweeted at the optimum time.
The topic of timing does not end here. Twitter, and how to make the most of it, is in fact our next port of call – and as part of Monday's article, we will be delving even deeper into making the most of your blog posts with good timing. Stay tuned!
What Do YOU Do?
As you can see, timing the publishing of your blog posts should be based far more upon your own analysis, rather than the opinions of others. Your blog is a unique entity, with a unique readership – there is no "one size fits all" solution.
So on which days and at what time do you publish your blog posts? Do you put much thought into it? How important do you think timing is to producing popular posts? Let us know in the comments section!
Creative Commons photo courtesy of aithom2