Every new WordPress update introduces new and exciting features with it. Some releases are more significant than others, though. That's definitely the case when it comes to WordPress 5.8. It marks a big milestone for WordPress users. If you've been using the Content Management System (CMS) for a while, you'll probably want to know which features the new version brings.
WordPress 5.8 includes functionality such as WebP support (finally!), making it easier to edit every aspect of your website. You can, for example, create post or page templates using blocks, which is a massive deal.
In this article, we'll talk a bit about the history behind the release of WordPress 5.8. Then we'll dig into which features this update offers and why you should upgrade your site if you haven't done so yet. Let's get to it!
A quick overview of WordPress 5.8
WordPress 5.8 or "Tatum" (in honor of jazz legend Art Tatum) was launched on 20 July 2021: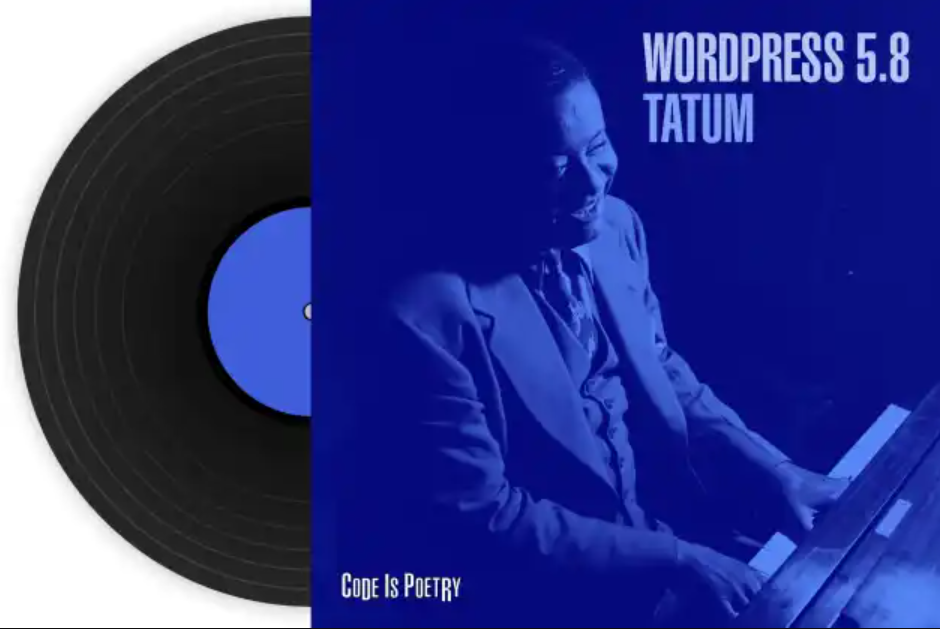 Image source: WordPress.org.
The 5.8 release brings us closer to the vision of "Full Site Editing" outlined in the WordPress developer documentation:
At the highest level, the vision of Full Site Editing is to provide a collection of features that bring the familiar experience and extendability of blocks to all parts of your site rather than just post and pages. You can think of Full Site Editing as the umbrella project name for various sub-projects within Gutenberg that make this vision possible.

Source: The WordPress Block Editor Handbook.
We've come a long way from the early days of the Block Editor and the controversy surrounding it. Now, WordPress has firmly embraced blocks in every aspect of its development. With the "Tatum" release, the CMS takes a huge step toward making Full Site Editing a reality. It does this by enabling you to create and edit post and page templates using blocks.
Before 5.8, you needed to get your hands dirty with code to create WordPress templates. Now, everyone who can use the Block Editor will have a much easier time customizing every aspect of their websites and favorite themes.
However, using blocks to create page templates is only one of the exciting features this release brings. So, we have plenty to talk about in this article.
5 new features in WordPress 5.8 (and what they mean for you)
Every new major WordPress version comes with a staggering list of new features. 5.8 is not the exception, so we've focused on the most exciting new functionalities and changes with this release. Let's start with something this update doesn't include.
1. No more support for Internet Explorer 11
Internet Explorer 11 marked the end of an era in 2013. It was the final release of what was once the most popular browser in the world. Since that last update, applications and platforms have slowly discontinued support for the program.
Microsoft announced that it would stop providing support for Internet Explorer 11 in mid-2022. It has now entirely focused its marketing on the Microsoft Edge browser:

Now is the perfect time for WordPress to get out of the Internet Explorer game and focus on browsers with more significant market shares or even up-and-comers.
If you're still using Internet Explorer, it might be time to migrate to a new browser as well. Otherwise, you risk being left behind and your WordPress site suffering because of it.
2. The introduction of theme.json
As WordPress expands its collection of blocks, it becomes more complicated for developers to juggle all the settings and features when creating themes. WordPress 5.8 aims to make theme development "easier" by introducing a new file called theme.json.
This new file is located in each theme's top-level directory. It enables you to configure Block Editor settings and presets, such as font sizes, custom colors, and more. The file works on both a theme-wide basis and for specific blocks.
Furthermore, using theme.json will likely make it easier to handle styles in upcoming WordPress releases. So, it could be worth familiarizing yourself with it and staying ahead of the curve.
3. WebP support
After finally adding WebP support, we were looking forward to WordPress jumping on the WebP bandwagon. It is one of the most exciting image formats currently available for web applications.
Using WebP, you can deliver images with file sizes around 30 percent smaller on average than JPEG and PNG. In terms of performance, the smaller files can translate to massive improvements in page loading times. This is particularly true if you use multiple media elements on each page.
There are more reasons to use WebP images beyond performance, though. The pictures also support animations and transparency, making them incredibly versatile. Since all modern browsers support WebP, there's no reason not to start adopting the format for your website.
4. The new template editor
As we mentioned before, WordPress 5.8 enables you to create and edit page and post templates using the Block Editor. However, this feature is only available for themes designed to support full-page editing.
For example, if you're using Twenty Twenty One, you'd need to switch to the experimental Twenty Twenty One Blocks theme:
On top of using a 'block-enabled' theme, you also need to activate the Gutenberg plugin, even if you're already using the Block Editor. That's because some full-page editing functionality is only available on a test basis.
If you fulfill those two criteria, you can edit any post or page and access the Template section within its page settings. You'll see a dropdown menu to select which template to use. Here, you can also edit it or create a new one:

Once you access the template editor, you'll see the following welcome message: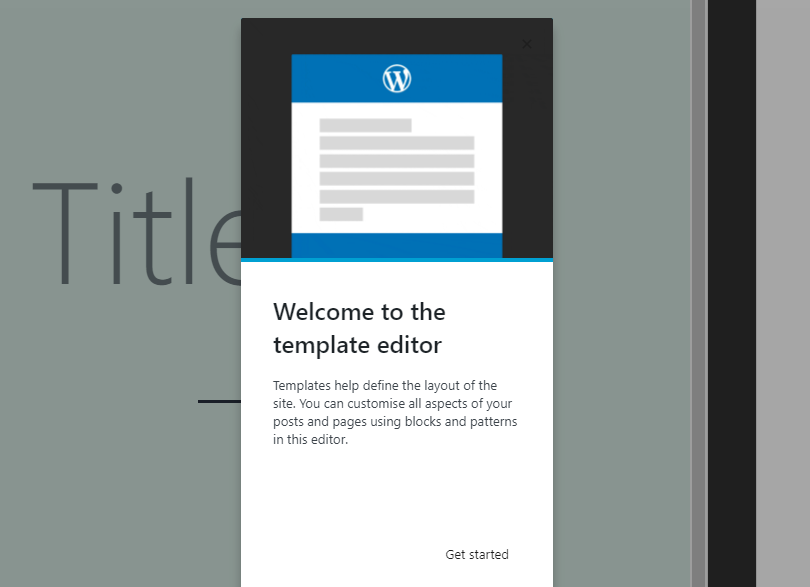 Using the editor, you can customize templates just as you would with any page or post. You can add new blocks, style existing ones, rearrange them, and more.
The new template editor also comes with several new blocks to take advantage of. Now, the Block Editor enables you to add your site's logo, login and logout links, and query loops, among many other elements. Overall, creating theme templates has never been easier.
5. A block-based widget editor
We weren't kidding when we said that blocks are everywhere in WordPress these days. Before the 5.8 update, editing widget areas felt like a very different experience from working on the rest of your site. Now, the Block Editor is available for customizing them.
In practice, that means you can edit your footer, sidebar, and other areas by adding blocks, customizing, and re-arranging them. The experience feels just like editing a page or a post, only you're working on particular parts of your site's layout: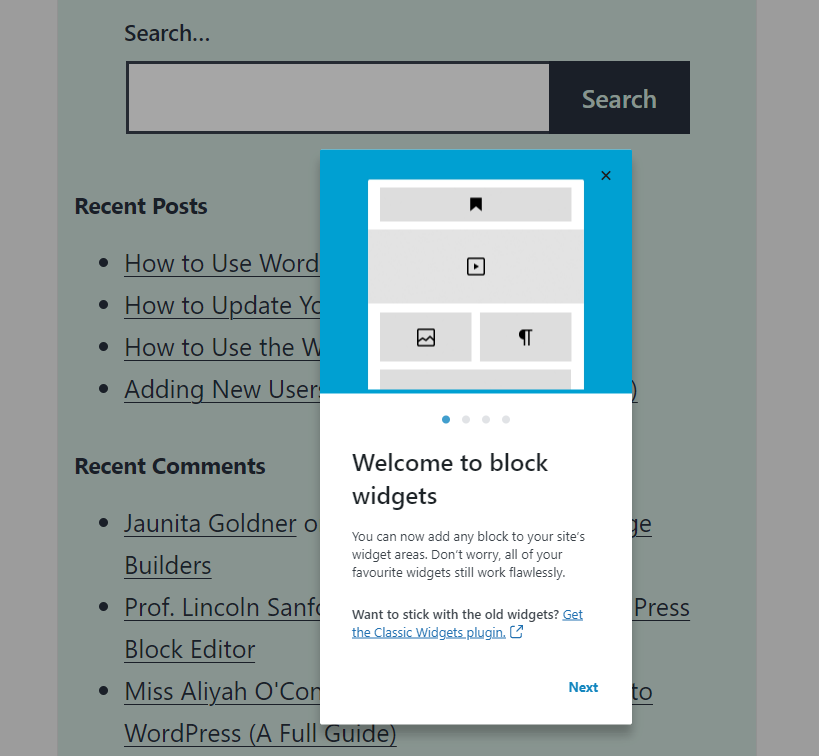 On top of all the widgets you're used to, you can now access all of the same blocks from regular pages or posts. That, combined with the rest of the Block Editor's functionality, gives you an unprecedented degree of control over widget areas.
How to upgrade to WordPress 5.8
Updating your website to WordPress 5.8 shouldn't be difficult. If you're using a reputable web host, the new version should already be available. You'll get a notice to update WordPress when you access your dashboard:

As always, it's essential to back up your website before updating WordPress. You should consider following this process in case your theme or plugins aren't compatible with the new version or any of its features.
In our experience, if you use plugins and themes that get regular updates, you shouldn't have any compatibility problems. WordPress 5.8 brings some major changes to the table, so we recommend that you go ahead and upgrade right away.
Conclusion
New WordPress releases are always exciting. The "Tatum" update, in particular, marks a significant turning point toward Full Site Editing becoming a reality in WordPress. It means you'll be able to customize every aspect of your website's appearance using the Block Editor instead of coding.
The new release enables you to create templates and edit widget areas using the Block Editor. WordPress 5.8 also marks the end of support for Internet Explorer 11. We also finally get compatibility with WebP images, which can help improve your website's performance.
Do you have any questions about using WordPress 5.8? Let's talk about them in the comments section below!
Image credit: Unsplash.