Whether your website is managed by a small team or has hundreds of collaborators working behind the scenes, it's important to track the changes they make. After all, if something goes wrong you'll need to be able to see what happened on your site before the issue occurred.
This is where an activity log can be extremely useful. Maintaining an activity log for your site can be vital for both security and accountability. The log tracks every event and change related to your site, which can provide you with valuable information when something goes wrong.
In this article, we'll introduce activity logs and show you how they work. We'll also discuss some of the most important reasons you should consider implementing an activity log on your site. Let's get started!
A Brief Introduction to Activity Logs
In the broadest possible terms, an activity log is a list of all actions taken by every user on a given system. For example, when used on a WordPress website, this log would record every time a post was added or edited when a user attempted to log in, whenever the site was updated, and much more.
Essentially, this gives you a running summary of everything that happens on your site. While this might seem like a lot of information to deal with, it can be crucial for maintaining a secure site that runs smoothly. This can be especially useful if you're working with a large team of administrators, or your site has a large amount of traffic.
4 Reasons Your Site Needs an Activity Log
Implementing a WordPress activity log on your WordPress site has plenty of benefits. Let's look at some of the most important ones below!
1. An Activity Log Ensures Accountability

Accountability is an incredibly important part of any collaborative project. Put simply, this means each member of a team has a set of responsibilities that they are expected to uphold to a specific standard. As such, accountability enables you to see when a given task has not been performed as expected, or if a mistake has been made that causes problems.
If you lacked accountability, it would be much more difficult to find the source of such problems. With an activity log, this is no longer a concern, as it's easier to track the actions of everyone on your site. For example, if your site's theme suddenly breaks, you can view your activity log to see what preceded the issue. You might find a developer has made a change to a theme file, which essentially caused the issue, and informs them.
For this reason, an activity log helps both you and everyone else working on the site, as they can easily track their own work as well. Conversely, an activity log also enables you to see which users are pulling their weight and exceeding expectations.
2. You Can Improve Your Site's Security
Keeping your WordPress site secure is obviously hugely important, but it can sometimes be difficult to spot security risks before they blow up in your face. For example, one of the most common security issues is the "brute force" attack. These are automated attacks where a bot will try to enter your site by repeatedly attempting to log in using randomized user credentials until it hits a valid combination.
In cases like this, it would be difficult for a site owner to even know an attack was taking place. However, with an activity log on your WordPress site you can quickly identify suspicious or harmful behavior at a glance, then take measures to prevent further issues.
In the case of a brute force attack, you might want to ban the attacker's IP, or consider implementing additional security measures to stop future attacks before they can proceed. Regardless, being able to prevent security vulnerabilities before they actually harm your site is vital, and regularly checking your activity log will make this a lot easier.
3. A WordPress Activity Log Makes Troubleshooting Errors Easier
It's certainly never fun when something goes wrong on your site, especially if the underlying error is not immediately clear. In many cases, you may even be stuck for hours just trying to diagnose the problem using a combination of guesswork and arduous troubleshooting.
Fortunately, being able to consult an activity log would make this process significantly faster. After all, the easiest way to find the cause of an error is to see what happened just before it first appeared. For example, if the log shows a plugin was updated around the time of the issue, you have a path to investigate further.
This makes one of the most stressful and complex aspects of site management a lot less troublesome. You can always access your activity log to narrow down your troubleshooting within minutes, saving you both time and effort in the long run.
4. It Helps You Meet Regulatory Standards
We've talked a lot about how you and your site can benefit from using a WordPress activity log. However, you might even find that being able to track the activity on your site is mandatory. In fact, several regulatory compliance bodies require it for certain websites, including those run by businesses.
This includes the General Data Protection Regulation (GDPR), which was recently put into effect for all sites handling the personal data of EU citizens. A large part of having a GDPR compliant WordPress website is being able to track everything that happens on your site, including what data is saved, where, and when.
Along with tracking site activity, the GDPR also requires you to prepare for and handle data breaches efficiently. As we've already mentioned, this is something an activity log is also capable of helping you with. However, it's also important to note that no single plugin can make your site compliant with the GDPR or any other regulation. A WordPress activity log is a great tool to help with this, and not a simple shortcut.
How to Add an Activity Log to Your WordPress Site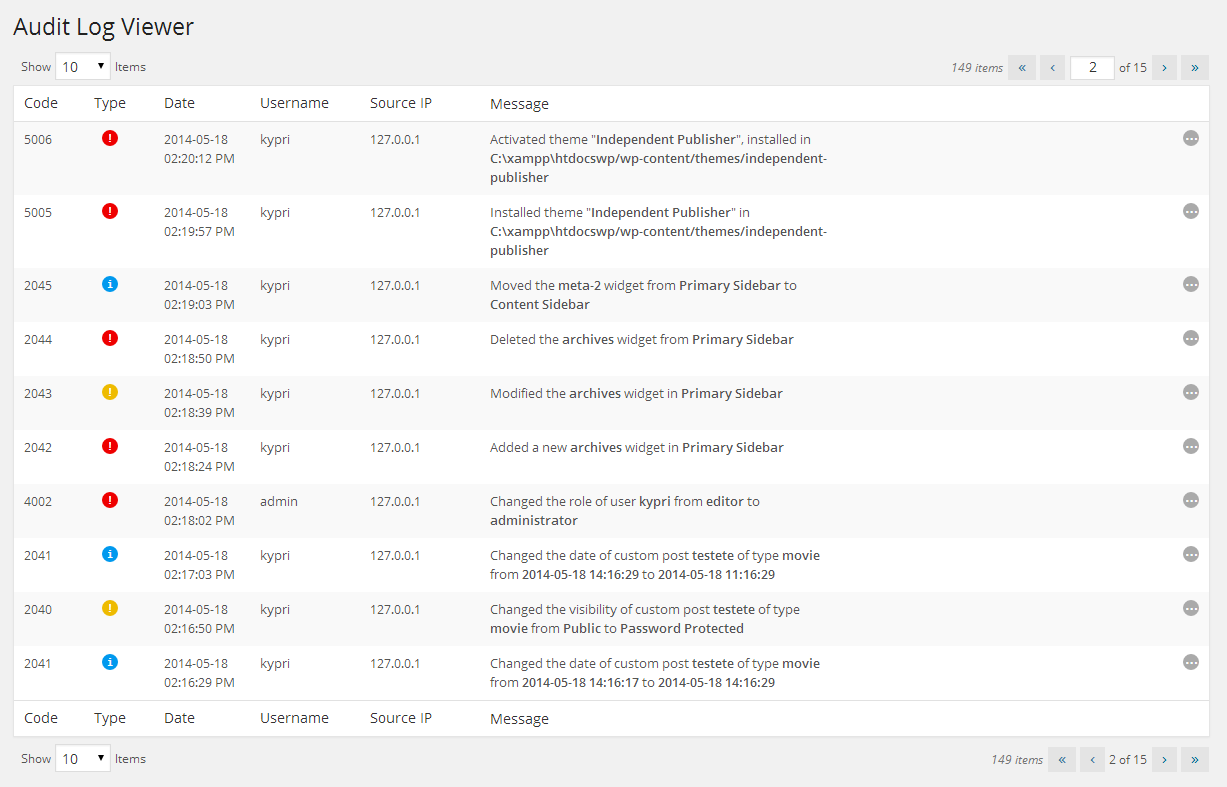 As is so often the case with WordPress, the easiest way to implement an activity log is to use a plugin. Fortunately, there are several options available with several different features. For example, User Activity Log is a simple plugin that only tracks the most important changes. Another user-friendly option is Simple History, which also includes support for third-party plugins.
However, one plugin that stands out is WP Security Audit Log. This is a comprehensive and powerful activity log plugin that's able to track every single event on your WordPress site. What's more, it also logs what change was made, by which user, and what their user role is. The log also updates in real-time, so you're never left behind.
In short, WP Security Audit Log gives you the most in-depth tracking information, which you can expand further by purchasing a premium license. This adds features such as the ability to see all logged in users, get notified via email of important changes on your site, and the ability to generate HTML and CSV reports.
WP Security Audit Log is a free plugin, and it's very user-friendly even for beginners. Considering the functionality it offers, it's actually quite easy to install and configure. Should you have any questions or encounter any problems, the knowledge base will be able to assist you further.
Conclusion
Keeping up to speed with every event on your WordPress website can be nearly impossible. That is, unless you have a tool to do it for you. Using an activity log enables you to always get a full overview of your site.
In this article, we've discussed the main benefits of using a WordPress activity log, such as:
Ensuring accountability.
Improving your site's security.
Making troubleshooting errors easier.
Helping you to meet regulatory standards.
Do you have any questions about how an activity log can help your WordPress site? Let us know in the comments section below!