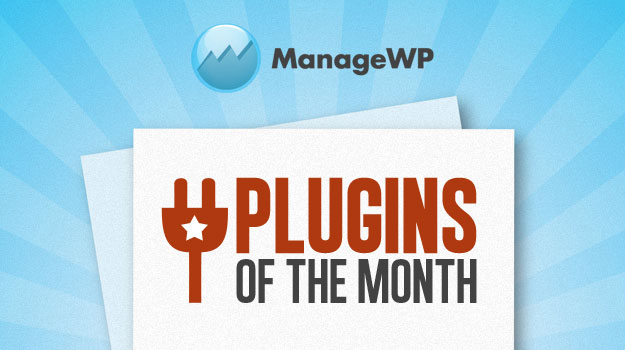 I'm developing a dangerous expectation.
It seems that every month without fail, I have to make tough decisions as to which plugins I should include in the top ten. I expect there to be a minimum of ten awesome plugins. I tell myself that this cannot be sustainable — the concept that WordPress developers around the world are producing so many quality plugin is difficult to comprehend.
And yet, here we are. Another ten plugins this month, and another great selection. What you can find below is a great variety of functionality — there's certainly something for everyone. There's also a few candidates for plugins that you didn't even know that you needed. Enjoy!
This addresses a really simple issue with WordPress' inbuilt video embedding feature that has bugged me from day one.
When you paste the link to a YouTube or Vimeo video into a WordPress post or page, it is not typically displayed in full-width, and aligns to the left. To me, that looks ugly, so I always end up copying the <iframe> embed code and manually setting the width.
That is no longer necessary with Fluid Video Embeds, which automatically resizes embedded videos to be full-width, whilst retaining the correct aspect ratio. Hopefully this functionality will make it into a future version of WordPress, as in my humble opinion, it is a must!
This is a great plugin for any personal/travel blogger who likes to highlight places they have visited (or would like to visit).
In a nutshell, Leaflet Maps Marker allows you to pin your favorite locations on a variety of different map types (OpenStreetMap, Google Maps, Google Earth (KML), Bing Maps, and more):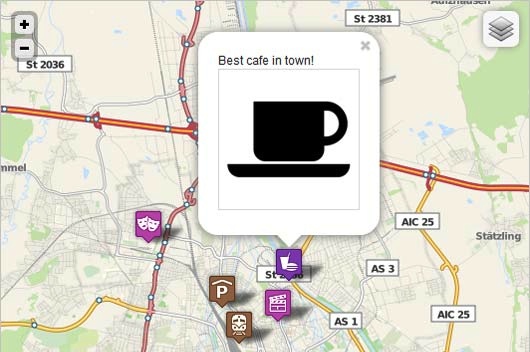 You can include photos and comments, and have a huge selection of marker icons to choose from. There are a bunch of additional features and options too — check out the official website for more information.
This is one of those plugins where you can take a pretty good guess at what it does from its name.
GC Testimonials offers you an organized and efficient system for adding and managing testimonials on your WordPress site. There is a form available so that visitors can submit their testimonials, which are added as custom post types: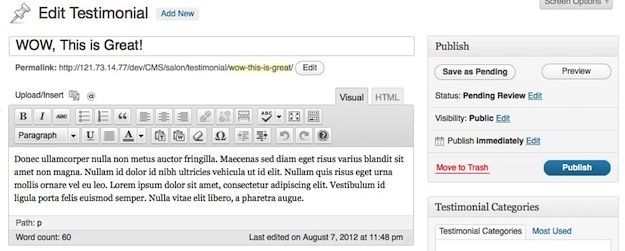 You can then choose to display testimonials by using a widget, or shortcode: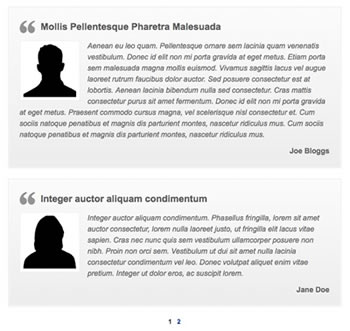 As you will be fully aware if you are a regular reader of the blog, we take security very seriously at ManageWP. Whilst there are a raft of plugins available that can boost your site's security credentials, Login Security Solution in particular is a great option.
It offers a suite of login-related security measures, including (but not limited to):
IP tracking
Strong password requirement
Idle timeout
Login monitoring
Notifications
Download Login Security Solution
Widgets are a great way of adding dynamic and customizable content to your website. And with Widgetize Pages Light, you can leverage the power of widgets even further by, you guessed it, adding them to pages.
With this plugin you can create new custom sidebars, which you can add widgets to: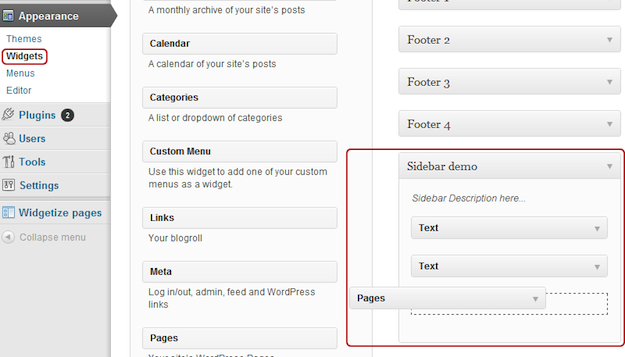 You can then call these custom sidebars with a simple shortcode in any post or page, and hey presto! Widgets in your main content.
Download Widgetize Pages Light
Adding columns to your site can be a bit of a nightmare, as WordPress likes a nice linear layout within any post or page. But that no longer has to be the case with Column Shortcodes: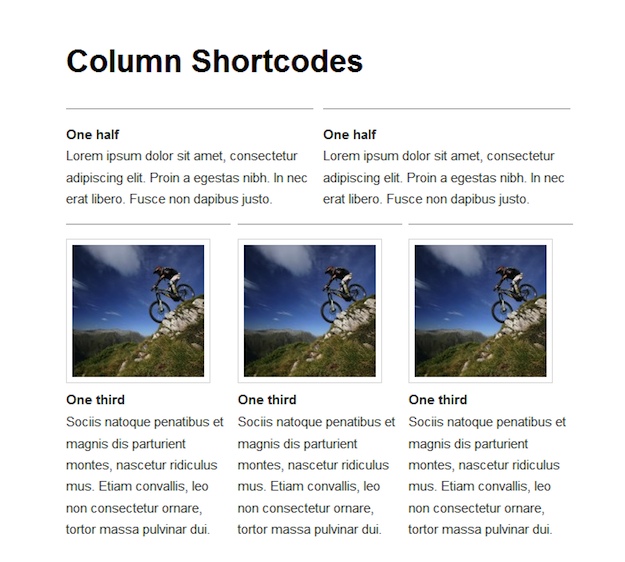 You can create columns from one half to one sixth of your page/post's width just by wrapping it in a shortcode. Simple, but highly effective.
It can be a bit galling to fork out money for a "coming soon" page. After all, it's only going to be temporary, so is it really worth spending money on?
The typical answer is "No", which is where Ultimate Landing Page and Coming Soon Page can step into the breach: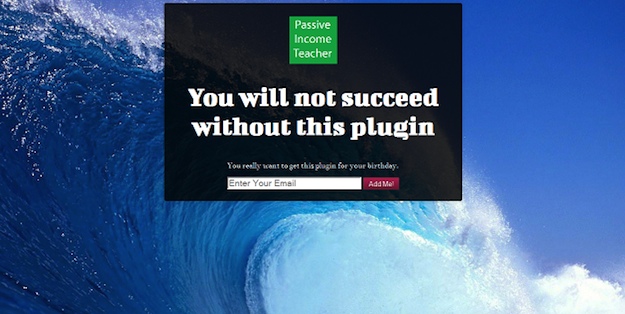 Creating a simple landing page or coming soon page is easy, and you have a good level of control over what is presented, and how:
Logo
Background image
Text
Fonts
Colors
Email addresses can be collected via
Feedburner's
service. This plugin is a good solution to a temporary problem.
Download Ultimate Landing Page and Coming Soon Page
Slider plugins are a dime a dozen, but this one in particular is a great option. WOW Slider features a raft of templates — here are just six of them: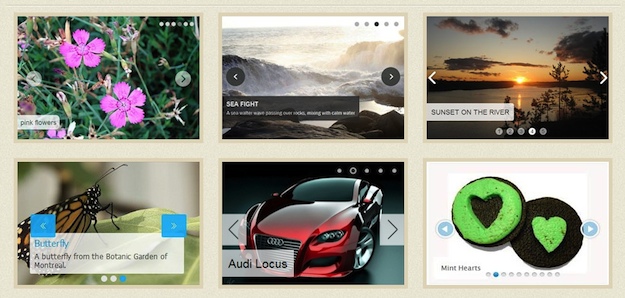 But that's not all — it has an intuitive point-and-click system, and is fully responsive. You can include your slider in any post or page with a simple shortcode.
Whilst this offers rather unique functionality that will only serve a specific type of WordPress user, its inclusion is most certainly warranted in this month's list.
As you might expect from the name, Design Approval System allows you to turn a WordPress blog into a design approval system for your freelance work:
As you can see from the above video, when you submit designs via the blog, the plugin will automatically inform your client by email. They can then visit the site, view the work (plus any designer notes), and approve it (or request changes).
Download Design Approval System
Finally, we come to one of my favorite plugins, whose inclusion in our plugins of the month series is way overdue.
Code Snippets is a plugin that I have mentioned on more than occasion here on the blog previously, and I am sure that it will be mentioned again in the future. In a nutshell, it allows you to compartmentalize code snippets that would otherwise all be thrown into the functions.php file, and treat them more like plugins: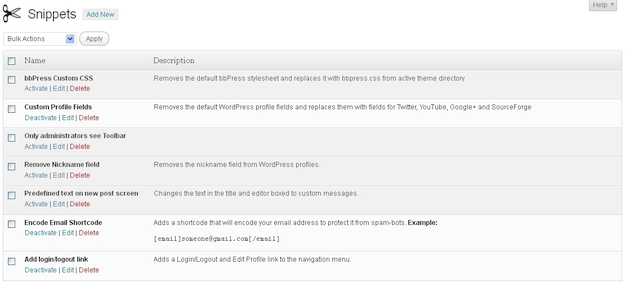 With this plugin, you get all of the convenience of being able to manage your code snippets as if they were plugins, whilst retaining control of the code. It's a perfect combination.