The recent release of WordPress 3.8 "Parker" sees a beautiful new modern design brought to the WordPress administration area. This is great news for users who spend a lot of time in their dashboard editing posts, managing images and tweaking their site.
However, if you are a heavy admin user you will know that some tasks become very repetitive and you end up spending most of your time clicking! In this post I want to introduce you to five plugins that will make your life easier and make time spent in the admin area more efficient.
If you are a Mac user you might have heard of the productivity app Alfred which allows you to search for files and launch apps using only your keyboard. WP Butler is effectively Alfred for WordPress. It is from Japh, who works for Envato as Wptuts+ Editor, so he knows a thing or two about WordPress.
Once you have installed and activated the plugin you just need to press Shift + Alt + B and a popup will appear with a text box to start typing in common WordPress actions.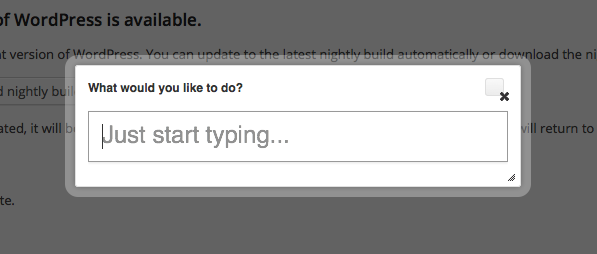 This allows you to easily navigate the WordPress admin and access standard tasks like adding, editing, viewing posts and pages. You can view comments, manage themes and plugin and lots more.
It also features a powerful search of posts by typing in "search" followed by your search term. "Search" is classed as a keyword by the plugin. Other keywords include "View" and "Edit" which when typed in on their own produces a list of posts in the drop down, but combined with a search term allow you to access the view or edit screen for that post.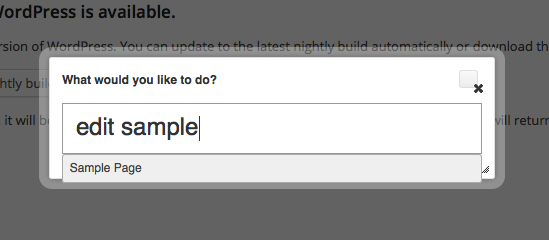 WP Butler is a must have plugin for any user who relies heavily on the keyboard in their workflow.
If your WordPress site has multiple users, at some point you might have had the need to login as a different user. This normally means logging out and logging back in as the other user. Not a big deal right? If you are testing your site, developing a theme or are an administrator of a site with a large user base this might be a frequent need and becomes extremely time consuming. Enter User Switching which allows you to switch instantly between users in a easy and secure way.
The plugin is written by John Blackbourn who is a WordPress core contributor and recently got his face on the 'Contributing Developers' section of the WordPress credits page. The plugin is also compatible with Multisite and BuddyPress which makes it even more valuable across a large user base.
When you have installed and activated the plugin you can access the functionality by navigating to Users > All Users (or with WP Butler by pressing Shift + Alt + B and typing in users). If you hover on another user you will see a new option of "Switch To" which will automatically log you out and back in as that user.

That in itself is a great timesaver, but it gets even better when you inevitably want to log back in as your original user. All you need to do is hover over the 'Howdy,' user area in the top status bar and click "Switch back to …" and you are logged back in as your original user.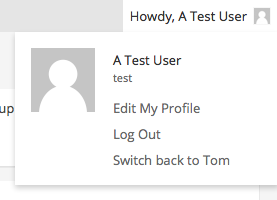 The plugin is simple, effective and has been built with security in mind. It is a must have plugin for admins and developers.
Image management in WordPress can sometimes be a bit of a mystery to users, especially clients who aren't that familiar with WordPress.
When images are uploaded a number of different sized images are created based on the sizes defined in Settings > Media > Image sizes. Other sizes can also be defined in themes and plugins. However, when you change your image sizes or swap in another theme, your existing images and their sized versions are out of step with the new sizes.
You could always re-upload the images to fix this, but that is not a practical solution for more than a handful of images. The Regenerate Thumbnails plugin takes care of this for you, allowing you to regenerate the sized versions of all uploaded images or on a per image basis.
You can regenerate all images by going to Tools > Regen. Thumbnails and clicking on "Regenerate All Thumbnails". During the regeneration process you are shown statistics for its progress and information about every image processed.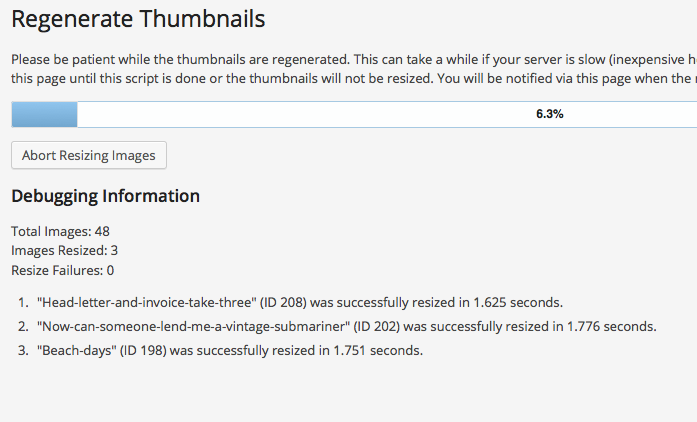 This plugin is the epitome of simple and effective and its author Alex Mills actually works for the company behind WordPress. Regenerate Thumbnails is so useful on any WordPress site it is no surprise that it has been downloaded over 900,000 times.
The next plugin, although actually one of my own, I believe makes moderating comments even easier on sites that have a large number of comments. It simplifies the Comments screen by creating a unified 'Advanced' view of the comments that which you can filter with a number of options in Settings > Discussion.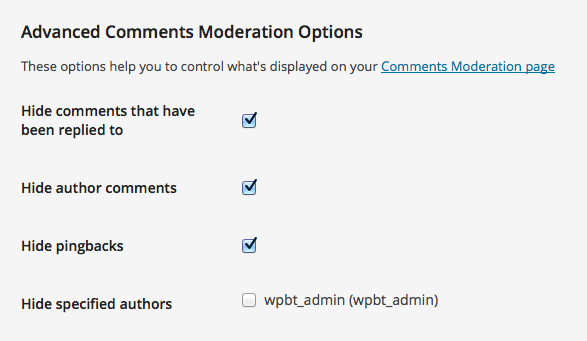 You can hide from the view comments by all or specific authors, pingbacks and any comments that have been replied to. One of the best features here is to be able to manually dismiss comments, which removes them from the Advanced view. This allows you to work through the comments list without clicking between tabs on the screen.
This plugin makes it very simple, with fewer clicks, to administer comments on a website. If you have a large discussion base then this really helps you to achieve 'Inbox Zero' with your comments.
Editing posts in bulk cannot always be achieved with 'Quick Edit'. If you manage a website that has many posts, pages or custom post types the process of making edits to each of them, one after the other is laborious. You need to find the post to edit, make the change, update the post and then going back to all the posts to find the next one to edit. If only you could navigate to the next or previous post whilst in the edit post screen? With the Admin Post Navigation plugin now you can.
Once installed and activated the plugin adds new buttons to the top of the edit post, page or custom post type screen that allow you to navigate to the next or previous post.

The order of the posts by default is based on the post ID but that can be easily changed to something like post data or menu order using the filter 'c2c_admin_post_navigation_orderby'. The plugin has a few more filters that allow for customizing its functionality.
Its author Scott Reilly has no less than sixty-eight plugins on the WordPress repository, and this plugin is so helpful it makes you wonder why it is not in the WordPress core.
Conclusion
I hope these plugins prove useful in increasing your productivity in the WordPress admin area. Have you used any of these plugins on your website or have any other great productivity plugins to add to the list? We would love to hear from you in the comments below.