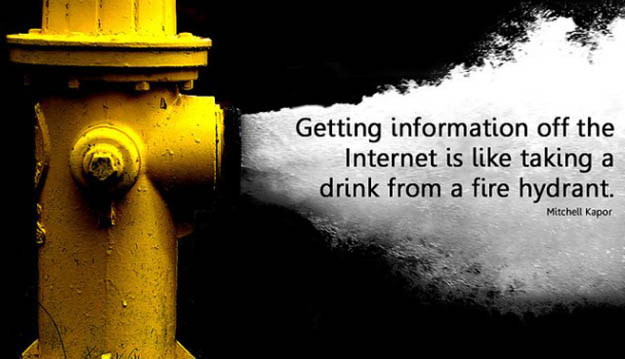 Do autoblogging plugins make good curation tools?
This is a question I found myself pondering recently after reading an article over at the WPMU blog called How to Set Up a Curated News Aggregation Site with WordPress.
In that post, author Joe Foley makes the case that while autoblogging plugins like WPMU DEV's Auto Blog seem like spam blog tools (and have indeed been used for that purpose in the past), using Auto Blog for spamming just doesn't make sense anymore. For one, Google has made that style of blogging nearly impossible to profit from and secondly a spam blog provides no real value to its readers. Both very valid points.
Instead, Joe argues, plugins like Auto Blog – which allow you to import content via RSS (and a lot more) – only reveal their full potential when used as curation tools for niche aggregation sites. He even provided a sample site he made called WPNewser that pulled in content from a bunch of different WordPress news outlets and compiled them all in one place: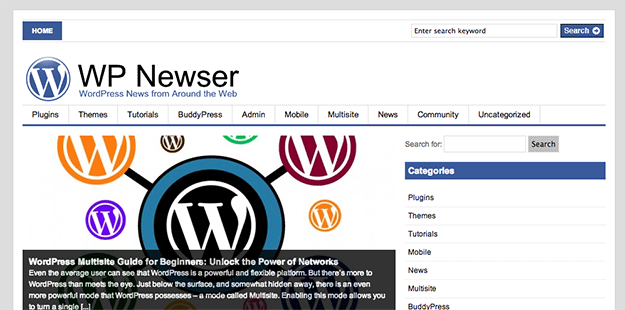 But upon closer inspection I wasn't too impressed with the experience provided by such a site. It felt like about 95% aggregation and about 5% curation. The difference of course being that aggregation is really only the first step in a quality curatorial effort. The latter half involves editing out the fluff, adding context and insight to what remains and in the end providing unique value to your readers.
I didn't see that in the WPNewser experiment, but I wasn't convinced that it couldn't be done…it was, after all, just an example site. So I decided the best course of action was to simply get my hands on the Auto Blog plugin and find out for myself.
Fortunately, I already had the perfect backburner project just waiting for me to test this theory on and bring it to life — a visual arts curation project I began on tumblr that I have been wanting to bring to WordPress for about two years.
My Personal Experience with Content Curation
In 2010 I began a tumblr called The Astonishing Post (or TAP for short). I had recently begun blogging for the international art and design blog Abduzeedo and I needed a place to save all of the interesting material I was coming across during my research for those posts.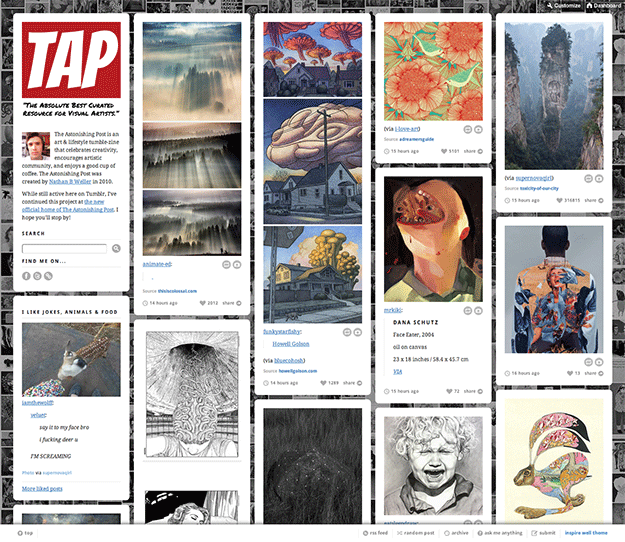 Over time though, TAP took on a life of its own as a sort of online stream-of-consciousness art and lifestyle magazine. As a result I began to take it a bit more seriously and I settled into an efficient daily blogging routine that allowed me to follow between 50-60 art and design blogs via Google Reader (feedly now) and over 600 artists and fellow curators via tumblr. Pulling from all of those sources on a daily basis I was able to post a minimum of 50 new blog posts a day and save hundreds to a growing queue in just two hours.
Eventually this type of blogging garnered me a little over 3,000 followers and a fairly respectable amount of daily traffic. In my mind it was time to expand my efforts. I wanted to provide deeper content, more types of content, create a superior navigation experience, create online courses, launch an e-zine, create a shop, email list and a lot of other stuff that unfortunately tumblr just isn't made for.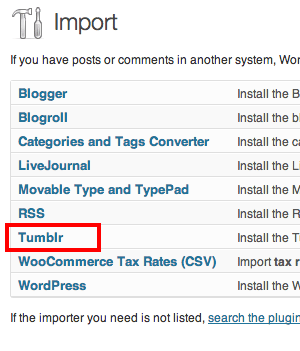 So as I looked for alternatives WordPress immediately stood out as my best option. I could migrate my tumblr to a self-hosted WordPress site, re-direct the link or possibly have the two blogs working in tandem, and add all of the features I mentioned above fairly easily. The only problem was that I would have to go from a minimum of 50 new posts per day to about five maybe ten posts per day. And it would take much longer than two hours.
After all, in addition to having to write the copy, download/re-size/upload the images and/or embed the video for a given post, you also have a great deal of pre-publishing, writing and post-publishing steps to take in order to get the most out of each post on a WordPress blog.
Ultimately, I just didn't have the time. And the trade-off meant that I was sacrificing the only proven source of value for my readers: large daily amounts of astonishing art.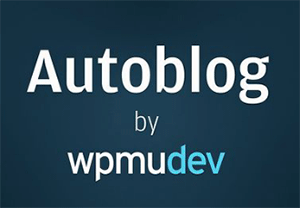 Which is why the thought of using an autoblogging tool for curation purposes sounded so attractive to me. I needed a tool that would help me quickly gather and post the best art from around the web and it looked like Auto Blog just might be that tool.
So I reached out to James Farmer, the Editor-in-chief of WPMU.org, and told him about my idea and that I'd like to try using Auto Blog as a curation tool and write the whole experience up in a blog post. He graciously gifted me a copy of the plugin for this post and I got right to work.
Installing & Configuring Auto Blog
Before installing Auto Blog and blasting my new blog with RSS content, I spent a good deal of time planning out how to organize the feeds that would be getting imported. What are my categories going to be? What are my sub-categories going to be? How am I going to do tags? What is my site structure going to look like? And on and on. Once I had that stuff figured out it was time to begin setting the site up.
Using a fresh install of WordPress and the latest version of Canvas by WooThemes (along with some awesome graphics a friend helped me create a while back) I got The Astonishing Post up and running on WordPress.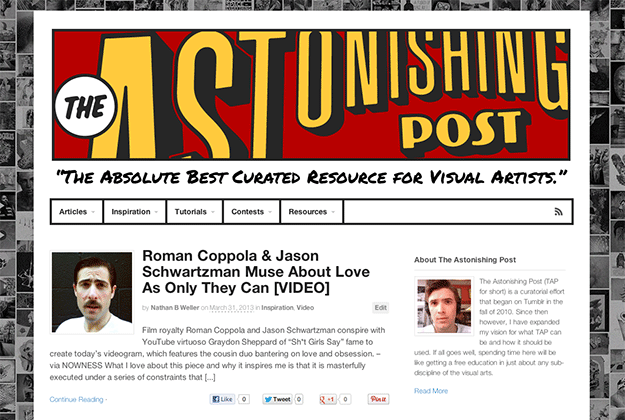 Now it just needed more content. And that, of course, is were Auto Blog comes in. After installing it I knew from the the post over at WPMU that my next step would be adding feeds under Auto Blog > All Feeds > Add New.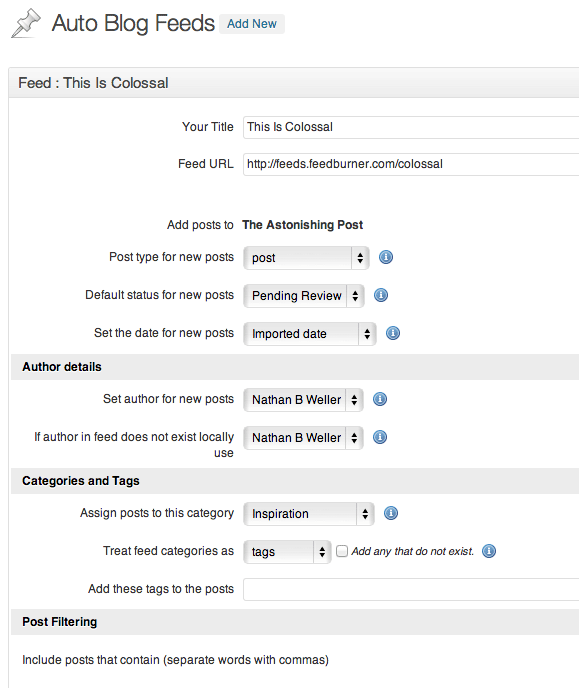 Here I was able to add, name and configure a great many settings for each feed I wanted to import. I could:
Determine the post type for each incoming feed
Set the post status to draft, pending review, or publish
Set the date for the new posts
Configure author details
Assign incoming post categories and tags
Filter incoming posts by keywords, phrases, tags and/or categories
Determine the post excerpt length
Set the attribution link text
Configure the feed processing settings (such as the type of content to import as well as how often the feed should be imported and when)
And even set a size on feature images
In this way I added nearly 50 RSS feeds from various art and design blogs around the web. I also went to the Add-ons section of Auto Blog and activated "featured image import" and "image import" so that Auto Blog would get all the images from each post I imported as that's one of the major time-sinks when it comes to WordPress blogging.
Now it was time process the feeds and get some content on my blog!
Auto-Curating: The Pros & Cons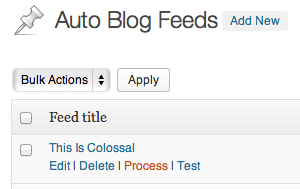 After clicking the "process" button under a couple of feeds I spent the next several hours sorting through the content that Auto Blog was able to import in just a few minutes. I was really impressed with how quickly it pulled in over 50 posts from multiple blogs. Now the challenge was picking and choosing which to keep and which to delete. And after that, getting down to the business of formatting, annotating, and scheduling/publishing.
Instead of narrating all of that in detail I thought I'd just give you a quick pros and cons list I came up with during that process.
Auto-Curating Pros:
Importing content is fast! If I had processed all of my feeds I would have been able to quickly import over 1,000 posts in about 15-20 minutes.
Automatically getting all of the images from each post is awesome. Downloading, resizing, and uploading images can be a major time-sink. Since my theme dynamically resizes all images that are too large for my post width this feature was a big time saver.
Being able to set post status as draft or pending review is a must and Auto Blog made it super simple.
Assigning each feed to specific categories and tags was a plus.
Getting the full post text was a nice option because when I went back through during editing I could keep what I wanted and delete the rest. As opposed to just getting the first paragraph or something like that as a post excerpt.
Being able to manually process each feed instead of it having to be automatic every X hours or minutes helped me avoid becoming too overwhelmed.
Auto-Curating Cons:
Importing everything from every feed, even when manually controlled, was way too much. It made for a lot of unnecessary deleting of posts and images I didn't want or need.
Videos did not import/embed properly.
Virtually no features aimed at aiding the curation process, i.e. selective importing, annotations, quotations, etc.
My Conclusion: Are Autoblogging Plugins Good Curation Tools?
In my humble opinion: No. Not in their current form. But they could be!
While my list of pros above is longer than the cons, the weight of the cons are greater than (or at the very least cancel out) any benefit gained by using an autoblogging plugin for curation. It's not that the plugin performs poorly in any way, it's more an issue of it only aiding in aggregation while providing virtually no tools for curation.
What this means for users is that if you're pulling from a lot of sources you are going to have a ton of posts and images you don't want to use. And yet they all get pulled in anyway when you process a feed. Which means you're then going to have to go through all of those posts (either side by side with an RSS reader like feedly for a reference or by previewing one post at a time through WordPress) to identify the posts you want to delete. And after you delete the posts you don't want you also have to delete the redundant images (which can be quite a time consuming process in and of itself).
In the end, it was just as time consuming for me to delete everything I didn't want as it would have been for me to skip the import altogether and do everything manually.
But it's not all bad news for autoblogging plugins looking to re-shape their image as curation tools. There are two features they could add to Auto Blog (or any other autoblogging tool) that would make them pure gold for bloggers/curators like me: a new and improved Feed Preview Mode and Selective Import option.
What would these features look like in action? I imagine they would look a lot like Google Reader. Take the image below for example. It's the list view of a Google Reader feed. Why not include something like this in the plugin? Instead of processing everything in a feed why not make it possible for a user to click preview, browse through the posts available and star or check off the posts they want to import before processing?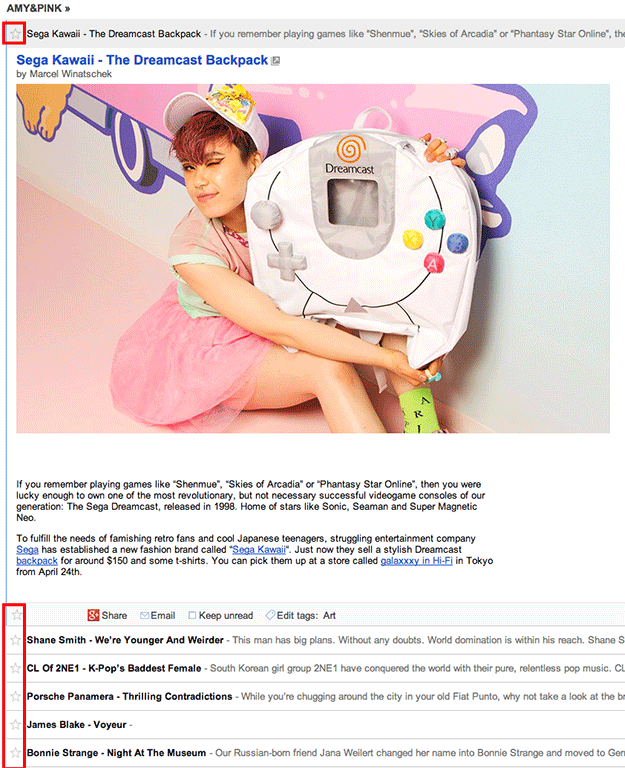 Those features alone would sell me 100% on autoblogging plugins as curation tools. Beyond those two features though, I can imagine a whole slew of mind blowing options that would make any curation blogger's wildest dreams come true, such as:
The ability to highlight multiple sections of text in preview mode that would import as block quotes.
The ability to annotate in preview mode.
The ability to add image titles and alt-text in preview mode. Ideally once and then have the rest filled in sequentially. Ex: Nathan-illustration-1.png would be put in once and numbers two through however many images there were would be filled in as both title and alt text for all imported images on that post automatically.
Automatically imports existing audio/video within an iframe shortcode, resized to a pre-determined setting.
And I could go on…
Now, I'm not saying that it would be easy to add features like the ones I've imagined above to an existing autoblogging plugin. All I'm saying is that in my opinion, it would take some big changes like these to justify the re-classification of these plugins from strictly aggregation, affiliate marketing or even (yes still) spam blogging tools into truly valuable curation tools.
Final Thoughts
I had really high hopes for this experiment. I really wanted it to work out. Like I said at the beginning of this post, I've been sitting on this project for about two years now and I still haven't come across a single plugin that does everything that I would need it to do in order to keep my daily blogging time on The Astonishing Post down to a manageable amount of hours.
But it's not a total wash. I got to test an awesome aggregation/autoblogging plugin, provide some constructive criticism and write a fun post for the community here. And since The Astonishing Post is now live, I went ahead and experimented with some other methods of content curation for WordPress blogging…and I think I found something pretty promising – hint, hint. But that's a topic for another post.
In the mean time, what do you think about my test of the Auto Blog plugin? Have you used an autoblogging plugin for curation before and if so what did you think of it? Do you have a preferred method of curating content for your WordPress blog? Let us know in the comments section!