Spam is one of the most common annoyances of the internet, and its frequency doesn't make it any less frustrating. This can be especially true if you're trying to maintain a clean comments section and combat spam on your website.
Fortunately, there are strategies that you can use to cut down on this problem. By using both native WordPress features and third-party tools, you can effectively fight back against junk comments.
In this article, we'll discuss some of the reasons you might not want spam on your site. Then we'll take you through three strategies to limit its presence. Let's get started!
The dangers of spam in WordPress
An influx of spam can no doubt be irritating. Unfortunately, the downsides don't stop there. Having junk comments on your site can have concrete negative effects on its performance.
One way that phony comments can do this is through the inclusion of malicious URLs. Spammers may use your site as a way to spread their own malware. If any of these links affect visitors, you could risk losing their trust.
Additionally, poor-quality URLs can harm your site's rankings. You may not be the one posting these links, but they appear on your site nonetheless. Consequently, you could end up dropping in search engine results, leading to less organic traffic.
Finally, your overall site's speed might suffer. If the spam is frequent and plentiful, it could place a heavy load on your server, leading to longer load times.
It's important to note that junk comments are rarely personal. Rather than targeting your page specifically, hackers are likely doing the same to as many sites as possible. As such, you may find that the best course of action is to be prepared and combat spam as soon as possible.
3 ways to combat spam in WordPress
There are a variety of ways to keep your comments free from malicious content. We recommend trying a few combinations of these strategies for maximum protection.
1. Create a blacklist for certain words
A blacklist is a collection of words that are completely banned from your site. As such, any comments that contain those words will be automatically marked as spam. WordPress won't notify you, and nobody else will see them.
To see your blacklist, head to your WordPress dashboard. Next, navigate to the left-hand menu and select Settings > Discussion: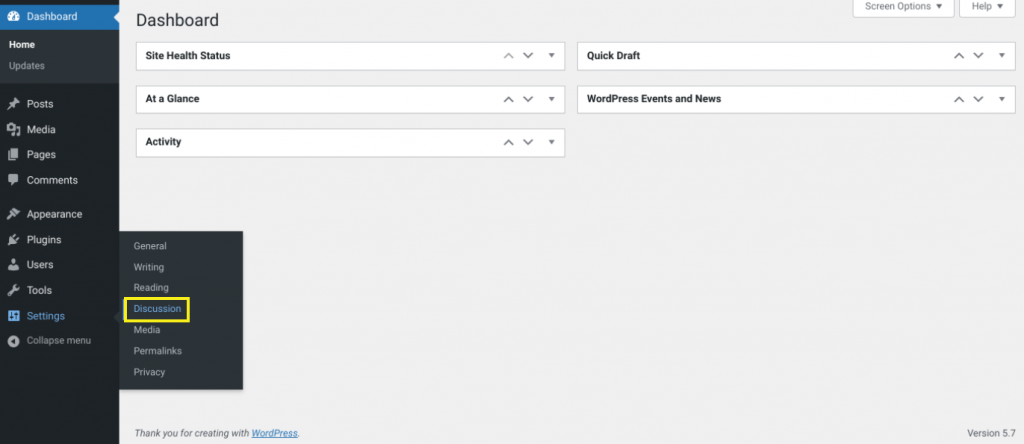 This will take you to the comments settings. You can scroll down a bit to find a section called Disallowed Comment Keys: 

There, you can populate the box with any words you want to be blacklisted. However, keep in mind that this system works on a partial basis. Therefore, blacklisting the word "sun" will also blacklist words such as "sunflower", "tsunami", "asunder", etc.
If you're unsure where to start, we recommend consulting the GitHub Comment Blacklist as a jumping-off point. It's a compilation of common spam words. Alternatively, if your site faces unique malicious comments, you could use past instances as a reference to personalize your banned words.
Another benefit of this native WordPress feature is that you won't have to review each comment for spam manually. As such, this tool can be a huge time-saver. If you're looking for other ways to improve your site's efficiency, you might want to consider other WordPress automated features.
2. Restrict comments to registered users
Another effective and far-reaching anti-spam tactic is only allowing registered visitors to comment. This adds an extra step to the posting process, which may be enough to prevent hackers who are targeting several sites.
To access this option, navigate back to the Discussion settings and scroll down to the Other comment settings. Next, you can check the box labeled Users must be registered and logged in to comment, and save your changes:

There are other useful options in this section. For instance, you might choose to automatically close comments on older posts, which can help limit opportunities for spammers to strike. You could also only allow previously-approved authors to interact or hold comments with links in a queue.
You might also want to take a more hands-on approach to your plan to combat spam. If so, automation can still help you out. For example, we recommend using Slack notifications to stay on top of your queue.
No matter what kind of moderation you implement, you'll want to consider its impact on your legitimate users. Some users may be confused by the process, as the feature prevents comments from going public right away. Therefore, you might want to post a notice alerting your visitors of your strategy to prevent repeat submissions.
3. Use a comment management tool
In addition to WordPress's built-in features, there are various third-party apps that can help you combat spam as well. Akismet Spam Protection is the default tool:

This plugin catches possible junk comments and provides them to you for review. Any content that Akismet believes to be indisputably malicious is automatically blocked.
Akismet is a quality plugin to combat spam. However, you have other options if you're looking for more functionality. We recommend our own Manage Comments feature within ManageWP: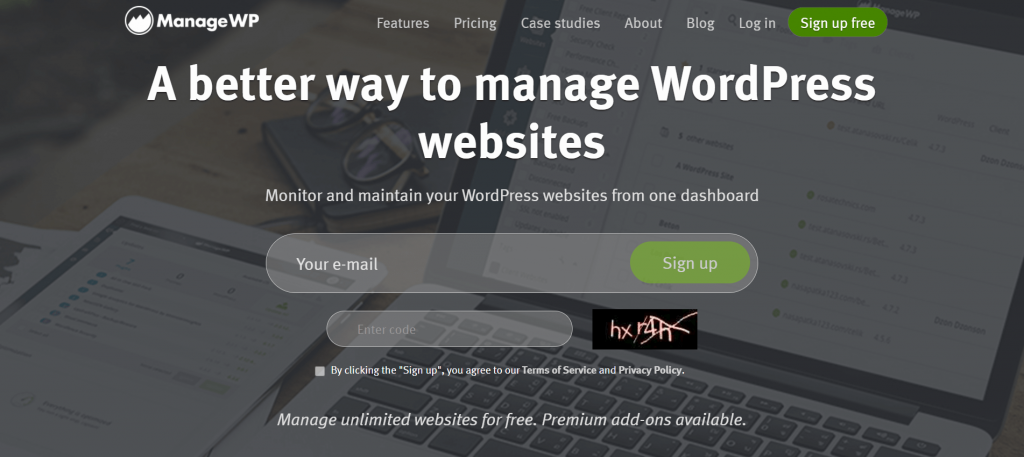 Our tool has a variety of anti-spam features. If you're dealing with a large amount of junk, you might find the Delete all function particularly useful. Additionally, you might appreciate the centralized comment structure if you're the administrator for multiple sites and want to minimize time spent on spam.
This feature is free with ManageWP for unlimited sites. So are other useful functions, such as maintenance mode and one-click login. However, you can also opt for premium upgrades on an as-needed basis.
If you're interested in trying ManageWP out, you can visit our home page and sign up with your email. Alternatively, you can send us a message if you have any questions.
Conclusion
Spam is a dangerous nuisance. Between aggravating visitors and bogging down your pages, finding a way to eliminate junk comments is crucial. Fortunately, you have an array of native WordPress features and third-party software to help you stay in control of your site.
In this article, we covered three ways to combat spam in WordPress:
Create a customized blacklist of banned words.
Limit comments to registered or approved users only.
Use an efficient comment management tool such as the one offered by ManageWP.
How do you fight malicious content on your site? Let us know in the comments section below!
Image credit: Pixabay.