2016 Update: ManageWP Orion is now commercially available. All you need to do is sign up on our home page and you'll be taken to your ManageWP dashboard. Find out more about our features here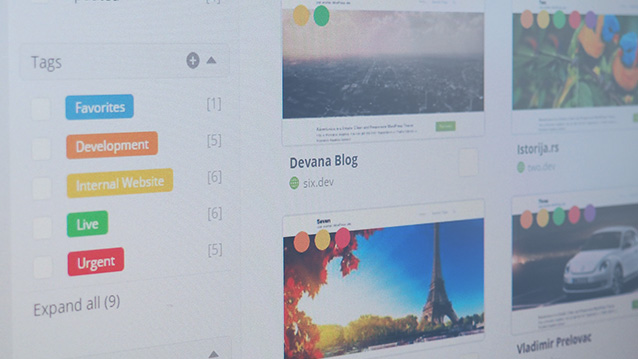 Hold on to your hats, ladies and gentlemen: the Orion dashboard has been released!
Under normal circumstances I'd hit you with a couple of paragraphs of behind-the-scenes, blood-sweat-tears-and-coffee text, to get you pumped.
Not today.
Today I only talk about the Orion dashboard. Enjoy.
The Mirror Concept
Orion is the future of website management, but our number one priority is your workflow. If we simply replaced the current ManageWP dashboard with Orion, some of the tools you need would be missing, and you'd have to spend time to adapt your workflow. This is really bad for everyone.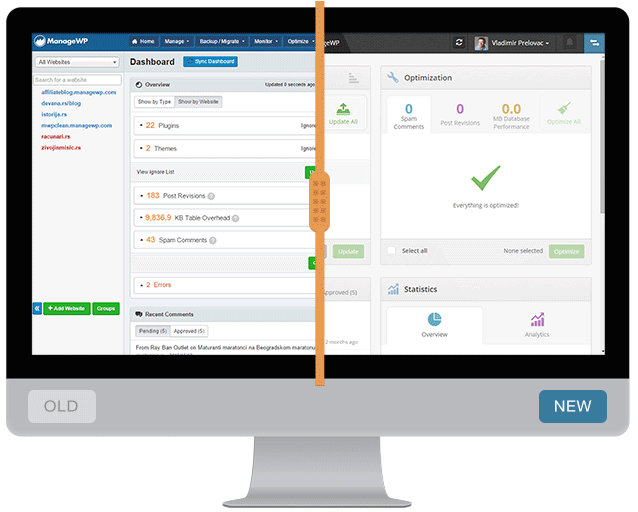 This is why we came up with the mirror mode: Your ManageWP dashboard is linked to your Orion dashboard. Whenever you add or remove a website, the change will apply on your Orion dashboard as well. This way you are free to explore Orion, but when you need things done ASAP, your familiar ManageWP dashboard is there for you.
To keeps things simple and robust, we disabled the option of adding and removing websites directly from Orion. This is a temporary measure that will remain in effect until the ManageWP dashboard gets phased out.
Getting to Your Orion dashboard
Your Orion and ManageWP are linked – if you log into one, you'll be able to switch back and forth without having to log in again.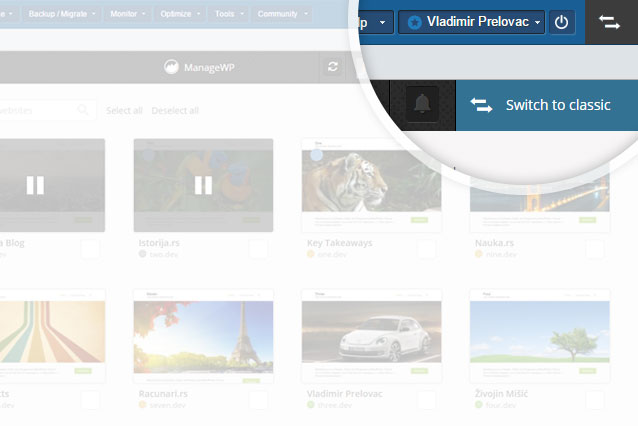 One click on the Tab button in the top right corner will get you to your Orion dashboard. You can also log in directly to Orion, you just need to bookmark the dashboard in your browser.
The Sidebar
The sidebar as you know it is gone. The website list has been replaced by the drop down menu, to free up your screen real estate for more important information. You can browse for the website you need, type in its name in the search bar, of add it to the favorite list, so it would show up at the top of the list. Clicking on a website will take you to the individual dashboard for that website.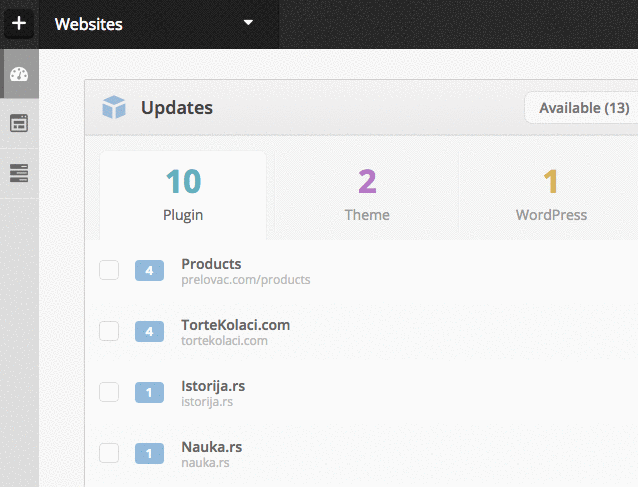 Another great new feature is the filter in the sidebar. It helps you quickly single out websites with certain tags, disconnected websites, etc. – only the websites matching the filters will show up on the main screen.
Another new feature is the view switcher in the sidebar. You are now able to choose between three different views, and use the one that's the most suitable to your workflow:
The Dashboard View: The standard view that you're used to in ManageWP. It gives you a summary of your websites – updates, comments, stats, backups, and more.
The Thumbnail View: Ideal for handling smaller groups of websites. Gives you several visual cues about your sites and lets you perform one-click actions.
The List View: Made for teams that handle a lot of websites. Minimal and functional style.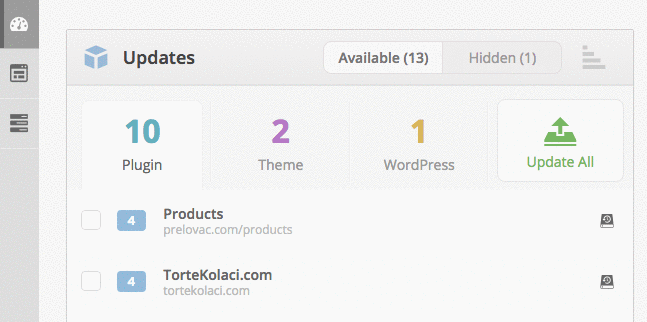 Once you decide which view you prefer, you can set it as the default view in the Settings menu.
Tags & Clients
The group system we have on ManageWP was good, but you needed more. You named your site groups after clients who own those websites, but there was no way to distinguish dev from live sites. You needed to sort the sites by more than one criteria. That's why we came up with the Tags & Clients system.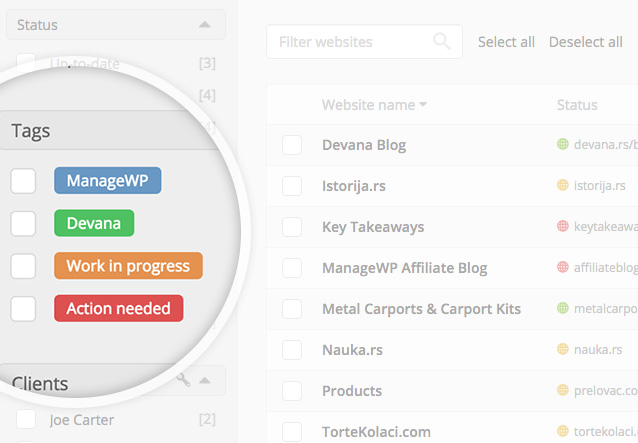 The Clients system lets you assign the website to one client. This helps you keep track of who owns what.
The Tags system is more flexible, and you can use it any way you like. Maybe tag sites live/dev? Maybe tag them according to their host? Or maybe the tags should show some kind of value or priority, so you could prioritize the important ones? The choice is yours.
Each website can have up to 5 tags and 1 client. Adding them is easy: Check the websites you want to tag, and click on the Assign Tags / Clients button on the bottom. If you want to remove them, hover over a website and click on Site Options.
How to Use the Tools
The flow for the tools is a bit different from what you're used to. Let's say you want to install a plugin on a couple of websites. Here's what you do:
Check the checkboxes next to the websites,
Click on the Install Plugins tool in the bottom action bar,
Find the plugin and install it,
Celebrate!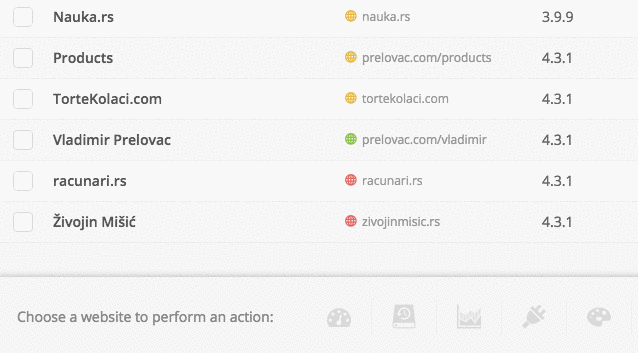 The bottom action bar is context sensitive, it will show only the tools that can be used – e.g. it will not give you the option of installing a plugin on a disconnected website.
Sync & Progress Bar
In the current ManageWP dashboard you have a queue, and your commands are executed in that order. Some tools will not allow you to use them before all the task in the queue are completed. Orion code is built with AngularJS that lets you run asynchronous calls – or, in normal language, you can issue commands A and B, and continue working on your websites. You can track the progress of your commands with the progress bar in the top right of your dashboard.
We also moved the Sync button to the top bar. Different views have different layouts, so it made sense to put the Sync button on one fixed place.
The Road Map
I guess that by now you're used to expecting the unexpected from us, so why should our road map disappoint?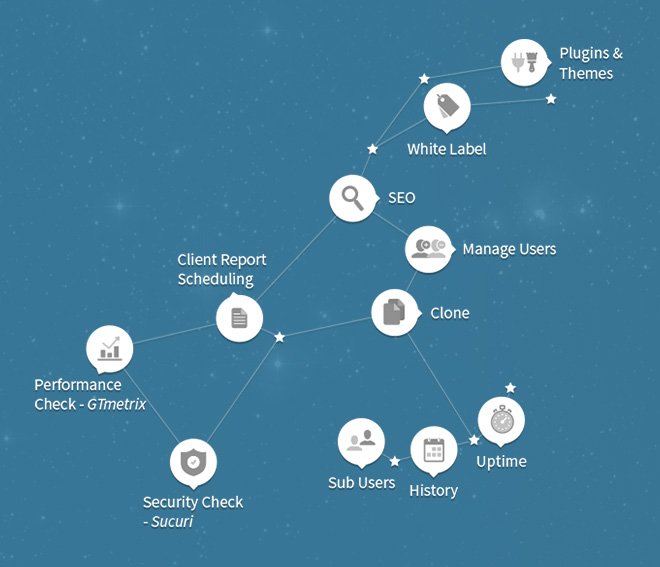 There is no fixed sequence for the Orion tools; different teams work on different tools. What better way to describe the agile development process than to use the Orion constellation as the blueprint for our road map?
How to Send Feedback
Bugs, feature suggestions; or a simple "You suck!"; whatever your thoughts are, let us know! Simply hover over your account name in the top right and click on the paper plane.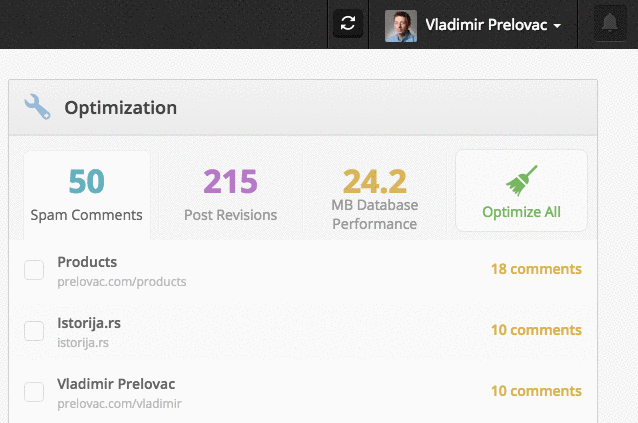 Your feedback made Orion what it is today. It will define what Orion will become in the coming years, so don't spare the feedback button; tell us how Orion can better help you.
Additional Information
The date/time format can be changed in the Settings menu.
The names of your websites can be changed in the Site Options menu. Give your websites an appropriate nickname, like "John's horrible slider site that keeps breaking".
Keep an eye on the Alert button in the top right corner for notifications and important updates. If an action you performed failed, the Alert will let you know.
Trial and Standard ManageWP users are able to run scheduled backups once per day, on one website. Professional users get 1-2 daily backups on all websites, and the Business users get up to 4 on all websites. All users are able to run manual backups.
Orion will start with essential features. Additional ManageWP features from the road map should be implemented by the end of February.
Multisites have not been mirrored in Orion. Multisite support is a major undertaking that requires significant development hours, hence it's not a priority for Orion at this stage of development.
Quick update: We have decided to support multisite installations. For more information, check out this article.
ManageWP backups and Orion backups are completely different and you can use them both at the same time.
You will not be charged extra for Orion. In fact, you will get many new stuff as a free upgrade once Orion replaces ManageWP in February.
A more flexible pricing model is coming in February, that will allow you to mix plans and optimize your ManageWP subscription cost.
For more info about the Orion, check out our previous Developer Diaries.