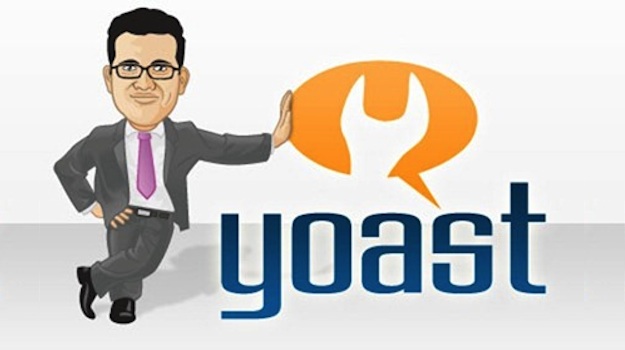 This is part I of a two-part guide. You can find the second post here.
Out of the box, WordPress is fairly well optimized for search engines. However, if you want to go beyond "basic" search engine optimization, you will need to install a plugin.
Which brings us to a two horse race between All in One SEO Pack and WordPress SEO by Yoast. It is not the purpose of this post to pit these two plugins against each other, but in a nutshell, SEO by Yoast has more features and I prefer it by a distance. If you care to search around the web for other opinions, you will find that most people feel the same way.
Although the plugin's power and functionality can be somewhat overwhelming to new users, in reality, it is pretty easy to set up and use. This two-part guide will tell you everything that you need to know.
What About Your Theme's SEO Features?
There are two very good reasons as to why you should not use a specific theme's SEO features:
If or when the time comes to switch themes, taking your SEO settings with you may be very difficult (or impossible)
SEO by Yoast is typically the superior option
When you have a theme developer as huge as WooThemes deprecating their SEO features in favor of SEO by Yoast, you know that you're dealing with a quality product.
Getting Started with SEO by Yoast
The wealth of options available to you when you first install SEO by Yoast can be rather overwhelming, but the plugin is in fact very simple to use. It shouldn't take longer than 15 minutes or so to get everything set up to your liking.
When setting up the plugin, everything you need to access can be found under the "SEO" item in your WordPress sidebar: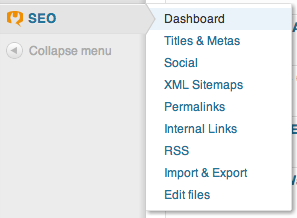 The Dashboard
There's not a great deal to do via the dashboard, but I would recommend that you allow tracking:

There's no downside to this — it will help Joost de Valk to improve the plugin, and the data is completely anonymous. It's the least we can do, given that the plugin is completely free.
You also have an option under the dashboard to disable the advanced SEO meta box on post pages. You really only need to do this if you have authors working on your blog that you would not trust with the advanced functionality. Otherwise, you may find use in those settings (as we will explore in part two of this guide).
Finally, you can use SEO by Yoast to easily authorize your Webmaster Tools account(s). I would recommend that you set up your site with Google Webmaster Tools at a bare minimum.
Titles & Metas
Setting your titles and metas is probably the most important element of onsite SEO, so you don't want to rush this step. Meta titles are displayed in a browser's title bar and often in search engine results. Meta descriptions are also often displayed in search engine results, and can make all the difference in persuading someone to click through to your site.
This section of the plugin is divided into six tabs:

There are a few settings you will want to take a look at on the General tab. First of all, you need to make sure that the changes you make within SEO by Yoast are actually being implemented on the front end. If they're not, you will want to check the "Force rewrite titles" box.
Beyond that, there are a few other settings, but none of them are particularly vital. However, I would recommend that you noindex subpages of archives — having Google index those pages isn't really of benefit, and you don't really want to bog spiders down with duplicate content.
Moving onto the "Home" tab, you have the opportunity to set the meta title and description for your home page. You will have the opportunity to use your website's name as defined in your WordPress settings by using the %%sitename%% tag. You can find a list of all available tags under the "Help" tab.
If you are on Google+, you will want to add your profile URL here, so that your author image shows up in search engine results:

The "Post Types", "Taxonomies" and "Other" tabs all allow you to set meta titles and descriptions across pages, posts and various taxonomies on your site:

As you can see, there are also a few additional options. You will want meta robots to noindex any taxonomy pages that have no relevant use on your site. For instance, you might not use tags (should you?). You may also wish for the date to be removed from the snippet preview (i.e. what a searcher sees as part of the result). Finally, you can choose to remove the WordPress SEO meta box from the edit screen for posts/pages/taxonomies.
In the "Other" tab, you will also have the opportunity to completely disable author and date-based archives. Unless you are running a multi-author blog, or the archiving of your content by date is somehow important, I would recommend disabling both.
Social
There are few bloggers out there these days who are unaware of the importance of social signals. As such, you should take a moment to ensure that your site is tightly integrated with popular social networks — namely Facebook and Twitter. You may want to use plugins for social promotion.
Your first option in the Social screen is to add OpenGraph meta data to your site:

This data will allow Facebook to pull the relevant pieces of information (title, image, description) from any given page on your site that is linked to from within the social network. You may wish to set front page and default images too. I would also recommend adding Twitter card meta data whilst you're at it too, assuming that you have a Twitter account.
You can also add yourself as a Facebook admin on this page in order to access Insights for your site. If you are logged into Facebook, this should just be as simple as clicking the "Add Facebook Admin" button.
XML Sitemaps
You should always endeavor to make it easy for search engine spiders to navigate your site, and creating an XML sitemap is one way of doing that.
A sitemap is essentially a list of all the pages on your site that you would like search engines to index. With SEO by Yoast, creating a sitemap that automatically updates is possible with just the click of a button:

There are also a few additional options on the page that may be of interest. Given that the option to ping Ask.com and Yahoo.com is offered, I see no harm in enabling them. You also have the option to exclude specific content types and taxonomies from the sitemap.
Permalinks
This is perhaps the most confusing of settings screens, but to be honest, you don't need to touch anything here. You may wish to explore the options available to you, but I don't touch anything on this screen.
Update: We wrote a guide for setting up permalinks
Internal Links
This screen is not really appropriately worded, as it actually offers you the ability set up "breadcrumbs" for your site, which are essentially a navigational element: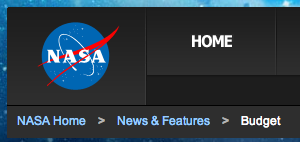 As you can see from the Internal Links screen, you have a variety of options relating to the presentation of breadcrumbs: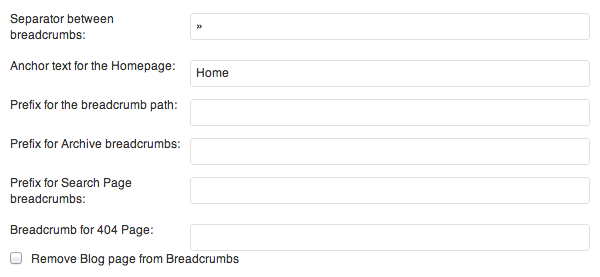 Once you have set the breadcrumbs as you would like, you have to insert the relevant code into the appropriate theme file of your site. Full instructions for this process can be found here, but it may be a little over complicated if you are relatively new to WordPress.
RSS
RSS scraping is common practice amongst less than scrupulous webmasters. Fortunately, SEO by Yoast offers an effective way of combating it, by allowing you to place dynamic content before or after posts that are viewed via RSS:

You could of course use this feature to include any HTML content you would like, such as sharing buttons.
Import & Export
This page should be pretty self-explanatory — it allows you to import and export SEO data from other plugins/themes. If you are switching from another product (as opposed to starting from scratch), you will want to use this feature.
Edit Files
Finally, SEO by Yoast offers you the handy ability to edit two files that are often important for SEO — your robots.txt and .htaccess files. If you do not understand the purpose of these files then I would recommend you leave them well alone. If on the other hand you want to make amendments, this is a convenient place to do it.
What's Next?
The above represents just about everything you need to do in terms of setting site-wide options in SEO by Yoast.
However, the plugin also offers up a raft of features on a per post/page basis, which we are going to tackle in part two of this guide next week. Stay tuned!