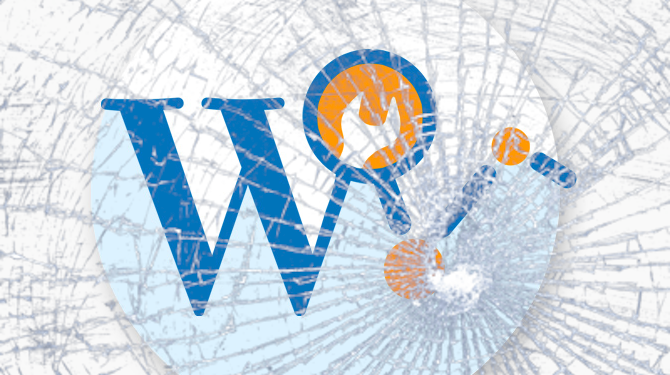 Edit 1st July 2013: Please be sure to read both the article itself and the comments (including a response from Joost de Valk of Yoast) to get the full picture regarding this subject.
I have been a stauch and loyal fan of the WordPress SEO by Yoast plugin for a long time.
I have written about it more times than I can count on websites across the blogosphere (not least the two part guide I published here on the ManageWP blog last year). If people ask me what SEO plugin they should use, the name Yoast pops out of my mouth before I've had a chance to consciously consider their question.
With over five million downloads at the time of writing and an all-time average star rating of 4.7 out of 5, it is a monster of a plugin. Its closest competitor, All in One SEO Pack, may have nearly three times as many downloads but it has a far inferior average rating of 3.8 out of 5.
So it is with a heavy heart that I write this article, because it would seem to me that this legendary plugin is in risk of collapsing in on itself.
Is WordPress SEO by Yoast Broken?
It all started back in April when Mike Thomas emailed me to let me know that the tag pages on my blog weren't indexed by Google (thanks for the heads up Mike!). I checked my SEO by Yoast settings and could see that the option to noindex tags was deselected, and yet the noindex code was still appearing in my tag page source code:

I spent some time trying to figure out if there was anything on my end that might be causing the problem but I couldn't find a solution. My next step was to email Thijs de Valk — he handles Joost's support network and I had dealt with him previously when we covered the Video SEO for WordPress plugin.
I got an immediate response from Thijs asking for admin access to my site so he could take a look. I fired over some login details to him that same day. Six days later I had heard nothing, so I emailed Thijs again. He got back to me nine days later with the following:
Not actually sure what the issue is, but we'll try to figure it out and see if we can fix it.
I never heard back from him.
While the issue was something I wanted to resolve it was not at the top of my list of priorities so I let it slide. However, a couple of months later I came across another problem — although I had unchecked the "Disable author archives" option on my new authority site (because it had become a multi-author site), the author pages were still missing.
That was a bigger issue — given that the site has multiple contributors, author archives are important. I emailed Thijs on 22nd June to ask (a) if he had manage to sort the noindex issue and (b) to introduce this new issue. I have not received a response to date.
Then just this morning I encountered another issue which I suppose is the straw that broke the camel's back. I was in the middle of writing a post on Google+ authorship when I discovered (by using Google's Structured Data Testing Tool) that my own site did not have valid authorship.
The reason? Google was kind enough to explain:

My site is defining me as an author, but it is linking to the author page on my site (which ironically doesn't even exist as SEO by Yoast has eradicated it) rather than my Google+ profile (which is required to verify Google+ authorship). I double-checked my SEO by Yoast settings and discovered that my Google+ profile link was present and correct.
Update 1st of July: Joost has pointed out that I needed to enter my Google+ profile URL in my Profile within WordPress as opposed to within the SEO by Yoast settings — this did resolve the issue. Thank you Joost!
So that's three issues, none of which I have a resolution for. Furthermore, I can't get the attention of anyone within Yoast's team to get help with the issues. That puts me at a bit of a loss.
Digging Deeper
I figured that it would make sense to see if other people were experiencing similar problems, so I headed over to the WordPress.org Plugins Repository. The first thing I noticed was the huge proportion of unresolved support threads for SEO by Yoast: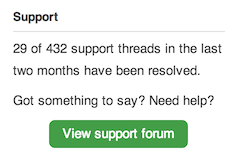 A 15% rate of resolution isn't particularly encouraging.
The next thing I noticed was the sheer number of support threads — there have for instance been twenty-four new threads submitted in the last twenty-four hours. While SEO by Yoast is a popular plugin, the number of threads does not compare well with plugins of similar popularity. For instance, WP Super Cache (with ~5,000,000 downloads) has had nine support threads submitted in the last day, and WordPress Importer (with ~4,700,000 downloads) has had zero support threads submitted in the same period of time.
I moved onto another good indicator of a plugin's health — the compatibility ratings. Here's what I discovered regarding SEO by Yoast's compatibility with the latest version of WordPress (only recently introduced):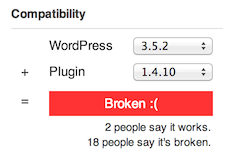 And here are the ratings for version 3.5.1:
None of this represents good evidence of SEO by Yoast's efficacy.
Update 1st July 2013: at the time of writing Joost has now released updates that are far better rated in terms of compatibility.
Having said that, one cannot place their trust entirely in the above data — anecdotally speaking, there are instances where poor ratings and reports of incompatibility are down to user error rather than an issue with the plugin. However, in my experience, a high number of support threads for a plugin coupled with multiple incompatibility reports means only one thing — the plugin has issues.
So What Now?
I should make it absolutely clear that this post is not intended to be an attack on Yoast, nor do I expect anything from Yoast in terms of support. His plugin is free and so he is under no obligation to help me. (Having said that, I would happily pay for a premium version of the plugin with bundled-in support.) Furthermore, I am hugely appreciative of the benefits I have received from his plugin in the past.
However, none of that detracts from the issues regarding SEO by Yoast. For instance, Joost de Valk's success (arguably past, present and future) relies in no small part on the continued popularity of his SEO plugin, so if it is being neglected then that raises questions. The onerous requirements placed upon those who submit support requests is one thing, but the fact that so many threads apparently go ignored must leave many plugin users feeling that they have no other option but to choose an alternative. That is the position I find myself in right now — while I am loathe to move away from WordPress SEO by Yoast, there comes a point at which I practically have no choice.
I spoke with Michael Torbert (of All in One SEO Pack fame) and he had the following to say:
All in One SEO Pack is the oldest and most downloaded SEO plugin. Five years ago I was the sole developer, but for the past three years, we've had a full-time development team, as well as a full-time support staff in our North Carolina office. Among other things, they work to develop and support our premium plugins at semperplugins.com and elsewhere.
I don't personally keep up with all of the problems other plugins are having, but I do often get people switching back to AIOSEOP due to various compatibility or stability issues.
While there are many great side-project plugins for WordPress out there, we pride ourselves on offering a solid business-oriented, commercial solution, backed by an in-house team.
I for one am sorely tempting to switch to his plugin.
The Bigger Picture
In reality there is a much bigger debate to be had about free plugin support that I am not going to go into here, but beyond that, SEO by Yoast users seem to be suffering a number of issues that may have pretty major repercussions for the plugin's popularity down the line.
What is your experience with SEO by Yoast? Are you a user and do you have any problems with it? Or do you use and/or recommend an alternative plugin? Please share your comments with us below!