There is a lot to like about the Plugin Performance Profiler – especially at first glance.
It could be the rating (near perfect), the fact that it is regularly updated, or that it is designed by a reputable company (GoDaddy). You could look at the flawless compatibility ratings, and the top-notch support (with 8 out of 8 support threads being resolved in the last two months).
But what about its actual capabilities? What can it do to help you run a faster WordPress website? Or most pertinently – does it work?
What Does P3 Do?
The Plugin Performance Profiler (or P3) is marketed as a tool that can "narrow down anything causing slowness on your site". More specifically, it intends to measure the impact of plugins on your site's load time.
The simple logic is this – P3 allows you to identify resource-intensive plugins, so that you can make an informed decision regarding their continued usage.
In theory, this is a wonderful concept. In my opinion, one of the biggest issues with the WordPress.org plugin directory is that you simply don't know how much of drain any particular plugin is going to place on your site. P3 promises to empower you with the kind of knowledge that can allow you to be more selective with the plugins that you use.
Does it Work?
In order to get a grasp of how effectively P3 adjudges the load time of different plugins, I ran a little experiment with my own blog. I carried out four scans over the space of a few days.
For those of you who don't know, this is the main report that you are greeted with after a scan: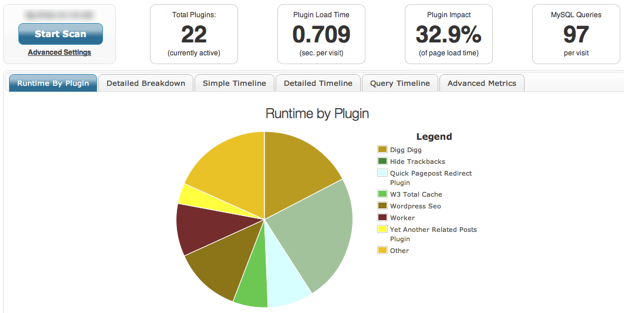 As you can see, the pie chart displays the plugins which took the longest to load, based upon P3's scan. The number of plugins displayed in this pie chart varied from 7 – 12 across the four scans, so for the purposes of my data collection, I only counted the 6 plugins that were consistently displayed in every report.
When you hover over a slice on the pie chart, a popup box helpfully displays the estimated load time of the plugin in question. I took all of the load times and entered them into a spreadsheet, then calculated the percentage swing in load time (per plugin) across all four scans. Here's what I found:

As you can in the above spreadsheet, there are some impressive swings in load time between each scan. Furthermore, the data collected presents some curious anomolies.
For instance, the WordPress SEO plugin seems to be getting progressively slower – starting at 0.038 seconds, then jumping to 0.0665, then climbing further to 0.0717 and finally 0.878.
What does it all mean, and how are we supposed to translate such confused results?
The Culprit(s)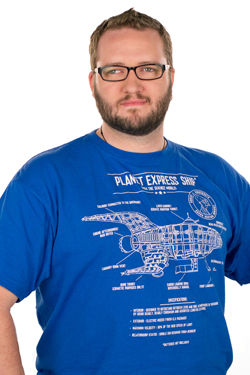 I decided to query the variances in P3's support forum on WordPress.org. Kurt Payne, the developer of P3, was quick to get back to me with a very detailed and considered response (as previously mentioned, support for this plugin is excellent).
It turns out that there are multiple external influences that can affect the consistency of P3's reporting:
Other activity on your server (in the case of shared servers)
Server side processes
Traffic fluctuations
Plugin activity (i.e. what a plugin is doing at the time a scan takes place)
Furthermore, P3 actually "changes its environment" in order to measure it, so getting precisely accurate results is impossible.
Kurt recommended that I take a few different measurements at different times, but doing so provides such skewed results that it seems impossible to know what "reality" is.
So is P3 Worth Using?
My answer is "yes and no".
P3 presents you with very detailed reports, which may well fool you into thinking it is taking accurate measurements – but it is not.
What it can do though is allow you to recognize general trends over a period of time. For instance, regardless of the fact that Digg Digg's estimated load time swings from 0.0854 to 0.124 seconds, I can still reasonably adjudge that it is quite resource intensive. The same can be said for Hide Trackbacks. So I can take an average view on those plugins and decide if they are worth the lost millisecond or so.
But things get far more confusing when you come across something like WordPress SEO's results. This plugin appears to be putting more and more of a strain on my site. Although I have already done four scans, I would have to do at least a couple more to figure out where this plugin lies in terms of its resource hunger.
In conclusion, the way P3 is presented implies that it is presenting highly accurate results, but it isn't. If you recognize that fact and take its findings with a pinch of salt, it can be a good tool for highlighting really troublesome plugins.