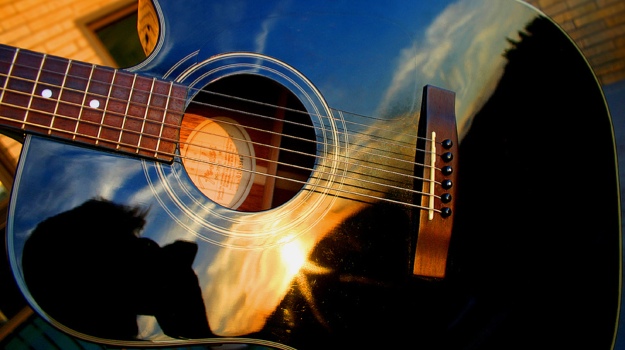 How do you feel about music? For many people, music is their life and they can't live without it. I'm a huge music lover myself. Not only does music help to inspire me when I need motivation, but it also lifts my spirits when I'm down or just having a bad day. Because of this, it's only right that we show off a few awesome music themes for WordPress.
Whether you're a music lover, music artist, DJ, music producer, part of a music label, or in a group or band, one of these themes is sure to catch your eye. Not only will these themes impress your fans, but they'll also impress music scouts or anyone else in the music business that you need to make a good impression on.
Musica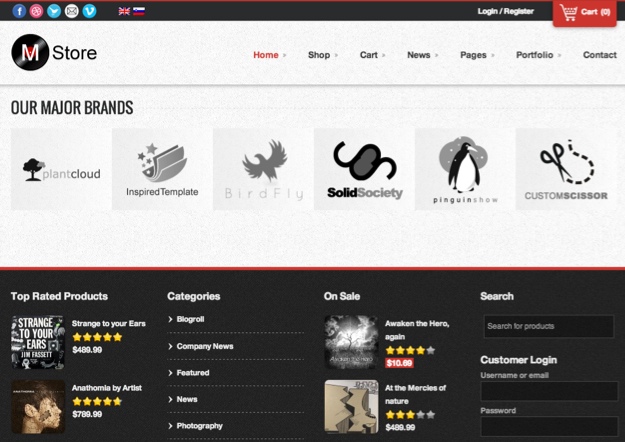 Musica is a responsive WordPress theme that is powered by the WooCommerce plugin, which lets you create your own online store. It's a fantastic theme for music artists, bands, musicians, and anyone else who want to sell their own products online. It has audio and video support, so that you can add videos (YouTube, Vimeo) and audio clips to both your shop and product pages.
Information | Demo | $55.00
EProm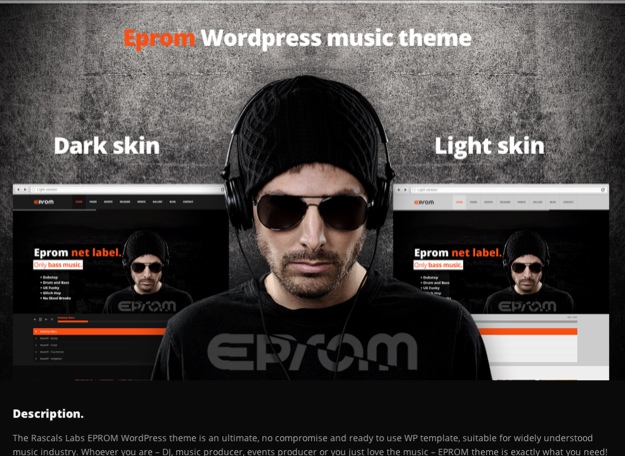 EProm is a clean and simple, yet eye-catching theme. It's especially great for DJs, music products, and solo music artists. You can customize it using your own CSS styles and JavaScript, but if you're not familiar with those technicalities you can use the color picker and background manager instead. Either way, EProm is really easy to customize. Like Musica, it also has video support (Youtube and Vimeo).
Information | Demo | $45.00
Live!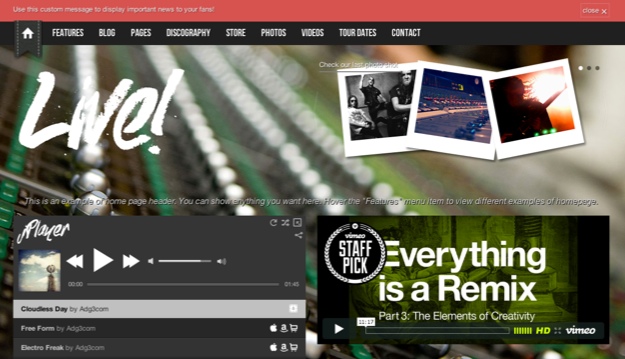 Even though Live! is dedicated to music lovers, it's especially great for music groups and bands. It includes all of the features needed to present, promote, and sell music as well as other products. You can also embed playlists via the awesome "Live! JPlayer," which is included with the theme. Along with that, it comes with 3 advanced WordPress plugins: BD Music Network, BD Shortcodes, and BDGram.
Information | Demo | $45.00
Replay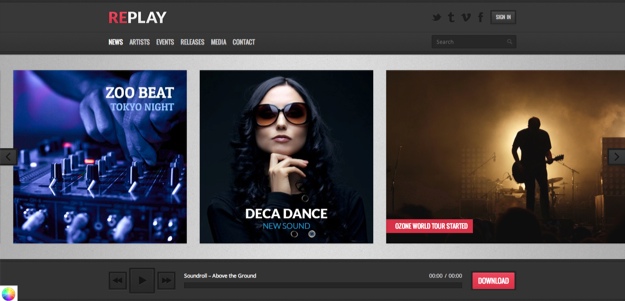 Replay is a responsive music theme with an extremely unique layout; the top slider alone is sure to catch everyone's eye. Replay is great for anyone in the music business: bands, artists, musicians, record labels, producers, etc. It has a beautiful built-in HTML5 audio player, which plays self-hosted mp3 files. You can add the player anywhere you'd like via a shortcode. There's also social media integration, including share buttons on each page, social links (to your profiles), and widgets for Facebook, Twitter and SoundCloud.
Information | Demo | $45.00
Muzak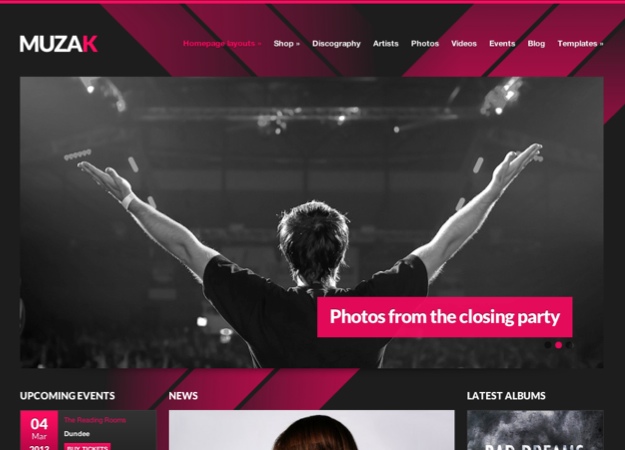 Muzak is a clean, responsive theme that includes 4 awesome managers for your media. The Events Manager is great for displaying upcoming events and concerts, which you can also display on a map if you choose. The Discography Manager uses JWPlayer to share your self-hosted audio files; alternately, you can use it to embed songs from SoundCloud. The Video Manager lets you share self-hosted videos, along with videos from YouTube, Vimeo, and more. Finally, the Photo Gallery Manager allows you to easily manage your images and display them beautifully on your site.
Information | Demo | $50.00
Soundboard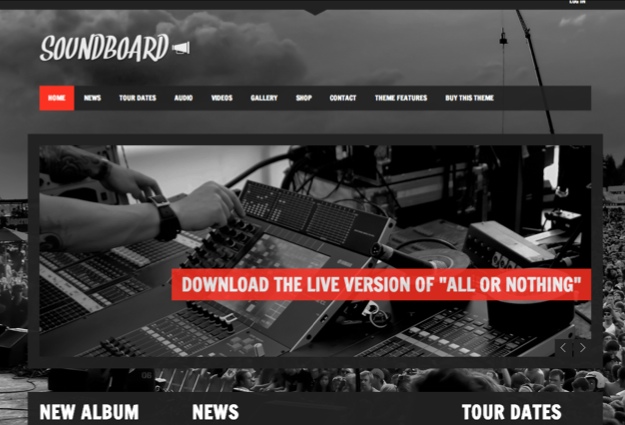 If you're an artist, group, band, or musician that wants to cater to your fans, Soundboard is perfect for you. You can easily display your Twitter feed, upcoming tour dates (including ticket buying options), latest videos (YouTube, Vimeo, self-hosted), newest album (including buying options), latest images, and even sell music and other merchandise. Soundboard is really easy to use and there's no coding knowledge necessary – making it great for beginners as well as advanced users.
Information | Demo | $55.00
It's Your Turn
I'd love to hear what your personal favorite music theme is for WordPress, or maybe you've come across an awesome music theme while browsing the Web. Feel free to share in the comments.
Creative Commons image courtesy of boston_camera