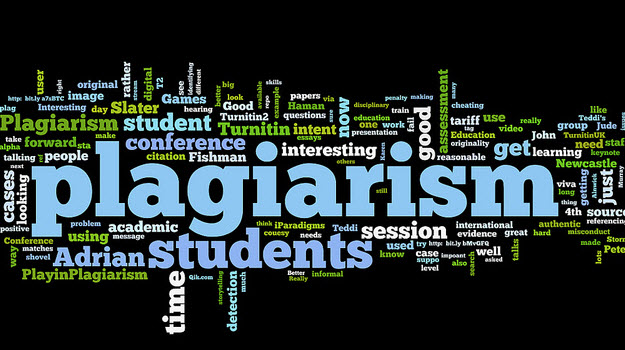 Do you have duplicate content on your blog? If you're the only one that posts content to your blog, then I'm sure that you can confidently answer "no" to that question. However, if you have other contributors and/or accept guest posts, then you just might have duplicate content on your blog – whether you realize it or not.
I regularly accept guest posts on my blog and it's a pain checking each article for plagiarism and duplication, but it's also a must. Luckily there's a WordPress plugin simply called "Plagiarism," that makes this process much easier and helps to save time.
With Plagiarism for WordPress, you can "check your posts and pages against the Web for inadvertent duplicate content." Not only does it check the current post that you're working on, but it's also extremely useful for checking previously published posts.
For instance, you can go back and see if any of your content has been scraped or copied and posted to another blog or website. You can also see if any of your guest authors have gone back (after a few months or so) and published the same post somewhere else. As you can see, this plugin is a definite lifesaver and best of all it's really easy to use.
Checking for Plagiarism
When checking your current and previous posts for plagiarism, everything is done from within the post editor; the plugin adds a new meta-box with the title "Plagiarism."
Checking your content is as simple as selecting a search source and then clicking on the "Check for Duplicate Content" button. When you do that, it only takes a few seconds for the plugin to check your content paragraph-by-paragraph. The results will be displayed below the meta-box in a color-coded manner. As you'll read below, each color represents something different.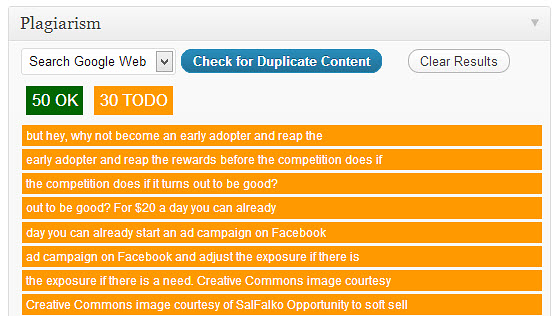 Lines of text with a green background is OK.
Lines of text with a red background is duplicate content.
Lines of text with a mustard/gold background has not been searched for yet, so it's unclear whether it's OK. For these, you can check another search source to see if it finds anything. If none of the search engines (Google, Yahoo, Bing) find anything, you should be OK. You can also click on any highlighted line to be directed to the selected search engine (in a new tab), along with results for that line of text (see screenshot below).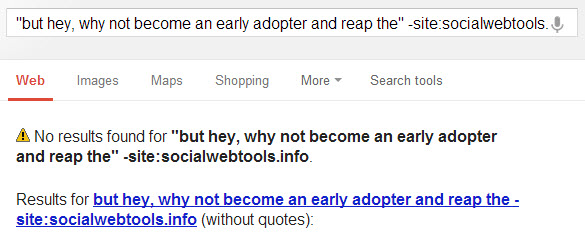 The amount of text searched at a time can be customized on the Plagiarism Options page. Depending on the "phrase chunk size" that you choose, you may have to click the "Check for Duplicate Content" button a few times until it's done checking the entire post.
Also, the more phrases you check at a time, the longer it will take to search through it all – you'll want to be mindful of this when customizing your options.
Tweak the Options
Speaking of options, you can find the Plagiarism Options page under the Settings menu; the sub-menu is titled "Plagiarism." The color-coded results are explained in more detail here and you can also set your general, search, and proxies options.
Under Search Options you can customize the phrase chunk size, phrase chunk step, query slice size, and query wait time – these are explained in the screenshot below.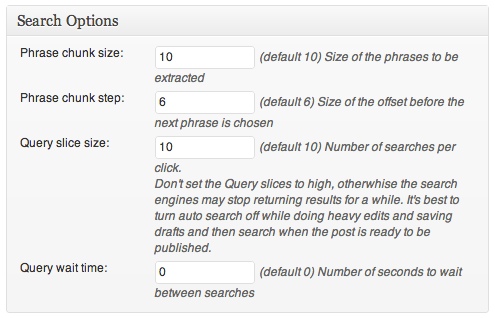 Under General Options you can choose to have only administrators and editors publish posts with duplicate content; this is a very useful feature for blogs with multiple authors. You can also enable an auto-search feature, so that the plugin will check for plagiarism each time a post is saved.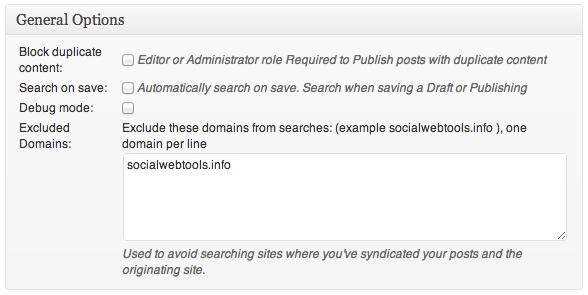 You can also exclude domains from your search, such as your own domain or another domain that you may own.
Bringing it All Together
In a nutshell, Plagiarism for WordPress can check your posts and pages for duplicate content – both old and new content. Within seconds, you can check various search engines and see if the entire post was copied or just a few lines. From there you can make the necessary changes or simply reject the post.
Since everything can be done from within your post editor, there's no need to open any new tabs to check via an external source.
Plagiarism is the first WordPress plugin that I've used to check for duplicate content, so I can't compare it to others and I definitely won't claim that it's "the best." However, I am very fond of it and feel that it is a must for multi-author blogs and those that accept guest posts. You just can't beat the ease-of-use and accuracy.
What are your thoughts on Plagiarism?
Creative Commons image courtesy of jobadge