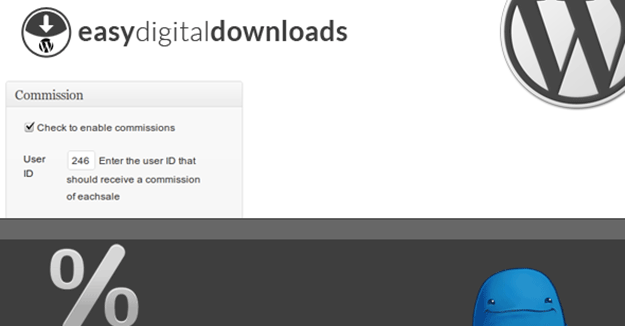 The User Commissions Plugin is a premium extension for the extremely popular (and free) Easy Digital Downloads Plugin by Pippin Williamson. As you've probably already guessed from the name, the User Commissions Plugin extends the already amazing functionality of Easy Digital Downloads and allows users to easily record commissions when a sale is made.
Personally, I can't believe I haven't read more about this. I mean, it's not exactly breaking news considering the User Commissions Plugin has been around for nearly a year now, and yet almost none of the major WordPress blogs have talked about it.
Of course an obvious reason for this may be because it's a premium add-on and not a free plugin, but nevertheless I think it is worth taking a closer look at. Especially if you're already selling (or thinking about selling) digital products on your WordPress Website.
After all, Easy Digital Downloads is a plugin that got our attention more than once last year as one of the best free plugins available for WordPress period. So it stands to reason that if User Commissions is an extension of an already exceptional plugin and created by the same plugin author…it's probably packing some serious value.
But instead of just speculating, let's take a look…
User Commissions Plugin: A Video Overview
In the video below plugin author Pippin Williamson gives a succinct overview of the User Commissions Plugin and what it's capable of.
User Commissions Plugin Features & Pricing
As you can see in the video above, there are some insanely useful features built into the User Commissions Plugin.
Let's quickly review them:
Seamlessly integrates with Easy Digital Downloads
Allows you to associate a commission rate with user ID's
Calculates commissions for you
Keeps track of paid and unpaid commissions
Generates a mass payment file for paypal
Emails users when their commissions are paid
Comes with a shortcode for displaying commission stats
Free support with premium option
So how much does this plugin cost? Well, it depends on usage…
For a single site license – $39
For 2-5 sites – $75
Unlimited sites – $103
A Near-Instant Affiliate Program
I guess what I really find appealing about this plugin is that it creates a near-instant ability for just about anyone to create an affiliate program through their WordPress blog or website. What's more is the price seems easily justifiable since you should already know if there is significant enough interest in a product of yours by the current sales stats in the free Easy Digital Downloads plugin you're running. It just seems like a no brainer to me. A huge leg up for anyone looking to grow their sales and utilize the power of affiliate marketing.
I'd love to hear everyone's thoughts on this. I know as I develop some products this year for sale on my own blog I'll be working towards implementing User Commissions as soon as possible. What about you?
Note: I'm not an Easy Digital Downloads affiliate nor are any of the links in this post affiliate links.