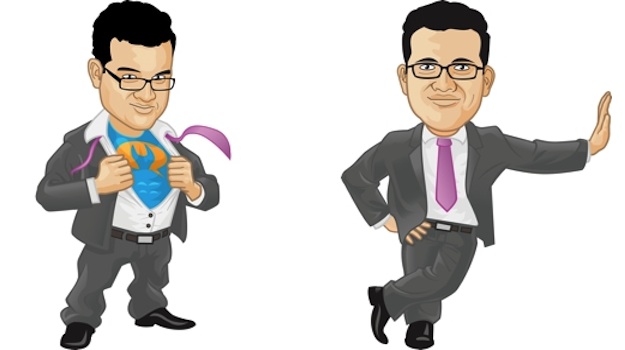 You're no doubt aware that video is a valuable medium for content consumption on the Internet. YouTube's rampant popularity (with over one trillion views to date) is proof of that alone. However, are you making the most of your video content?
I believe that many people don't appreciate how video can be optimized for search engines in much the same way that text content is. The fact that video SEO is far less practiced offers an opportunity to trailblazers. In short, well-optimized video content can give your WordPress site a cutting edge in terms of search engine rankings and click through rates (a hugely underrated aspect of SEO).
In terms of figuring out how to optimize video content for search engine rankings, Joost de Valk is the first person I would turn to for advice and assistance. He is the author of the hugely popular WordPress SEO by Yoast plugin (with over three million downloads at the time of writing) and has written what I consider to be the ultimate guide to WordPress SEO. As such, I am delighted today to publish an interview with Joost about his superb Video SEO for WordPress plugin.
The Interview
We're all familiar with "regular" SEO — what do people need to know about video SEO?
Video SEO is mostly a technical thing, assuming you already have video content. It offers absolutely great opportunities because it allows you to appear in the search result pages with a video snippet, which includes an image and therefore attracts far more attention and clicks then a "normal" search result.
What kind of benefits can people expect from properly optimizing their blog posts for video SEO?
If you already have video, it can give you better rankings and better snippets, both leading to more clicks. If you don't have video yet, it's worth experimenting with. Keywords that are sometimes incredibly hard to rank for with textual content can be a breeze with video content and a bit of good video SEO.
Can you highlight some examples of where properly optimized videos have had a beneficial impact on search engine rankings?
Giving examples in these cases is always hard as it "hurts" the confidentiality of my clients. But do a search for "video seo plugin" for instance, and you'll see this: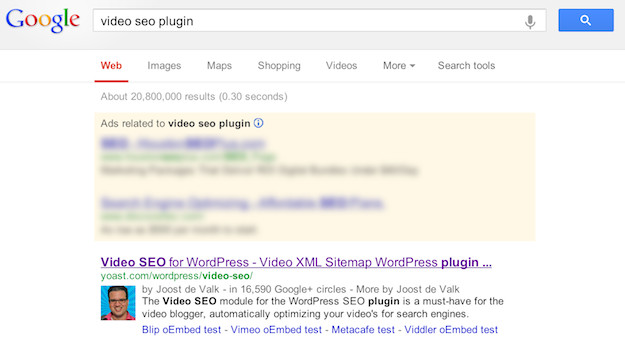 What does your Video SEO plugin actually do?
It goes through a series of steps, as soon as you update a post that you put a video in:
It recognises the video and, depending on whether it's a self-hosted video or hosted on a site like Vimeo, determines what to do;
If it's for instance hosted on Vimeo, it'll retrieve the video details from the Vimeo API;
It'll determine which thumbnail to attach to the video and what the duration of the video is;
It then saves all this metadata so that you get a video snippet in the snippet preview AND a video XML sitemap entry is generated for the post / page.
It does all that on the fly, as soon as the plugin is activated you only have to add a video to a post and it'll automatically recognize it and go through those steps for you.
Your feature-packed SEO by Yoast plugin is completely free, but Video SEO is a premium plugin. Why did you decide to go down the premium route for this plugin specifically?
It was always my plan to start selling premium addons to the core plugin for specific niches, you need to make money somewhere. Also, the niche is too small to make it interesting for me to do a free plugin…
$89 is not an inconsiderable sum of money for a plugin — why should people purchase the SEO Video plugin?
$89 might be a lot for some people, but if you've ever produced a video for your website, that'll have cost a lot more, so in the scheme of things it's not that much. If you stand to profit from getting more search visits to your site it should be a no-brainer.
Is Video SEO by Yoast Worth It?
I have been playing around with the plugin for a couple of weeks now must agree with Joost — if you are serious about video production for your WordPress site and stand to profit from increased rankings and click-throughs, you should strongly consider purchasing Video SEO. It works as effectively and intuitively as WordPress SEO. And the fact that Joost offers that incredible plugin free of charge should not detract from Video SEO's value.
If on the other hand you are a "hobby" blogger or are not profiting from your site's traffic, the plugin may not be a viable option. If you do not stand to profit from the investment, $89 is a considerable sum of money to fork out.
What do you think? Do you plan to purchase Video SEO or are you already a happy owner? Let us know in the comments section!