We're all excited to be returning to in-person events this year! We can't wait for the community to gather in San Diego for another fantastic event, a lot of learning and networking. We're most excited about saying Hello to all of you in person. The last live WCUS was in 2019, and a lot has changed in the meantime. WordCamp evolved and is now a hybrid event! Let's see what's new and what to expect: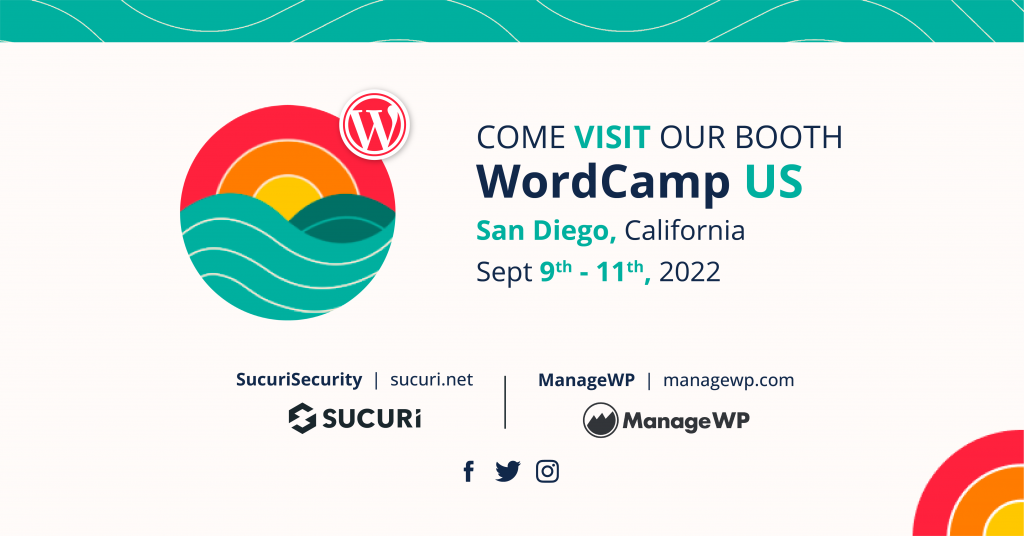 Location, location, location!
WordCamp US takes place this year in San Diego's Town & Country Resort, September 9th through 11th (that's just two weeks away, yay!). The conference will be held in a hotel for the first time in WordCamp US history. This is no ordinary hotel either. A famous San Diego landmark since 1953, the Town and Country Hotel recently underwent a complete renovation with many new amenities. The venue is conveniently located on Hotel Circle, with many other hotels, restaurants, shops and services within walking distance.
Although the tickets sould out on the first day…
Tickets are sold out, but all sessions will be live-streamed for free without registration. Regardless of your reason for attending WCUS 2022 in person this year, the good news is that you can stream much of the conference from your laptop. While you may not be able to attend Contributor Days in person, some teams are meeting online, and you can have the option to join the Contributor Day from the Making WordPress Slack workspace. Visit make.wordpress.org to get started.
Masks are still a thing
As a precaution and to make this event as accessible as possible for attendees with health concerns, WordCamp US 2022 will be a masked event. Participants must have a negative COVID test or be vaccinated to attend. WordCamp US has joined forces with VOW Digital Health to make it easier for everybody to comply with policies and keep sensitive information private. VOW Digital Health has developed a secure and confidential system where documents can be securely uploaded for review by trained professionals. For more information on the system, please visit https://vow.app/.
The following precautions have been taken for the health and safety of all participants related to COVID-19, and there are no exceptions. To participate in WordCamp US 2022, everyone must submit one of the following proofs using his VOW system:
COVID Vaccine Protocol – completed at least 14 days before the event date.
Negative COVID-19 rapid antigen test results (Home test is accepted).
The two-day schedule is pretty busy!
The event consists of his three tracks that combine a quick talk (15 minutes), a standard talk (45 minutes) and a workshop (over 1 hour). This year's lineup focuses on teaching professionals how to build using blocks! Attendees and live stream viewers will learn how to customize core blocks for clients and create custom blocks in under 15 minutes. Speakers will also provide insight into the future of designing themes for block editors, basic concepts in a new era of block themes, and demonstrate how block themes are created. Besides all things blocks, scheduled sessions will cover a variety of topics, including WordPress and the creator economy, accessibility, multichannel eCommerce, performance, community, building editorial experiences, and much more. Check out the entire schedule here and plan in advance!
Party!
A WordCamp wouldn't be the biggest community event without an opportunity for attendees to celebrate and reflect on their time spent at the event. This year, instead of an afterparty, you will have the chance to relax with other attendees, meet new community members, and celebrate a weekend of learning and community at WCUS Social! The WCUS Social takes place a few hours after our last session on Saturday, September 10th evening, from 7:00 pm – 9:00 pm, at Riverfront Park at Town and Country Resort, just a short walk from the venue. If you are registered for WordCamp US, you are already registered for WCUS Social.
If you love planes, spaceships, drinks and food, you can join us the day before the amazing San Diego Air and Space Museum, where ManageWP is co-hosting a party with the GoDaddy Pro, Sucuri and Pagely teams! If you haven't RSVPd yet, you can do it here.
See you all at the event! Don't forget to stop by and say Hi to ManageWP team!