When you hand over a project, your client expects to receive a fully-functioning WordPress site that caters to their needs. Forgetting any key client site features can cause inconvenient delays and unnecessary headaches, or even hurt your professional reputation.
When you hand over a project, your client expects to receive a fully-functioning WordPress site that caters to their needs. Forgetting any key client site features can cause inconvenient delays and unnecessary headaches, or even hurt your professional reputation.
Fortunately, there are a few elements all websites need to succeed, no matter what type of content they hold. Once you know what those features are, it's easier to gather the tools and plugins you'll need to make your job easier.
In this article, we'll cover eight essential features to include on all your client sites. We'll also discuss some of the best tools and plugins you can use when it comes to incorporating these elements. Let's jump in!
1. Automated Backups
A system for client site backups is invaluable. Between various WordPress errors that can make sites inaccessible and the growing risk of WordPress sites being hacked, extensive and expensive damage is always a possibility.
An easy method for incorporating automatic backups in WordPress is UpdraftPlus:

This free plugin makes backups and restorations easy and accessible with one simple click. It also enables users to set up automatic backup schedules and has a premium version with additional features. Personal licenses start at $70 per year for two sites.
Alternatively, at ManageWP we offer both free and premium backup features. Free backups run on a monthly schedule, and include off-site storage options as well as one-click restore functionality.
Upgrading to the premium feature enables you to set your own schedule, including real-time backups. Pricing starts at $2 per month per site – almost half the cost of UpdraftPlus premium.
2. A Search Engine Optimization (SEO) Checklist
When considering site features for clients, it's important to make SEO a priority. How successful a site becomes reflects on your work, so helping to promote each project's visibility can build up your professional reputation.
SEO checklist tools make it easier to organize and optimize content. One of the most popular is Yoast SEO:

It displays SEO recommendations directly in the WordPress editor. This feature can guide your clients when they're creating content and help them improve their rankings.
Additionally, our SEO Ranking feature can help supplement Yoast SEO. This premium tool makes it easy for clients to track competitors and keyword rankings for just $1 per month per site. Combining it with an SEO plugin can give clients everything they need to conduct and implement keyword research.
3. A Security Scanner
Prevention is the best method of site protection. Tools that automatically monitor sites for malware can help spot attacks quickly, enabling your clients to avoid lengthy and costly cleanups.
Additionally, websites can lose as much as 95 percent of their traffic when blacklisted. However, most automatic scanners don't detect sites' blacklist status.
The Sucuri Security Scanner is a different story. In addition to remote malware scanning, it also includes blacklist monitoring and activity auditing:

You can use the free plugin, or acquire the premium version for increased scan frequency, malware removal services, and more. Licenses start at $199.99 per year.
Sucuri provides effective means for securing WordPress sites, which is why we use it to power our own security features: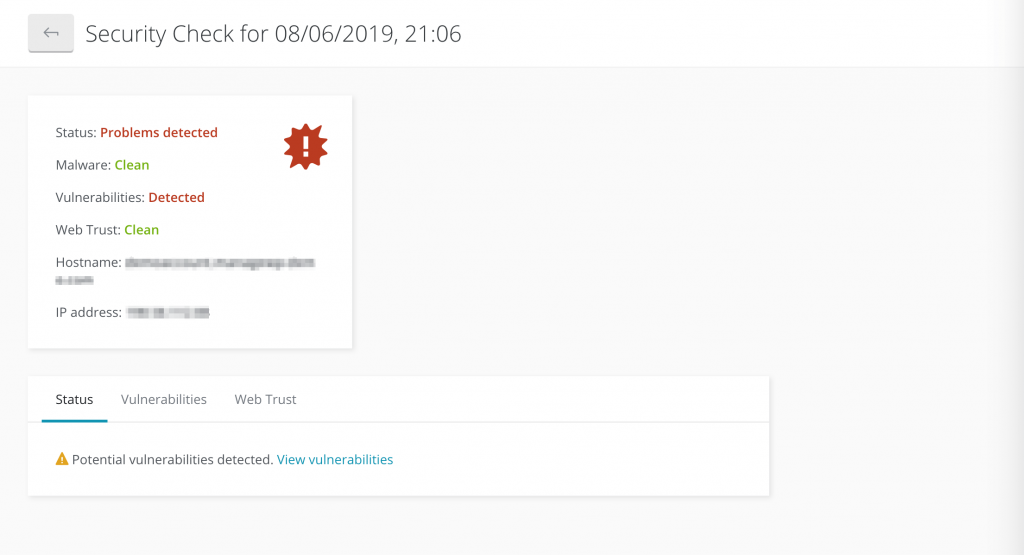 Our free security option includes everything most sites need to stay safe from threats – unlimited on-demand malware scans, blacklist monitoring, and client report integration. With our premium security feature, however, you can automate your scans and receive security notifications for just $1 per site per month.
4. Plugin and Theme Management
There will probably be many plugins and themes you use to meet each of your client's specific needs while developing their sites. Plus, if you provide maintenance services, you'll be the one responsible for all the updates that come with them.
Our Plugin and Theme Management feature includes bulk installation and deletion options. This enables you to add and remove plugins and themes from multiple sites at once. You can also bulk update plugins and themes: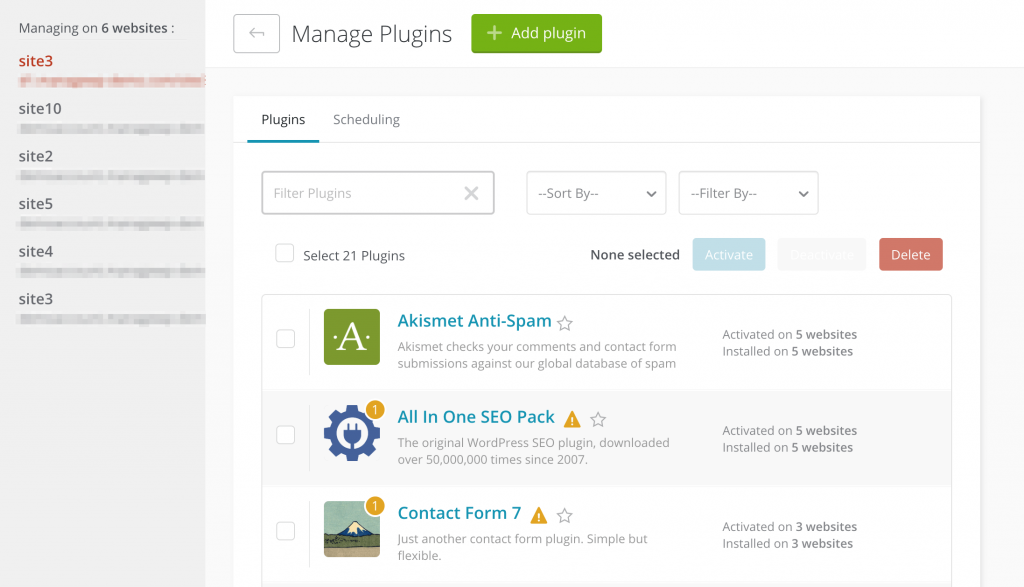 Additionally, you (or your clients) can choose to ignore certain updates if you need to troubleshoot a compatibility issue first. However, in the event that you overlook a problematic update, you can still save yourself some trouble with our Safe Updates feature.
If ManageWP encounters a compatibility issue during an update, Safe Updates will stop the process and prevent your client's site from going down. This tool is free, but requires that you have our premium Backups feature enabled.
5. Analytics Tracking Tools
Brands need analytics to make informed, data-driven decisions for their marketing strategies. Consider including analytics tracking functionality on your client sites to help them monitor this information.
There are a handful of analytics platforms for WordPress users, but Google Analytics is the most popular: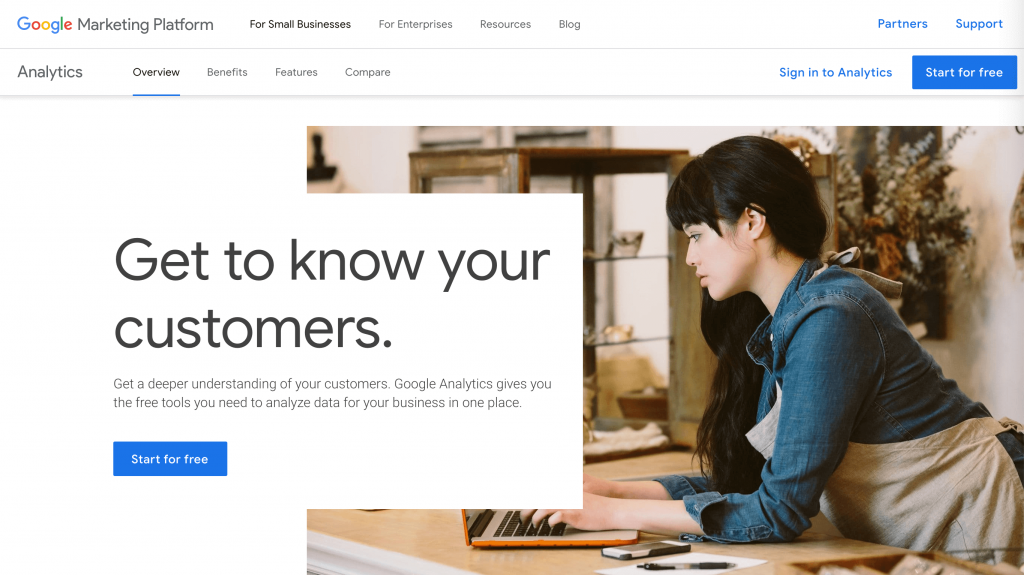 There are also several methods clients can use to incorporate Google Analytics with their sites. They can manually generate a tracking ID and add it to their website's code, or even employ a plugin such as MonsterInsights:
This tool can display Google Analytics data directly in their WordPress dashboards. It can help your clients avoid having to move between platforms to check their analytics.
However, if you'll be monitoring multiple sites yourself, you might consider our Google Analytics integration option: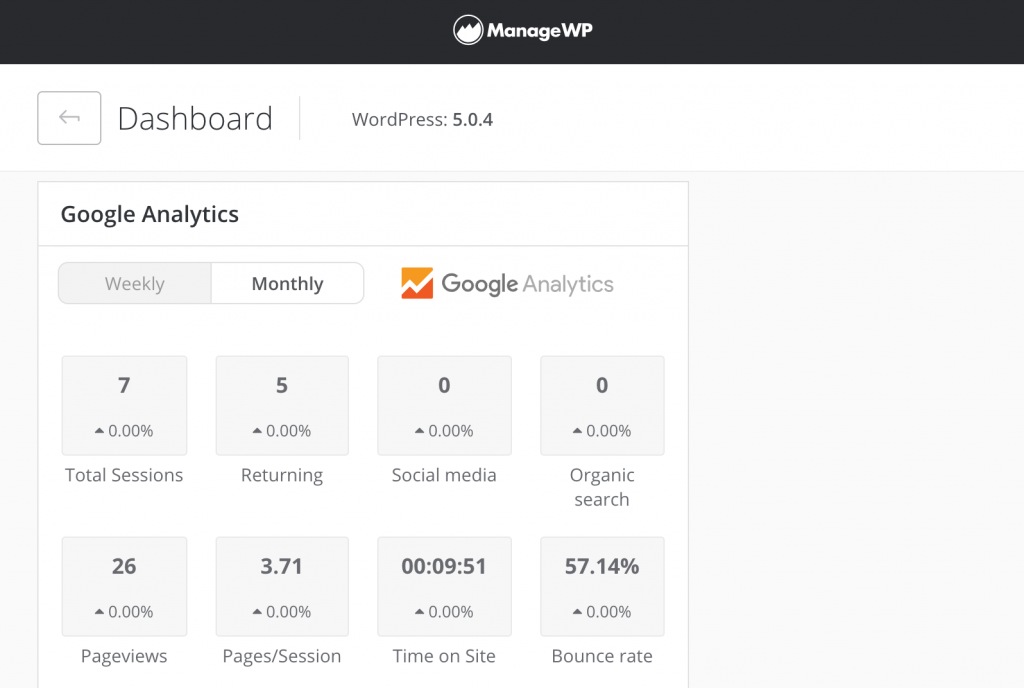 This feature enables you to track and monitor Google Analytics from your ManageWP account dashboard. It's free and simple to use, and can also include as many Google accounts as you need. Plus, you can easily generate client reports to share results.
6. Social Media Integration
Social media is a staple in online marketing strategies. Integrating social media platforms with clients' websites can help improve SEO and increase following and engagement. Cross-pollinating social media and website content may even boost traffic for both platforms.
One way to accomplish this is with Revive Old Posts:

This plugin enables marketers to create a content sharing schedule, shorten URLs, track clicks, and automatically share content on social media networks. Particularly for blogs and other content-heavy sites, this can be an effective method of generating traffic for older posts.
It's also important to make sure social icons and sharing buttons are prominently displayed on each client's posts. UltimatelySocial is a popular and easy-to-use WordPress plugin for this:

It enables you to choose from 16 different social media icon designs, including a 'floating' display option. Users can also choose which pages to add the icons to and whether to display share counts.
7. Spam Filtering
Comments on your posts can help you increase engagement, but not when they're offensive, irrelevant, or contain questionable links. In fact, too many spam comments can make a site look less trustworthy.
When it comes to WordPress maintenance tasks, filtering and deleting spam comments can be one of the most irritating. Having a site feature that enables you to identify, remove, and eliminate spam comments makes it significantly more manageable.
One method is to manually configure the Discussion settings in WordPress to increase comment controls: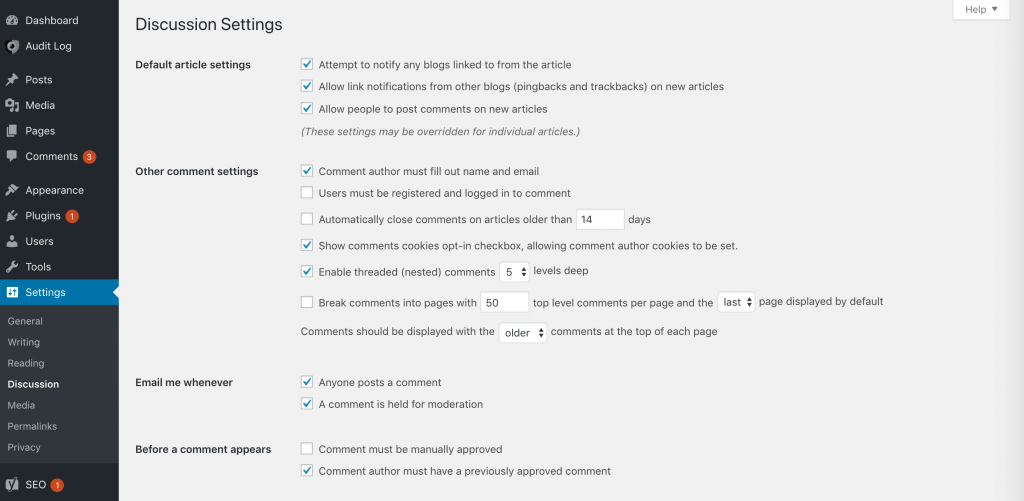 Another option is to download an anti-spam plugin, such as Akismet:

This tool runs each comment made on your website through its algorithms to moderate them. Finally, especially if you're managing multiple sites, you might want to consider our Manage Comments feature: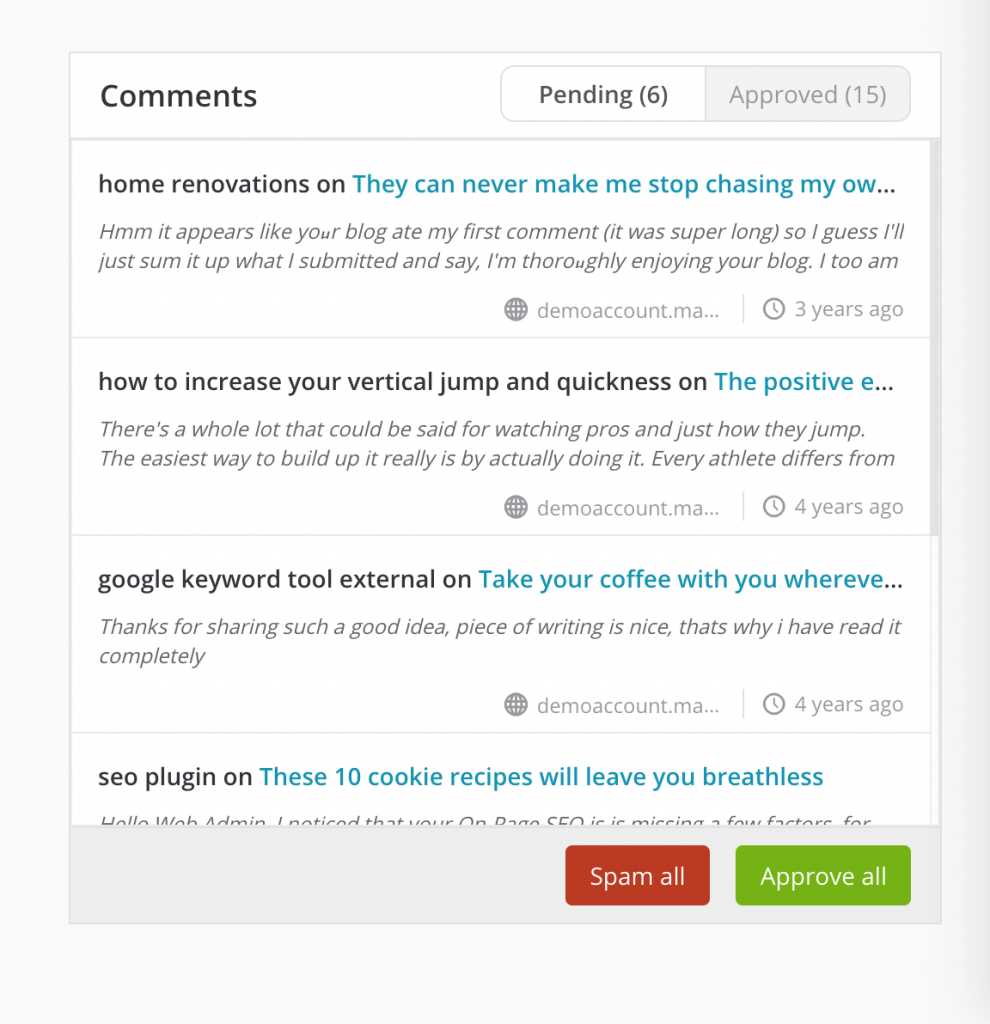 It enables you to accept or reject comments across all your sites in bulk. If you maintain sites for your clients, this feature can be a real time-saver.
8. A Website Management Platform
As a developer, you're probably familiar with how difficult managing multiple websites can be. Spam filtering, updates, backups, and other tasks can quickly eat up your days. However, you can make site maintenance significantly easier with a website management platform.
Having one place to see, monitor, and manage site tasks results in a more efficient and effective workflow. As you may be able to tell from the many features we've already mentioned, ManageWP is ideal for gaining more insight, flexibility, and security for your client sites: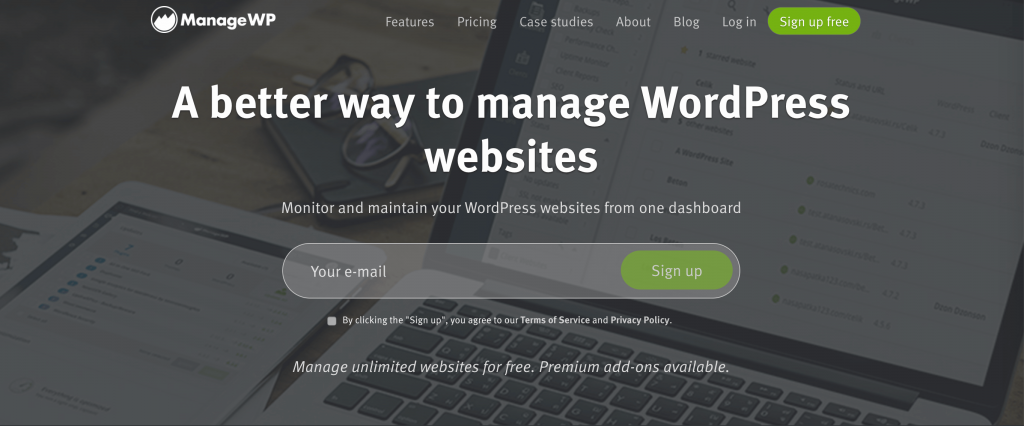 A single dashboard will display all your current client sites. You can easily log into and out of each one with a single click, making everything from active development to daily maintenance faster and simpler.
9. Direct Feedback Tool
If you're doing web design or web development work for your client, you will most certainly identify with this — you make something, deliver it to the client, and once they start providing you with feedback, things easily become unclear, misunderstood, and potentially complicated. That is exactly why you should consider having a direct feedback tool such as Atarim.
Atarim allows your client to comment directly on the work you're doing where things are impossible to become unclear and complicated.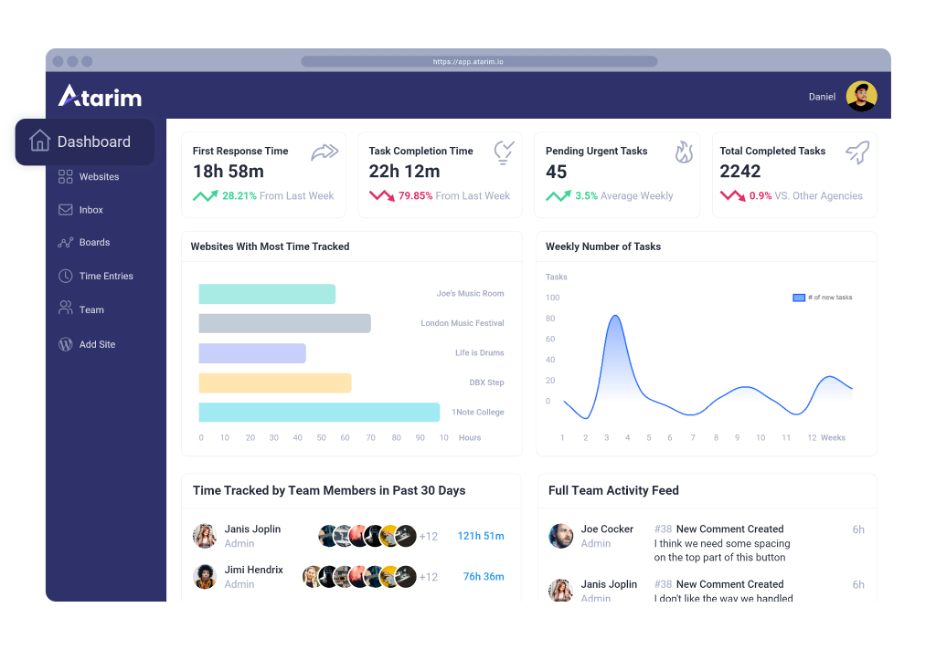 Example: The client doesn't like the fade effect on the edges in the third section of the landing page. Instead of them telling you where it actually is, what they actually don't like, where they want it to be moved, etc, they can simply get into that landing page, mark the field they don't like where the comment box will open, and they can simply say what they're unhappy with on that particular section.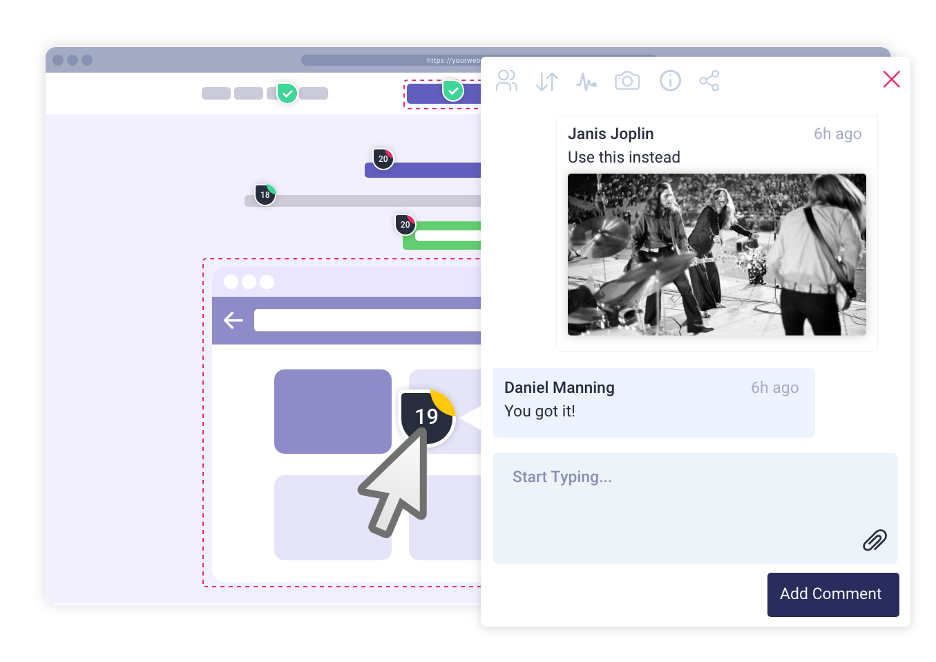 Direct feedback allows you to act much faster and improves communication which furthermore improves overall client satisfaction. The ultimate solution in the case of web designers and developers is Atarim, as it's created with in mind the scope of work designers and developers do with clients.
Conclusion
There are many elements to consider when building a client site. It can become overwhelming and chaotic, leading you to overlook critical steps. By listing the most important features to include when developing a site, you increase the likelihood that your projects will lead to satisfied customers.
ManageWP is an effective tool for website management that incorporates almost all the must-have site features discussed above. When combined with popular WordPress plugins such as Yoast SEO and UltimatelySocial, our platform makes creating secure, optimized, and functioning client sites easier and more efficient.
Do you have any questions about our must-have features for client sites? Let us know in the comments section below!
Image credit: Pexels.