WordPress now officially powers 40 percent of the web. This popularity means that your WordPress agency has a huge potential audience – but is also facing some stiff competition.
The market may be crowded, but it's still possible to stand out. With some careful planning and the right tools, you should have no problems attracting new clients and growing your WordPress agency.
In this article, we'll share four ways that you can gain an edge over your competition. By following a few top tips, you can maximize your appeal to new leads while minimizing your workload. Let's get started!
Understanding the current state of the WordPress industry
As it's one of the world's most popular Content Management Systems (CMSs), there's no shortage of agencies that specialize in WordPress. In a highly competitive market, it's crucial you stand out from the crowd.
However, now WordPress.com has also stepped into the marketplace by launching its own premium website building service: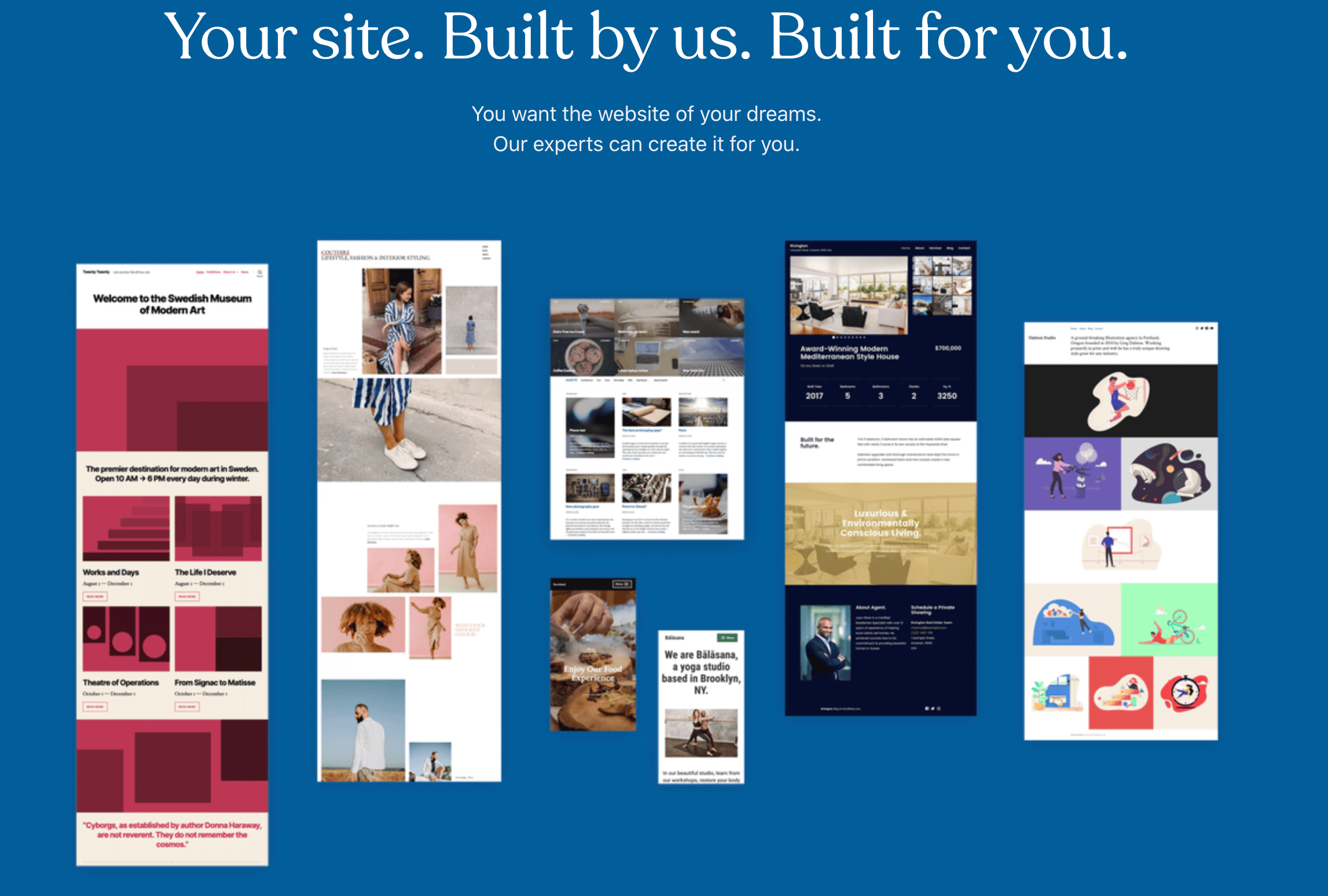 For website owners, the prospect of working directly with members of the WordPress team can be hugely exciting. However, this may not be such great news for third-party design and development agencies. This already competitive market may be about to get a lot more cutthroat.
To drive conversions, it's vital you offer potential clients something they cannot get anywhere else. Providing an experience that's a cut above your competitors will also have a positive impact on the customer experience.
A customer who feels they're getting features, support, and quality of service they can't get anywhere else is usually a happy customer. They'll likely stick with your agency for the long haul and renew their contract. You'll also be in a strong position to leverage potential cross-selling and up-selling opportunities.
Happy customers may even become advocates for your WordPress agency. By proving that you're a cut above the competition, you may benefit from powerful word-of-mouth marketing.
How to make your WordPress agency stand out from the crowd (5 key tips)
It's vital you give potential customers a reason to opt for your agency over all the competition. There are many techniques that can help you attract the attention of WordPress website owners and convert them into paying customers. Here are four to consider.
1. Target a niche audience
Businesses of all shapes and sizes use WordPress to build beautiful, high-performing websites. With so many potential customers, it can be tempting to target the widest possible audience. However, if you try to appeal to everyone, you risk blending into the crowd. You can often create a stronger brand identity by targeting a niche.
When you're marketing to a niche audience, you can speak to the deep needs of specific customers. You can also create website maintenance packages that feature exactly the functionality and services your target market needs most. This can make your agency a compelling choice for those looking for a more tailored service.
By positioning yourself as a niche agency, you can also grow your business without having to directly compete with every other WordPress agency. This can help minimize your marketing and advertising costs.
As a niche agency, your potential audience may be smaller. However, since you're minimizing your costs while maximizing your appeal, you're in a strong position to achieve a healthy Return On Investment (ROI).
It's important to choose a niche that's large enough to support your business. Here, it may help to use a tool such as Google Trends to identify how many people are searching for keywords related to your potential target audience: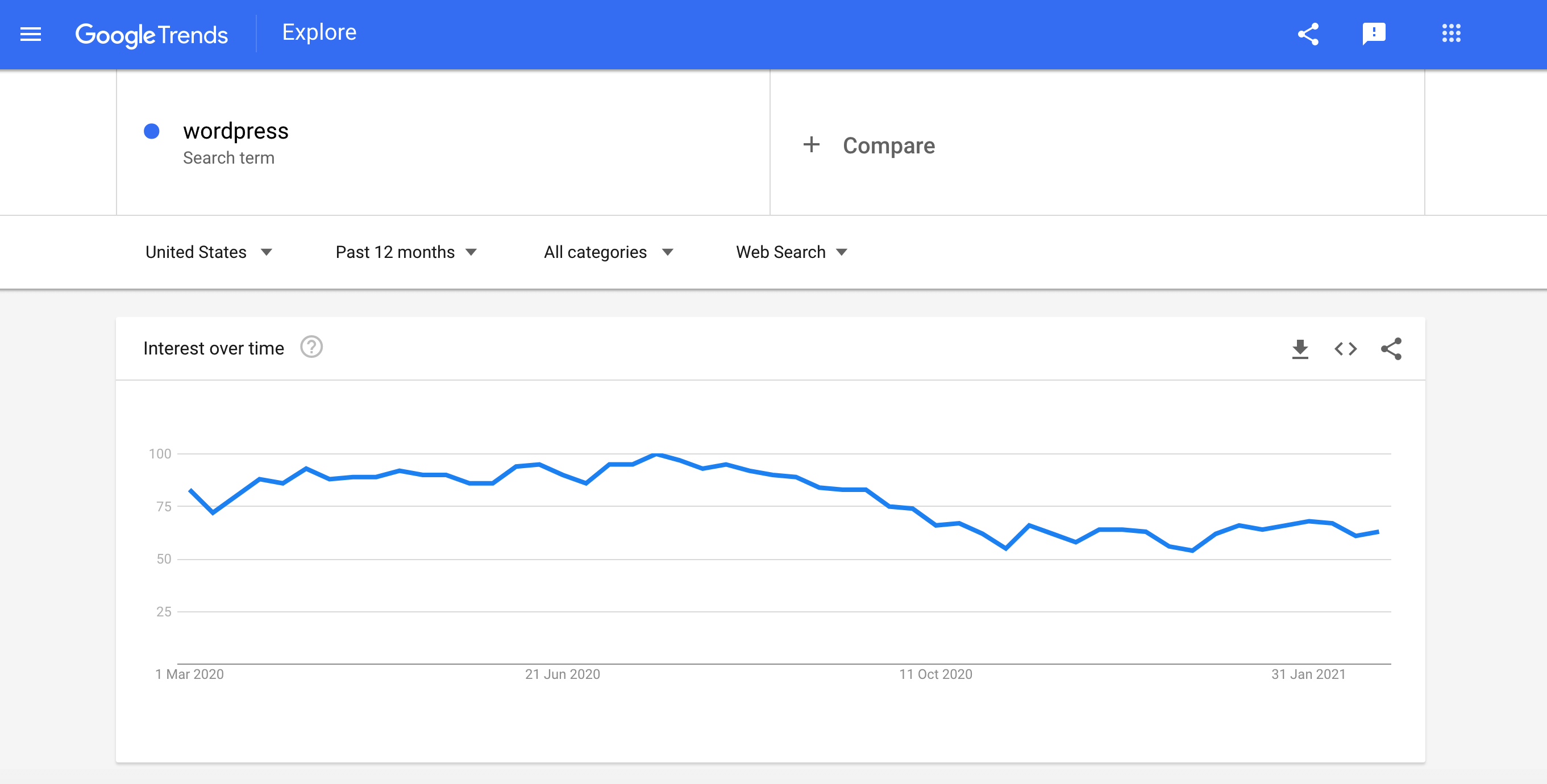 It's also smart to consider whether your prospective niche can provide future growth opportunities. You may want to think about whether there's scope to expand into related areas down the line, too.
2. Offer 24/7 customer support
Your client's website will be open for business 24/7. Unfortunately, this also means they may encounter an issue at any time of the day or night. When searching for an agency, around-the-clock care will always be high on a potential client's wishlist.
Delivering 24/7 customer support to your WordPress clients may feel like a difficult task, especially if you have a small team. However, offering around-the-clock support will make your business more attractive than agencies with limited support hours.
If you don't have the resources to run a 24/7 customer helpline, it's important to note that customer support can take many forms. This includes self-help resources such as a wiki, FAQ page, knowledge base, or blog packed with valuable technical advice: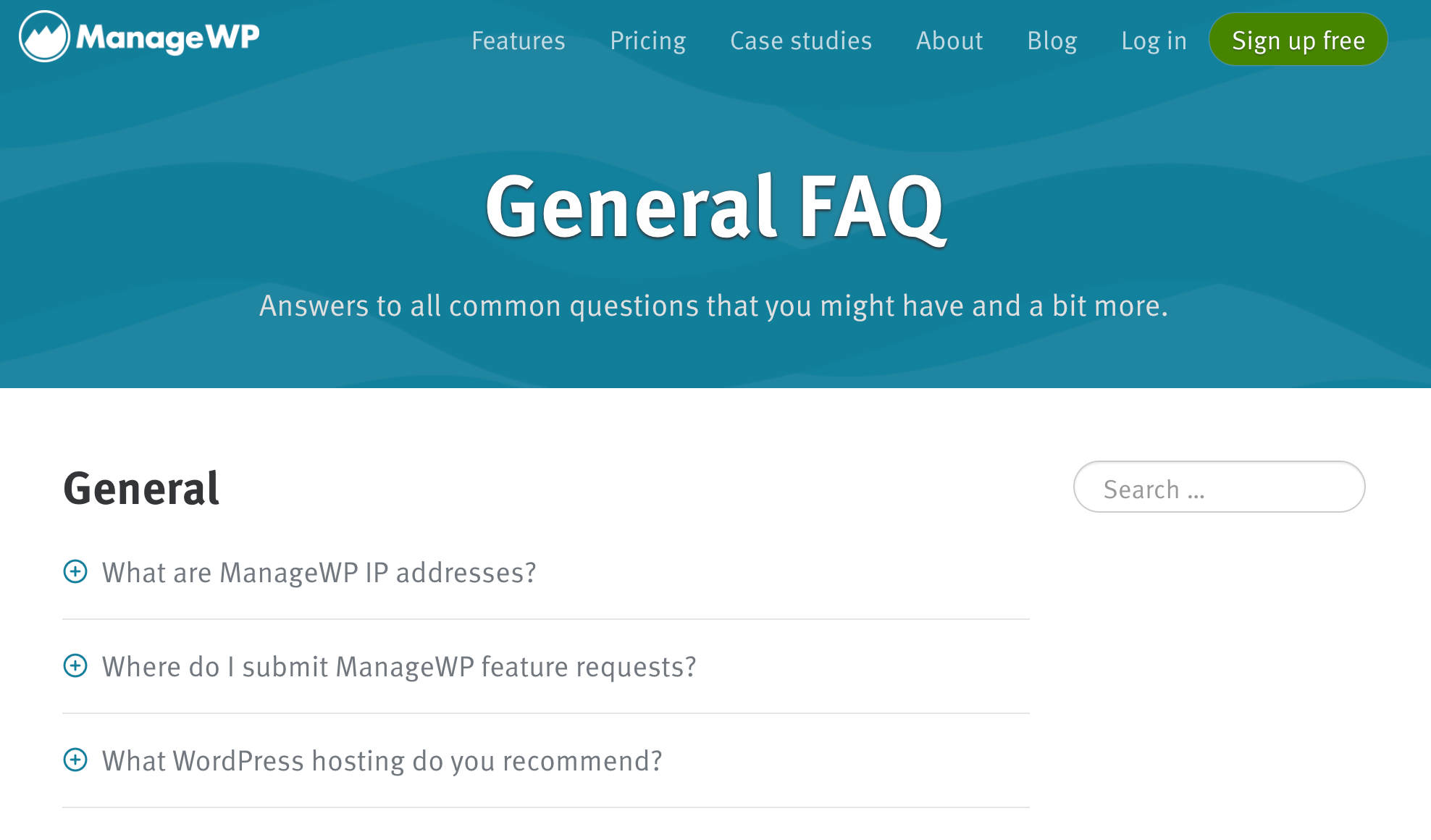 By creating self-help resources, you can provide some level of customer care around-the-clock. There's even evidence to suggest that 40 percent of consumers prefer self-service support over human contact.
This means that self-help resources aren't necessarily a poor substitute for hands-on assistance. If given a choice, a significant number of your potential clients may opt for DIY troubleshooting over speaking to a representative.
3. Provide detailed client reports
When a website owner is shopping around for an agency, their aim is to get maximum ROI. One way to convince potential clients that you'll deliver tangible results is to offer client reports as part of your maintenance and management packages.
This is a document containing the results of every action you've performed for your client. Your report should clearly demonstrate the value you contribute to the client's business.
Simply by offering to provide these reports, you're expressing that you're confident in your ability to deliver measurable value. You're also presenting yourself as a transparent WordPress agency that prioritizes open communication. This can increase your appeal to potential customers.
An effective client report will contain detailed information covering everything the client cares about. This may include changes in their search engine rankings, plus a breakdown of all the backups, security scans, and updates you've performed during the previous period: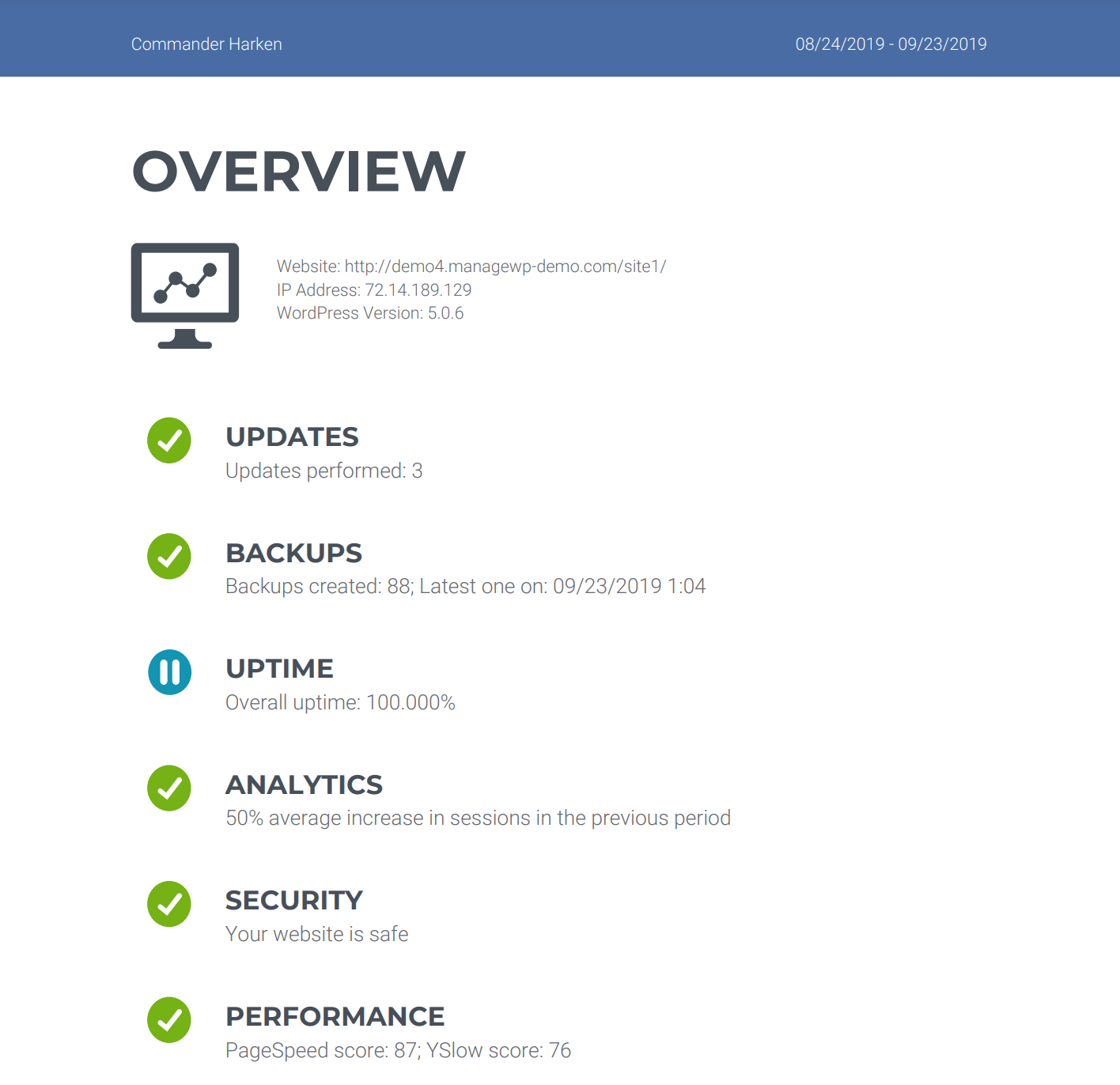 Gathering this information and presenting it as a professionally-designed report can be a time-consuming and frustrating process. However, ManageWP can generate these Client Reports automatically, based on a schedule you set. This enables you to offer in-depth client reports to all your existing and potential customers without increasing your workload: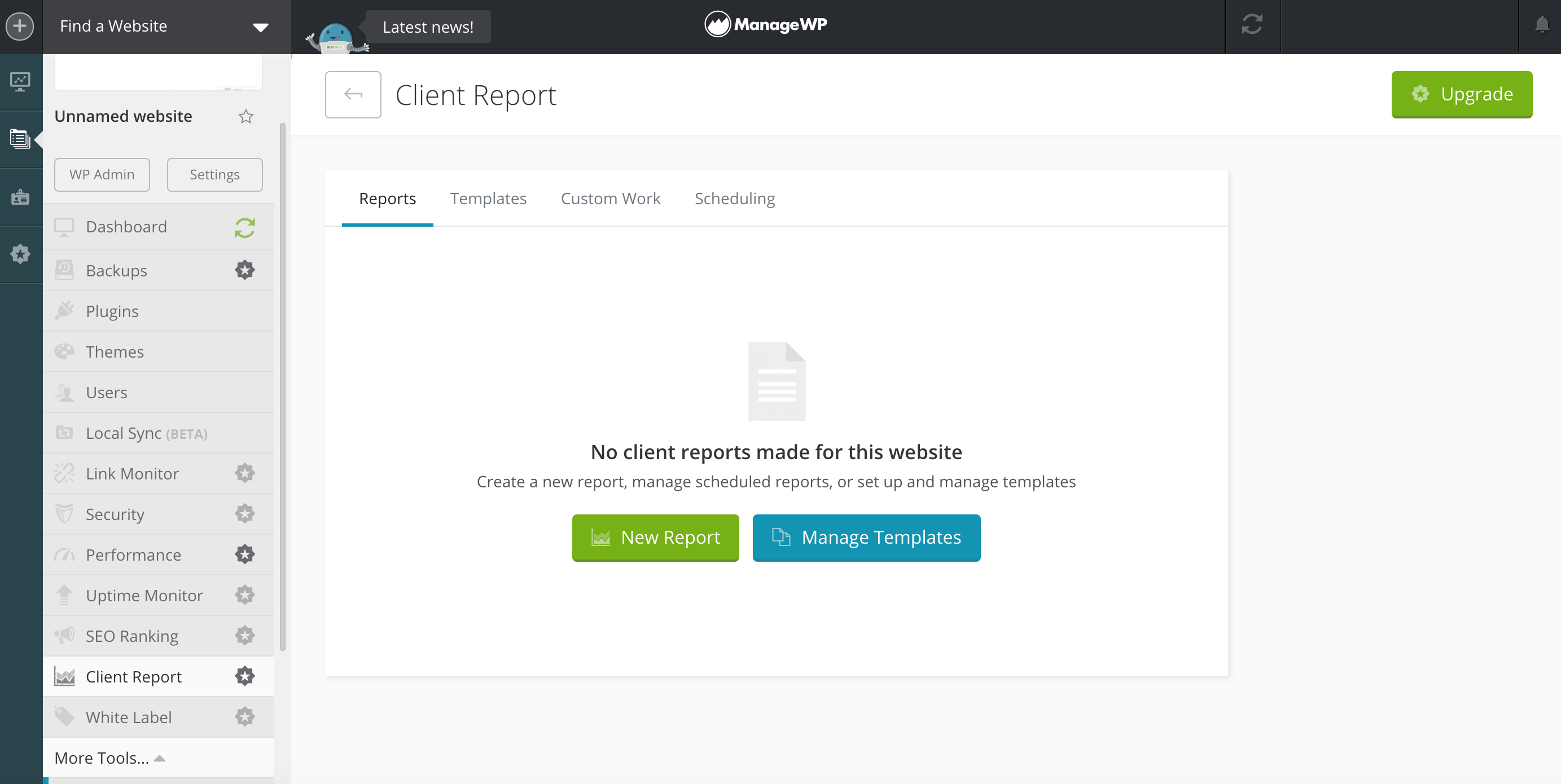 Out-of-the-box, ManageWP combines data from a wide range of sources. However, if you really want to wow your clients, you may want to consider integrating Google Analytics with ManageWP.
After making this connection, your client reports will feature key Google Analytics data. This provides website owners with all the information they need to properly evaluate your performance.
4. Deliver a complete website maintenance and management service
Running a successful WordPress website can require a lot of ongoing maintenance. For busy website owners, convenience is key. A potential client will almost always favor an agency that can cover all their WordPress maintenance and management needs so that they don't have to contract with multiple services.
This is where a tool such as ManageWP can be your secret weapon. You can use it as a central hub where you can schedule essential WordPress tasks for all your clients' websites: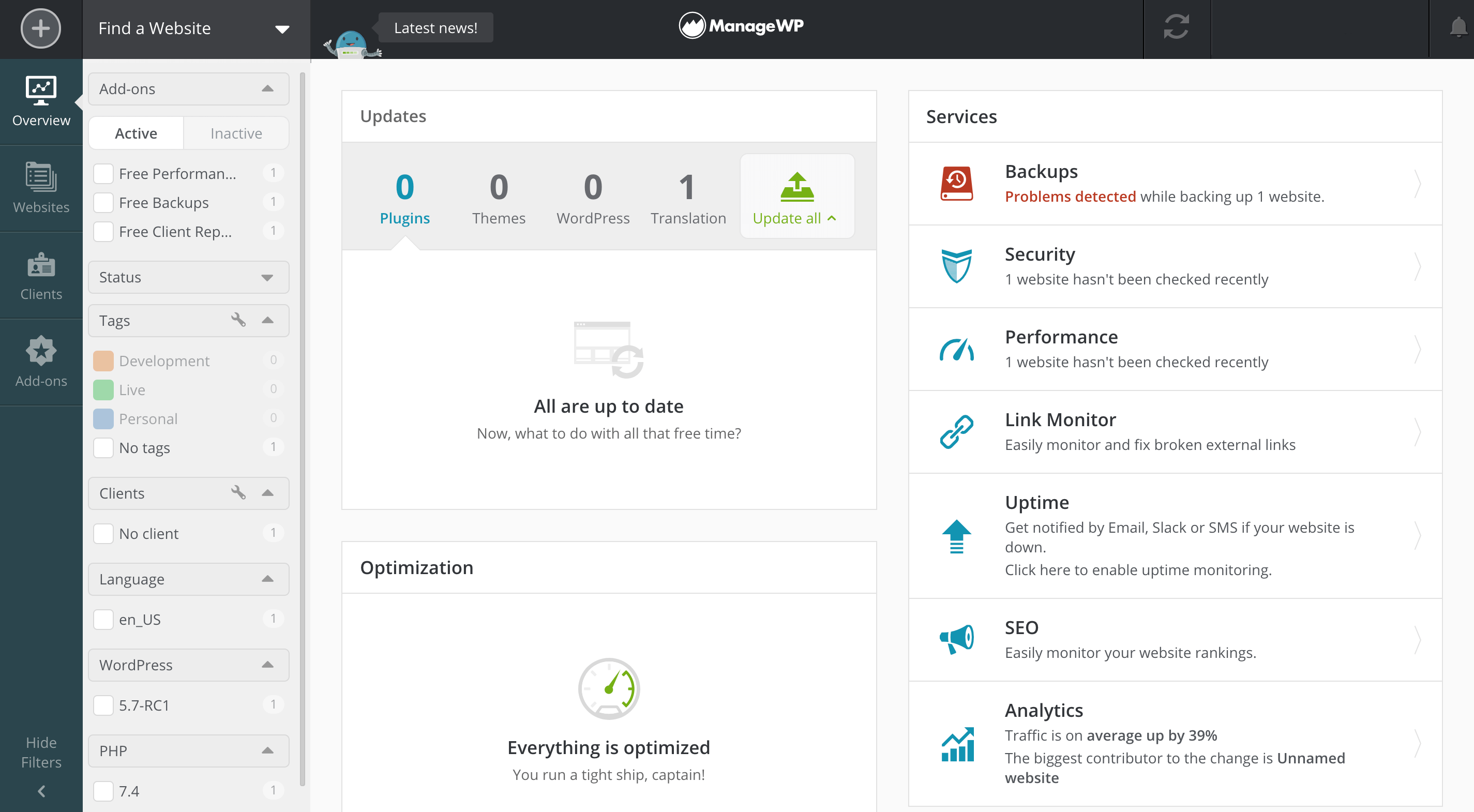 This enables you to offer a complete WordPress management service while minimizing your workload. It's a powerful way to set yourself apart from the competition and convince potential customers that you really are a one-stop-shop for all their WordPress needs.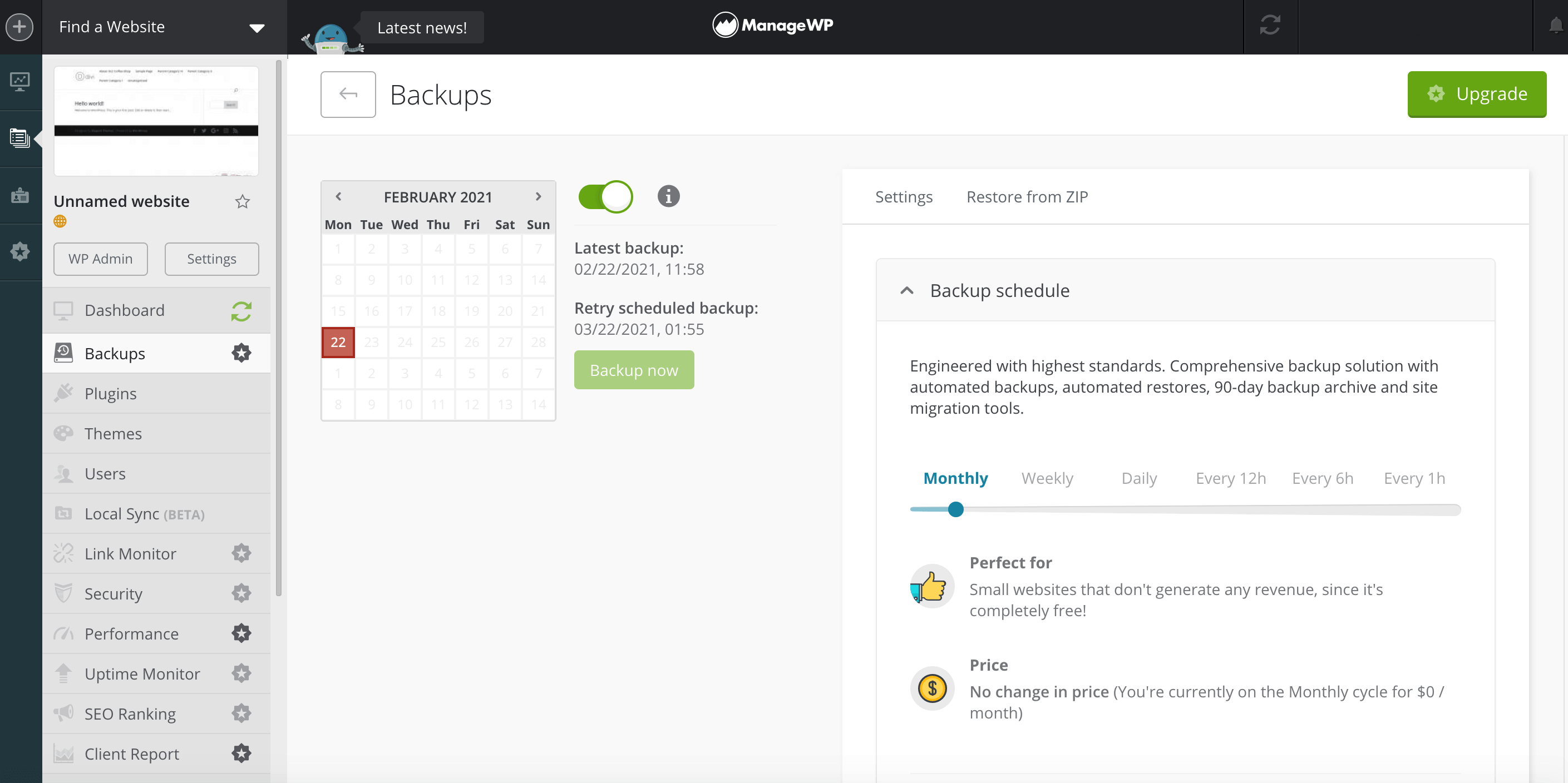 You can use ManageWP to schedule everything from automatic backups, to montioring site security, to scanning for new versions of clients' plugins and themes, plus new releases of WordPress core. Whenever an update is available, ManageWP will install it automatically.
5. Deliver Work Faster Than Anyone Else Without Compromising Quality
Who doesn't like getting things way before the deadline?!
We bet that there's no client in the world who will not appreciate you being lightning fast and delivering the project earlier than what's arranged while keeping the quality on the top level.
It's simple — we all know how much it usually takes to design a landing page, honor clients' feedback, make amends, send it back to review, change something again, etc. And it doesn't have to be a landing page design — it can be any type of design or development. These things simply take time, and if you're in the industry for quite some time, you are already aware of how much time we're talking about.
If you want to stand out, work on your performance.
Identify key blockers in the majority of the projects you execute, find things that are taking you unnecessary time and then find ways to avoid them. It may sound simple, but let's face it — improving efficiency, productivity, and effectiveness on your own is hard!
One thing that most certainly can help with your goal to improve your performance is using Atarim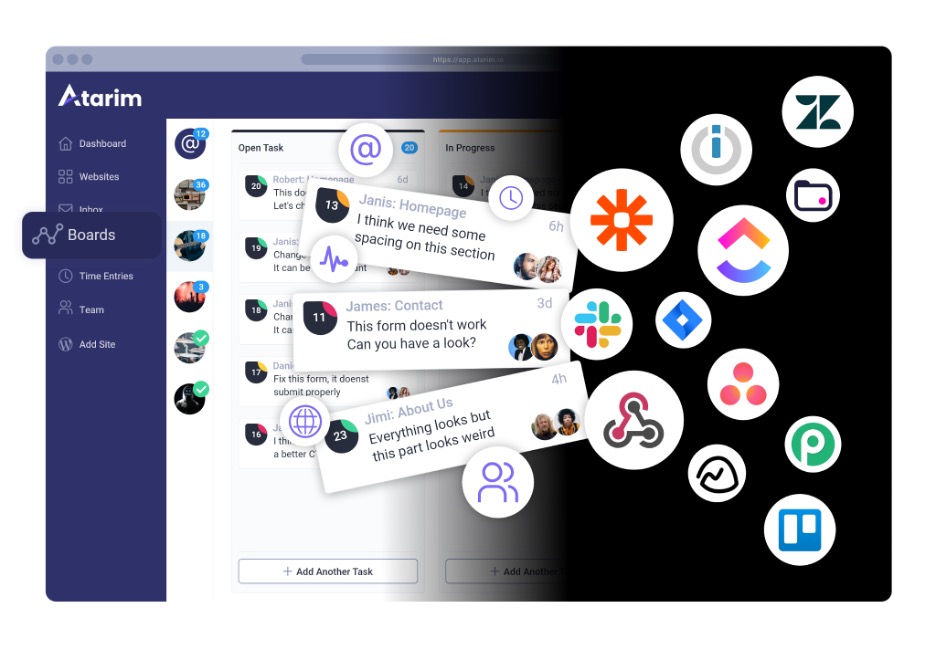 They identified these key blockers a long ago and made Atarim the ultimate solution for everyone who's looking to skyrocket their freelance or agency business by getting their performance to the highest possible level.
So, do you want your WordPress agency to stand out from the crowd? Use solutions such as Atarim to cut your project delivery time to a minimum.
Conclusion
We're not going to pretend that running a successful WordPress agency is easy. However, by following some simple steps, you can grow your customer base even in a crowded marketplace.
To catch the attention of prospective customers, bear the following in mind:
Target a niche audience.
Offer 24/7 customer support.
Provide detailed client reports.
Deliver a complete website maintenance and management service.

Deliver work faster then anyone else
Do you have any questions about how to make your WordPress agency stand out from the crowd? Let us know in the comments section below!
Image credits: Pexels.