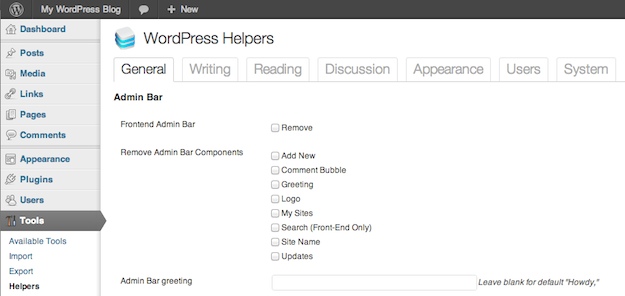 As you would expect from a powerful content management system, WordPress has a lot of settings. By default there are no less than seven different settings screens for you to work through. From setting your site's title and tagline to your permalinks, WordPress has you pretty well covered.
As such, you might be forgiven for not wanting to see even more options to tweak or modify your WordPress site. But in reality, there are plenty of things I would like to do that are not possible via the available default settings. The kind of things that you have to do yourself manually, or download individual plugins for. Not all of us want to get our hands dirty with code (or know how to), nor do we want to install plugins that only provide a single solution to a minor issue.
Wouldn't it be better instead if a plugin were developed that packaged and presented a number of common desired WordPress settings that are not available by default? That is exactly what WordPress Helpers sets out to do.
Introducing WordPress Helpers
According to the plugin's page on WordPress.org, WordPress Helpers "opens up the missing settings you wish were in WordPress". If you want a full overview of the plugin and have 30 minutes to spare, check out this comprehensive presentation by one the developers, Steve Bruner:
Otherwise, here's a list of the top features available via WordPress Helpers:
Remove the frontend admin bar
Edit the backend admin bar
Quick and easy maintenance mode
Admin messages
Set default text editor
Remove visual editor
Remove unwanted elements from the template header
Remove unwanted widgets (goodbye Calendar!)
Allow shortcodes in widgets
I'm just scratching the surface with the above list — there are in fact over 30 different functions available in WordPress Helpers.
This plugin is especially helpful for WordPress developers that work with clients. As you can see from the above options, it includes a whole load of ways in which you can implement restrictions (such as disabling the theme switcher) to stop inexperienced WordPress users from unwittingly breaking their site.
WordPress Helpers is built upon the PIKLIST Rapid Development Framework that aims to make plugin development easier. This isn't particularly relevant to you — all you need to know is that you must install the PIKLIST plugin in order for WordPress Helpers to work.
You can access WordPress Helpers via Tools > Helpers: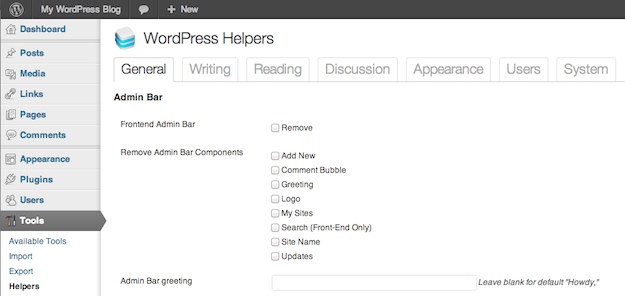 As you can see, the various options are broken down into individual tabs, a la the default WordPress settings screen. Upon installing and activating WordPress Helpers, you'll want to browse through each tab to discover what is possible. You may find something that you didn't even know you wanted to do (as I did).
A Must-Have for WordPress Users?
Personally, I would remove a bunch of the default WordPress settings and include plenty from WordPress Helpers — such as the ability to edit and remove the admin bar, shortcodes in widgets, text editor display options, and so forth. Whilst it isn't a "must-have" plugin, WordPress Helpers can make your life a whole lot easier and enable you to make some rather useful tweaks to your WordPress site. And as I said previously, if you are working with clients, it can be a godsend.
With that in mind, I'd love to know what you think about extra settings for WordPress. What options would you add to WordPress in order to mould it into something that you prefer to work with? Let us know in the comments section!