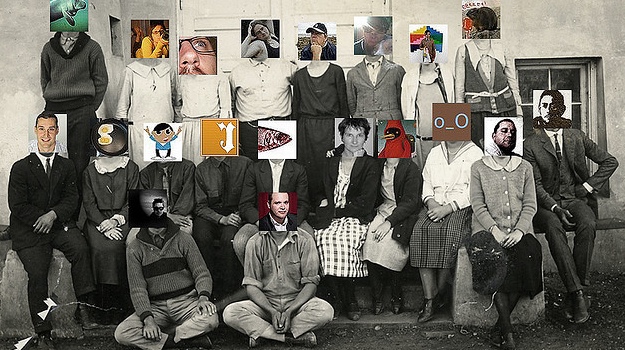 Have you been wanting to add a forum to your blog? Have you put off adding one because you think the process is too complex? If so, think again; it's actually a lot easier than you may think thanks to a few WordPress plugins.
Forums are great for increasing user engagement and keeping visitors on your blog longer. It's one of the best way to bring your visitors together, allowing them to converse, network, give feedback, ask questions and more.
When it comes to adding a forum to your WordPress blog, most of us are familiar with the top choices: bbPress, Vanilla Forums, and Simple:Press. These three are great options, but they're not the best if simplicity is what you're seeking.
Instead, I want to share a few forum plugins that you may not be familiar with and are also easy-to-use. These plugins will have a forum up and running on your blog in just a few minutes.
Mingle Forum's mission is to keep it simple and it has definitely succeeded. If you're looking for a forum that will easily integrate with your blog, is quick to set up and lightweight, look no further. Even with all of its features, Mingle Forum doesn't add any unnecessary bloat to your blog.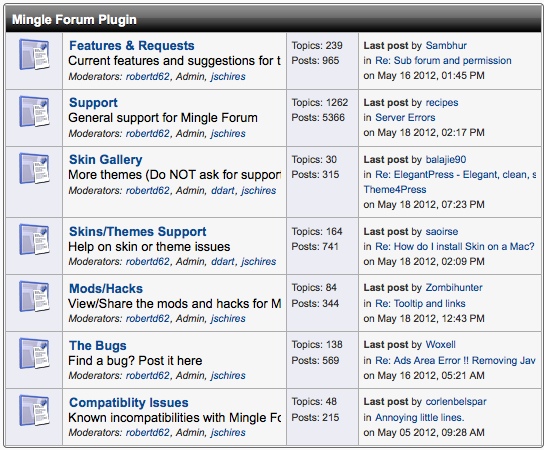 Here are a few things to look forward to:
Link a blog post to a corresponding forum post
Image uploading and media embedding in new forum posts and replies
SEO-friendly forum URLs
HTML areas for easy ad integration – AdSense, affiliate links, etc
Private messaging system
Change the look of your forum with Skins
Combat spam with integrated Captcha
Add some expression to posts with smilies
Set topics as "hot" or "very hot"
Add a recent posts widget to your blog sidebar
Tal.ki can be used as a forum, message board or discussion board. It will automatically add a "Forums" page and embed a forum into your blog so that users can start their own conversations. Tal.ki supports logging in via Facebook, Twitter, Google and many other services; so users won't have to create yet another login just to use your blog's forum.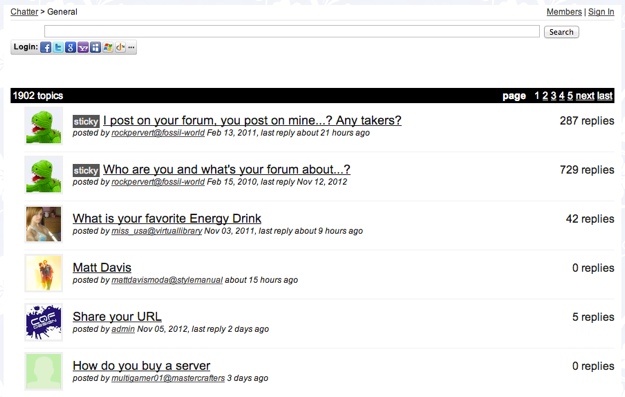 Some of Tal.ki's features are:
CSS customization abilities
An admin panel for managing your forum
The ability to make forums public or private
Automatic updates and security patches – making less work for you
Announcements feature – display important messages at the top of the forum
Drag-and-drop organization of sub-forums
Media embedding – images, videos, flash
Bublaa is a simple, yet stylish forum for your blog. It has a unique look and is set up like a micro-blogging platform. There are two columns: topic excerpts are on the left and the full conversation view along with comments opens on the right. Bublaa is a snap to set up, lightweight, easy to navigate and fun to use.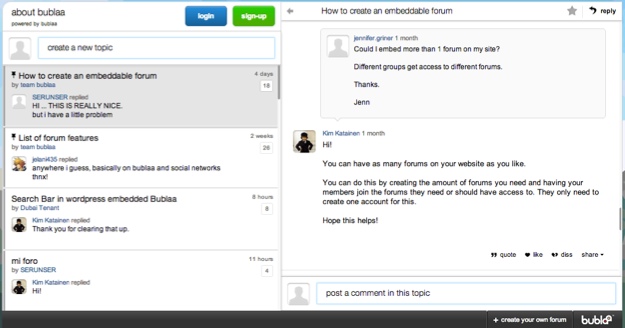 Here are a few of Bublaa's features:
Users can "like" and "diss" posts and replies
Integrated social sharing for posts and replies – Facebook, Twitter, Google+
Users can login via Facebook or create an account
Topics and posts are updated in real-time
Topics can be added as a favorite, making discussions easier to keep up with
You can make a topic "sticky" so that it remains at the top of the list
TheBlogFrog does not offer a plugin, but it is an embeddable forum that includes many of the features from the above-mentioned plugins. You don't just get a forum, you get a mini community complete with: a welcome area, blog posts showcase, member profiles, social sharing, real-time commenting (must be enabled on a post-by-post basis) and featured conversations.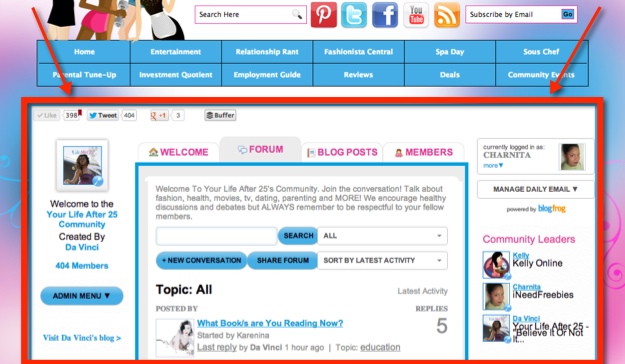 You'll create your community on TheBlogFrog's website and then get an HTML code, which will allow you to embed that community into a page on your blog. The end result is a community/forum that looks as though it's part of your blog (as pictured above, courtesy of Your Life After 25). The forum also has a rich-text editor that supports text formatting, image and YouTube video insertion, emoticons, bulleted lists, links and HTML insertion.
What's Your Pick?
Even though I really love the look of Bublaa, I'm currently using an embeddable forum from TheBlogFrog. I love the community feel and features it adds to my blog. It also doesn't hurt that there is a monetary incentive by using TheBlogFrog – via integrated CPM ads.
However, I'm wondering what others are using or have intentions of using. Do you have a forum on your WordPress blog? If so, what plugin or tool are you using and why? If not, which one do you plan on using?
Creative Commons image courtesy of mallix