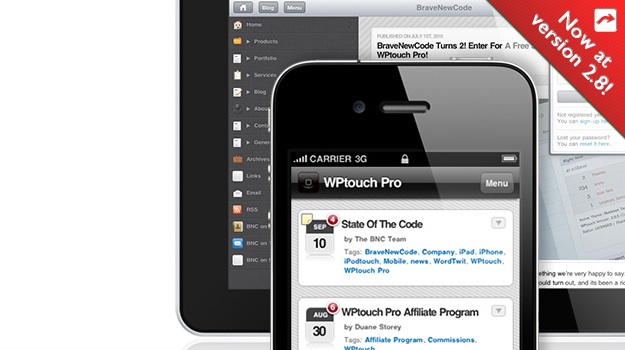 It would be fair to say that mobile design is not a topic we have shied away from here on the ManageWP blog. But today I want to put the controversy to one side and assume two key things:
You want a mobile design for your WordPress site
Your existing theme isn't responsive and you have no intention of changing it
One might assume that the above scenario precludes you from offering up a design for mobile users, but that is not the case. In fact, there are a few plugins on the market that can take your site and convert it into an app-style interface for mobile users.
Today I want to focus on the most popular one — WPtouch. Is it the solution you have been looking for?
Attempting the Impossible?
WPtouch is developed by the chaps over at Brave New Code — a name you may recognize from expert roundup posts we have published in the past, such as How to Improve the WordPress Plugins Repository. They took on the unenviable task of creating a plugin that can convert any WordPress site into an attractive and functional app-style interface.
To be perfectly honest with you, I would have considered such a feat impossible. Different WordPress designs throw up so many different variables that I couldn't imagine a "catch-all" plugin offering a consistent solution.
However, I now know better.
Introducing WPtouch
In order to put WPtouch through its paces I decided to offer up my own blog as a guinea pig. Here's how it looks on an iPhone 4 in portrait mode: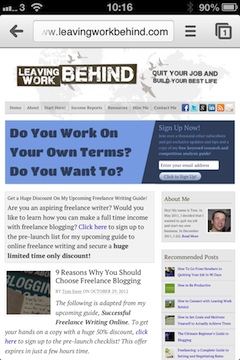 As you can see, the non-responsive desktop design holds up pretty well on the iPhone display. Now let's take a look at the WPtouch app-style interface: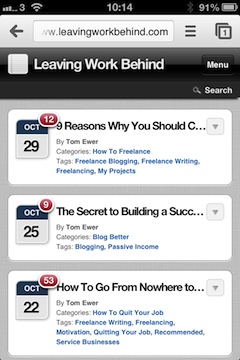 This is what you get from simply installing and activating the plugin — before you have touched any of the settings. Impressive, no?
The way in which the developers have managed to pull all of the most important information into a clean and intuitive display really showcases (a) their talent, and (b) the ease with which information in WordPress can be manipulated.
The design you see above remains pretty consistent throughout the different pages and displays on your blog, as you can see from the screenshots below: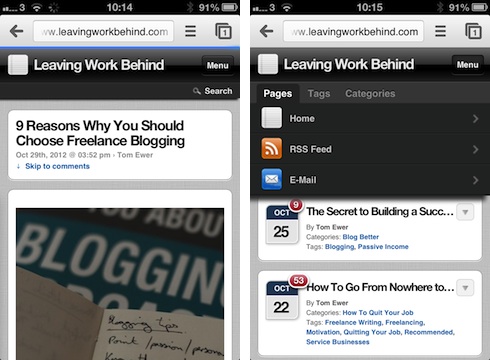 But installing WPtouch is just the first step.
Tweaking Your WPtouch Theme
WPtouch offers up an enormous number of customization settings, so I am just going to run through the most useful.
The first thing you will want to consider is how posts on your homepage are presented. For instance, categories on my blog are a complete mess, so I want to hide them. I also want to display the post thumbnail and remove the author name (it's always me). All easily done:

The above settings adjustments result in what I consider to be a far better presentation of my homepage: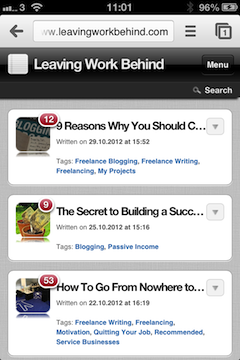 Moving on, there are a bunch of advanced customization settings which I have tweaked to my liking: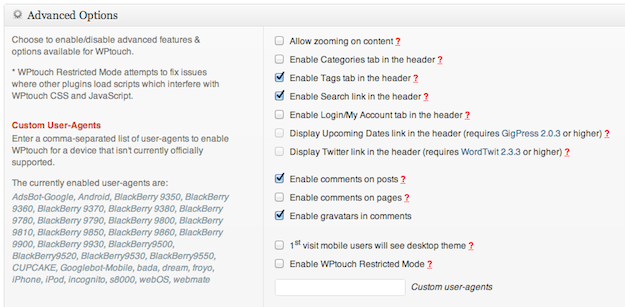 And although WPtouch's interface is (by necessity) rather rigid, you do have the option to change some of the fonts and colors:
Finally (and please note that I have not covered all of the available settings), I found it incredibly useful that I could select which specific pages I wanted to show in the navigation menu, because I have a whole bunch that I would not typically want to display: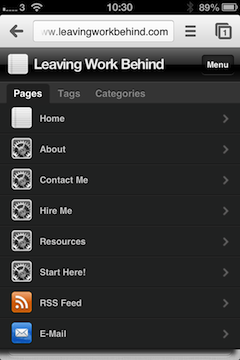 An Incredibly Intuitive and Simple Solution
Quite frankly I am blown away by how easy it was to get my own app-style website up and running. I achieved all the above in about ten minutes. If it weren't for the fact that I am pretty happy with how my site's desktop display renders on most mobile devices, I would be using WPtouch without hesitation.
Whilst there are alternative options out there (such as the Jetpack Mobile Theme Module), WPtouch is by far the most popular solution and is developed by a great bunch of guys. I wholeheartedly recommend it to anyone who is looking for a simple mobile solution for their website.
Furthermore, there is a premium version available with even more options — you may want to check it out. If not, you can download the free version here.
So what do you think — is an app-style interface like WPtouch to your taste? Will you be using it for your WordPress blog? Let us know in the comments section!