Web professionals have a diverse range of services they can offer their clients. WordPress maintenance may not be one you've considered, but it could be the next logical step for your business.
This is where our 2020 WordPress Maintenance Survey can help. The results come from a wide range of WordPress professionals who provide maintenance services and can help you make informed decisions about how to create or improve your own offers.
In this article, we'll share the results of our 2020 WordPress Maintenance Survey. We'll include data about the maintenance services offered by our customers and some key takeaways. Let's go!
Offering website maintenance to clients
We surveyed ManageWP users to find out more about the WordPress maintenance services they offer to clients. The total number of respondents was 2,279. 1,879 (82.4 percent) of them are self-described web developers, designers, or other types of professionals: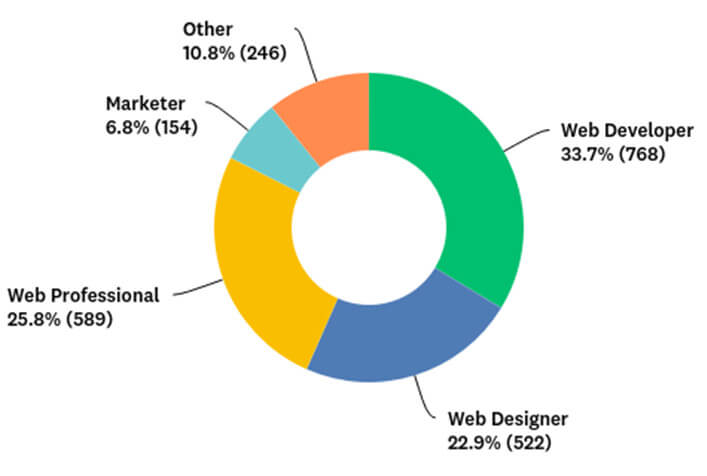 Just over half of respondents (50.77 percent) describe themselves as freelancers, while more than a quarter of them (28.08 percent) are agency owners: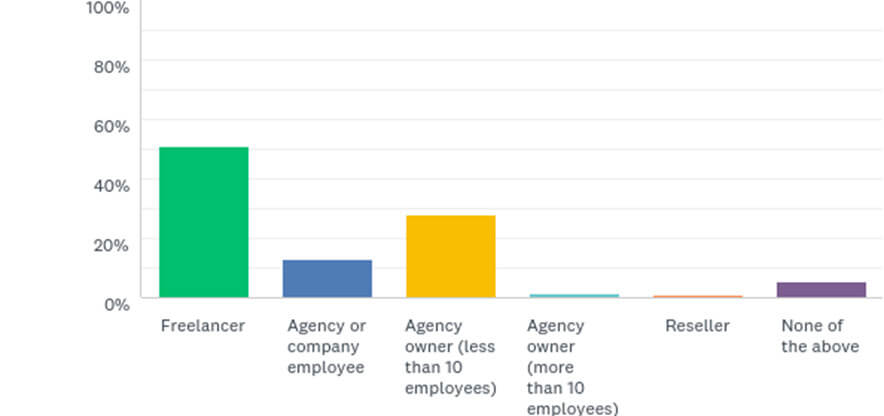 Unlike our 2019 WordPress Maintenance Survey, more participants are located in Europe (47.93 percent) than North America (37.26 percent):
85 percent of respondents offer WordPress maintenance services. This is a clear indication of the popularity of this service: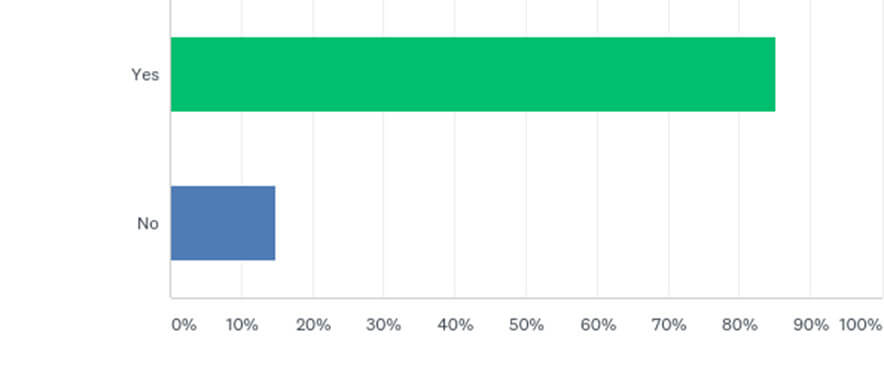 While a large number of our users provide maintenance services, the number of pricing tiers they offer varies. One and two-tier services have similar rates at 26 percent and 23 percent, respectively. Three-tier pricing systems are the more common, with 30.46 percent of respondents following this model: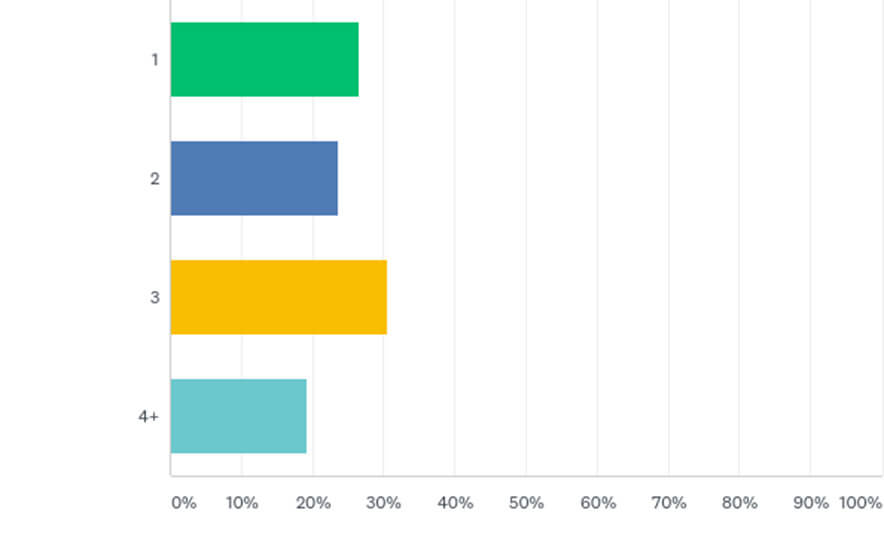 This finding is very interesting and shows an increasing trend in multiple-tier maintenance options. The results that follow will help explain the reasoning behind this trend.
Details about maintenance service clients
During the survey, we asked our customers about their clients. The geographic location of current clients closely matches that of the service provider. However, the spread between Europe (43.93 percent) and North America (41.85 percent) is tighter: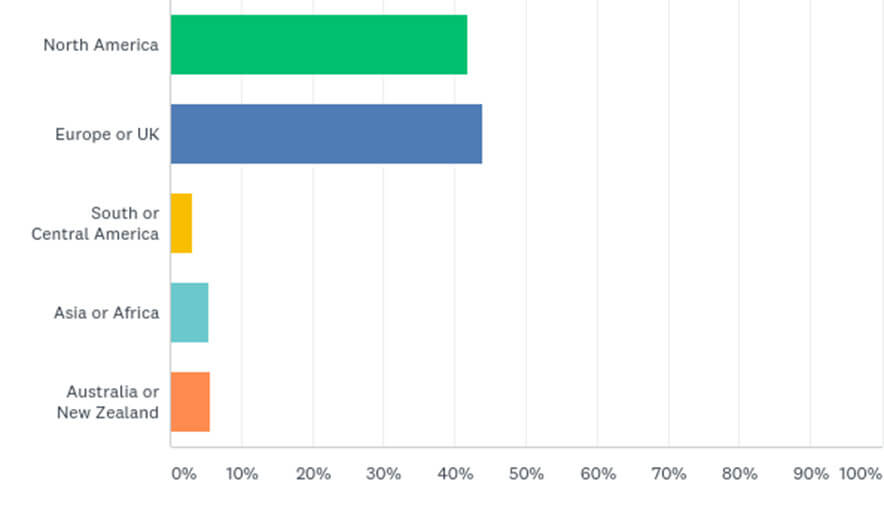 The number of clients each respondent serves is interesting. The most common response (39.89 percent) was 6–20 clients. Overall, it appears most maintenance providers prefer to focus on just a few clients than to juggle several of them at once: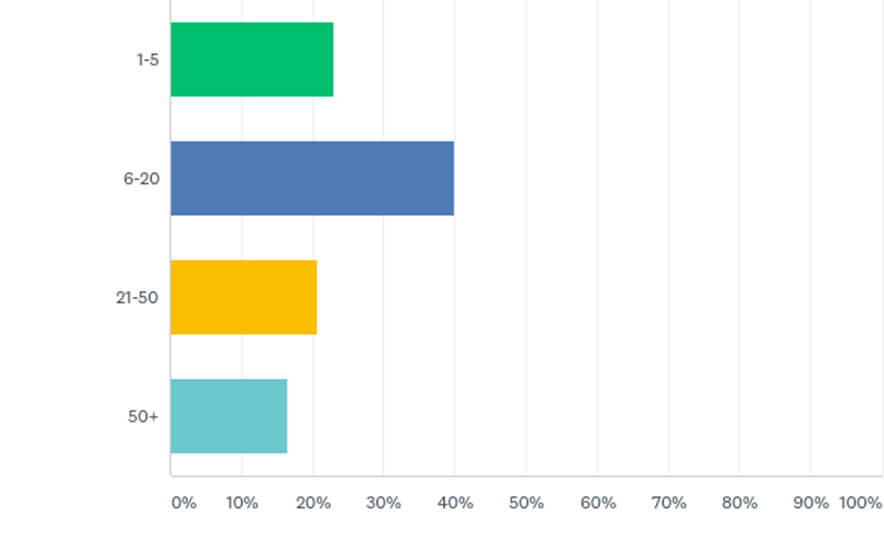 As you might expect, the number of websites respondents maintain is similar to their number of clients. The 6–20 website range was the most common at 39.76 percent: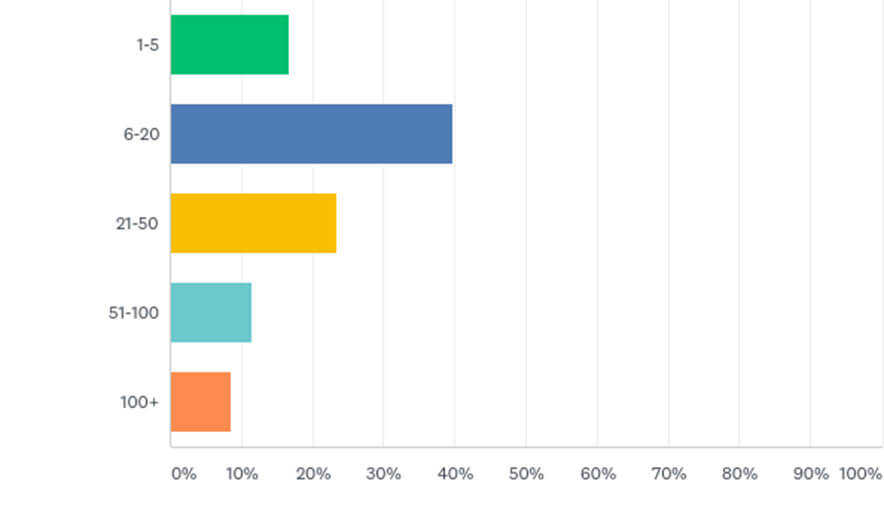 We can infer from these results that it's not uncommon for individual clients to have multiple websites. Some respondents maintain more than 100 websites for their clients.
Information about single-tier offerings
About one quarter of respondents offer single-tier maintenance services. We asked them for more information about the services they provide and their pricing.
Services
In general, maintenance services can cover a wide range of tasks. These include backups, WordPress updates, performance optimization, website security, and more. Backups and updates are the most commonly offered services in single-tier packages: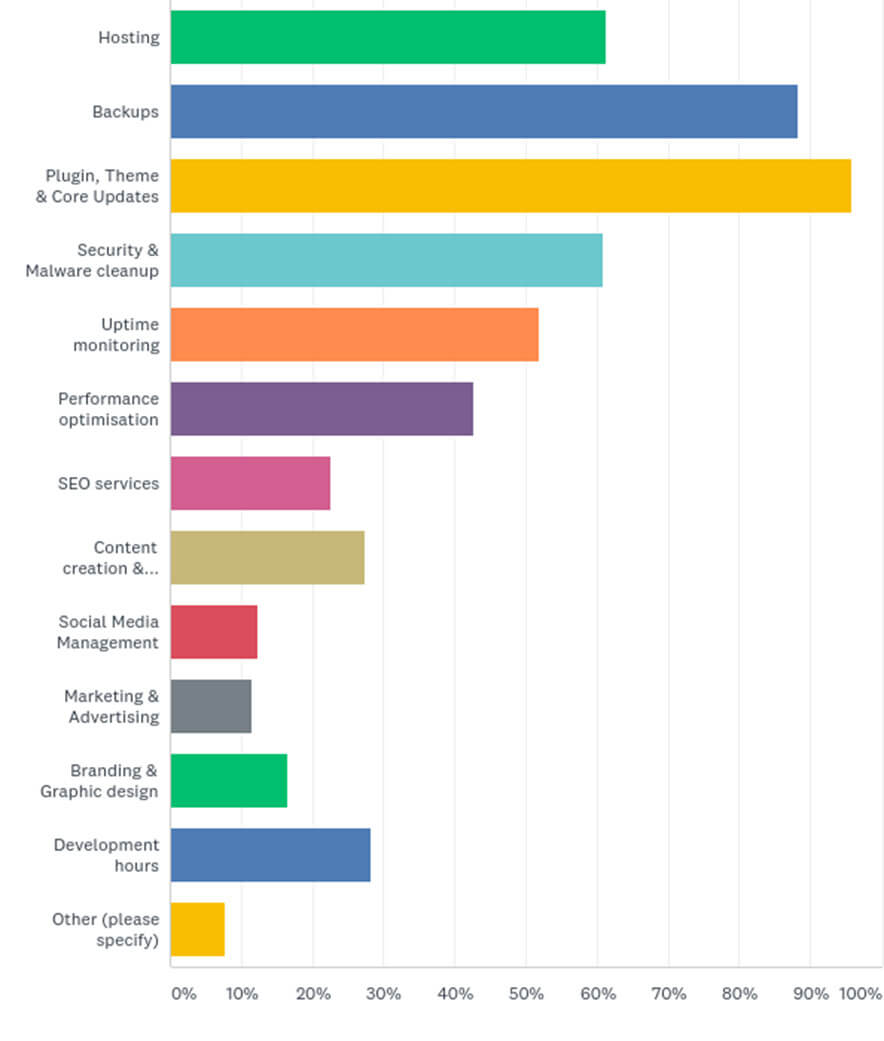 Plugin, theme, and WordPress core updates are offered as a single-tier service by 95.84 percent of respondents. Backups are offered by 88.18 percent of providers, and security and malware cleanup by 60.83 percent.
The rarest single-tier service offered was marketing and advertising (11.6 percent). This could be an area where prospective maintenance service providers can stand out from the competition.
Monthly fees
Our respondents charge, on average, $67 per month per website for single-tier maintenance services: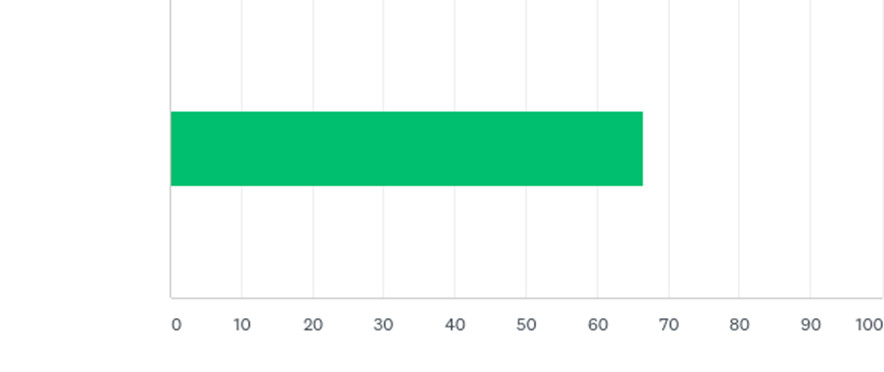 This is the average rate from 457 respondents who completed this section. Some participants charge more than this while others charge less.
Managing multi-tier offerings
While many respondents offer single-tier services, most (73.37 percent) offer multiple tiers. We asked each participant what services their highest and lowest tiers include. We also asked about the monthly fees they charge their clients for each.
Services
Of the multi-tier maintenance offerings, 41.51 percent follow a three-tier pricing structure. Two-tier services are the next most common model (32.14 percent) while four-tier services are the least common (26.34 percent).
The most popular services offered in respondents' lowest tiers are similar to those offered for single-tier services: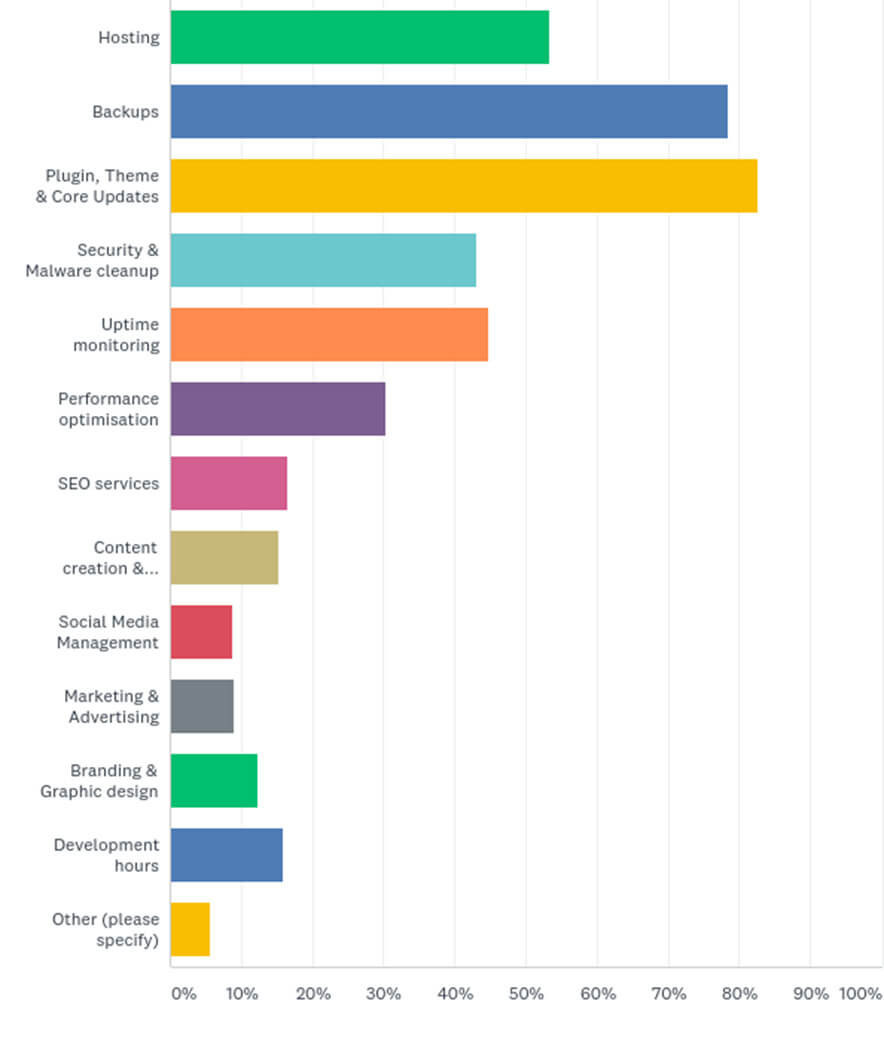 The most common lowest tier service is plugin, theme, and WordPress core updates (82.62 percent). This is closely followed by backups, which are offered by 78.37 percent of respondents.
Naturally, the highest tiers respondents provide also tend to offer these basic services: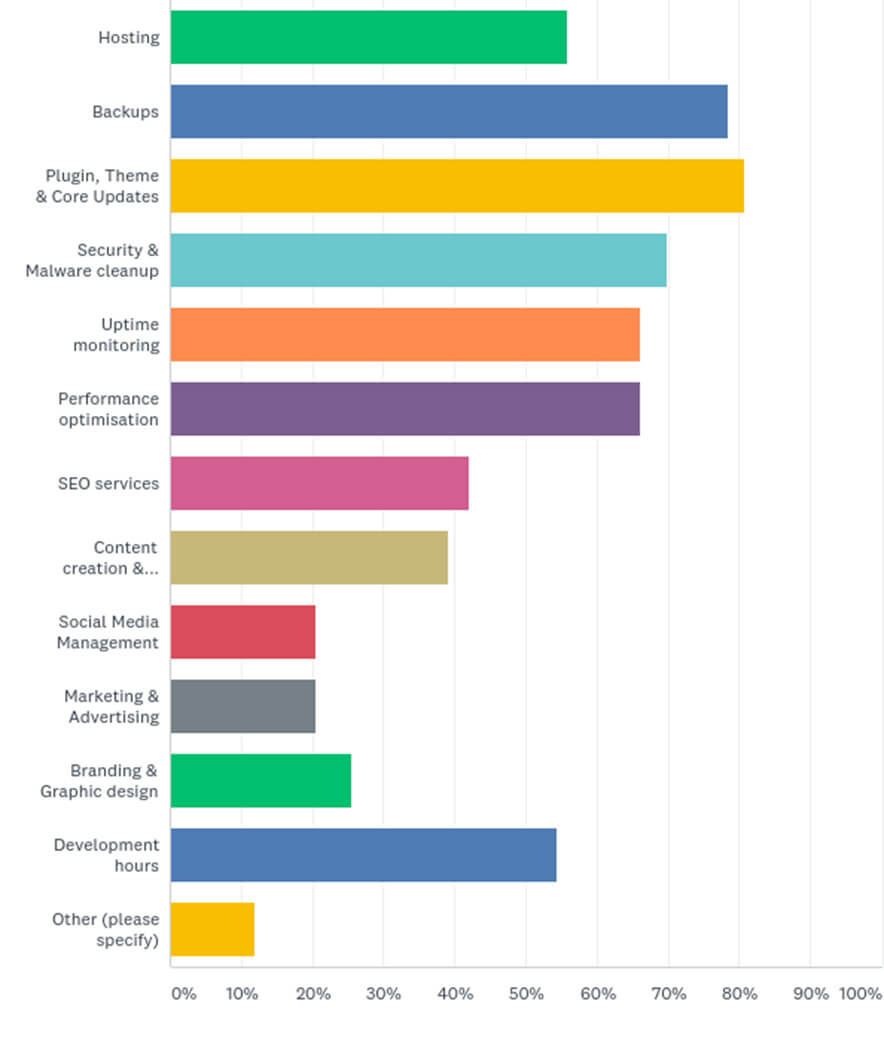 However, these higher tiers are more likely to provide security and malware cleanup (69.85 percent), performance optimization (66.03 percent), and uptime monitoring (66.12 percent) services.
Once again, marketing services – along with social media management – is an uncommon offer among maintenance providers. Adding this task to your own plans could make you more competitive in this industry.
Monthly fees
When looking at the monthly fee charged per website for respondents' lowest maintenance service tiers, the results are very similar to the single-tier services. On average, participants charge $69 per month per website for their lowest tier. There appears to be little deviation from this average: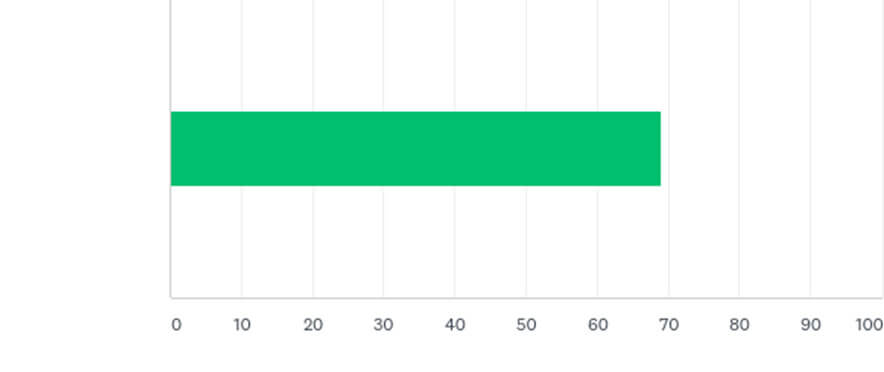 However, the monthly fee for the highest tier offering varies quite a bit. The average monthly fee is $336 per website: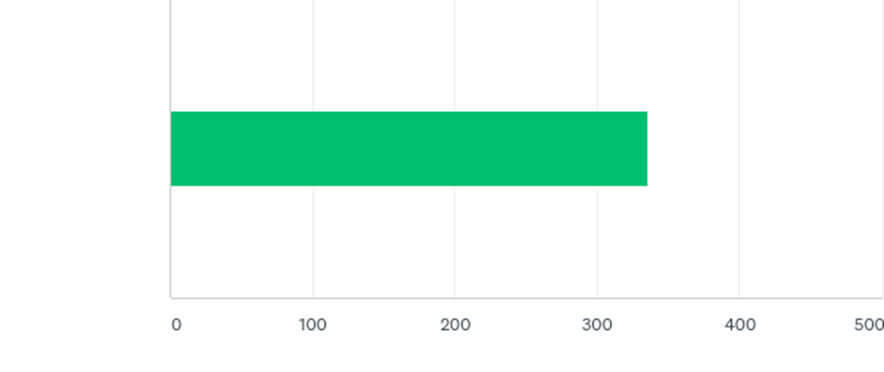 The lowest amount charged for the highest tier was $20 per month per site while the highest was $1,500. However, this highest figure could be viewed as an outlier as the median monthly fee is $160 per website.
3 key takeaways for those offering maintenance services
Having the right data is important for shaping your WordPress maintenance business, but how you use it is just as vital. Here are three key takeaways from our 2020 WordPress Maintenance Survey results.
1. It's profitable to offer maintenance services to customers
Our survey shows that 85 percent of respondents offer some type of WordPress maintenance services. This is a clear sign that there is a market for this type of work. If you are not offering these services, your business might not be as competitive as it could be.
Maintenance services can also be a profitable addition to your business. Almost 40 percent of respondents have 6–20 clients. Many of these clients have multiple websites to maintain. The average monthly fee for single-tier services is $67 per website, meaning you could easily bring in around $1,340 per month from maintenance work alone.
Offering multiple tiers increases the profitability of this type of service. The median monthly fee for top tier services is $160 per website. If you have 20 clients taking advantage of this offer, your monthly income from that work climbs to $6,720.
2. Offering diverse services is a smart strategy
While multiple tiers can be more profitable, the services you offer matter, too. Diverse services will open your business to a wider pool of clients. While WordPress updates and backups are the most common tasks maintenance providers handle, they are not the only ones.
The highest tier offerings in our survey included services such as malware removal and hosting. 54.3 percent of respondents also offer development hours in their highest tiers. These are all very different tasks, but together they create a well-rounded service.
Additionally, very few respondents said they offered services such as marketing and advertising, social media management, and Search Engine Optimization (SEO). These are areas you might consider specializing in to attract clients who can't find other providers to cover them.
3. Many services can be automated
Maintaining WordPress sites may sound time-consuming, but many of the services offered by our respondents can be automated. Using the correct tools can streamline your responsibilities and reduce the manual work involved.
For example, WordPress updates and backups are very easy to automate. While these are smaller tasks, scheduling them to execute in the background can still save you a lot of time.
If you offer content or social media management services, you can also automate certain aspects of these tasks. There are many plugins and tools available to handle this including Hootsuite and Revive Old Posts.
Conclusion
Our 2020 WordPress Maintenance Survey results show that there is a notable market for maintenance services. There are potential clients across the globe looking for professionals to handle this type of work, which could make it a profitable addition to your business.
Our results also show that multiple pricing tiers are an ideal solution. Incorporating less common offers such as marketing or social media management can help you stand out from the crowd. Additionally, ManageWP users offering these services can benefit from the automation of popular tasks such as updates and backups.
Do you have any questions about offering WordPress maintenance services? Let us know in the comments section below!
Image credit: Pixabay.