When I started FixRunner.com, I was looking for advice on what tools I could find online that would help me run a successful business.
One of the best things I found was a book, actually. It's called Content Machine by Dan Norris, who is one of the founders of WP Curve. The book is mostly about driving traffic to your site by writing engaging content.
But since he used WP Curve as an example in his book, I was able to use many of the tips offered and apply them to running my own business. Today, I would like to share with ManageWP readers some of the tools we use at FixRunner that help us save time, make our lives easier, and keep our customers happy
1. ManageWP
We use a lot of important tools in our business, but ManageWP is definitely at the top of the list. Before we joined ManageWP, we used all kinds of solutions that ended up being wastes of time. We had issues often and I was always worried about the backups not been done properly. When I joined ManageWP, I was looking for a reliable service that would back up my client's websites.
After I started using the service, I understood immediately that this software would take my business to the next level — and it really did. We use many tools built into ManageWP but if I had to point out the 3 most important ones I would say it's these:
Backup
Bulk updates
Client reports
The backups are very reliable and almost never fail, the bulk updates save us lot of time updating our client's website in one-click, and the reports keep our customers posted on everything we do on their websites automatically. That way, even when a client won't open a ticket with us, the report reminds them of our consistent work and involvement with their websites.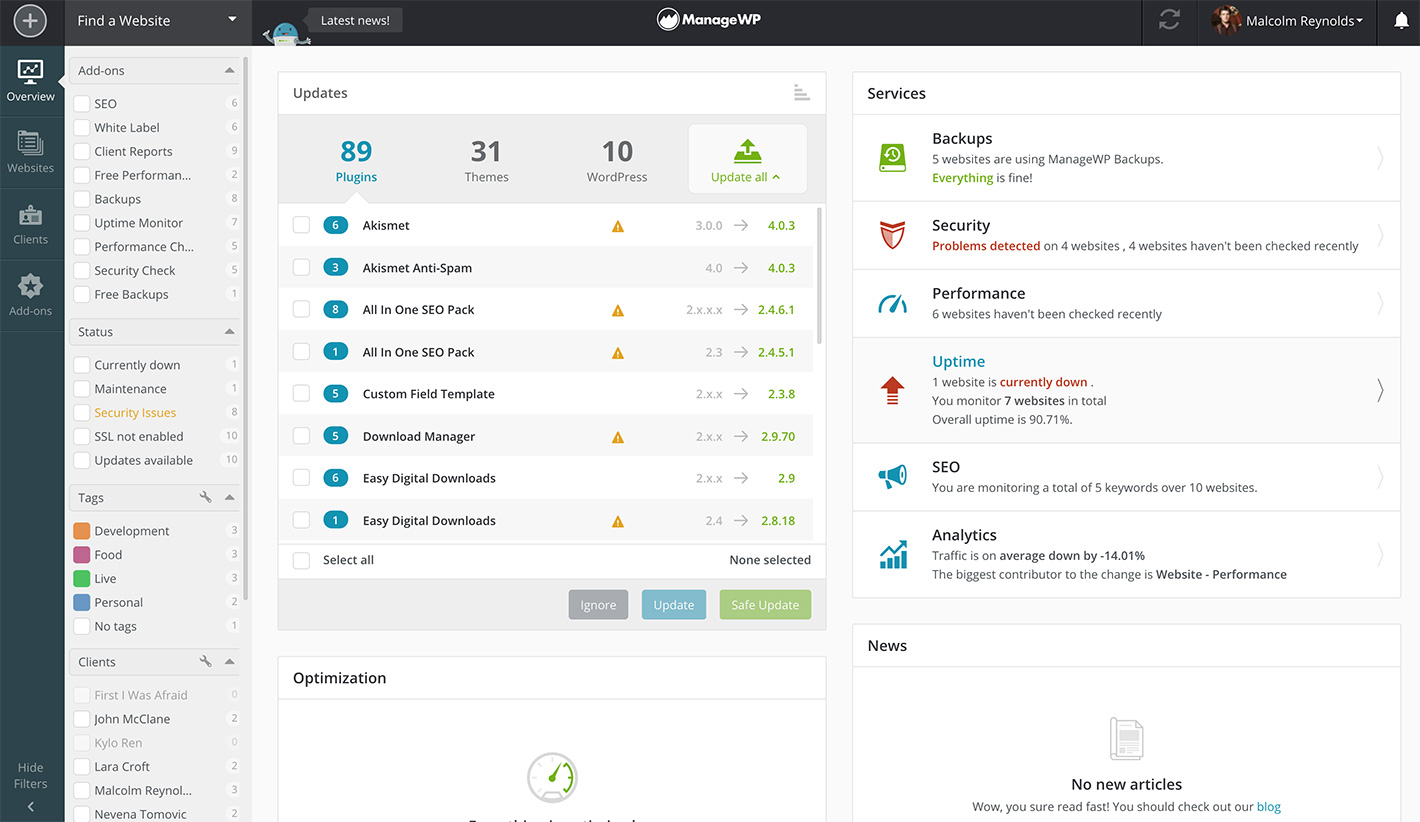 2. Time Doctor
We use this great software called Time Doctor to track the time we use to work on websites and the time our developers work online. In our business model, we don't sell unlimited support, we sell our hours. Most of the clients stay within the support hours we sell them on a monthly basis. But with Time Doctor, we can see if a client is using more time than what they paid for.
We always give our clients more support time than what they paid for as a courtesy, but this tool helps us make sure no one is abusing the service. We also use Time Doctor to monitor the time developers spend working online. Some of our developers work remotely from different countries with some in our office in Belgrade as well. Time Doctor allows us to track the time developers worked every day and what he did during this time. The software has many great features, too, like taking screenshots of the developer's browser, showing how much time the developer spent on each ticket, what websites he visited, etc.
Now, I understand that something like this might overstress a developer but I don't really see another way to monitor time. With that said, I should note we rarely look at those stats and when we do, it's only if we feel like something doesn't make sense. Time Doctor also keeps track of extra hours developers worked, which ensures fairness all around. It's a great tool for work, even when your developers are in-office.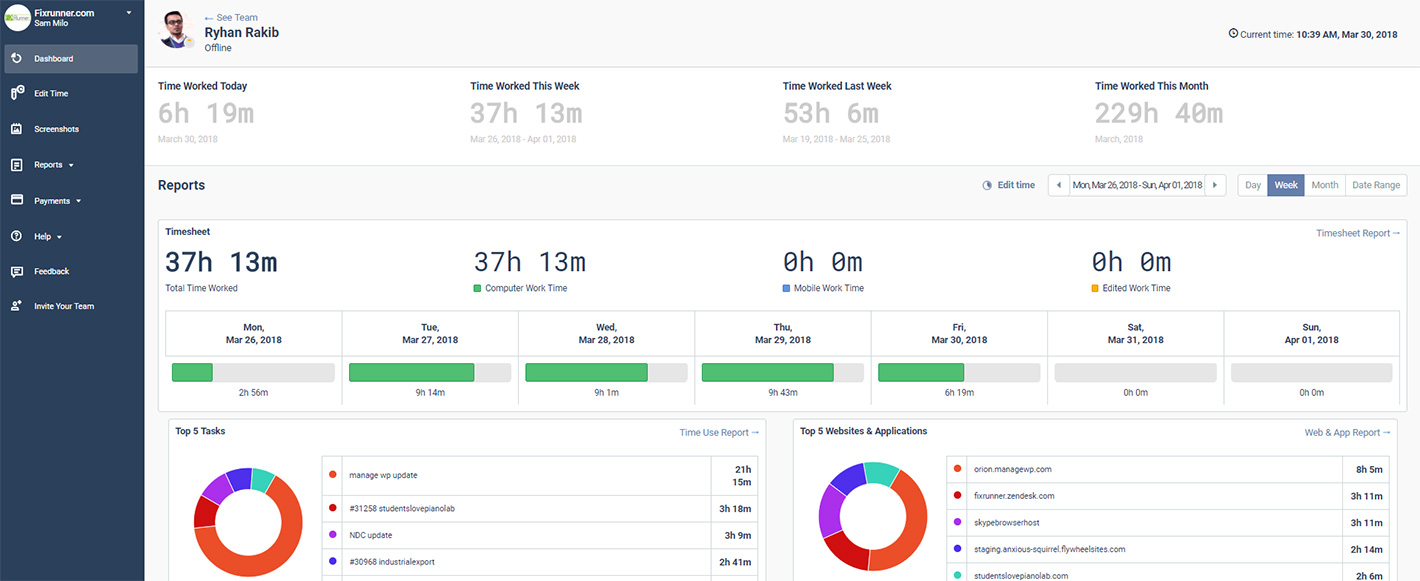 3. Zendesk
I'm sure many of you are familiar with Zendesk, but for those who aren't, let me give you a short overview. Zendesk helps us manage all communication with our ongoing members and new clients. It helps us monitor the response time to new tickets, it sends an automatic satisfactory check for every ticket, and much more. One thing I've found very valuable is the ability to follow up with the customer to make sure he is happy with the results. This has helped us keep a high satisfactory level. Our team is expanding rapidly and I don't see every ticket that comes into our system, but I do see if they aren't happy. This then gives us a second chance to do everything we can to make sure our customers are happy, which is one of the most important things in this business.

4. Live Chat
This is an important tool for both our ongoing members and new clients. When a new client is searching for "WordPress support" they are typically looking for someone to help them immediately. I can say that most of our ongoing members started from live chat. Being available and providing fast service is one of the keys to success in this business! As for our ongoing members, some of them need to explain complex issues to a live agent and live chat is much easier than opening a ticket. Per client feedback, we can see that this is something that makes them happy so we use the chat for sales and for customer support as well. I know that there are many tools for live chat but after trying a few in the past, I really believe that LiveChat, Inc is the best one in the market.
5. Uberconference
I know that there are many tools for screen sharing with clients, but the one we use and very much enjoy is UberConference. You can talk while sharing the screen and share files with a client at the same time. You can easily open a free account and create your own unique URL that you can send to your clients and they can easily join the call by entering only their name without having to create an account. It's super easy and a real lifesaver!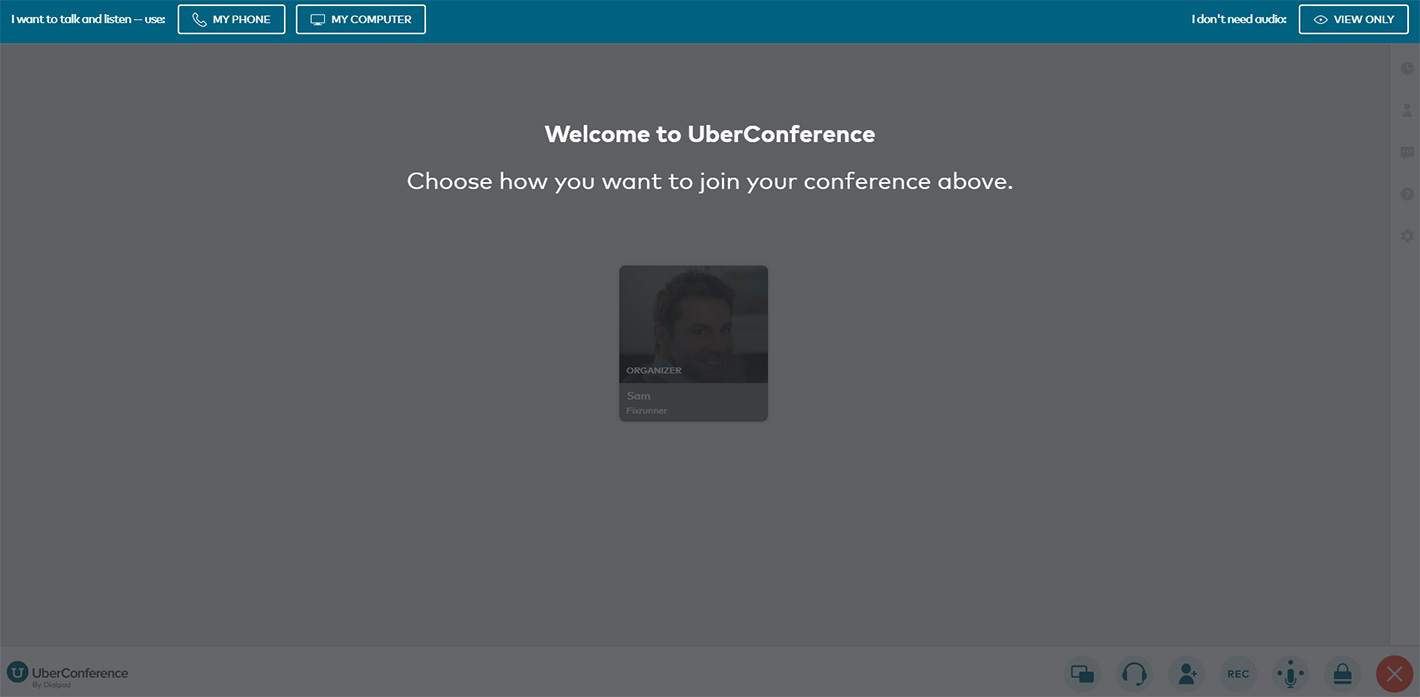 6. Staging Website
We host FixRunner on WP Engine. With every account, we can create transferable installs. Since WP Engine limits the number of live installs on every account, we've found the transferable install very useful because you can move unlimited websites to a development environment. We use it a lot. For example, sometimes we get an issue on a client website and it's more complicated than a regular fix you can do on the live website. The type of fix that requires more work that can break the website while we work.  Things like deactivating plugins and themes, making customizations, and other things that we don't want to do on a live website. In these cases, we clone the website to WP Engine using the WP Engine Cloning Plugin. There are many companies that provide staging installations but we just found this one very user-friendly. You can even use the amazing ManageWP cloning tool if you'd like.

Always Looking to Improve
As a growing company, we learn new things all the time. In the list above, I shared the agency tools that are most important to us and help us run our business most effectively. But if you have any recommendations on tools that make your life easier while working on client websites, I would love to hear about them in comments below.