Search Engine Optimization (SEO) is the key to reaching a larger audience, which may help you boost conversions and generate more sales, too. However, there's one aspect of SEO you may not be using to its full potential – internal linking.
If you're linking to related blog posts and articles on your website, then you've laid a decent foundation. That said, you can get much more out of your internal links if you take the time to follow some key best practices for creating and maintaining them.
In this post, we'll discuss why internal links are so important for SEO. We'll then show you how you can use internal linking to boost your session duration, improve your search engine results, and more all while avoiding Google penalties and banishing broken links. Let's get started!
Understanding internal links and why they're beneficial for SEO
When you link to another website, that link is known as an external link. SEO experts put a lot of emphasis on securing external links, but internal links can also play an important role on your site.
While backlinks are hyperlinks between two different websites, an internal link is one between two pages on the same website. They're commonly found in menus, sidebars, and footers, but you can also use them in the body text of your posts and pages: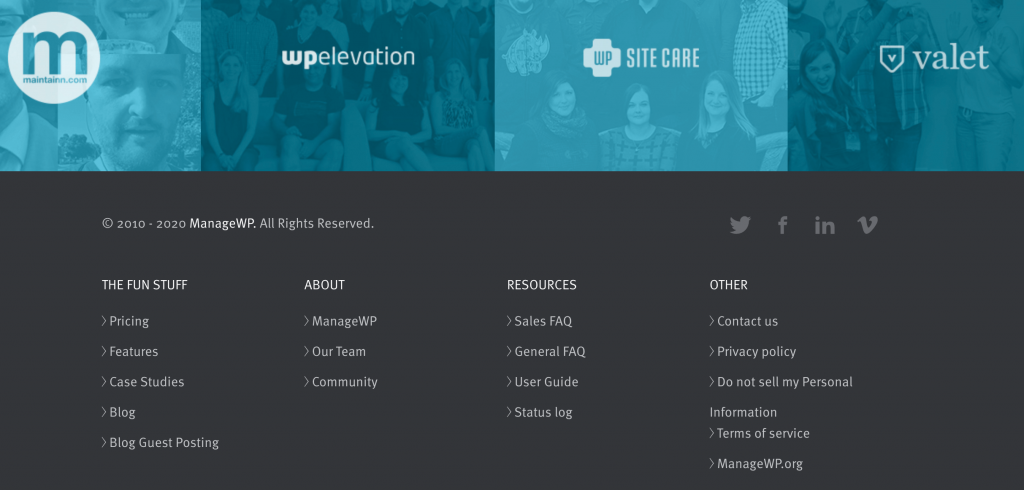 Marketing specialists at SEMrush conducted research into ranking factors. They discovered that session duration and the number of pages visited per session are two of the most important.
Internal links can boost both of these metrics by helping visitors find related content. When reading one blog post inevitability leads to reading a second, and a third, visitors are going to spend a lot more time on your website.
Internal links can also help search engines understand your website's structure by providing paths for crawlers to follow. Although they don't carry as much weight as external links, they're completely under your control, which means you can use them strategically to attract traffic to your site.
How to build a successful internal linking strategy (7 key techniques)
As a site owner, internal links are one SEO strategy that's completely under your control. Here are seven ways you can take charge of them and boost your site's visibility.
1. Use relevant, informative anchor text
Anchor text is the visible, clickable text of a link. It signals to users and search engines what the linked content is about, so you should include relevant keywords wherever possible.
However, be careful not to overdo it. Search engines also take metrics such as session duration and the number of pages visited into consideration. Your priority should be getting visitors to click on your link. This means your anchor text should be appealing to readers, even if it comes at the expense of a few keywords.
Also, avoid using contrived phrases such as click here, or check out this link. These words communicate nothing about the linked content to search engines or readers.
2. Make sure your links add value
Readers are more likely to click on a link that's relevant within the source context. If you're unsure whether a particular link is relevant, ask yourself, "would the reader benefit from navigating away from the current page in order to read the linked content?"
Search engines place emphasis on User Experience (UX). Unnecessary links could actually hurt your SEO, especially if Google perceives them as spammy. If a link delivers little or no value to readers, then you're better off without it.
It's also beneficial to prioritize 'deep links', which lead readers past your homepage to more specific content on your site. Directing visitors to posts or pages that provide information they're likely to be interested in, rather than a generic page, can demonstrate your value and expertise more effectively.
3. Use a reasonable number of internal links
When it comes to internal links, you should aim for quality over quantity. Google's Webmaster Guidelines recommend that you "limit the number of links on a page to a reasonable number (a few thousand at most)."
This poses the question, what is a reasonable number of links? This can vary depending on factors such as your target audience, the length and topic of the source content, and the number of relevant pages that you could potentially link to. Ultimately, you should include as many links as you feel would be helpful to the reader.
4. Don't cram links into the footer and sidebar
It can be tempting to include a large number of links in designated areas of your website. For example, some websites cram keyword-rich internal links into their footers or sidebars. This kind of linking can be dangerous, particularly for large hierarchical websites.
Using this technique, you could quickly wind up with thousands of duplicate links. This repetition adds little value for visitors, and search engines may even hit you with a spam penalty. This can have devastating effects on your website.
Search engines are also notorious for changing their algorithms. Just because you haven't been penalized yet, doesn't mean you won't be in the future.
If you want to display a large number of internal links, one solution is to use dynamic content. Instead of showing the same sidebar or footer on every page, you could create multiple layouts using Elementor, then specify on which pages you'd like to display them: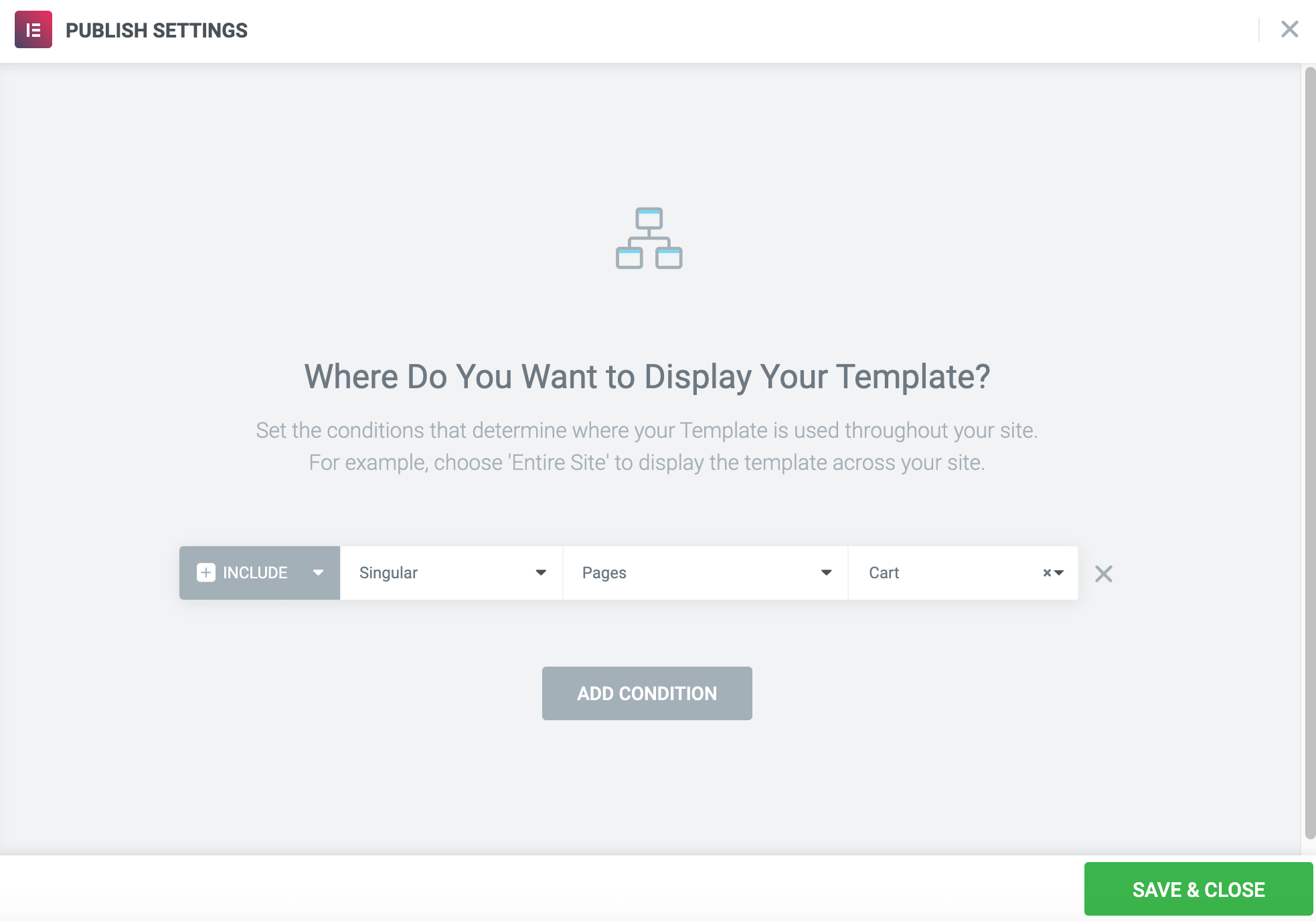 This approach could also improve your UX since you're displaying links that are relevant to the current context. This can encourage click-throughs and ultimately help your SEO.
5. Consider creating a master document
If you have a large website, then it may help to log all your content in a spreadsheet so you can keep track of internal linking opportunities. When you're drafting new content, you can use this document to identify relevant articles that you can link between.
When creating your spreadsheet, you can record whatever information matters most to you. However, at a minimum, we'd recommend including the Page Title, URL, Keyword(s), Pages linked to, and Anchor text:

In particular, keywords and anchor text can be interesting metrics to track. There may be certain ones that resonate with your visitors. By logging this information, you can identify what works for your particular target audience.
6. Audit your old content
Adding links to future content is a good start. However, you should also review your older content for opportunities to add or replace internal links. By analyzing your previous posts, you can create a chain of interlinked content spanning months, and potentially even years.
To get the most out of your internal linking strategy, you should also incorporate link building into your content audits. By constantly re-evaluating this aspect of your posts and pages, you can continuously refine your SEO, drive engagement, and improve your site's UX.
7. Monitor the health of your links
Links that lead nowhere can damage your SEO, and result in poor UX. There are several ways to resolve broken links, including implementing 301 redirects. However, in order to do, you first need to there's a problem that needs resolving.
Manually checking each and every link across your website would be a time-consuming and frustrating process. Fortunately, you can automatically scan your site using a tool such as ManageWP's Link Monitor: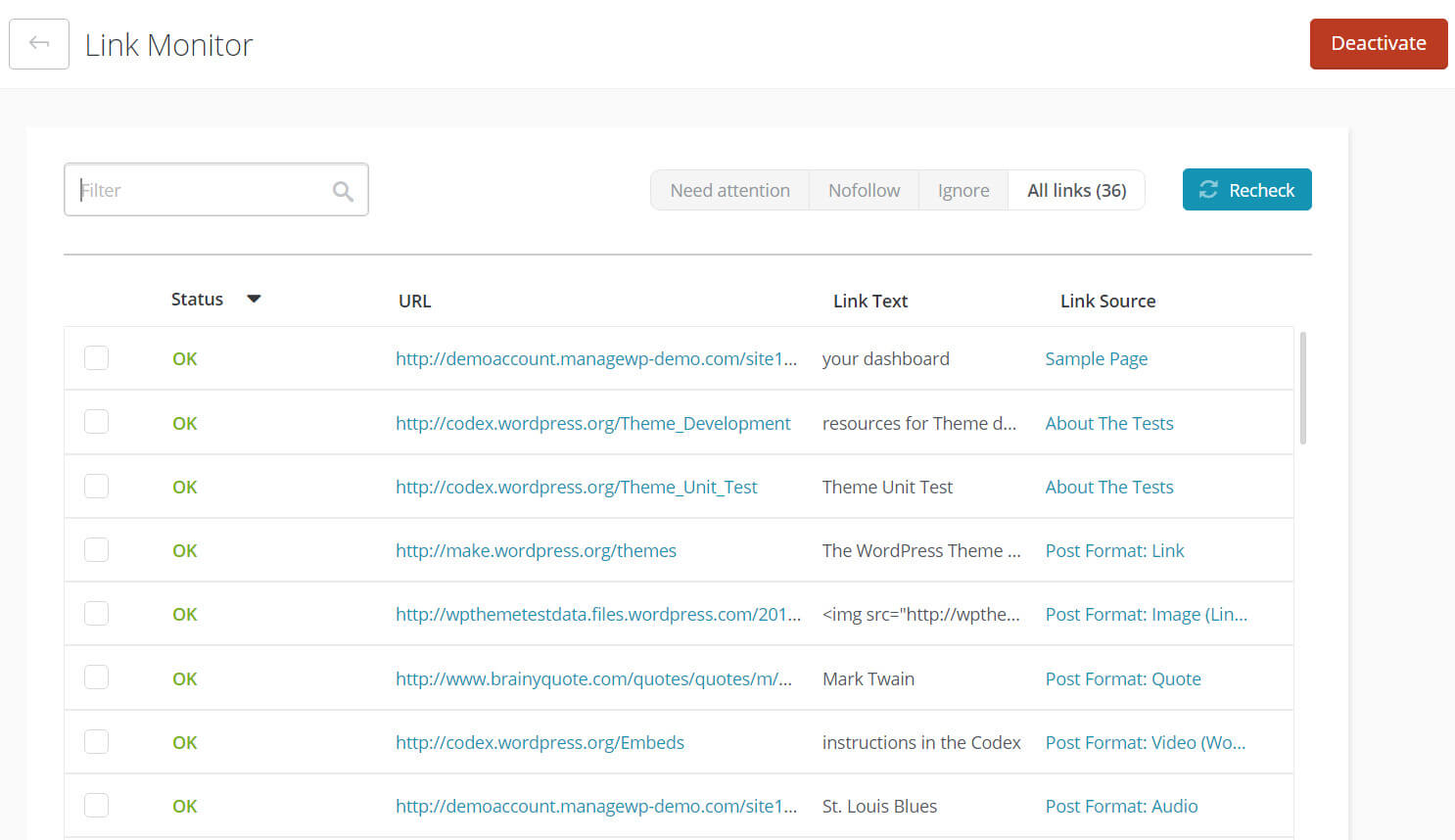 It checks your site daily and notifies you if it discovers any unresponsive or broken links. If ManageWP does detect a broken link, then you can quickly edit it directly from your dashboard.
Conclusion
While backlinks receive a lot of attention as a way to boost your search rankings and reach new audiences, internal links can also have a positive effect on SEO. In addition, they're completely under your control, so you can link to the content that matters most to you and your target audience.
In this post, we showed you how to build a successful internal linking strategy using seven key techniques:
Use relevant, informative anchor text.
Make sure your links add value.
Use a reasonable number of internal links.
Don't cram links into the footer and sidebar.
Consider creating a master document.
Audit your old content.
Monitor the health of your links.
Do you have any questions about how to boost your SEO with a successful internal linking strategy? Ask us in the comments section below!
Image credits: Unsplash.