Managing a website is a time-consuming job, but trying to manage multiple websites is an even greater strain on your time. Just handling tasks such as backups, updates, and security monitoring could eat up hours of your day.
The good news is that there's an easy solution to this problem for WordPress users. With ManageWP, you can access all your sites from one easy-to-use dashboard. Bulk actions and other handy features can save you even more time.
In this post, we'll explore some typical website management tasks. Then we'll give you a tour of ManageWP's features to demonstrate how they can help you manage multiple sites with ease. Let's go!
An introduction to website management
'Website management' is a broad term that encompasses several tasks required to keep a website running smoothly. This involves a variety of general maintenance, security, and performance-related responsibilities. In some cases, it may also involve communicating with clients.
As far as the basics go, website backups and updates are staples. It's important to always have extra copies of your website so you can restore if it becomes compromised. In addition, updates help patch security vulnerabilities and implement new features.
Similarly, regular security scans can help you prevent damage to your site. A security breach can negatively impact users' perceptions of your site, so keeping your website clean and secure is key to its success.
Additionally, a site that loads quickly and is reliably available benefits from higher conversion rates, lower bounce rates, and better Search Engine Optimization (SEO). Monitoring your site's performance is a smart move if you want to grow your traffic.
Finally, if you work with clients on their websites, you'll likely need a way to inform them of how their sites are performing. Clear and professional communication is necessary if you want to retain business.
Of course, if you're managing several websites, all of these tasks are multiplied. These responsibilities can become tedious and time-consuming on one site, let alone several. Finding a way to simplify the management of multiple sites will help you keep your head.
How to easily manage multiple websites with ManageWP (9 key features)
ManageWP is a trusted platform that helps WordPress users manage multiple websites with ease. Next, we'll take a tour of the ManageWP dashboard and highlight several effective features that can make your life easier when it comes to site management.
1. Improve movement between accounts with 1-click login
If you're maintaining more than one WordPress site, you're going to end up wasting a lot of time logging in and out of accounts. With ManageWP, this problem becomes a moot point.
Our dashboard lets you see all the sites you've added to your account in one place, as well as a summary of what's happened since you last logged in. You can easily access any site simply by clicking on it in your dashboard: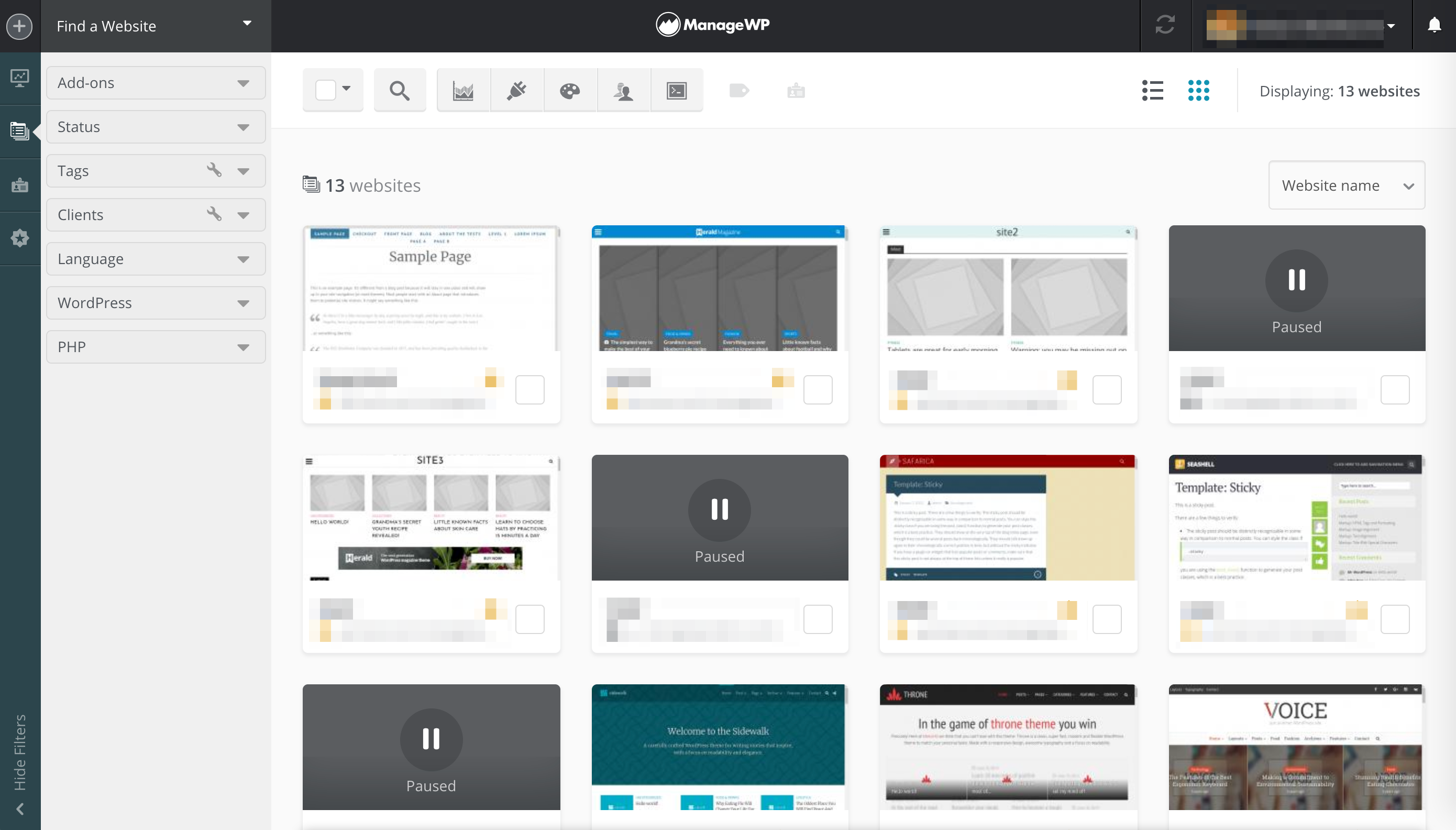 With so much to get done when it comes to site management, there's really no time to spend on something as tedious as repeatedly logging in and out of different sites. One-Click Login functionality eliminates this wasted time.
This feature is included with our free accounts, which means you can start saving time without excuses!
2. Save time with bulk backups and updates
You probably have to back up each of your sites daily, especially if you manage large sites with lots of dynamic content. Likewise, with all the different WordPress core, plugin, and theme updates your sites need, you Update button may be used more frequently than others.
Having to back up and update each of your sites, plugins, and themes individually can be monotonous and require hours of your valuable time. ManageWP enables you to automate backups and update everything across your sites with one click: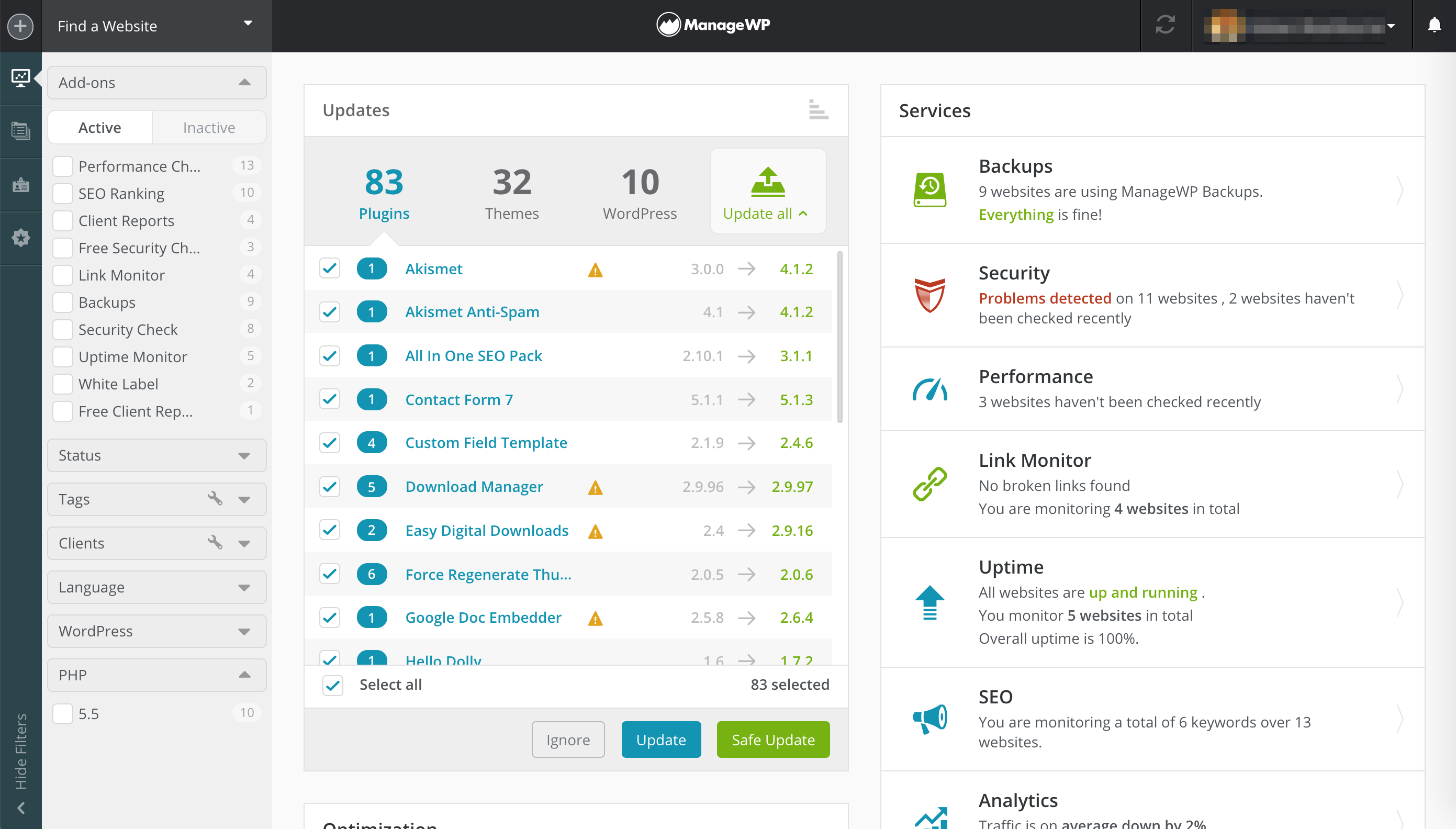 This can save you tons of time. Plus, you can attend to other matters while your backups or updates are running. There's no need for carrying out the same task over and over again on different sites.
We offer two options for ManageWP Backups. The free backup feature offers monthly automatic backups. The premium feature enables you to create on-demand backups and offers several choices of backup frequencies for just $2 per site, per month.
The Plugin and Theme Management feature is free, and includes bulk updates as well as other handy features we'll cover later in this post.
3. Prevent mishaps with Safe Updates
As you may know, WordPress updates don't always go as planned. They can sometimes unexpectedly break your site due to compatibility issues between WordPress core, plugins, or themes.
Our Safe Updates feature can help prevent this. During the update process, it will check for any potential compatibility issues and stop the update if it encounters one or more problems that could break your site: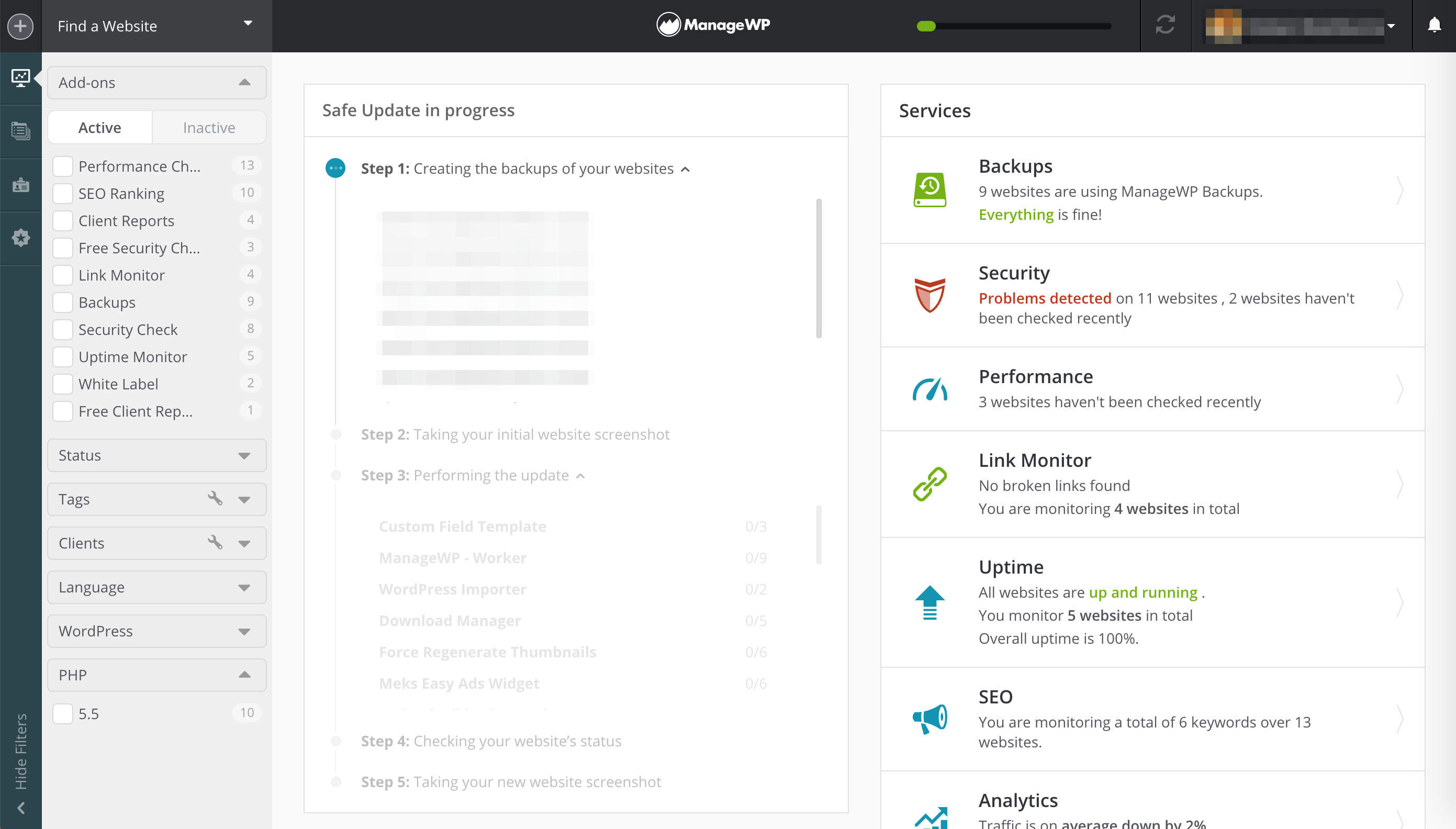 This feature can help prevent costly downtime for your sites. Whether you manage client sites or your own, every second of downtime is money lost. Avoiding errors is key preventing lost opportunities for revenue and conversions.
The Safe Updates feature itself is free to all ManageWP users. However, you must have our premium backup feature for it to work.
4. Keep your sites secure with Sucuri Security Checks
Cybersecurity is an important part of website management. At ManageWP, we take the safety of your sites and your users' data seriously, which is why we offer Sucuri Security Checks.
Sucuri performs scans to check for malware, infected files, your blacklist status, and more. It's an invaluable tool for anyone managing sites that contains sensitive user information, such as credit card numbers or health histories: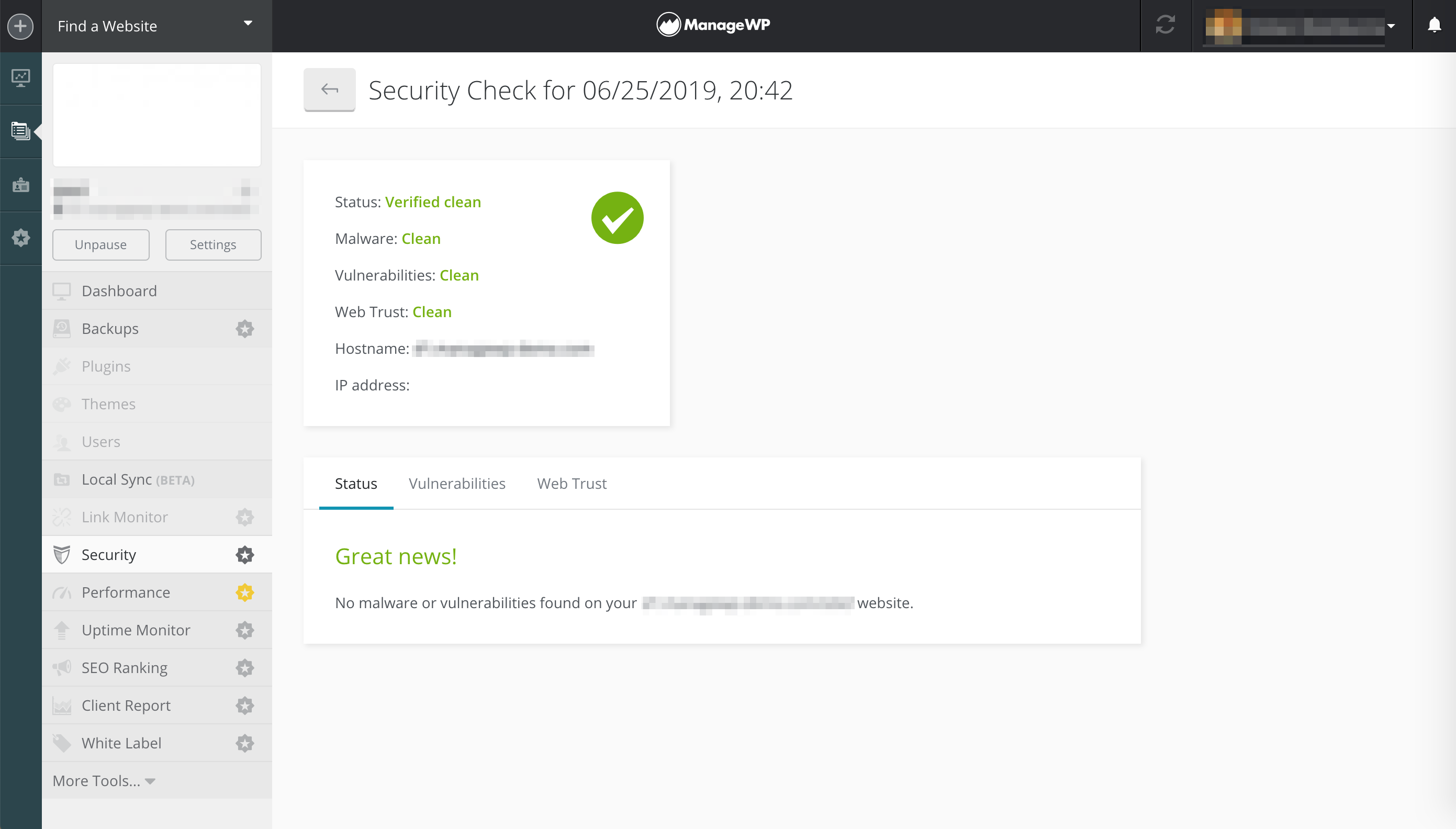 In addition to Sucuri Security Checks, we also provide Two-Factor Authentication and Vulnerability Updates. These features will make it more difficult for hackers to break in through your login page, and alert you to plugin security vulnerabilities.
Two-Factor Authentication and Vulnerability Scans are available as free ManageWP add-ons. Our Sucuri Security Checks feature is available in both free and premium versions. The premium tier enables you to set up automated security checks and costs just $1 per site, per month.
5. Stay on top with Uptime Monitoring and regular Performance Checks
Performance is key to the success of every website. Regularly testing your sites' speeds and knowing when they're unavailable to users are best practices for keeping your SEO and User Experience (UX) in tip-top shape.
At ManageWP, we offer both Uptime Monitoring and Performance Checks. You and your clients will instantly receive notifications if a site goes down. Performance checks will test your sites' loading times and provide suggestions on how you can improve: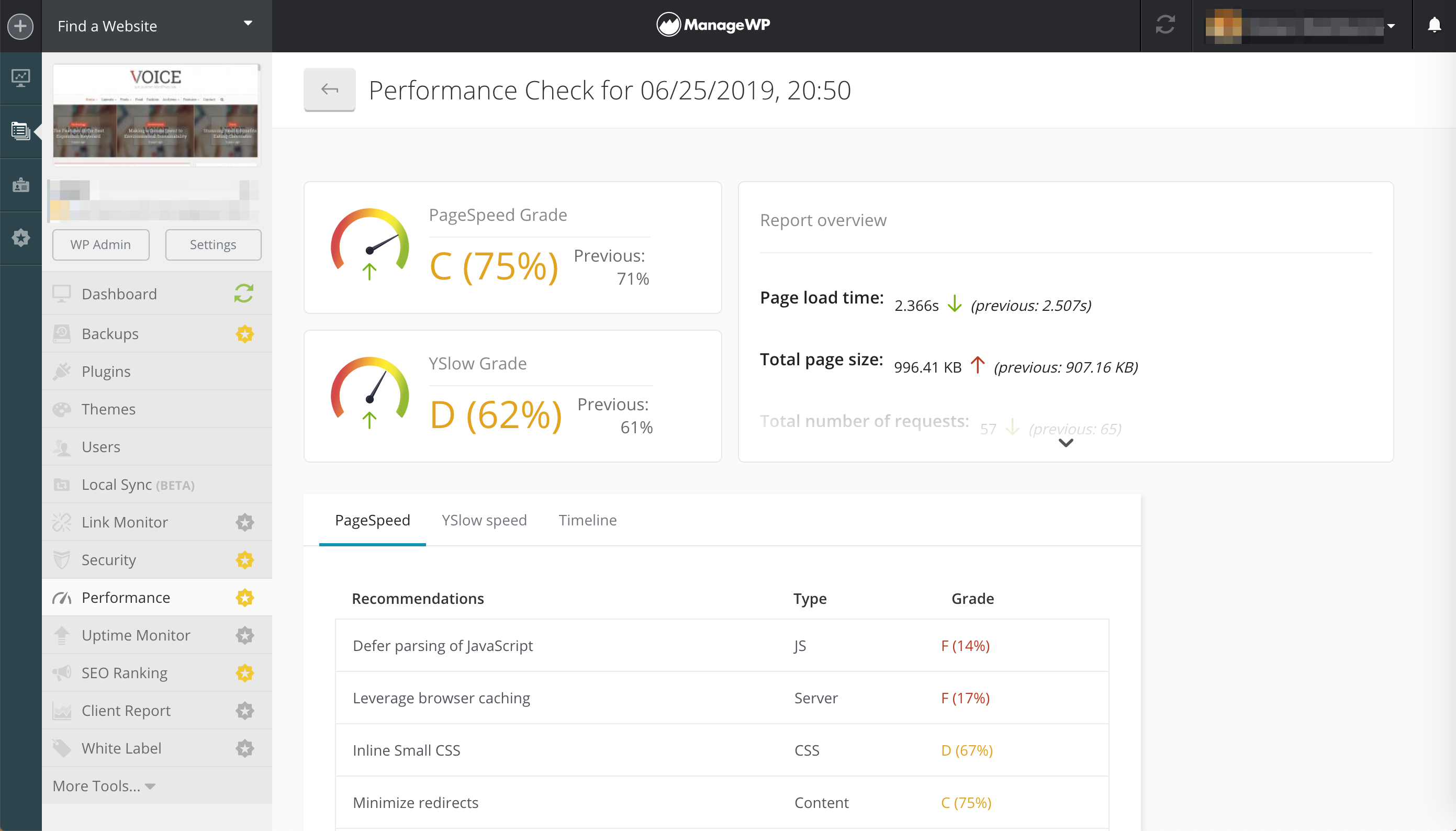 Obviously, it's helpful to be able to know when there are problems with your sites' performance. However, ManageWP's Performance Check and Uptime Monitor features are also handy because they're available right in your dashboard – there's no need to open additional browser tabs.
The ManageWP Uptime Monitor is a premium feature, and pricing starts at $1 per site, per month. You can run manual Performance Checks for free, or take advantage of scheduled checks for $1 per site, per month.
6. Manage comments, plugins, and themes for all your sites at once
Screening and approving comments is the best way to prevent spam on your WordPress site. However, sifting through comments for each of your sites can get time-consuming.
With ManageWP, you can approve and delete comments from all your sites right from your ManageWP dashboard: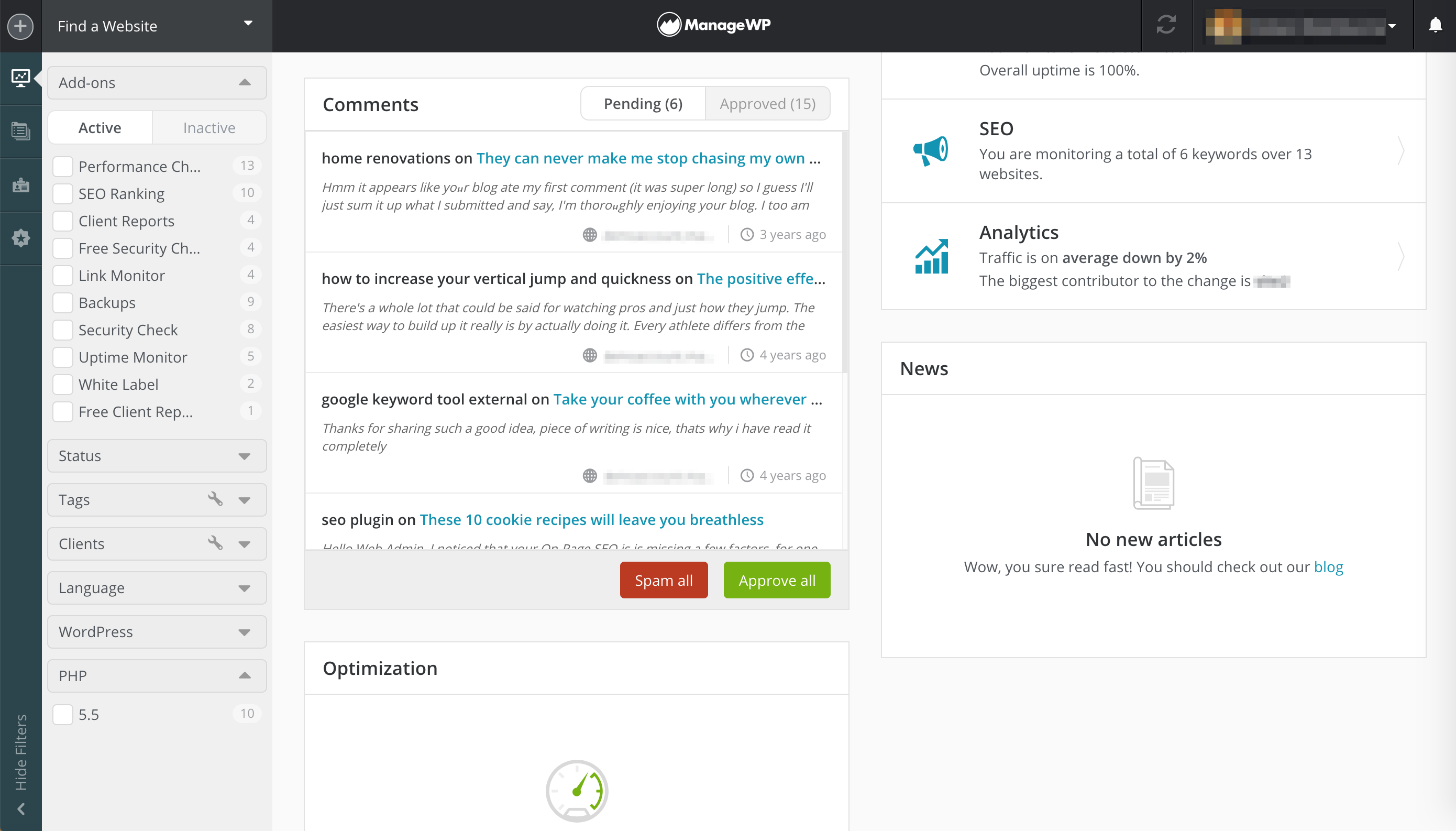 Likewise, if you develop sites for clients, there are probably plugins and themes you install on most or all of your sites. ManageWP's Plugin and Theme Management feature enables bulk uploads, so you can add these tools to multiple sites at once: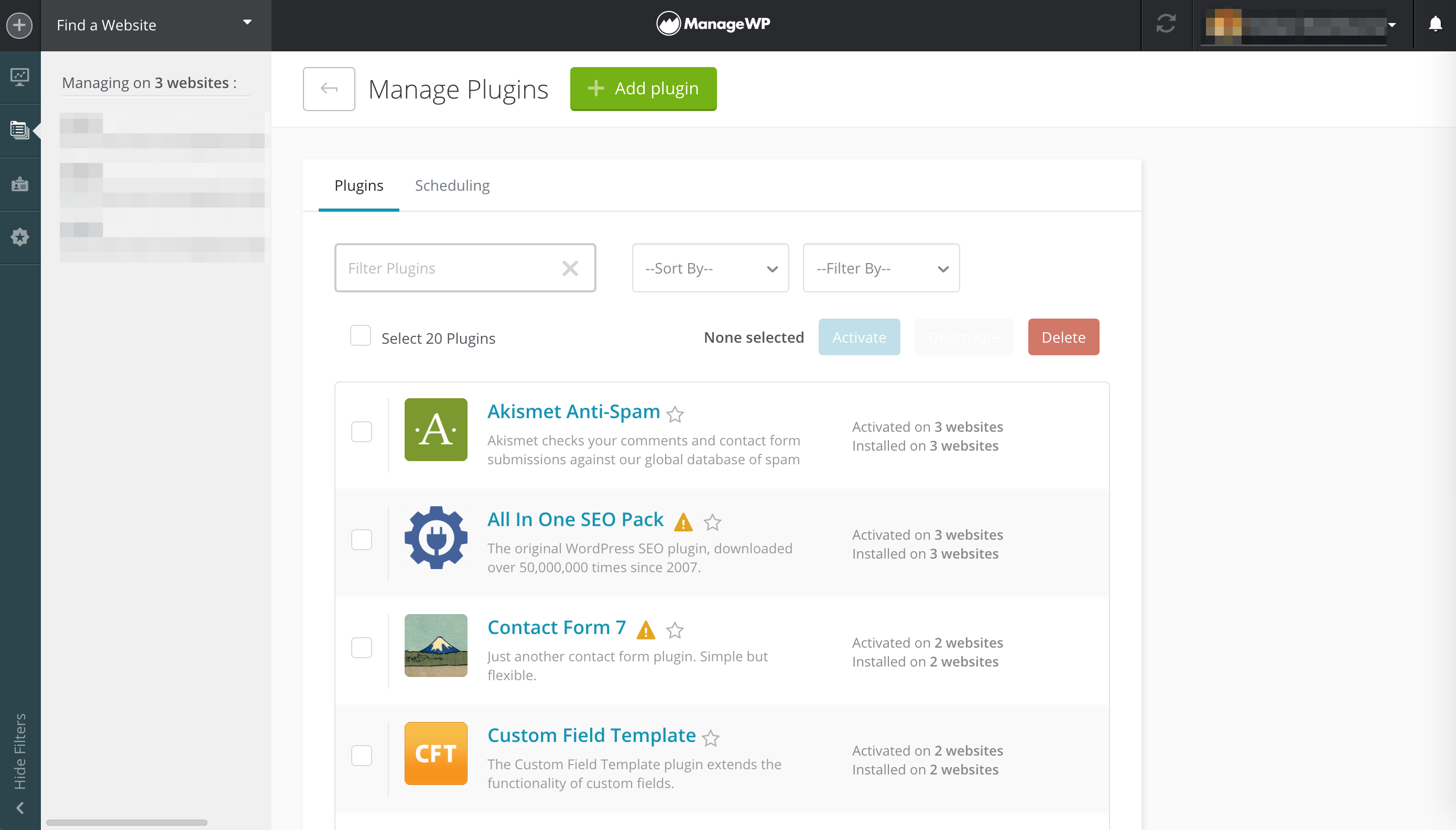 Both of these features are handy time-savers. While managing comments, plugins, and themes aren't necessarily difficult tasks, they can get repetitive after a while. Using ManageWP to handle them takes the repetition out of the equation.
Our Comment Management and Plugin and Theme Management features are free to anyone with a ManageWP account.
7. Streamline staging with Local Sync
Whether you're a seasoned developer or simply have more than one site for your own uses, staging is a smart technique. You can easily test out new tools and features before adding them to your live site.
ManageWP users benefit from a faster, simpler staging experience. You can connect both your locally-hosted and live sites (or staging and live sites as well), and push changes from the former to the latter at any time from your dashboard: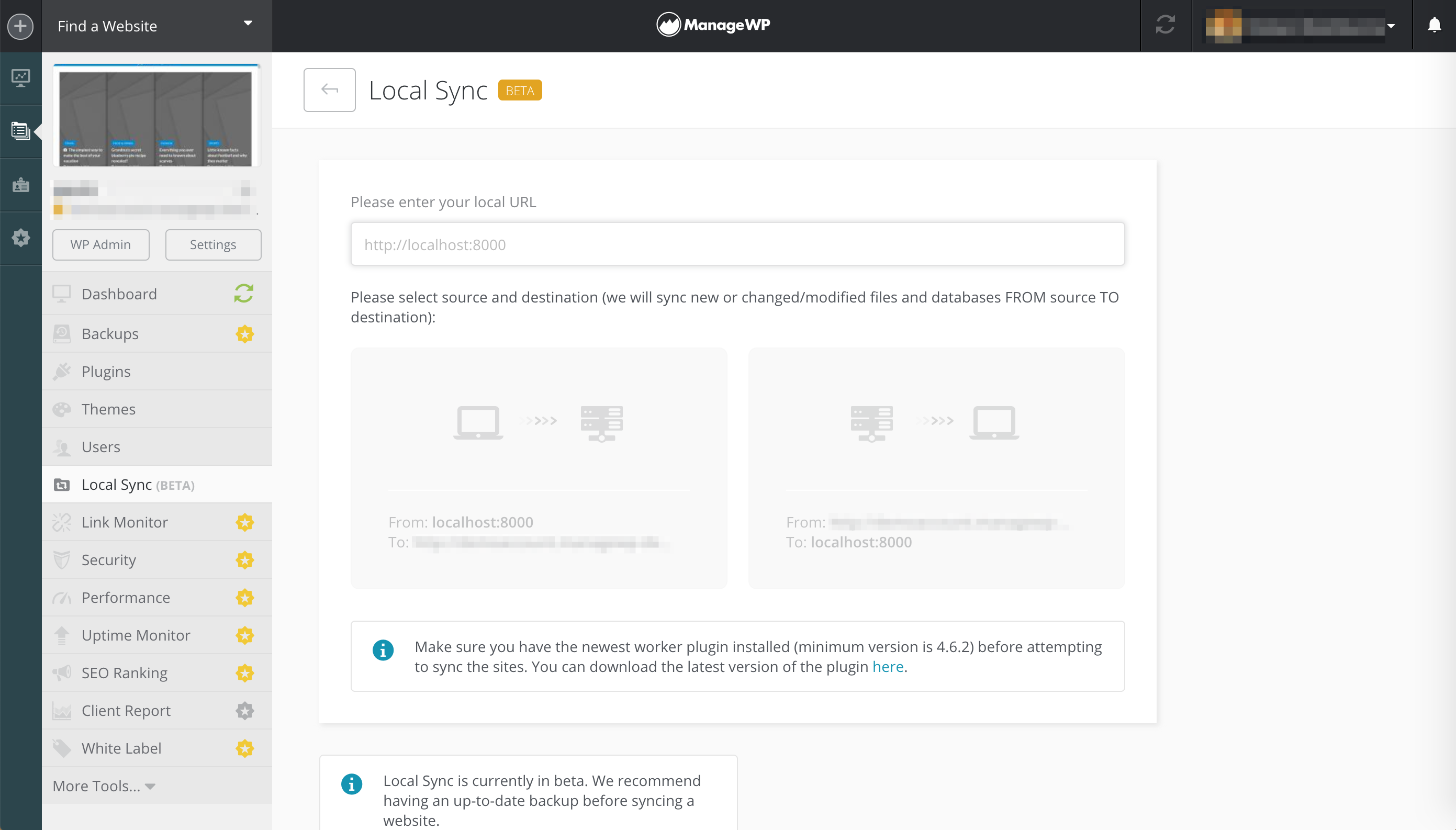 This can help you prevent errors due to compatibility and while you to try out new elements without impacting your live site. Plus, since everything happens in your ManageWP dashboard, you'll save time when it comes to implementing successful changes.
Our Local Sync feature is still in beta at the moment. For now, you can check it out for free, though it may become a premium feature down the line.
8. Monitor your sites' traffic and SEO from one dashboard
Organic traffic is key to building up a following for your site. Superb SEO and information on user behavior can help you strategize and optimize to boost site visits and possibly conversions.
Using a ManageWP account, you can implement Google Analytics and SEO Ranking Monitoring right from your main dashboard. This will help you keep track of your sites' visibility without requiring you to utilize additional tools: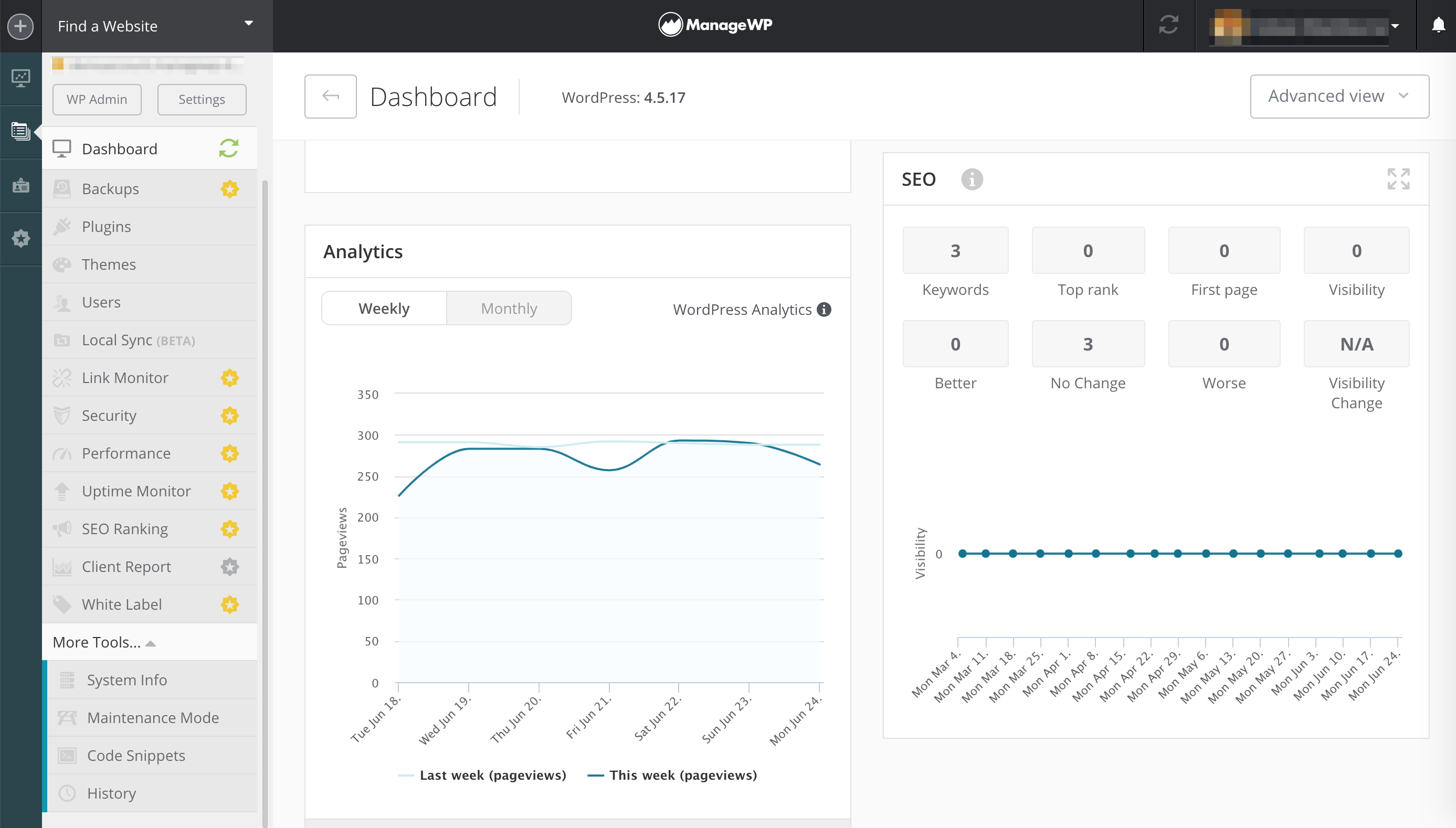 Knowing where your users are coming from and how well your site is doing on Search Engine Results Pages (SERPs) can help you make changes to improve your organic traffic. Monitoring these features with ManageWP will make the task faster and simpler.
You can connect any of your Google accounts to your ManageWP account for free. Our SEO Ranking feature is available for $1 per website, per month.
9. Provide a stellar client experience with Client Reports and White Labeling
One of the most common reasons for having to manage multiple websites is that you're doing so on behalf of clients. If this is the case, keeping your site's owners apprised of how their online properties are doing is vital.
If you manage your client sites with us, you'll be able to put together comprehensive client reports using data from the other features we've discussed in this article. This makes it easy to include details regarding traffic levels, SEO, performance, uptime, and security: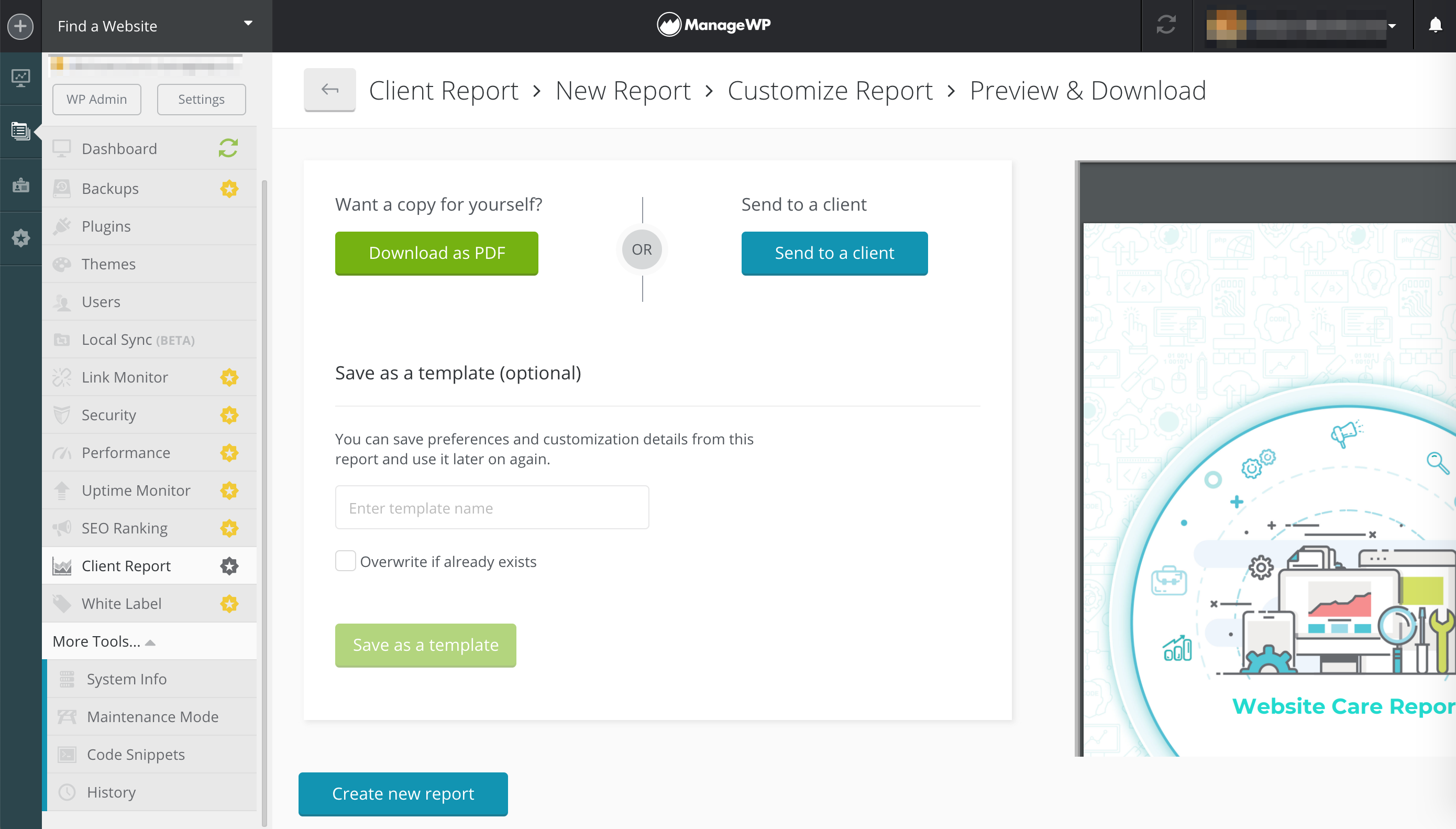 Plus, white labeling ensures you get all the credit for the work you're doing. You can essentially re-brand or hide anything identifying us, while still offering the most powerful and comprehensive website management suite available.
We offer both free and premium client reports. For $1 per site, per month you'll be able to create bulk reports and send them without a ManageWP watermark. An additional $1 per site per month enables you to white label our services to completely hide the ManageWP name from your clients.
Conclusion
Managing multiple sites can quickly become difficult and time-consuming. Forgetting to complete tasks such as backups, updates, and security monitoring could spell disaster for your sites, but getting bogged down with maintenance and neglecting your content could, too.
Fortunately, ManageWP has you covered with several key features for managing multiple sites. For example, there are basic best practices such as backups and updates, along with monitoring your site's growth, and communicating with clients. On the whole, our features can help make managing multiple sites a breeze instead of a nightmare.
Do you have any questions about managing multiple websites with ManageWP? Let us know in the comments section below!
Featured Image Credit: Pexels.