Offering multiple WordPress maintenance tiers can be a smart way to help your business stand out. Still, you probably want to think through any changes to your company carefully. Additionally, you might not know exactly how this business model can benefit you.
Fortunately, there are multiple potential benefits. By familiarizing yourself with the top reasons to offer more tiers, you can get the most of your maintenance services.
In this article, we'll cover what you might want to include in your WordPress maintenance service tiers. Then, we'll go over four convincing reasons to switch to this model. Let's dive right in!
What to include in your WordPress maintenance service tiers
Offering maintenance services to your audience is a straightforward way to gain a more dependable income. If you provide more than a single-tier option, you can also provide various features.
Depending on your expertise and clientele, the specifics of what you can provide will likely vary. However, there are a few possibilities that you may want to consider.
For example, there are some services that most users will expect from the lowest tier. These features include things such as backups, program updates, and uptime monitoring. These offerings may improve with more expensive plans – like more frequent backups – but they are usually the basic building blocks.
Next, the features in a middle-tier plan might look a bit more advanced. Maybe you offer high-quality firewalls or frequent malware scans. Proactive checks for program compatibility may also be part of your service package.
Finally, consider offering the best features you can to the premium tiers. These offerings might include labor-intensive benefits such as providing in-depth, personalized analytic reports. You might also want to throw in more standardized benefits like media and speed optimization.
If you're not sure where to start, we recommend making a list of everything you're willing to provide to clients. Then, you can split these tasks between these three levels of service. You can also consider reaching out to current customers about what additional features they'd like to see in your plans.
4 reasons to offer multiple tiers of WordPress maintenance services
Here are a few factors to consider if you're looking to provide your clients with more maintenance options.
1. You can appeal to more clients
If you offer more services, you have the opportunity to reach more clients – you probably don't need us to tell you that. However, it can be easy to underestimate just how large your audience can grow with more tiers.
A significant consideration here is budget. Not everyone can afford the most advanced features. This is especially true if your users don't necessarily need all of the offerings.
On the other hand, some clients may be willing to pay top dollar for an all-inclusive plan. Therefore, tiers help you appeal to both groups.
Additionally, offering multiple WordPress maintenance tiers can show off your expertise. Rather than a basic one-size-fits-all approach, you're highlighting your ability to be flexible. In turn, this flexibility can paint a professional picture for potential customers.
The freedom to scale between plans easily can also be attractive to users who might not know what they need. That's one of the reasons that we offer an add-on model: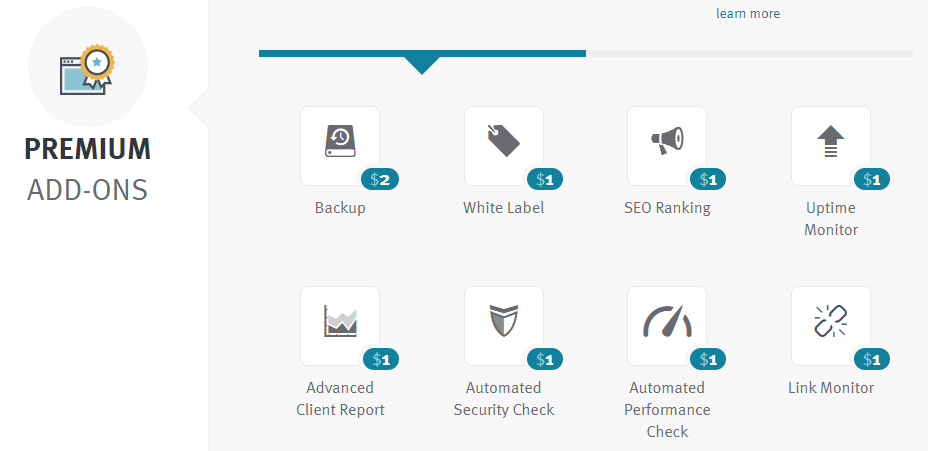 With multiple WordPress maintenance tiers, you can offer more specific features to your customers. For example, consider providing both monthly and yearly plans at every level.
Monthly plans can help spread out costs. Furthermore, clients who want to try more advanced features can trial them for a month to see if they fit their needs. However, creating yearly plans can offer deals to your customers and keep your income regular.
To get the most out of your larger audience, we also recommend investing in a solid marketing strategy. Promoting each unique plan can help appeal to more users and may lead to more sales.
2. Offering multiple WordPress maintenance tiers may reduce your workload
Offering multiple WordPress maintenance tiers can benefit more than just your users. This shift in strategy may also reduce your workload.
You can think of it like this: with a single plan option, you need to fulfill every feature with every client. This rule applies even if some of your customers only want a few of your services. With a tier system, you don't have to do any unnecessary work.
This setup may also be attractive to your users. If they can pay a lower price and get only the features they need, you'll both be looking at a more efficient deal. This can be enticing to both multiple and single-site owners.
Nevertheless, creating a tiered system can lead to misunderstandings. Customers who don't fully grasp what you offer in each tier might be confused by your plans.
That's why we recommend being as transparent as possible with your pricing. That way, you won't add to your workload with customer service issues. Moreover, adopting a straightforward marketing approach can also secure more sales.
In addition, switching plans can be frustrating for current clients and confusing for potential ones. However, if you find it necessary, we strongly suggest that you reach out to your customers via email to explain any changes and prevent confusion.
Finally, if you want to cut down on your work as much as possible, we recommend carefully planning your multiple WordPress maintenance tiers. By doing so, you lower the risk of having to rebuild your main offerings later on.
3. You can offer more advanced features
Tons of different people own websites, including those who want top-of-the-line support. That means there's a huge number of potential customers with premium needs that you can fulfill. Creating multiple WordPress maintenance tiers can help you attract this kind of clientele because it gives you room to scale up.
Niche services may not be too profitable on their own. Advanced malware scanning, for example, can be costly. Also, not everyone in your audience will be interested in high-end features.
However, a tier system can balance that out. Income from your lower-tier customers can support your expansion and enable you to offer more advanced features. You can then take advantage of the demand for these services and sell them in your premium plans.
Additionally, you might also have more time to develop those features. As prices go up, demand goes down. As such, you'll probably have fewer high-end clients.
Having a more limited customer pool means you have more time on your hands to manage the advanced features. Thus, you may be able to develop them further or advertise them more effectively.
For example, you might choose to highlight a certain plan as WordPress.com does: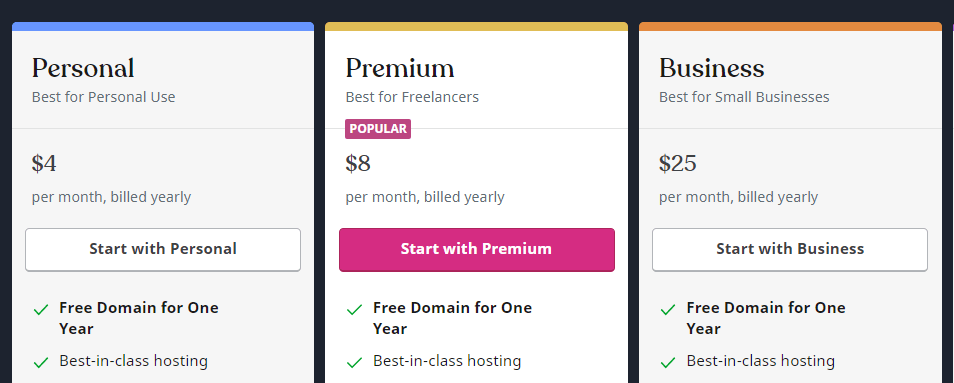 If you want to commit to offering advanced features for fewer customers, consider creating a tier for custom plans. You may be able to charge more for tailored features or upsell them from other packages. Nevertheless, maintaining your lower-level packages means you won't be isolating those customers with tighter budgets.
4. You can compete more effectively
At its core, competition is about offering more attractive services than other businesses in your industry. However, it's not just about the quality of your maintenance. The overall customer experience can also play a significant role in your company's success.
That's where multiple WordPress maintenance tiers come in. If you have more options, you can help potential customers find their ideal services within your business. So, they don't need to seek them from other companies.
With that in mind, here are a few ways that a tiered plan system can help you compete better:
Scalability: The freedom to move between tiers as needs change can be very attractive.
Discounts: Income from premium plans may help you offer lower prices for customers with tighter budgets.
Professionalism: Tiered plans show off your range of skills and can be as effective for your reputation as white labeling.
You may also be able to bundle your plans with extra benefits. For example, you could give a customer who has used the lower tier a free trial of premium features. Using this method can be a practical way to sell your services.
While having more tiers can help you compete more effectively, try to avoid adding too many different plans. A long list of possible options can confuse customers and get in the way of actual sales.
Conclusion
When it comes to multiple WordPress maintenance tiers, it's normal to be hesitant about splitting up your offerings. Fortunately, a wide range of potential benefits can help you feel more confident in taking this step for your business.
In this article, we covered four reasons to offer multiple tiers of WordPress maintenance services:
Appeal to a wider range of potential customers.
Reduce your overall workload.
Offer more advanced features.
Become a more competitive business.
Do you have any questions about offering tiered maintenance services? Let us know in the comments section below!
Image credit: Pixabay.