Backing up your website is one of the most essential WordPress management tasks. Learning about the best WordPress backup solutions can help you maintain a solid schedule and stay prepared for any kind of emergency!
Every website owner's worst nightmare is something happening to destroy their site. It doesn't matter if your site's files are deleted accidentally or if a malicious hacker takes the whole thing down – either way, you don't want to see years of hard work go down the drain.
The best way to prevent those scenarios is by backing up your website. For WordPress users, there are a variety of solutions for creating and maintaining backups. That way, you can easily restore your site in the event that something goes wrong.
In this post, we'll explore why it's so important to have a backup solution for your WordPress site. Then we'll share three of the best ways to create your backups. Let's dive in!
Why It's Crucial to Keep Backups of Your WordPress Site
No matter how careful or experienced you are, there's always a chance that the unexpected might happen and compromise your site. A simple human error made while editing your site's files, migrating to a new host, or a number of other tasks could be a mistake that deletes or destroys your site.
Plus, if malicious hackers get through your security precautions and gain access to your site, they too could destroy files. Server crashes, an insecure web host, and plenty of other errors can also interfere with your site, either on a small or a large scale.
In many of these scenarios, your users will no longer have access to any of the information they've stored on your site, nor will they be able to use your services. If your income is dependent upon your website, this could impact your livelihood significantly.
In other words, the stakes are pretty high when it comes to having backups of your website on hand. If you keep your backups current, then you can simply restore your site using copies of your files and database in the event that they become compromised.
You'll want to back up your site like this regularly. Websites with a lot of dynamic or changing content often back up daily, or even multiple times each day. If your website is mostly static pages, on the other hand, you may be able to get away with less frequent backups. Still, it's better to have too many backups than too few.
Additionally, it's smart to keep multiple copies of your backups, and save them in various locations. That way, if one is unavailable when you need it for some reason, you can simply access a different one and restore your site with that copy instead.
3 of the Best WordPress Backup Solutions
When it comes to creating backups of your WordPress site, you have several options. Below, we'll look at three of the most common solutions.
1. Back Up WordPress Manually
While it's not the easiest method, creating a WordPress backup manually is still a solid technique when you want to save a copy of your site for a rainy day. Executing each step of the backup process yourself can help assure you that your backup has been created successfully.
Plus, backing WordPress up manually doesn't add any plugins to your site or require you to sign up for an account. All you need is a File Transfer Protocol (FTP) client such as FileZilla, which you would likely require anyway for other WordPress maintenance tasks: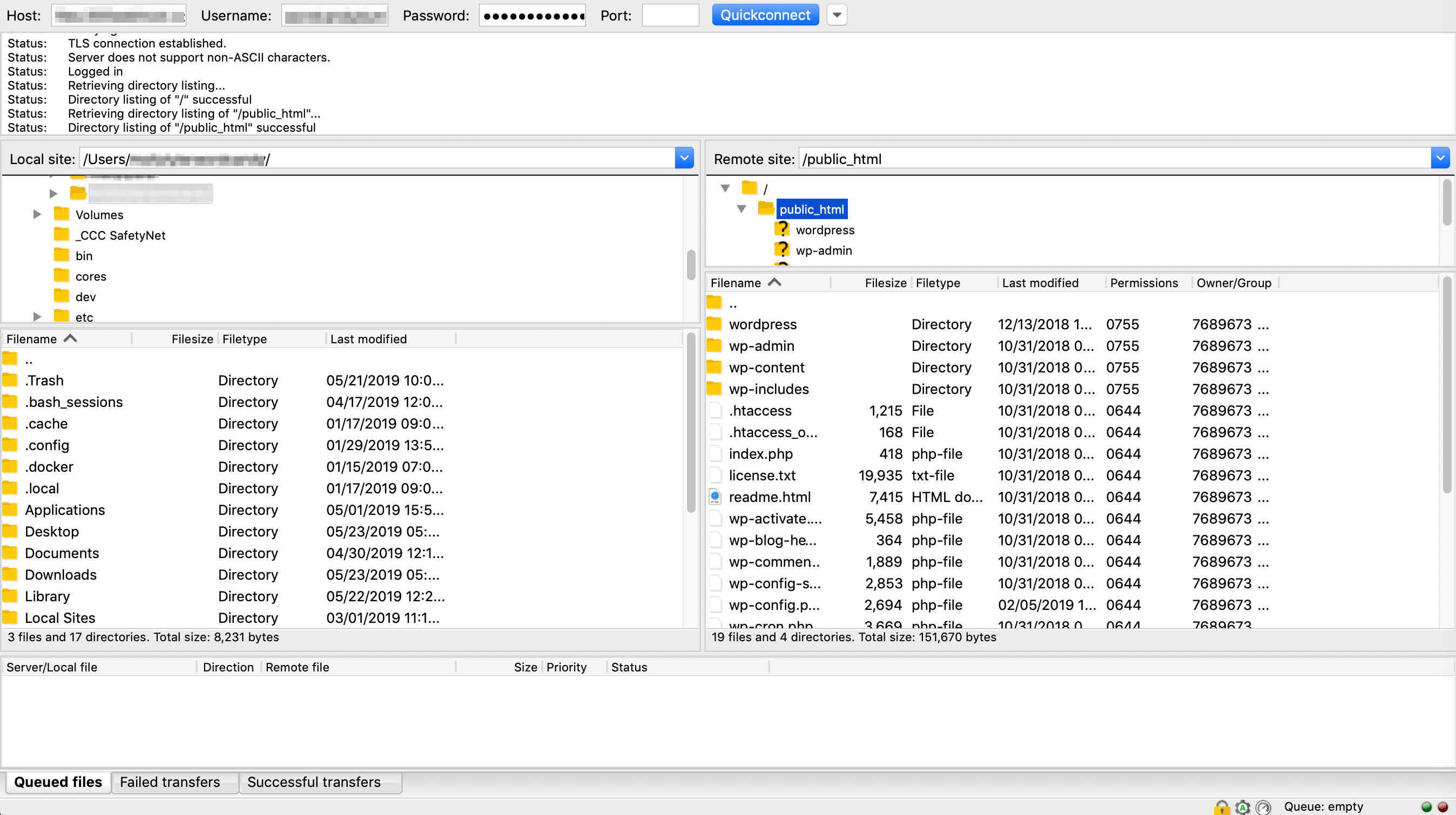 Even if you're using an automated backup solution such as the ones we'll look at next, backing up your site manually every once in a while isn't a bad idea. This can provide a little extra insurance in case something goes wrong with your primary backup method.
2. Use a WordPress Backup Plugin
As with most WordPress maintenance tasks, developers have created plugins to simplify and automate the backup process. For example, UpdraftPlus is a widely-used and highly-rated WordPress backup plugin:

This plugin enables you to schedule automated backups, and save them to your preferred cloud storage provider, such as Dropbox or Google Drive. UpdraftPlus' one-click restore feature makes it fast and easy to get your site back online if it's hacked or accidentally deleted.
There are couple of potential downsides to using a plugin, when compared to backing up your site manually. In some cases, adding another plugin to your WordPress site may cause a variety of issues, including security vulnerabilities and slower page loading speeds.
Additionally, plugins give you less control over where your backups are saved. If you want to follow best practices and store your backups in multiple locations, you may have to put in a little extra effort with a plugin than you would if you backed up your site by hand.
3. Create Backups With ManageWP
If you want to automate your backups but don't want to use a plugin, our backup solutions at ManageWP provide a simple alternative. We offer both free and premium backup options.
Our free backup feature provides scheduled monthly backups. We'll save your files to our off-site storage location, and you can restore your site with a single click in your ManageWP dashboard.
Premium backups start at just $2 per month, and enable you to schedule more frequent automatic backups and create them on-demand. You can even automatically save your backups with a third-party storage provider, and download them whenever you want: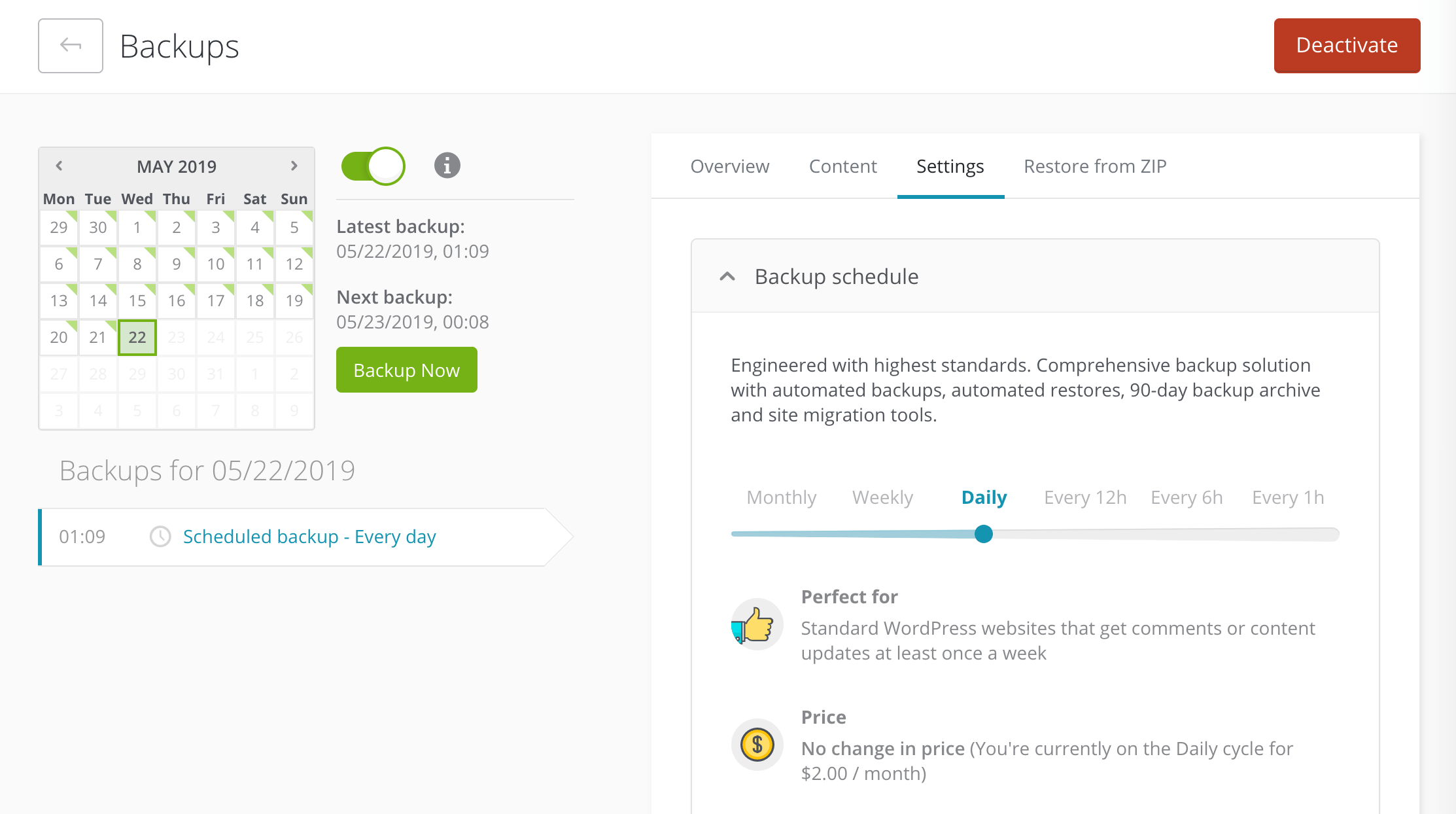 You'll also be able to use some of our other features that require premium backups to work, such as Safe Updates. Overall, this is an easy and effective way to create backups, especially if you have more than one WordPress site and want to manage them all from a single dashboard.
Conclusion
When it comes to protecting your WordPress site, backing up your files and database is a must. Without an up-to-date backup in place, you could lose your site in the event of a server crash, a hacker attack, or even a basic human error.
There are many ways to back up your WordPress site, and we've looked at three of the best options in this post:
Back up WordPress manually.
Use a WordPress backup plugin.
Do you have any questions about backing up your WordPress site? Leave them in the comments section below!
Image credit: Pixabay.