Last week we discussed the options when it comes to WordPress comments platforms. Livefyre emerged as the clear winner in our humble opinion, but that does not mean we shun the alternatives.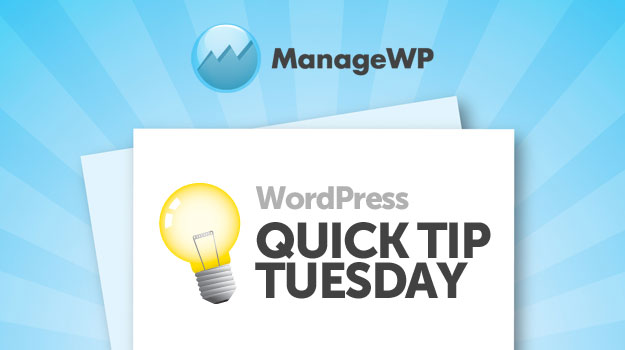 Last week we discussed the options when it comes to WordPress comments platforms. Livefyre emerged as the clear winner in our humble opinion, but that does not mean we shun the alternatives.
There are many reasons why you might choose to stick with the standard WordPress comments system. Whilst platforms such as Livefyre offer an extraordinary set of features and can really take engagement on your blog to the next level, it is entirely self-contained. This can be a hard sell to WordPress bloggers who enjoy complete freedom over the features and formatting of their blog.
And that is in essence what this edition of WordPress Quick Tip Tuesday focuses on – the flexibility and potential extensibility that you are afforded with the standard WordPress comments system. Today we have a selection of five feature-rich plugins that can take your blog's comments platform to the next level. Enjoy!
This plugin was created by the prolific Joost de Valk, so you instantly know that it is of a certain quality. The concept is simple – nobody likes spam comments. Whilst certain forms of spam commenting are easily caught by the likes of Akismet and GASP, completely useless comments such as  "Great post!" and "Thanks!" can slip through the net.
It is clear that such commenters are only on your blog to get a link back to their own site, and their comment offers nothing of value to you or your readers. An easy to way to prevent this issue from ever raising its head again is to install the Minimum Comment Length plugin on your site. You can set the minimum number of characters and customize the message that is displayed when someone does not leave a lengthy enough comment. Comments by editors or administrators are not filtered.

In our article last week, we argued the point that conversations are now taking place across multiple mediums on the web. One of the key selling points of Livefyre is its ability to pull related conversations from social media outlets into a post's comments stream.
Twitter Mentions as Comments does exactly that (but only for Twitter, as the name suggests). It searches for any tweet that links to a blog post (regardless of URL shortening) and places it within the comments stream of the post itself. The "comments" can be handled just like any other, as we discussed last week.
In my humble opinion, this plugin provides functionality that should definitely come as standard in WordPress. As you may have gathered from the rather self-explanatory title, Live Comment Preview allows your blog's readers to see a real time preview of their comment as they are writing it: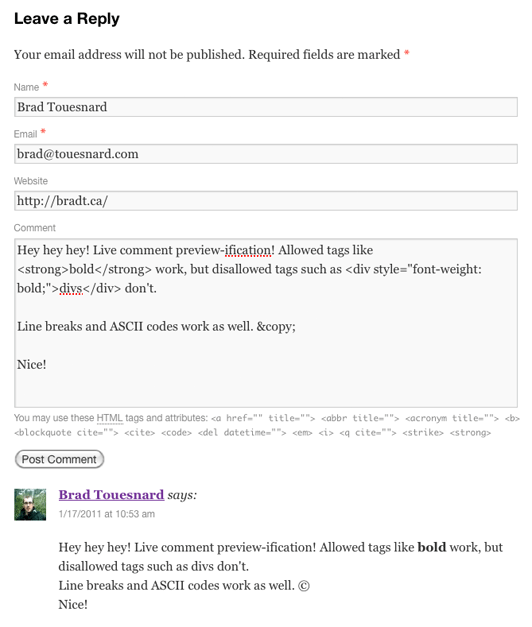 One of the best ways of increasing engagement on your blog is to bring commenters back into the conversation. After all, what is the point in commenting if you are never going to read the response? Comment Reply Notification gives you a flexible set of options for notifications:

You also have full control over the contents of the email that is sent to commenters: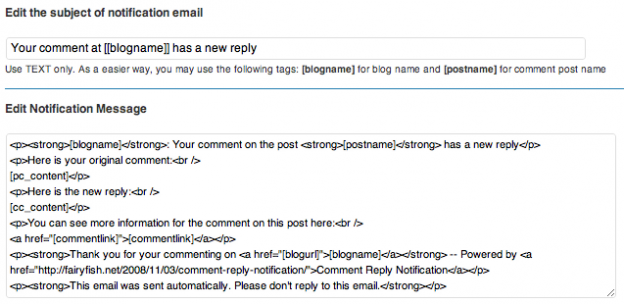 A word of warning – this plugin is out of date, having last been updated in 2010. However, our testing (in addition to user feedback) has shown the plugin to be fully compatible and operational with WordPress 3.3.
It is a safe bet that commenters on your blog are amongst the most likely to convert into a regular reader (if they haven't already). So what better thing to do than present them with an opportunity to keep up to date with your blog on a regular basis?
Just install Newsletter Sign-Up and your readers will be presented with an option to join your email list as they are commenting: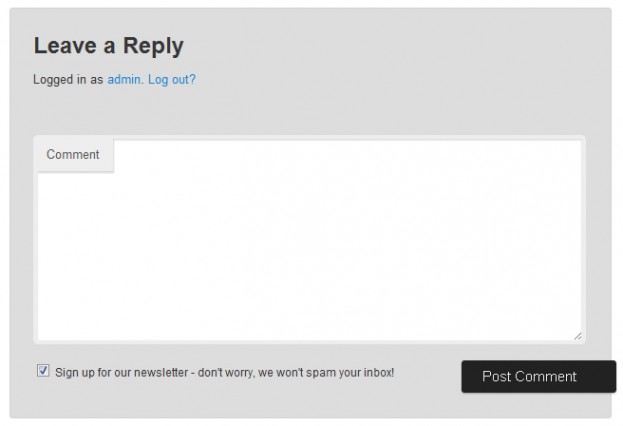 This is a very slick plugin. It integrates very nicely with the major email list services and offers plenty of customization options (including the rather cheeky pre-check feature). Installing this plugin on your blog will give your newsletter subscribe rate a genuine boost.
What Do You Use?
Although each of the above plugins can give your comments a boost, the above list is by no means exhaustive. Are there any plugins that you would recommend for your fellow ManageWP readers? Let us know in the comments section below!