For a while now, page builders have been the solution of choice for building good-looking and smoothly-functioning sites. Whether you're a designer, developer, or business owner, a page builder plugin can make you life a lot easier, even in the post-Gutenberg world.
WordPress makes an excellent foundation for nearly any type of website. However, it really shines when it's combined with a few top-notch tools. For example, you'll likely struggle to implement a complex layout and unique design without a little help.
In this post, we'll explore why these tools are so useful, talk about how they compare to the new Block Editor, and walk through how to choose a WordPress page builder plugin. Let's get to it!
Why Page Builders Are a Crucial Addition to Your WordPress Toolbox
It's no secret that there's a ton of competition, which each new website has to contend with. How do you grab the attention of a target audience amidst all of the noise?
Web design isn't the only way, but it's a key piece of the puzzle. If your website is going to make its mark, it will need to stand out from the rest in both form and functionality. However, while WordPress is a perfect tool for building sites of all kinds, it doesn't make achieving unique web design particularly easy.
To avoid the cookie-cutter look, you'll either have to design from scratch using HTML and CSS (which is time-consuming) or find the perfect theme. Even with the latter approach, you'll need to make customizations if you don't want your site to look like all the others using the same theme.
This is where page builders come into the picture. These drag-and-drop tools make designing WordPress content simple, and allow for a lot more complexity when it comes to layout and style. They're invaluable to non-tech-savvy business owners, and can also save lots of time for WordPress developers and designers.
The State of Page Builders in the Post-Gutenberg World
At this point, you may be wondering – what about the new WordPress editor? Doesn't it make page builders obsolete?
The new WordPress Block Editor (formerly known as Gutenberg) is modeled after those same page builders. For example, it offers a selection of pre-built elements that you can use to design content: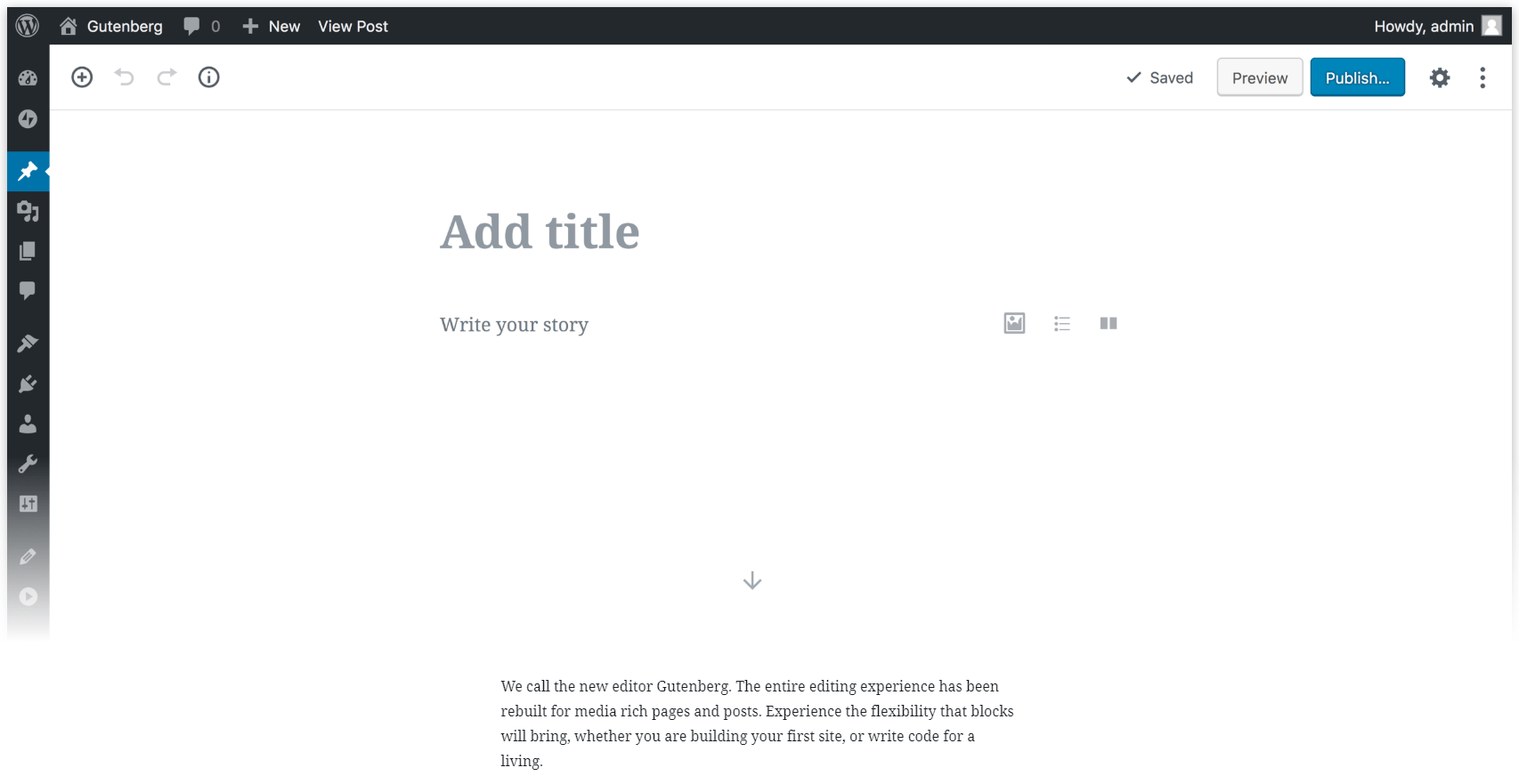 However, as far as page builders go, this editor is a very basic version. It's simple, streamlined, and doesn't contain a lot of elements and features. It does provide the basics though, and can be useful for new website owners looking to create blogs and other small projects.
However, if your needs are more robust, you're likely to find the Block Editor lacking. It doesn't provide much support for building complex, multi-column layouts, and lacks key elements that most page builders provide (such as contact form or map blocks). In addition, page builders tend to offer more customization options: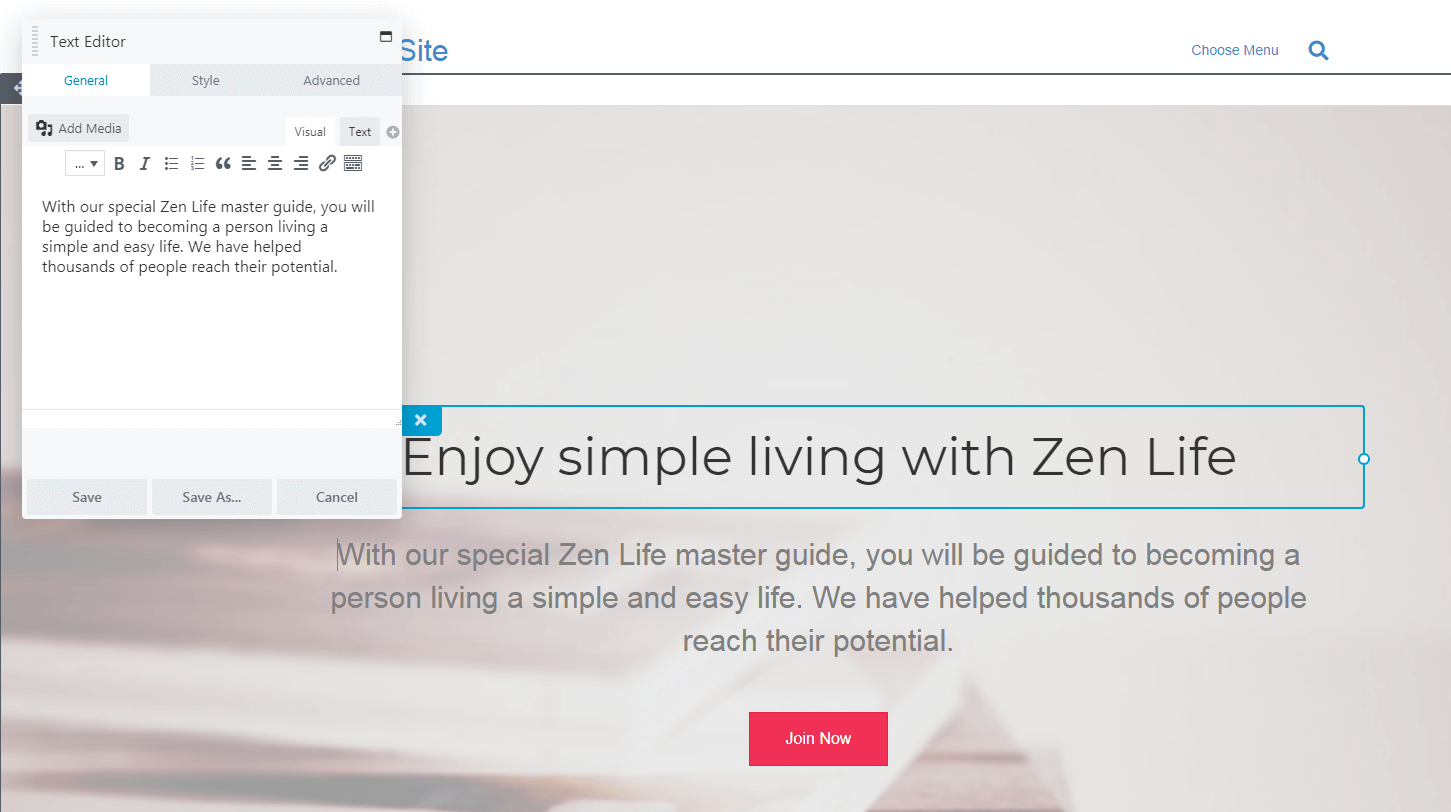 So the new WordPress editor doesn't eliminate the need for page builders. New users can get their feet wet with drag-and-drop functionality using the Block Editor, but more experienced users will likely want something more advanced.
How to Choose a Page Builder for Your WordPress Site (In 3 Steps)
There are a lot of page builder options to choose from, and it's vital to do so carefully. If you create a site's content with one page builder and later switch to another, you'll have a hard time maintaining a consistent look without a lot of work.
Plus, if you're working on multiple sites, learning one solution thoroughly can make each project faster than the last. With this in mind, let's walk through how to pick out a promising page builder plugin.
Step 1: Determine Your Needs
On a basic level, page builders provide you with a drag-and-drop interface, in which you can place pre-built elements on the page and arrange them however you like. Beyond this simple description, however, they can actually differ quite a bit.
Before you start looking at the options, it's important to consider what you need. This involves asking questions such as:
How important is having a visual interface? Some page builders show you exactly what content will look like on the front end. Others provide a more abstract interface that won't serve as a visual preview.
How much flexibility do you need over your designs? If you're looking to build a fairly traditional site, you'll need less control over layout than if your plans are more ambitious.
Which parts of your site will you use the page builder on? Any page builder should enable you to use it with posts and pages. However, there are also options to let you design other parts of your site, such as headers, footers, and custom post types.
What specific features do you need to include on your site? If your chosen page builder includes key features such as Call To Action (CTA) buttons and contact forms, this can save you from having to install additional plugins.
Will you be using the page builder on a single site or multiple projects? If you're building a site for your business, you'll want a solution that's a strong match to its specific needs. As a developer or designer, you'll need a page builder with as many options as possible, giving you the freedom to use it for creating multiple unique sites.
At this stage, it's a smart idea to make some notes about your plans for your site and the type of functionality you require. The clearer your expectations are, the more likely you'll be to end up with a well-suited tool.
Step 2: Consider Your Budget
One of the best things about WordPress is how cost-effective it is. The platform itself is free, and you can find plenty of excellent hosting and website management options for a low cost.
Still, at times you'll need to make an investment, which can include purchasing premium themes and plugins. If you're in the market for a page builder, you'll need to decide how much you're willing to spend.
While there are some free and premium-only options, most popular page builders work on the 'freemium' model. There's a basic 'lite' version with a few core features, and the full premium version with all the bells and whistles.
For an example, take a look at the Beaver Builder plugin:

The free version comes with the drag-and-drop interface, and a handful of basic modules to work with. On the other hand, the premium version offers many more modules, along with pre-built templates and advanced features (such as import/export options and the ability to create your own custom templates).
This model offers a number of advantages. Those with modest needs can stick with the free tier of their chosen plugin, while those wanting the full feature set often have multiple plans to choose from. Most importantly, this enables you to try out each page builder you're considering and get a feel for how it works before committing.
The cost for a premium page builder can vary, but you're likely looking at a minimum fee of $100 or so. This isn't a bad deal for all the functionality you'll get, and can be a smart investment for businesses that intend to monetize their sites and for developers. If you're in the latter category, you'll also want to look out for a plan that enables you to use the page builder on unlimited sites.
Step 3: Start Exploring Your Options
At this point, you've done all the necessary upfront work. All that remains is to start building a shortlist and evaluating your options.
To start your search, it's a good idea to check out both the WordPress Plugin Directory and CodeCanyon. These list plenty of free and premium page builders, along with helpful information you'll need when making a selection.
As you're exploring, you'll want to keep the following criteria in mind:
Feature set: Does the page builder offer all the features and functionality on your 'wish list'?
Ease of use: Is the editing interface user-friendly, and intuitive to use?
User reviews: Have other users rated the plugin highly?
Compatibility and support: Does the developer keep the page builder up to date, and provide support options?
Add-ons and extensions: Are there add-ons you can download or purchase, and do they provide access to key features not included in the base plugin?
With these questions in hand, you'll be well positioned to sort through your page builder options and make an informed choice.
Conclusion
Not long ago, there was some buzz in the WordPress community over whether the new editor would make page builders obsolete. It's become clear that's not the case. If you want the ultimate in flexibility over your WordPress designs, page builders are invaluable tools.
To choose the right drag and drop builder for your needs, you'll want to:
Determine your needs.
Consider your budget.
Start exploring and evaluating your options.
What's your favorite page builder, and why do you love it? Share your thoughts in the comments section below!
Image credit: skeeze.