While building a 'regular' website might seem easy, launching a successful online store is more complicated. If you want to provide the best experience for your customers, there are specific aspects you need to focus on when creating a WordPress e-commerce site.
For example, which e-commerce plugin you use will play a significant role in your store's features. Likewise, proper Search Engine Optimization (SEO) is key to bringing in new visitors to browse and hopefully buy your products.
In this article, we'll talk about the benefits and risks of starting an e-commerce site with WordPress. Then we'll detail five tips to help you build a successful store. Let's get started!
The benefits and risks of starting an e-commerce website
If you offer products or services that you know there's a demand for, the benefits of launching an online store are evident. With a web presence, it becomes easier for customers to find you.
Approximately two billion people spend money on online purchases. If you can tap into even a sliver of that audience, you stand to make a killing.
Plus, the barrier to entry for e-commerce is remarkably low. Unlike traditional businesses, you don't need a physical location. Depending on the platform and tools you use, it's even feasible to run a small-to-medium-sized e-commerce operation on your own.
To be fair, you can't just launch an online store and sit around waiting to become a millionaire. Just as with any other type of website, you'll need to work hard to build an audience and transform visitors into customers. Otherwise, you may find you've put a lot of effort into starting a business that never takes off.
5 tips for creating an e-commerce site with WordPress
Most of the tips below don't just apply to WordPress e-commerce sites. In fact, they're solid advice across the board, regardless of what type of online store you decide to launch. With that in mind, let's start with the tips that are specific to WordPress.
1. Choose the right e-commerce plugin
WordPress is not an e-commerce platform – at least not by default. Fortunately, it's endlessly customizable. With the right plugin, you can transform WordPress into a full-fledged online store.
As fas as WordPress e-commerce plugins go, WooCommerce is the de-facto king. However, it's not the only option and others may fit specific niches better, such as:
If you want a plugin that can handle both physical and digital sales, WooCommerce is the way to go:

It's also important to mention there are hundreds of extensions for WooCommerce. That means if there's a feature you want to add to your store, chances are there's a plugin for it.
Finally, WooCommerce is the best option if you want to use a plugin that's compatible with most popular WordPress themes, which brings us to the next point.
2. Select an e-commerce-friendly WordPress theme
As you may know, no two WordPress themes are exactly alike. There are themes custom-built for almost every type of website, including online stores: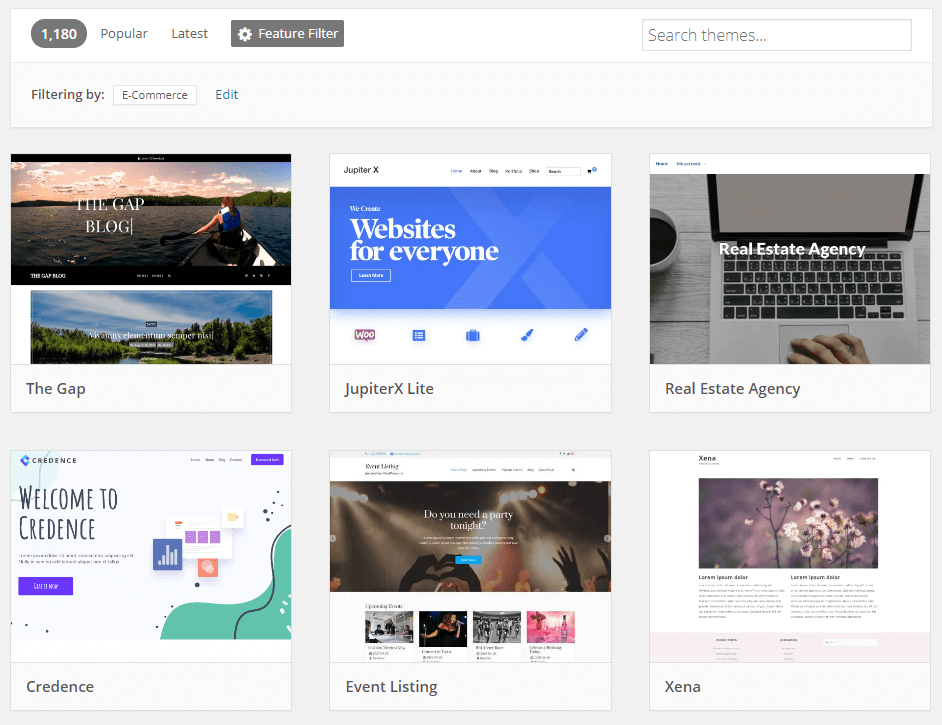 It's important that whichever theme you choose for your store fulfills three essential criteria:
It should be designed with e-commerce in mind and include layouts for your product, checkout, and other shop pages.
The theme needs to be compatible with your e-commerce plugin.
It needs to look and work well on both mobile and desktop devices.
Gauging whether a theme is e-commerce-friendly or not isn't all that complicated. Most developers will say their themes are, but you're better off checking out demos to see if they have shop and product pages you can test:
The example you see above is from the Storefront theme. If you're using WooCommerce, this is a stellar starter theme from the plugin's own developers. As you might imagine, that means it works flawlessly with WooCommerce out of the box.
In any case, we recommend you check out as many themes as you can, keeping an eye out for their dedicated product, shop, and checkout pages. Ideally, you want a theme that doesn't just look nice, but is also easy to use.
3. Keep the purchase process quick and simple
Ease of use is critical to any website, but even more so when it comes to online stores. Basically, you want the entire purchasing process to be intuitive, so customers don't abandon your site partway through checkout.
This means optimizing the entire buyer's journey, from your shop page, to individual products, and moving on to the checkout stage: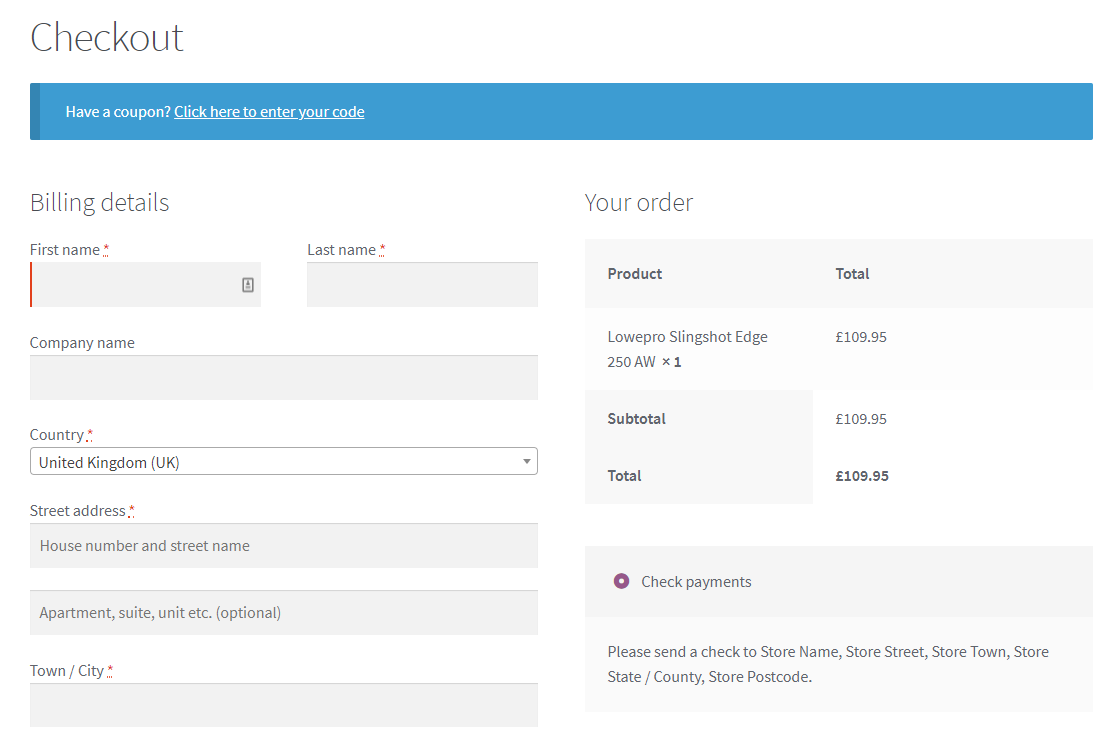 About 28 percent of customers prefer a 'simple' checkout process. That means reducing the number of pages and information required to the bare minimum.
At the same time, you want to offer more than one payment method so that customers can opt for their favorite. With WooCommerce, you can process payments via Stripe, PayPal, bank transfer, cash, and check by default.
However, it also enables you to use payment extensions to expand that roster: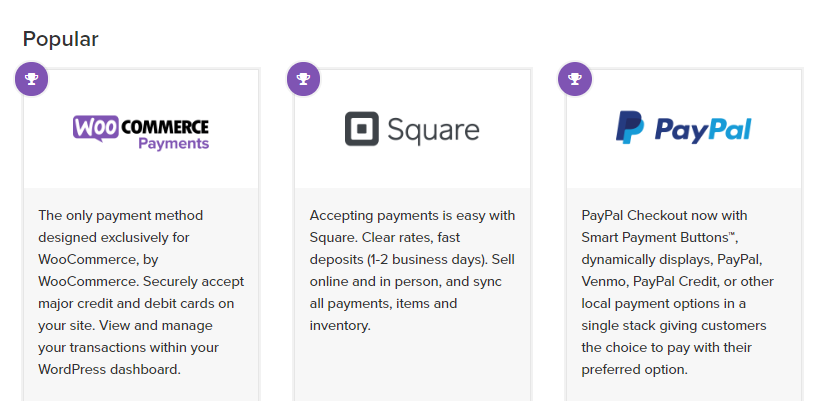 As a rule of thumb, you want to focus on payment options that your audience is familiar with. If most of your customers are in the US, for example, PayPal, Stripe, and Square would be logical choices.
4. Optimize your product titles and descriptions
One of the most powerful ways to draw customers to your e-commerce site is through search engines. However, if you want Google to rank your store highly, you need to optimize your content.
Product titles and descriptions are key to both getting more traffic and convincing users already on your site to make purchases: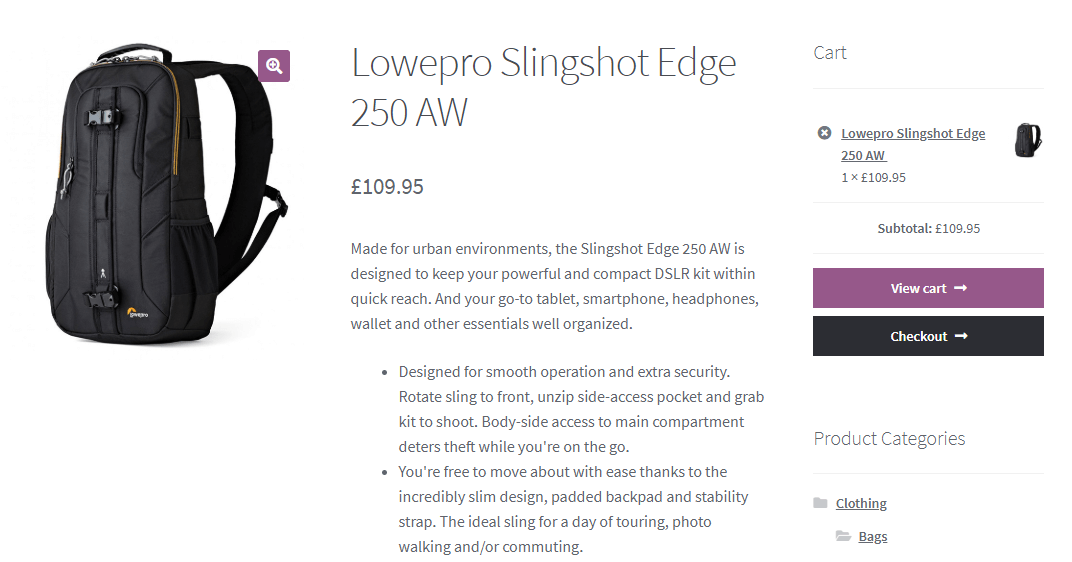 In theory, you want to include as much information as possible about each product. At the same time, you must make that information easy to navigate and digest quickly.
Most people 'skim' content on the web, so it's much easier to drive your point home using lists of features or tables. At the same time, you can flesh out product descriptions for the visitors who do want to know every detail of what they're buying:
Adding as many details as you can doesn't just help customers find what they need. It also helps your products rank well in search engines. If you're new to SEO, you'll probably want to use a plugin such as Yoast SEO, which can quickly point out aspects of each page that you should improve to get more traffic.
5. Include high-quality product images
Although product descriptions are essential, sometimes a picture (or several) is worth a thousand words. Multiple high-quality images should accompany any product or service you sell on your e-commerce site.
There's nothing more frustrating than wanting to get a closer look at something you want to buy, only to find out there's just one blurry image. Ideally, you want to include several so you can show off every angle. A zoom button is always welcome, too: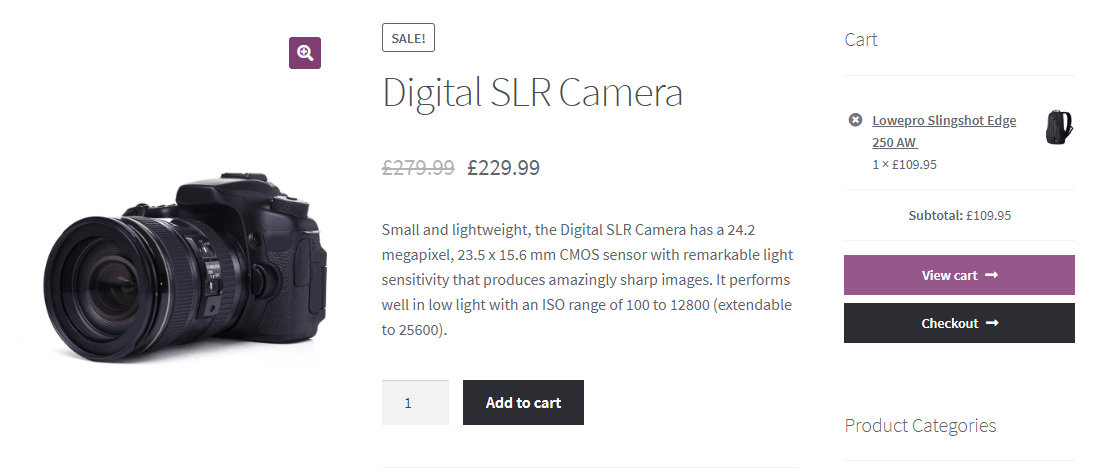 With WordPress, you have dozens of ways to display high-quality pictures. You can use image sliders, product quick views, lightboxes, and more. Many of those features may be included in your e-commerce theme.
Taking multiple pictures for each product you list can be a lot of work. However, the increase in sales you might see justifies it. Just remember to optimize your images before uploading them, so you don't end up with multiple massive files slowing down your store.
Conclusion
An e-commerce website can help you open up your business to a massive audience and bring in more revenue. Although online retail is highly competitive, it can be worth the risk to take the plunge. WordPress offers an excellent platform to help you launch your store, but only if you approach it strategically.
To create a successful e-commerce site with WordPress, you'll want to follow these tips:
Choose the right e-commerce plugin.
Select an e-commerce-friendly theme.
Keep the purchase process quick and simple.
Optimize your product titles and descriptions.
Include high-quality product images.
Do you have any questions about launching an e-commerce site with WordPress? Let's talk about them in the comments section below!
Image credit: Pixabay.