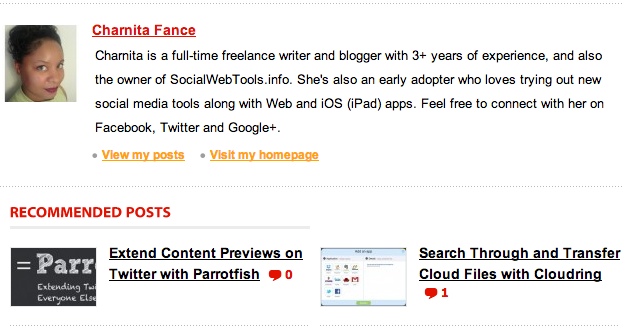 Do you have a multi-author blog? If so, how and where is their information displayed on your blog (if at all)? Do you have an author box displayed at the top or bottom of your posts, or maybe you're using a sidebar widget to display their bios? Whatever method you're using, I'm sure you already know that it's important to have something displayed about your authors.
The author bio sectional is not just for displaying information about the author, it's also a great way for visitors and readers to connect with them. Plus, it shows your appreciation. Your authors provide you with quality content to help grow your blog and readership, so the least you can do is show your support and appreciation by displaying their bio and a link or two, right?
Whether you're looking to add author bios to your blog, or you want to enhance your author bios and make them stand out, one of these plugins is sure to help.
Free Plugins
Social Author Bio adds a stylish "About Author" box above or below your posts (your choice) and even has Google Authorship built right into it. It supports Gravatar for the author image and you can customize the size of the image. Authors can add many social icons to their bio for services like Twitter, Facebook, Google+, Skype, YouTube, email, and more. You can even add up to 10 custom social services/icons, if there are unsupported services that you want to include.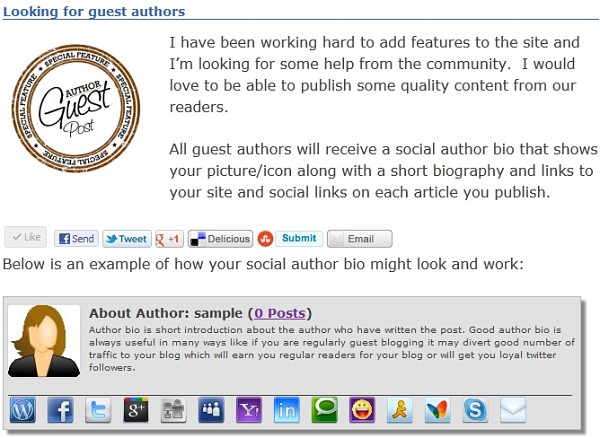 This plugin is extremely customizable and gives you many options. For instance, your authors can enable or disable the author bio altogether from their user profile. The admin can choose to automatically insert the author bio on posts, or use a shortcode so that the author bio is only displayed on specific posts. If you're looking for advanced features, you'll definitely be pleased with Social Author Bio.
Rating: 4.4 stars | Last Updated: 11/18/2012
Fancier Author Box is another stylish author box that gets displayed at the bottom of your posts. For authors that do now want to show their bio on their posts, they can disable it in their user profile. The plugin can display social icons for Twitter, Facebook, and Google+.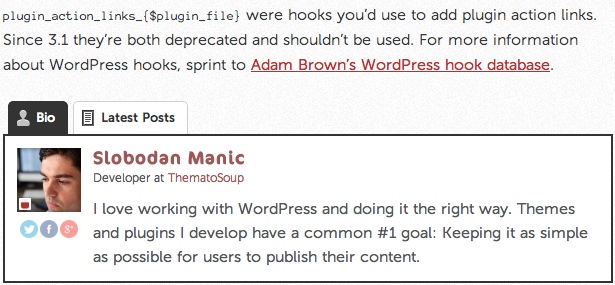 It can also displays job information: position, company, company URL. One of the coolest things about Fancier Author Box it adds a tab that can display a certain number of latest posts from the author. This is a great way to get visitors to read other posts from that author, and stay on your blog longer.
Rating: 4.5 stars | Last Updated: 10/16/2012
Author Spotlight is an author bio widget for your blog's sidebar; you can customize the title, profile character limit, more articles text, and read full profile text for the widget. The widget automatically detects the author of a post or page and displays an image (via Gravatar), excerpt from their bio, numerous social media icons, and a link to view more posts by the author.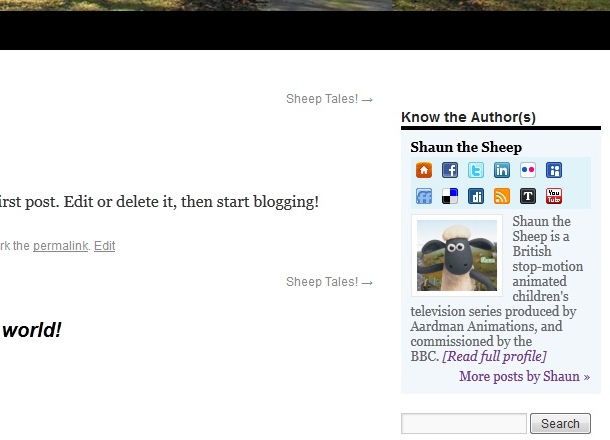 One of the cool things about Author Spotlight is that it can support posts with co-authors, with the help of the Co-Authors Plus plugin. This means that if there's more than one author for a post, a widget for both authors will be displayed on the sidebar.
Rating: 3.9 stars | Last Updated: 1/5/2013
About the Author Advanced is another sidebar widget. You can customize the widget and choose which items to display about the author such as their: name, phone, email, website, bio, company, title, Twitter, Facebook, LinkedIn. You can also exclude the widget from specific posts and/or pages (via page ID).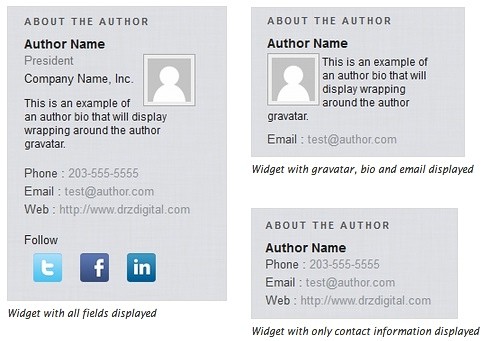 Like Author Spotlight, the widget can be displayed on posts and pages; the author image is taken from Gravatar. What's cool about this plugin is the fact that you can display contact information for each author, which is sure to come in handy. Sometimes a reader or company may want to contact the author directly for one reason or another, and About the Author Advanced helps to put that information right in front of them.
Rating: 4.7 stars | Last Updated 9/14/2012
Premium Plugins
WordPress Advanced Authors adds an author box to the bottom of each of your posts and/or pages. Alternately, you can use a shortcode to manually include the author box wherever you'd like in your post and/or page contents. WordPress Advanced Authors has a clean design and quite a few unique features.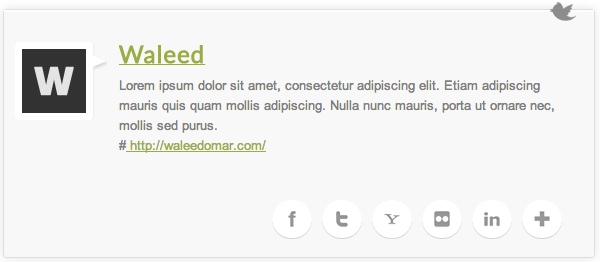 For instance, you can change the avatar size, upload a custom background, change the header color and box shadow color, edit the box shadow size, and select a header font. You can also add social links/icons, enable or disable the author bio, and even add the authors's latest tweet.
Price: $8.00 | Rating: 4 stars | Last Updated 11/19/12
Fanciest Author Box is the premium version of Fancier Author Box (mentioned above). In addition to the features that the Fancier plugin offers, Fanciest displays social networking tabs (instead of icons) along with the Latest Posts tab; you can see it in action here. Plus, it can also be displayed as a widget in your sidebar if you prefer.

The Bio tab displays the author's name, position, company, company URL, and short bio. The Twitter tab displays the author's Twitter bio and latest tweet. The Facebook tab displays a Facebook follow box (similar to the "like" box, except with a "follow" button). The Google+ tab displays the Google+ "Add to circles" widget for the author. Finally, the LinkedIn tab displays a LinkedIn widget with the author's name, image on LinkedIn, title, and button to view their profile in a new tab.
Fanciest Author Box is definitely the most intuitive plugin in the bunch and is sure to help your authors increase their social media presence along with the pageviews of their posts.
Price: $10.00 | Rating: 5 Stars | Last Updated 1/5/13
What Style is Author Bio?
So, how have you enhanced your author bio? Are you using the style that's included with your WordPress theme, or maybe you're not displaying any type of author bio on your blog at all? Feel free to share in the comments.