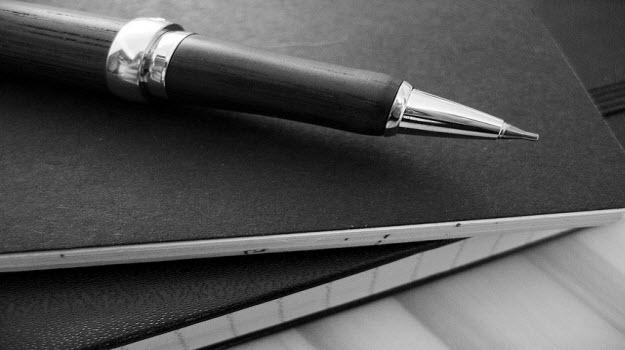 Let's face it — no writer is perfect.
We all make spelling and grammar mistakes. Whether it's often or only a few times, you'll still make mistakes, and sometimes these mistakes may even go unnoticed. If you write for a blog that doesn't have an editor, or you own a blog and don't have an editor, you may have more mistakes slip through. In this case it's smart to make use of a tool like Pro Writing Aid.
You may be using After The Deadline, a tool that can be enabled in the Jetpack plugin, to help with grammar and spelling. However, After The Deadline does not find every mistake and it doesn't give you an in-depth report of your  mistakes the way Pro Writing Aid does.
Pro Writing Aid acts like your own personal blog editor and is designed to help you improve your writing skills. It analyzes your text and then generates many useful reports, showing you what you're doing right and wrong.
Getting Started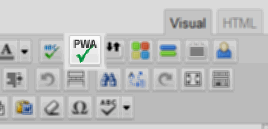 Pro Writing Aid is easy to get started with and there's no setup necessary. Once you activate the plugin, you're all set and ready to start analyzing and improving your writing. The next time you go into the post editor, you'll notice a new button with "PWA" and a check mark on it.
Pro Writing Aid needs at least 200 words in order to process your text. So once you're over 200 words, you can click the button at any time. Of course, it makes sense to wait until you're completely done writing your post so you can get a thorough analysis.
Usage
Although you may think Pro Writing Aid works within your blog, it works outside your blog; the button simply serves as a shortcut to the online tool. This also means you don't need to have the Pro Writing Aid WordPress plugin installed in order to use it. Instead you can go directly to the website, paste your text and click on "Analyze." You've got to admit though, the button is just more convenient.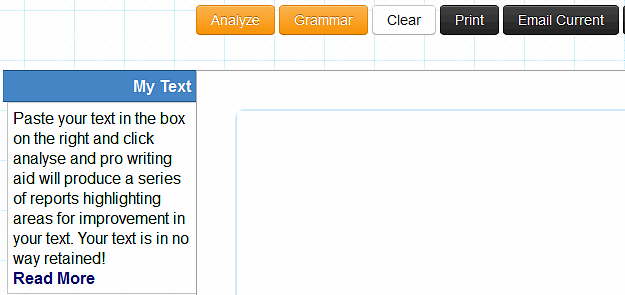 Once you click on the PWA button the Pro Writing Aid website opens in a new tab, analyzes your text and gives you an Analysis Summary.
Summary and Reports
This is where the fun begins. In less than a minute, a summary of your results are displayed and you can get a quick overview of warnings and mistakes you've made in your content.
The Pro Writing Aid Analysis Summary gives you a breakdown of nine sections:
Overused words
Cliches & redundancies
Sentence length variation
Diction
Vague & abstract words
Complex words
Sticky sentences
Alliteration
Consistency
This is just a small taste of the results Pro Writing Aid has for you.
On the left side of the page you'll notice a navigation column with titles like Sentence Variation, Sticky Sentences, Phrases Summary, Pacing, Consistency, Sentiment, Adverbs/Passive and much more (18 total).
Each section gives an in-depth breakdown of your content and each mistake. It's your job to go through each section to see what needs to be fixed. If you have a lot of warnings and mistakes in your writing, it's definitely going to take a good 15 – 20 minutes (maybe more) to go through each section and make the necessary changes.
An Example Report
For instance, in the Overused Words section, it's recommended that you only use a certain amount of specific wolds like could, had, it/there, just/then, look, see/saw, etc.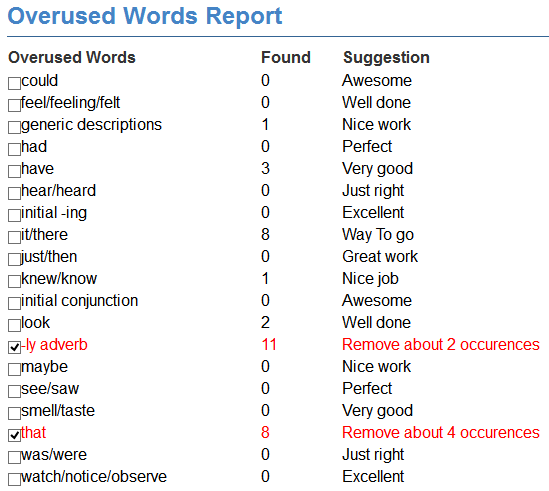 If there are too many instances of any of these words, Pro Writing Aid will let you know and recommended you remove the extra occurrences. Below your report, you'll see your text and the mistakes (in this case overused words) in bold red text.
It's nice to see the text displayed below each report, but it's a bit inconvenient that you can't make any actual corrections there. Instead, you must go back to your blog tab, find the mistakes and then make the corrections. If you have a lot of mistakes to correct, this could be a pretty time-consuming process — you'll probably want to do split-screen windows for this.
You'll also notice some sections don't have reports, such as: Adverbs/Passive, Sticky Sentences, Repeated Words & Phrases, Pacing and Homonym. Instead, you'll see your text with some words in a different color (mainly red or green). When you mouse over each word, you'll see a pop-up with corrections and recommendations.

Final Thoughts
I really love the Homonyms section because there are many writers that struggle with these. For instance, using the wrong "your/you're" or the wrong "there/they're/their." This section can definitely serve as a learning tool to those who just can't seem to get use the right word.
Editing your blog content with Pro Writing Aid is a time-consuming process, but it's just a small price to pay in exchange for improved blog content. Not only that, but it's an awesome learning tool. The more you edit your content, the more you'll learn what to avoid and what you should be doing.
Since high school and/or college was so long ago for many of us, it's understandable that we no longer remember all of the important rules of grammar. With Pro Writing Aid, there's no need to remember all the rules. It teaches you everything you need to know, all while improving the quality of your blog.
Not bad huh? What do you think of Pro Writing Aid? What tool do you use to check  spelling and grammar on your blog?
Creative Commons photo courtesy of Paul Worthington