E-commerce is a booming industry. Presently, over 2.8 million stores are currently using WooCommerce at checkout, with searches for related keywords having increased by over 44 percent in the past year. If you sell website maintenance services, you might be wondering how you can most effectively market your skills to the growing pool of online retailers.
Fortunately, you don't have to reinvent the wheel to take advantage of this opportunity. By demonstrating that you understand the specific needs of WooCommerce users, you can appeal to this audience and take your promotions to the next level.
In this article, we'll cover some of the benefits of selling website maintenance services to clients who use WooCommerce. Then, we'll give you three techniques to help tailor your skills to this lucrative market. Let's dive right in!
The benefits of selling website maintenance services to WooCommerce users
If you offer clients website management services, you've probably worked with a lot of different types of sites. Yet, WooCommerce users can be a particularly valuable demographic. The United States alone boasted 227.5 million online shoppers in 2020. This expansive customer base represents huge potential for WooCommerce users to grow their businesses, which in turn means they're more likely to require help from WordPress professionals.
In addition to a lively industry, WooCommerce stores might also be able to offer you a more stable income stream. Personal blogs or newer business sites are often focused primarily on start-up needs. However, a more established online store might prioritize ongoing performance and be willing to invest in long-term solutions.
Nevertheless, there are plenty of WooCommerce users who are just starting out. A merchant might have fantastic products, but lack the technical skills to effectively showcase them on a website. Selling website maintenance services to this crowd can help introduce their brand to the world.
Finally, you might also consider the sheer size of this field to be a benefit. With more clients to choose from, you might experience more professional flexibility to select projects where your skills will shine brightest.
How to sell website maintenance services to WooCommerce users (3 key techniques)
Given the specific needs of this demographic, it's important to target your marketing efforts if you want to attract WooCommerce users as clients. Here are a few helpful strategies you can implement to sell website maintenance services to this lucrative audience.
1. Cater to the brand personalities of your target audience
Let's begin by looking at web maintenance through a customer-centric lens. Most online stores operate within a specific niche. This focus helps them target their marketing strategies more effectively.
More often than not, a brand personality is a part of this approach. Its voice and ideals are likely to embrace this persona as well. You may be able to form a more powerful connection with potential clients by catering to their self-styled reputations.
Brand personality can be communicated through a website's writing or aesthetic choices. Consider the alternative clothing site AllSaints, for example: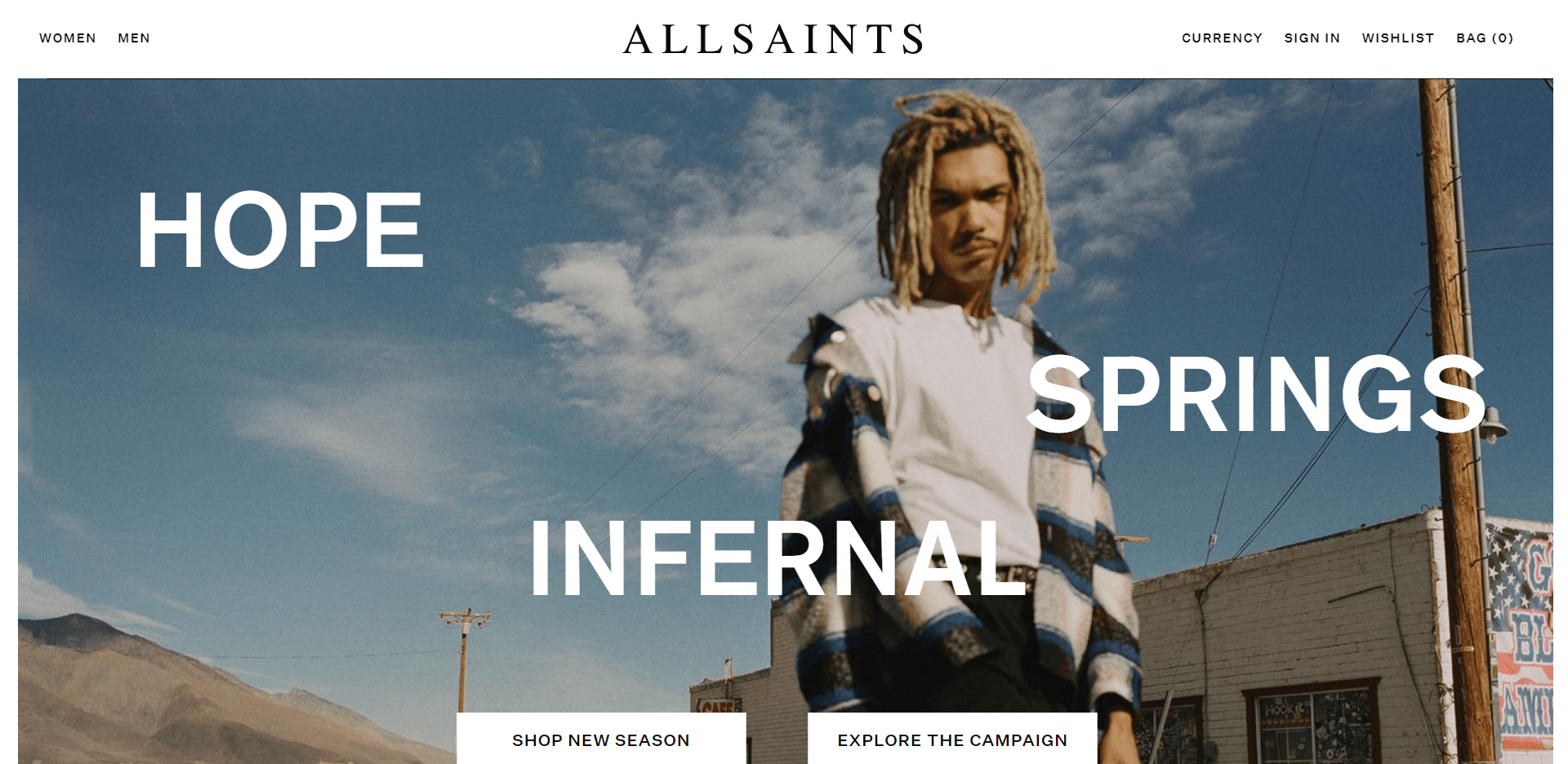 The company's Hope Springs Infernal campaign is the latest addition to its artistic, minimalist identity. For businesses that value cohesive storytelling, you might choose to advertise your white labeling options. You can offer to customize error messages for shoppers or provide a consistent experience on the back end.
Alternatively, let's say there's a WooCommerce store with customer communications emphasizing its efficiency. You could try contacting the owner with an offer to speed up their pages and monitor site uptime.
This identity-based technique demonstrates both your awareness of the store's image as well as your ability to support it. As it relies on an individualized sales pitch, this method may require some time to prepare. Therefore, you might find this approach most worthwhile when directed towards more lucrative opportunities and high-quality leads.
2. Focus on crucial security measures
Online stores need to deal with sensitive information on a daily basis. Physical addresses, phone numbers, and payment data are a crucial part of e-commerce. Keeping these details safe is essential, but it can also be a challenge.
All the different technical requirements for customer privacy may feel intimidating to some WooCommerce merchants. One way to sell website maintenance services is to emphasize the need for consistent, high-quality security measures. Afterward, try following up by presenting yourself as an all-in-one solution.
Additionally, you might try using existing sites as a blueprint for how you'll equip clients' stores. For example, Venmo is a leader in the personal payment industry. You could offer to emulate its security choices by setting up Two-Factor Authentication (2FA):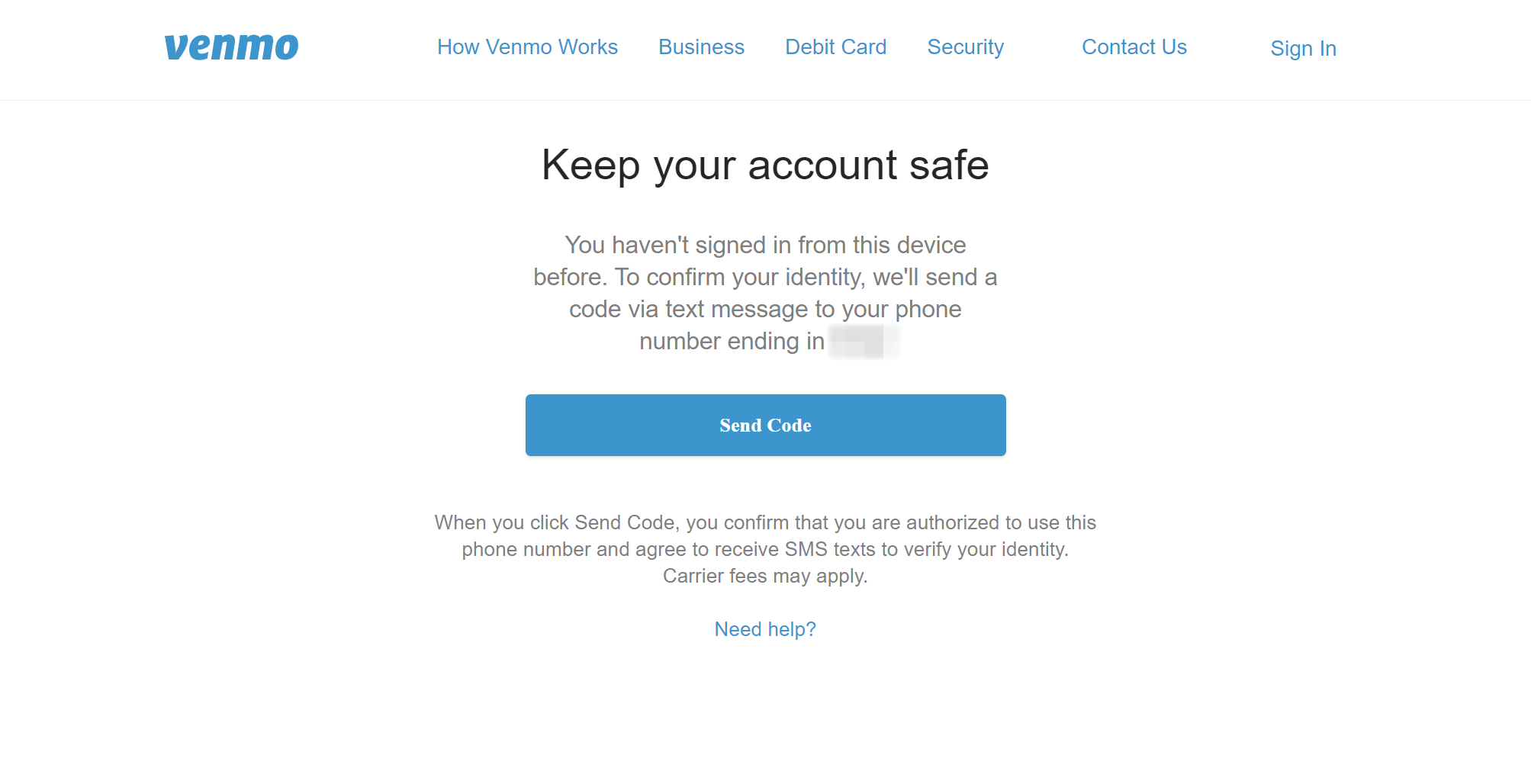 Finally, consider advertising your preemptive steps. Reactive actions such as data recovery in the event of a breach can be costly and annoying. Therefore, showcasing your ability to prevent such scenarios from happening in the first place could leave a more positive impression with prospective clients.
Even simple principles such as protecting admin passwords can be persuasive. Furthermore, warier WooCommerce users might appreciate a long-term safety plan. As such, having a powerful security scanner at your disposal could also be an impactful selling point.
3. Offer your clients consistent updates
Finally, let's talk about a big-picture sales strategy. Many online businesses need to watch their cash flows closely. As such, convincing owners to invest in your services can be tricky.
Try supporting your sales pitch with hard data on how you can help. You might also want to consider making regular in-depth reports a part of your maintenance package. Performance updates can provide clients with a factual reflection of your efforts.
This strategy can be strengthened with customization features. For instance, say you have a client who's not interested in abstract numbers. You can tailor their report to include a brief introductory message covering how you've improved their site instead.
Furthermore, you can also opt for a tool that provides a client-friendly report format. With ManageWP, performance updates are simple to understand: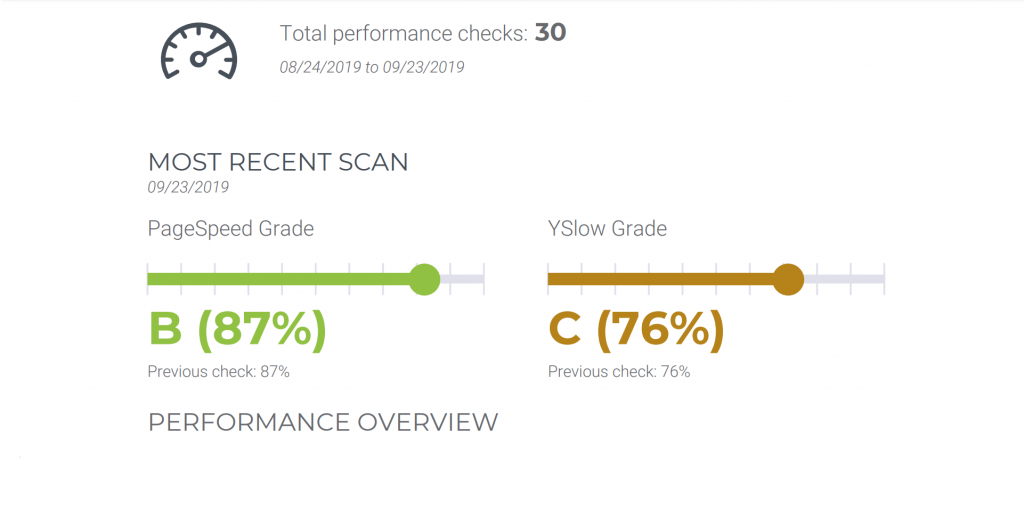 You can customize reports with your logo, your client's signature colors, and specific WooCommerce data. Alongside the ability to order the document's sections as you see fit, ManageWP can help you provide regularly curated information.
Wrapping up, offering reports is a technique that can go beyond the sales stage. Clients you already work with may also appreciate updates tailored to their unique needs. Incorporating this strategy into your offerings can help boost revenue from existing clients.
Conclusion
WooCommerce users are taking the web by storm. With these sites comes the need for comprehensive and ongoing maintenance. Fortunately, you can present yourself as the right choice to provide these services by tapping into the unique needs of online retailers.
In this article, we covered three effective techniques for selling website maintenance services to WooCommerce users:
Consider the presence of store personalities and help owners maintain their image.
Try to spotlight the high stakes associated with handling payment information.
Offer client reports that can track areas of concern.
What techniques do you use to sell your services to WooCommerce users? Let us know in the comments section below!
Featured Image Credit: Pexels.