With the frequency of online hacks increasing every year, your WordPress site could be more vulnerable than you know. However, maintaining website security can be a full-time job if you don't outsource some tasks to automated software.
The good news is that a WordPress firewall can automatically protect your website behind the scenes. Once you configure a few settings, the firewall can block hackers and bots from accessing your site, keeping both you and your users safe.
In this guide, we'll explore what WordPress firewalls are and why you should consider using one on your website. Then we'll look at some of the most popular firewall options and explain how to install one. Let's get started!
An introduction to WordPress firewalls
A WordPress firewall protects your website from hacks and attacks. Essentially, it acts as a barrier that prevents dangerous users from accessing your site, breaching its defenses, and stealing your data.
Here are some of the most common firewall types:
Web Application Firewall (WAF). WAFs inspect incoming HTTP traffic to filter, monitor, and block dangerous parties.
Domain Name System (DNS) firewall. A DNS firewall protects your network against external threats. It identifies malicious domains and prevents or monitors users who are trying to access them.
Apache firewall. Apache is one of the most popular web server software options. It has a module called mod_security that can act as a firewall and protect your server against threats.
Packet-filtering firewall. This firewall monitors and controls data packets based on IP addresses, protocols, and ports.
Network Address Translation (NAT) firewall. This protects private networks by enabling access only if a device within the network requests it.
In most cases, you'll be working with a WAF on your WordPress site. This feature often comes included with WordPress security plugins. We'll look at those tools a bit later in this article.
Why you should consider using a WordPress firewall
A WordPress firewall is an essential line of defense for your website. It can protect against various hacks and security attacks, including:
File inclusions
Man in the Middle attacks
Cross-site forgery
These attacks can take down your website, steal sensitive data, and ultimately stop your business in its tracks. Therefore, using a WordPress firewall can safeguard against preventable hacks.
Furthermore, your website's security can benefit your visitors too. Almost three-quarters of internet users are worried about online privacy and security risks. As such, adding a firewall to your site can ease your users' concerns and protect their data.
Using a firewall isn't a complete WordPress security solution. However, it can be an essential part of your website safety toolkit. Along with regular backups and security scans, a firewall can keep out malicious and unwanted parties.
3 best WordPress firewalls
There are a few ways to add a firewall to your site. For example, your web host may provide this feature for you. If not, opting for a WordPress firewall plugin is one of the simplest solutions.
You can simply install and activate your chosen tool, and then manage its settings directly from your dashboard. Let's look at three of the best options for WordPress sites (in no particular order).
Sucuri is a complete website security service that includes an auditing tool, malware scanner, and security hardening features. Although there's a free version, you'll need to upgrade to a premium plan to access Sucuri's WAF: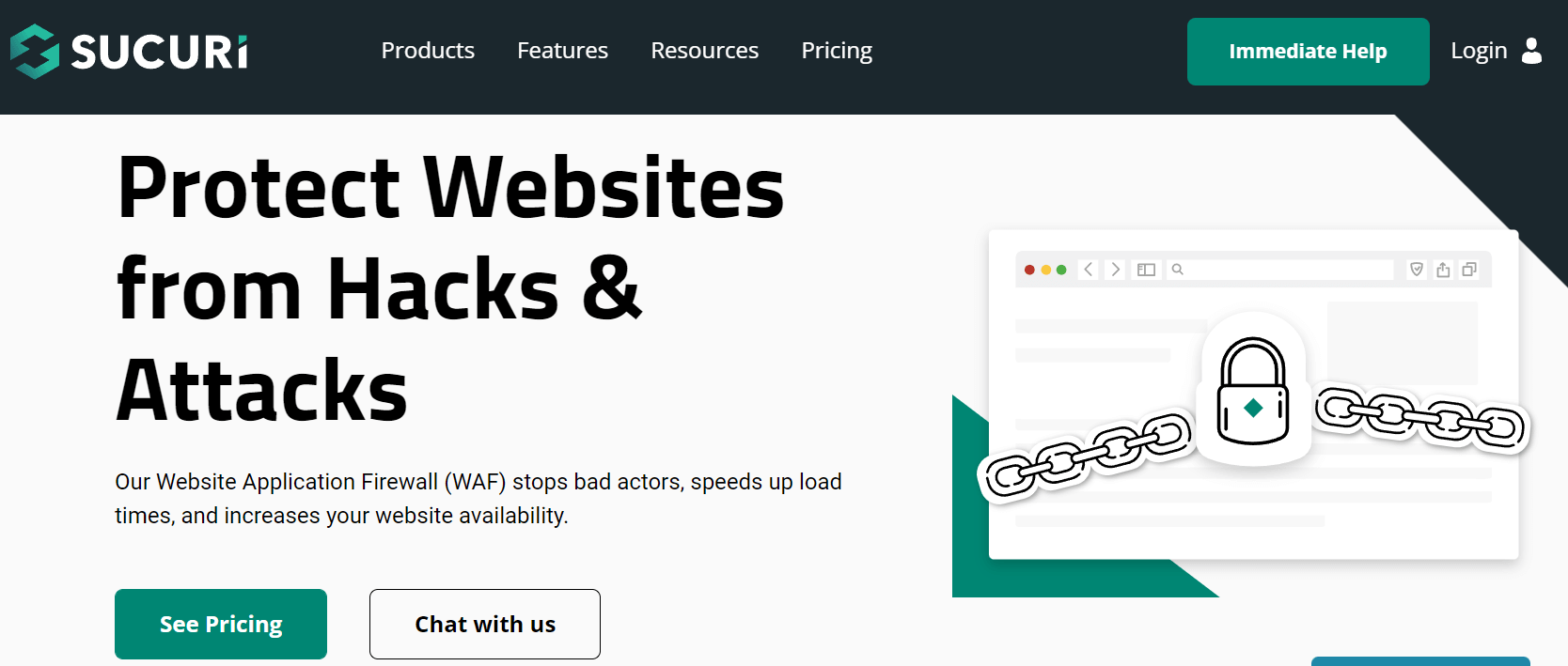 The firewall can stop hacks in real-time, use SSL encryption, and mitigate large-scale DDoS attacks. Furthermore, Sucuri uses a Content Delivery Network (CDN) to speed up your website's loading times.
Key features:
Cloud-based WAF
Usable on one site
DDoS protection
SSL encryption
CDN access
Pricing: Sucuri's Basic firewall access costs $9.99 per month. If you upgrade to the Pro firewall for $19.98 per month, you'll also get SSL support and monitoring.
Cloudflare is another popular security suite that includes a CDN, SSL encryption, and DDoS protection. The plugin comes in a free tier, but you'll need to purchase a paid plan to use Cloudflare's WAF:

Cloudflare's cloud-based firewall protects against the ten most common security attacks, including XSS and SQL injections. You can also customize its rulesets to safeguard against other hacks. Moreover, Cloudflare has zero-day protections that can patch security vulnerabilities in seconds.
Key features:
121 Tbps DDoS protection
250 server locations
API and page shields
Bot management
Near-instant security deployments
Pricing: A Cloudflare Pro plan, starting at $20 per month, includes access to the WAF as well as advanced security features.
Finally, if you're looking for a free WordPress firewall and security solution, you might consider Wordfence. It uses an endpoint WAF and malware scanner that can protect your website from internal and external threats:

Since Wordfence focuses on endpoint rather than cloud protection, it's not affected by encryption vulnerabilities. Upgrading to Wordfence's premium version also gives you access to real-time firewall rules and malware signature updates to keep your security rock solid.
Key features:
Endpoint WAF
Focus on WordPress security
Advanced malware scanner
Frequent firewall updates
Pricing: You can pick up the free plugin, or get Wordfence premium starting at $99 per year.
How to install a WordPress firewall on your website
Before we wrap up, let's take a look at how to choose and install a WordPress firewall on your site.
Step 1: Choose a WordPress firewall plugin
We've covered three of the top WordPress firewall options. However, that list is by no means exhaustive.
If you'd like to do your own research, you might want to consider the following factors:
Price. You can find free firewalls, but they're generally limited in their features. You may want to weigh the price against the level of customization options and security you get.
Customization. Many premium firewalls enable you to set up blocklists and control your settings. If these settings are top priorities, you'll want to ensure that your chosen firewall offers plenty of customization.
Cloud-based vs. end point-based firewalls. Many WordPress firewalls are cloud-based, enabling them to review more traffic sources and protect against DDoS attacks. However, endpoint firewalls can be more precise and safeguard against software-based threats.
Support. Having access to a dedicated support team can be invaluable if your site sustains attacks. Many free or cheap plugins don't include immediate customer assistance.
Ultimately, your decision will depend on your website and its unique needs. However, examining all of these factors can help you make an informed choice.
Step 2: Configure the firewall settings
For this tutorial, we'll look at setting up a WordPress firewall with Wordfence. If you opt for a different firewall plugin or software, we recommend referring to its official documentation.
First, you'll need to install and activate the Wordfence plugin. Then, simply navigate to Wordfence > Firewall to verify that your firewall is active: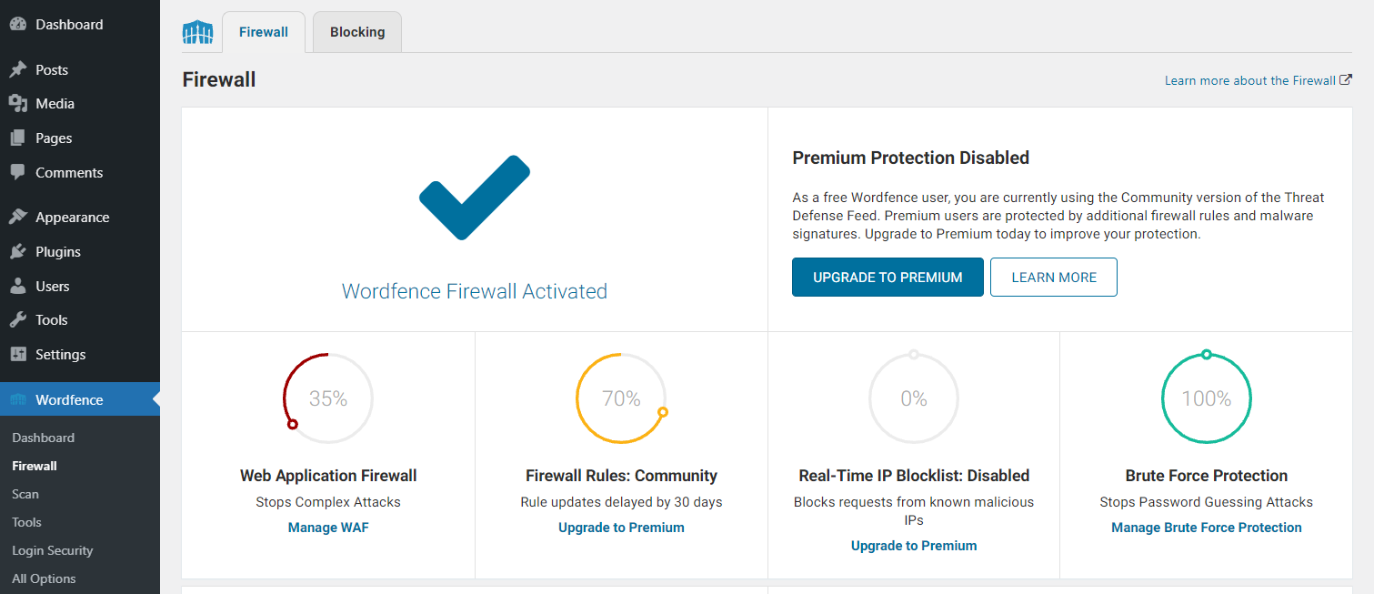 You can adjust some general settings by clicking on Manage WAF. Similarly, you can control your brute force protection by selecting the associated settings. Remember that you can't access firewall rules or an IP blocklist unless you upgrade to the premium tool.
Conclusion
A WordPress firewall can filter visitors to your website, protecting it against security threats and common attacks like DDoS. It's also easy and generally affordable to set up a firewall on your site.
To recap, here are three of the best WordPress firewall plugins:
Sucuri: This software offers a cloud-based firewall, SSL encryption, and CDN access.
Cloudflare: This is a sophisticated security solution with a cloud-based WAF, advanced DDoS protection, and near-instant security patches.
Wordfence: This freemium WordPress firewall plugin provides endpoint protection and frequent updates.
Do you have any questions about using WordPress firewalls? Let us know in the comments section below!
Image source: Pexels.