New clients are the lifeblood of your WordPress agency. However, client onboarding can be a time-consuming process that takes away from your more important work.
By adding automation to the mix, you can spend less time on administrative and onboarding busywork. This leaves you more space to focus on what really matters – wowing your new client.
In this article, we'll show you how to automate the key stages of the crucial client onboarding process. Along the way, we'll share tools that can help you create the best possible first impression. Let's get started!
Why you might want to automate the client onboarding process
Every new client represents a major win for your WordPress agency. The onboarding process is vital for setting expectations and gathering all the information you need to successfully bring the client's vision for their website to life. However, this can require a significant amount of work.
To make the best first impression, it's important to complete the onboarding process as quickly and thoroughly as possible. You'll also need to tackle this extra work while continuing to keep your existing customers happy, which can put your agency under a significant amount of pressure.
This is where automation comes in. By automating the most time-consuming parts of client onboarding, you can ensure this crucial stage in your new relationship runs smoothly and efficiently. All this also helps you create a great first impression and deliver the highest level of customer service from the very first interaction.
By setting a high standard and sticking to it, you can lay solid foundations for retaining customers over the long term. You'll also be in a strong position to secure valuable upselling and cross-selling opportunities along the way.
How to save time by automating client onboarding (4 key tips)
Now that we've explored some of the benefits of automation, let's look at how you can grow your business without growing your workload. Here are four simple ways to automate the client onboarding process and ensure you have enough time to deliver a five-star experience to your entire client base, both old and new.
1. Create a client intake form
You can automate the information-gathering stage of onboarding using a client intake form. This form ensures your staff has all the data they need to kickstart the development process: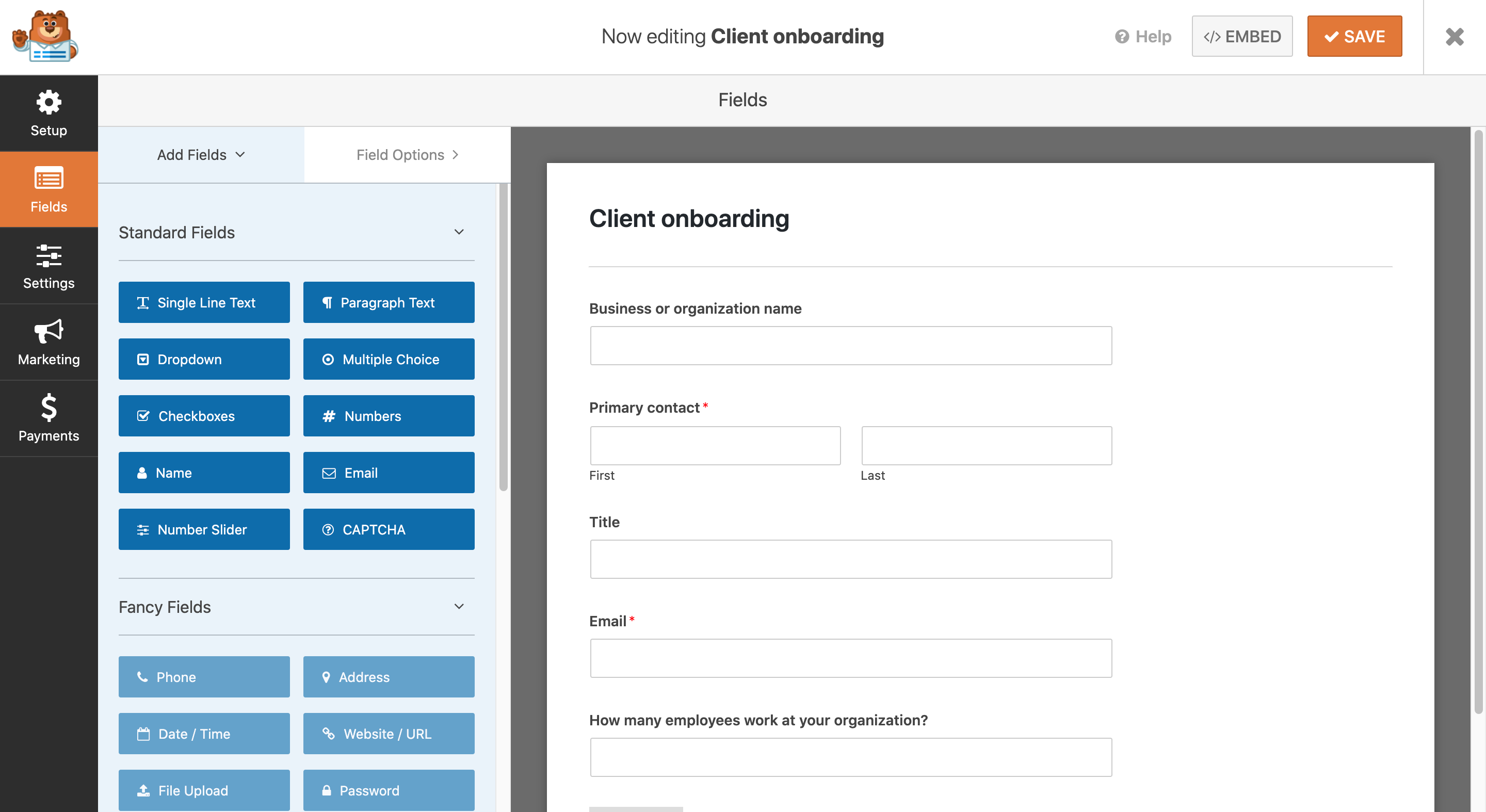 There are several ways that you can use a client intake form. You might choose to publish the form on your customer-facing website. You can then use it to gather information from potential new leads. This ensures your team has lots of data to hand when they follow up with a possible new customer.
Alternatively, you might use your client intake form after the first contact. For example, you could add a simple contact us or request more information form to your website. After a client submits their information, your team can follow up with a more detailed form to gather details about what they need.
There are a number of popular WordPress plugins that you can use to create a client onboarding form. WPForms is a popular choice, as it features an intuitive drag-and-drop editor and a range of handy form templates.
2. Use an appointment scheduling plugin
During the onboarding process, chances are you'll schedule multiple video, voice, or even in-person meetings with your new client. This is essential for assessing their needs and goals, but it can also help you build a rapport.
If you try to arrange these meetings via email, it may result in a significant amount of back-and-forth. This all eats into your productivity and can be frustrating for your new clients.
You can simplify this part of the client onboarding process by using appointment scheduling software. This ensures your clients can book a voice, video, or in-person meeting with just a few clicks and immediately removes much of the frustrating logistics of scheduling. It also makes your WordPress agency seem far more professional.
You may even want to consider opening your appointment scheduling features up to the public. Giving visitors the ability to book a no-obligation consultation from your website creates a great first impression. Potential clients will perceive you as a WordPress agency that's always on-hand and available to discuss your clients' needs.
There are many appointment scheduling plugins that you can add to your website. The Booking Calendar plugin features a dedicated block that you can insert into any page: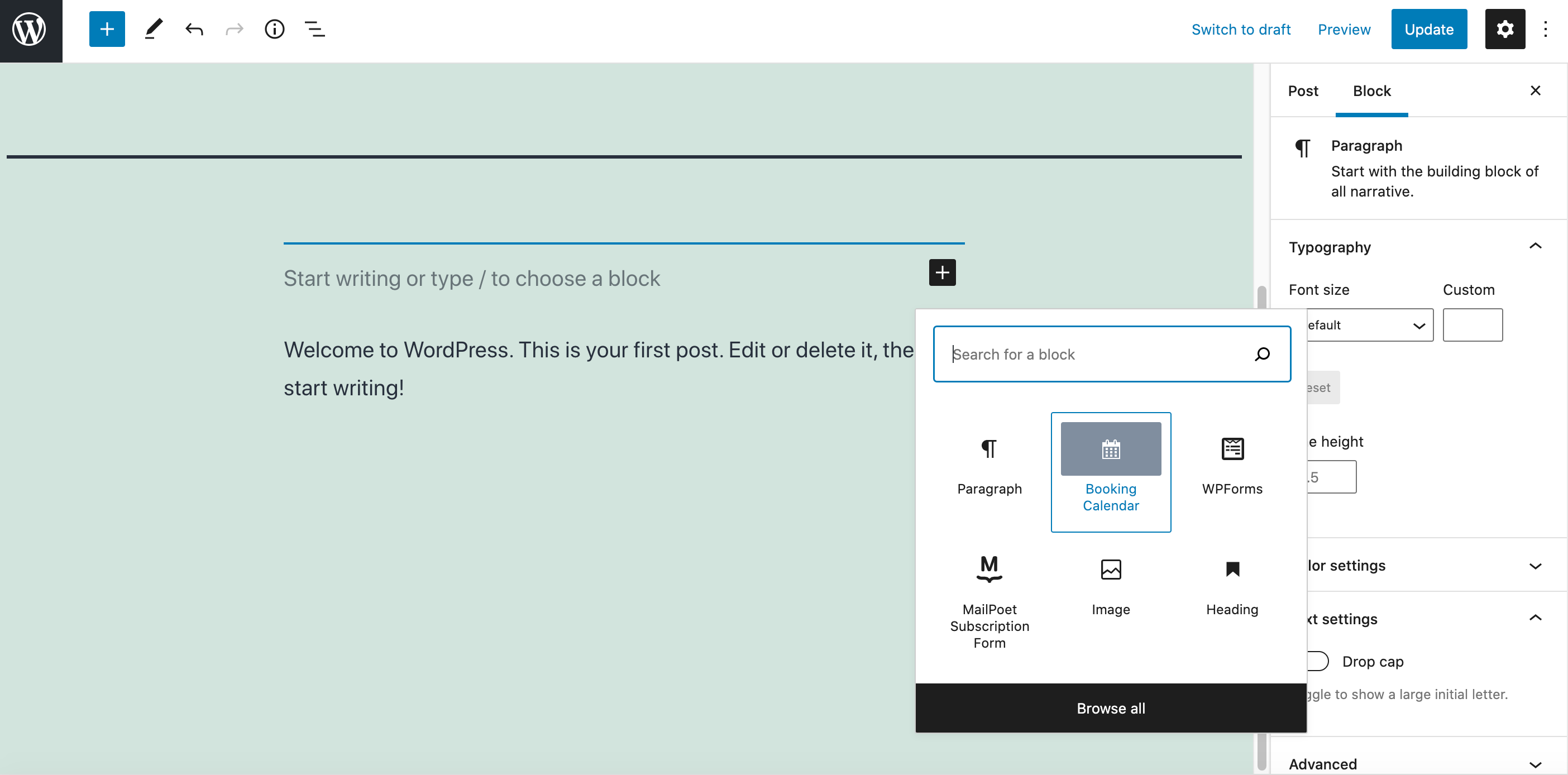 After adding this block, you'll be prompted to configure the booking calendar. You can then manage all of your meetings from your WordPress dashboard: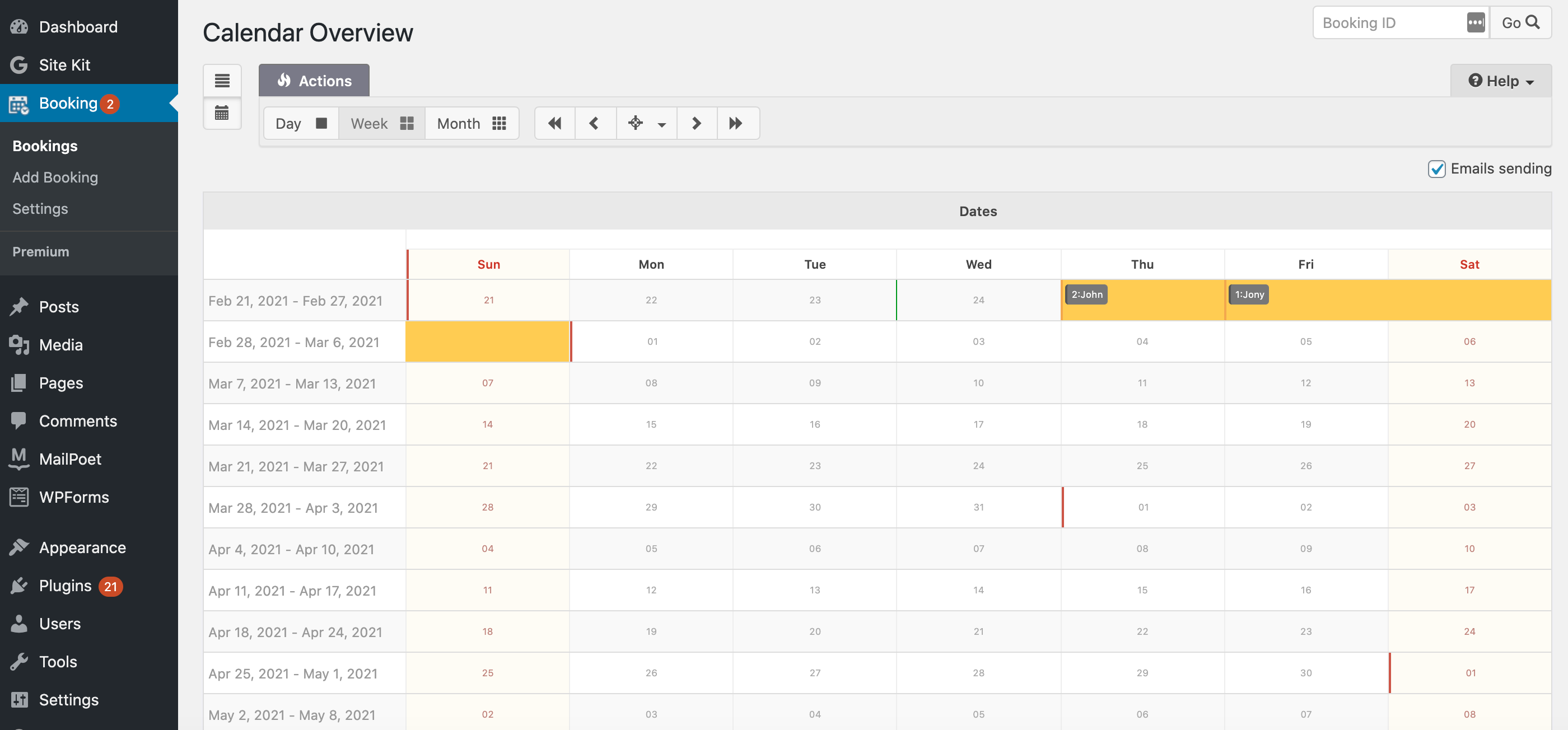 To fully automate the booking process, you may want to specify the times when you're unavailable. You can block out sections of your calendar by navigating to Bookings > Settings > Availability. This ensures potential customers can only reserve a slot when you're actually able to meet.
3. Turn your best websites into reusable templates
Every website owner has their own needs and goals. However, there may be some similarities between your clients. For example, if two businesses have the same target audience, they may want similar designs for their websites.
As an experienced WordPress agency, you may also have processes that you've refined over the years. For example, if you've previously helped multiple e-commerce brands launch their online stores, you may have a list of tried-and-trusted plugins that you recommend for such projects.
If you find yourself deploying the same processes over and over again, it might help to create some website templates that feature a specific design or come with some pre-installed plugins.
By creating templates using a tool such as ManageWP's Template Builder, you can get a new client's website up and running in record time: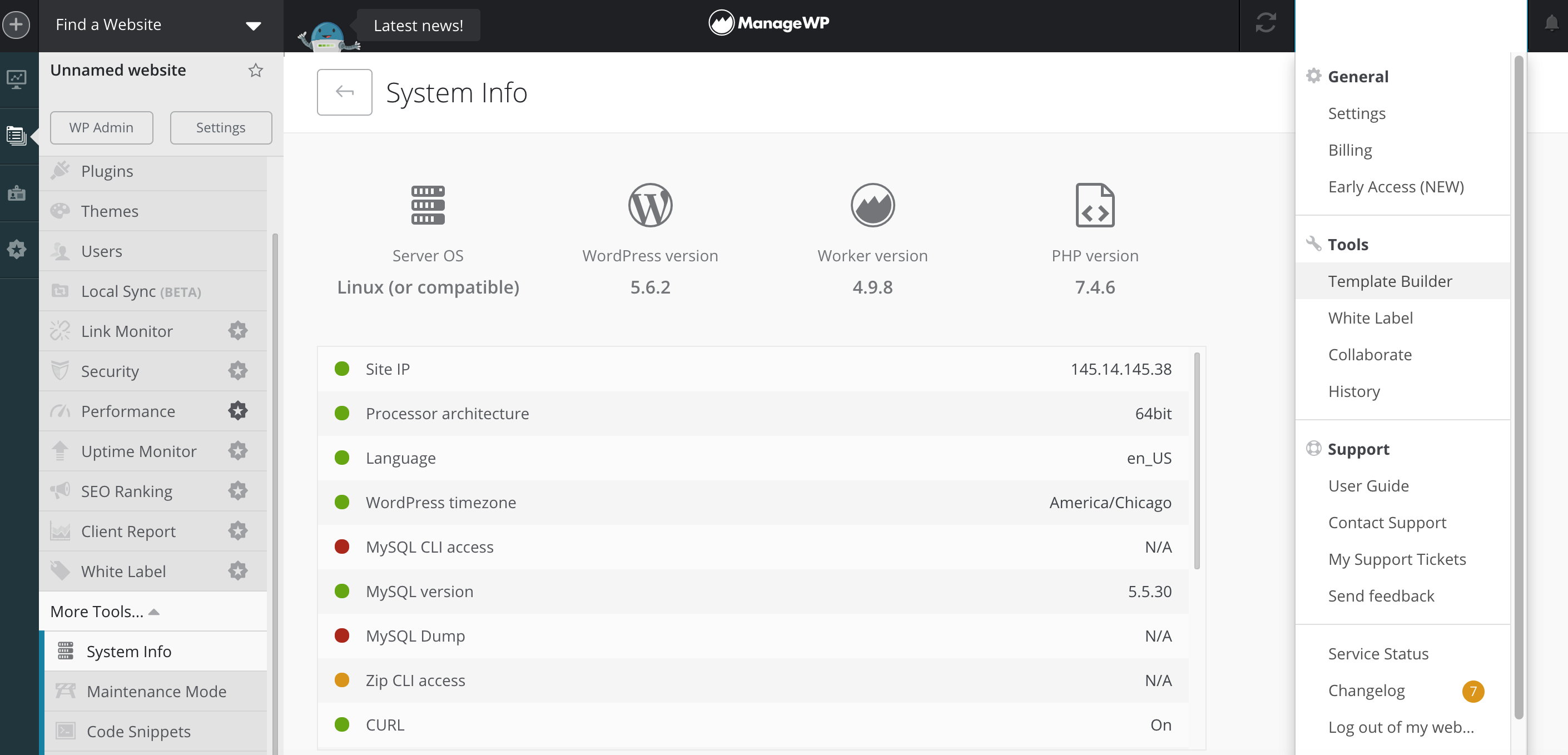 You can create a template from a clean WordPress installation via your ManageWP dashboard to set up a base that you can deploy whenever you acquire a new client: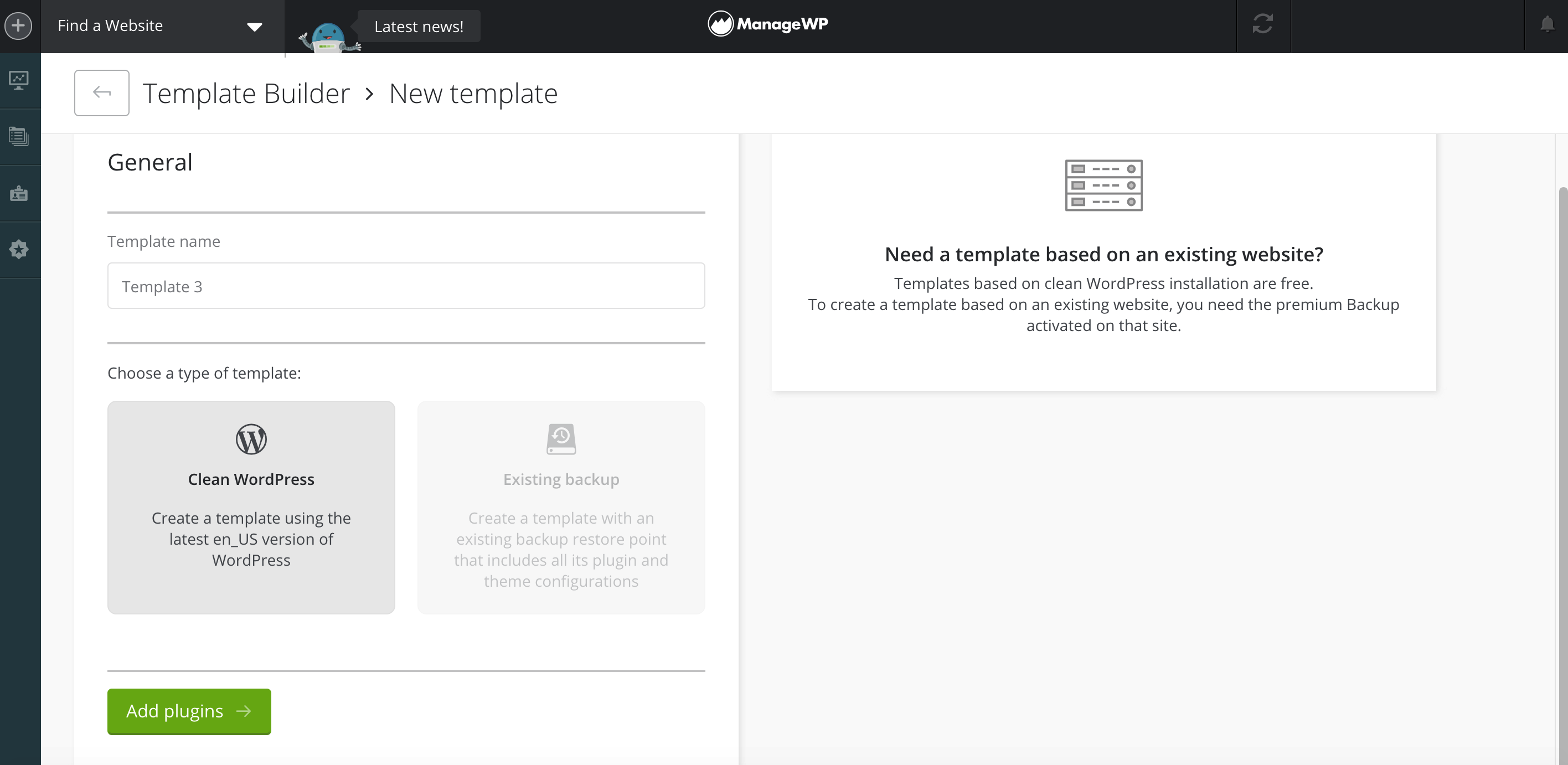 Alternatively, you can create a template from an existing WordPress website. If you're particularly proud of a client's website, ManageWP can turn all your hard work into a reusable template. If you get into the habit of turning your best work into templates, you can provide the best possible experience to your new clients, regardless of how many accounts you're currently juggling.
4. Free up more time by automating day-to-day tasks
To present your WordPress agency as a brand that always goes the extra mile, it's important to fulfill all of your clients' requirements. This is where a website management tool such as ManageWP can be your secret weapon.
Our dashboard has everything you need to automate essential WordPress maintenance tasks that can really eat into your productivity. This helps you exceed your new clients' expectations without putting your staff under pressure.
Many website owners are concerned about losing their data. This is why regular offsite backups are high on most clients' wishlists. You can use ManageWP to schedule automatic backups, ranging from once per month to once every single hour.
Downtime is another major concern for businesses of all shapes and sizes. If your new client's website goes down, chances are they'll want to know about it.
After activating ManageWP's Uptime Monitor feature, you'll receive a Slack, SMS, or email notification if a client's site ever goes down. This enables you to notify them and take action to resolve the problem without having to manually monitor their website: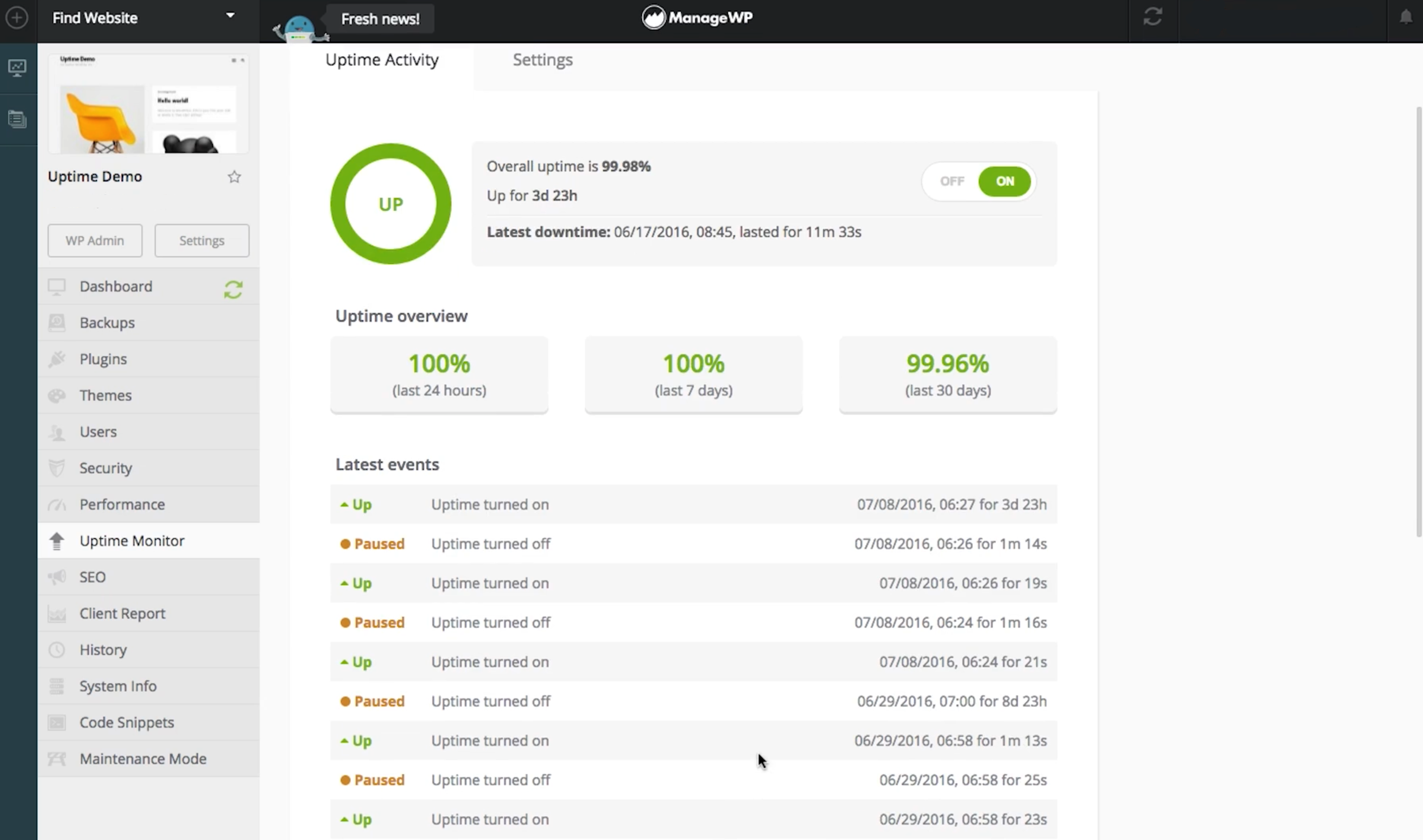 Finally, you'll want to ensure your clients are fully aware of all the work you're doing for them – even when that work is automated. ManageWP's Client Reports will automatically pull data from various services and present it as a professionally-designed report, complete with your agency branding: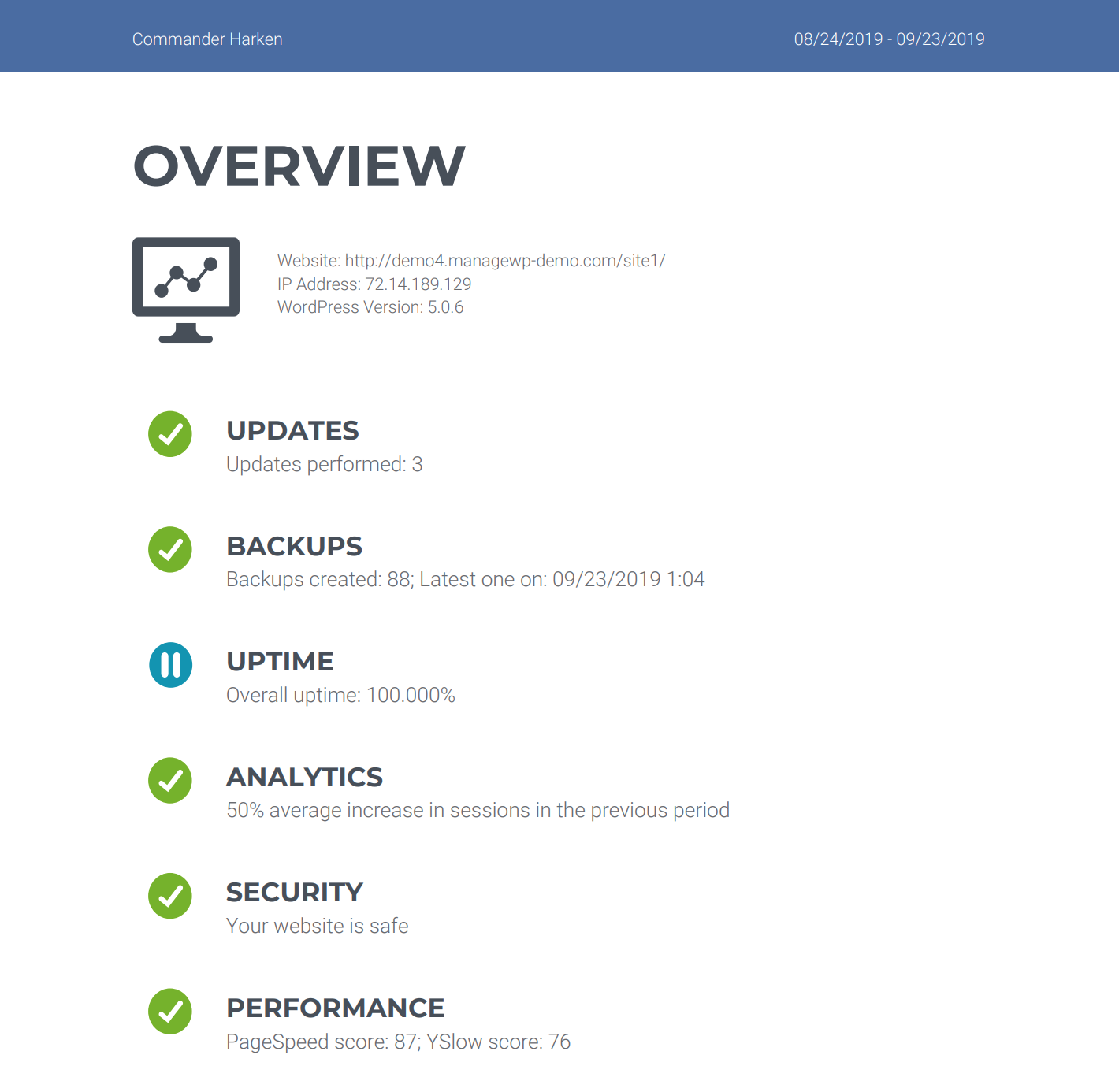 Since automation is the name of the game, ManageWP can generate these reports and deliver them to your client's email address automatically based on a schedule set by you. This ensures your clients receive complete reports of your monthly activities with zero manual intervention from you.
Conclusion
You never get a second chance to make a great first impression. By automating the client onboarding process, you can create a positive experience for your leads while minimizing your workload.
To ensure a smooth and stress-free onboarding process, we recommend:
Creating a client intake form using the WPForms plugin.
Using an appointment scheduling plugin such as Booking Calendar.
Turning your best websites into reusable templates.
Freeing up more time by automating day-to-day tasks.
Do you have any questions about automating the client onboarding process? Let us know in the comments section below!
Featured Image credit: Pexels.